Adam Selman Fall 2018. Photo by Frazer Harrison/Getty Images for New York Fashion Week: The Shows
So Far, NYFW Is the San Junipero Episode of Black Mirror
Tom Ford, Adam Selman, and Jeremy Scott's Fall 2018 collections make fashion fun again, and in the process, prove that the 1980's are gone but not forgotten.
Adam Selman Fall 2018. Photo by Frazer Harrison/Getty Images for New York Fashion Week: The Shows
Everyone's favorite episode of Black Mirror, "San Junipero," tells the story of two women, played by Mackenzie Davis and Gugu Mbatha-Raw, who elect to participate in a program that allows terminally ill patients to choose either to die a natural death or spend eternity in the time and place of their choice. The protagonists, slighted by life in the real world, choose the virtual (and fictional) town of San Junipero, which is situated firmly in the peak of the 80s, where they fall in love and live happily ever after. San Junipero is colored by neon lights and covered with big-haired babes in acid washed denim and bedazzled bustiers. It is the 80's. It is utopia.
Aside from the incredible style, the episode is so beloved because it piques the very 2018 desire to travel back in time. It is escapist in the best way: at once nostalgic and incredibly modern, painting a picture of a brighter future by way of the past. Perhaps it is the same desire to escape the present in search for a more joyful moment in time that has New York designers harkening back to the hay days of 80s opulence and optimism; a time when fun was the prime objective.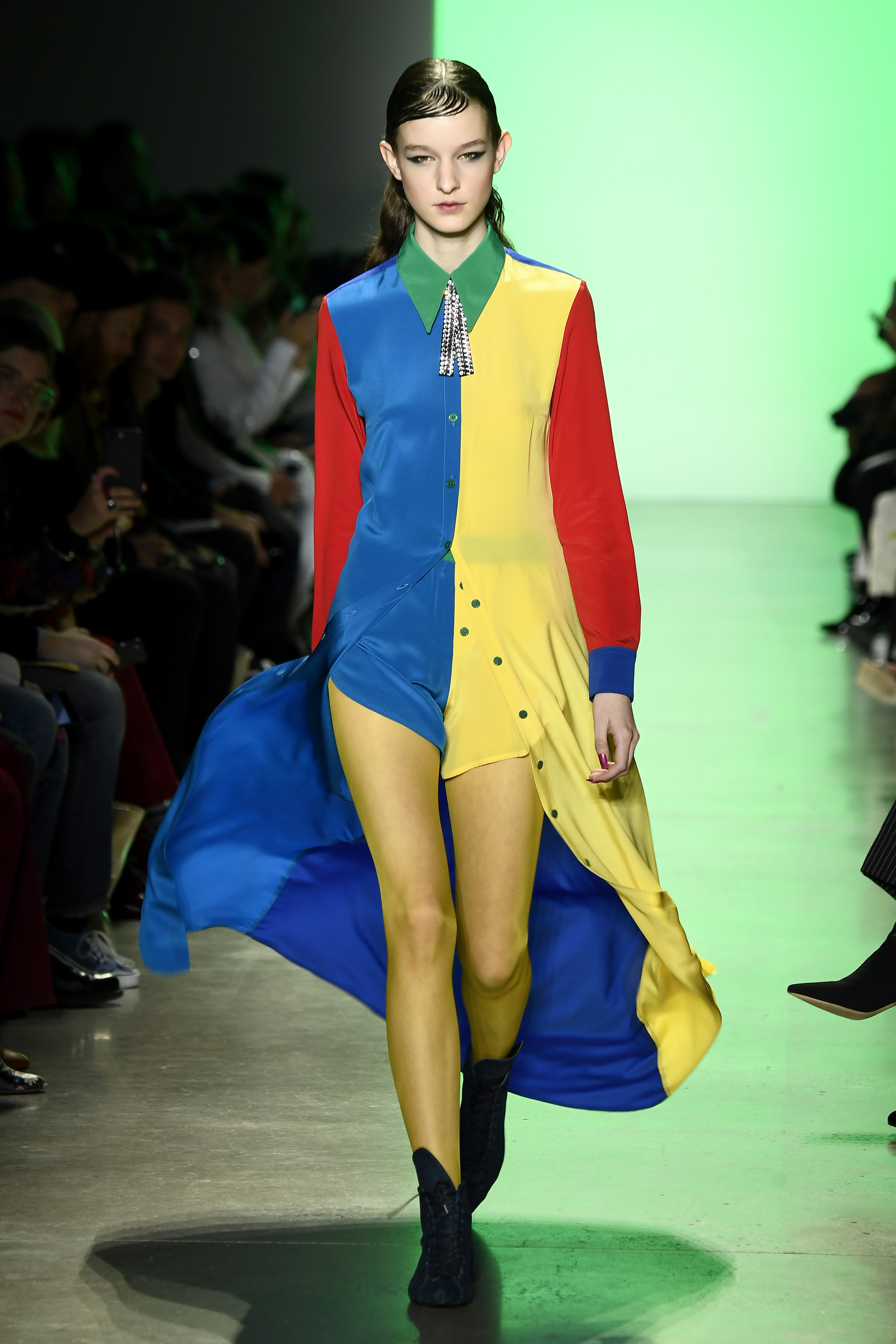 No one loves the glam quite as much as Adam Selman whose Fall 2018 collection is the only proof one needs to confirm that playfulness is definitely back. First and foremost, we saw the return of an underrated 80s emblem: the bolo-tie, the perfect camp accessory to compliment his color blocked vaguely Memphis-style button up dress or the wide collared white shirt that Mel Ottenberg styled with a zebra print coat complete with shoulder pads. There were also prints that evoked illustrators like Paper Moon Graphics, created in partnership with 80's aesthete and artist Cheyco Leidmann. To sum up Selman's show, the tone was purely pop, weirdly salacious, and absolutely on the money.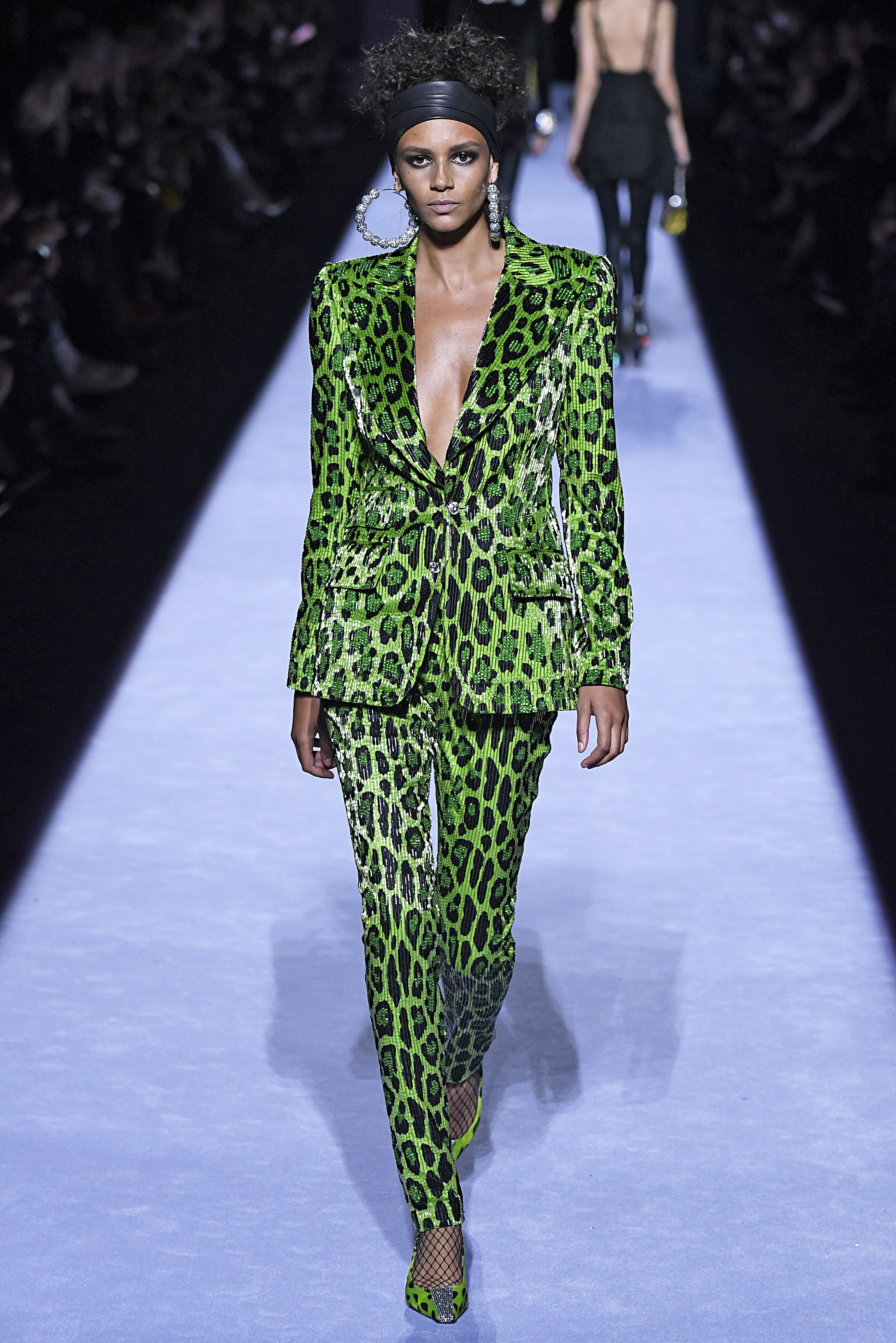 Tom Ford's show was a time warp all its own, dominated by the kind of over-the-top ensembles suitable for a Saturday night at the Pyramid Club circa 1983. It was fitting that the show's soundtrack featured the Pointer Sister's iconic jam, "Jump," which hit radio waves the very same year. Among the designer's army of neon and crystal covered glamazons, was Kaia Gerber, who killed in a black sequin tunic, enormous hoops, and oversized puffer—channeling her mother Cindy Crawford's bouncy strut. Binx Walton literally stole the spotlight reflecting every camera flash like a human disco ball in a shiny lime green leopard suit. Lexi Boling closed in the ultimate throwback: a multi-animal print dress so mini that one struggles to categorize it as such, complete with a frizzy permed-out updo tamed by a bedazzled hair wraps.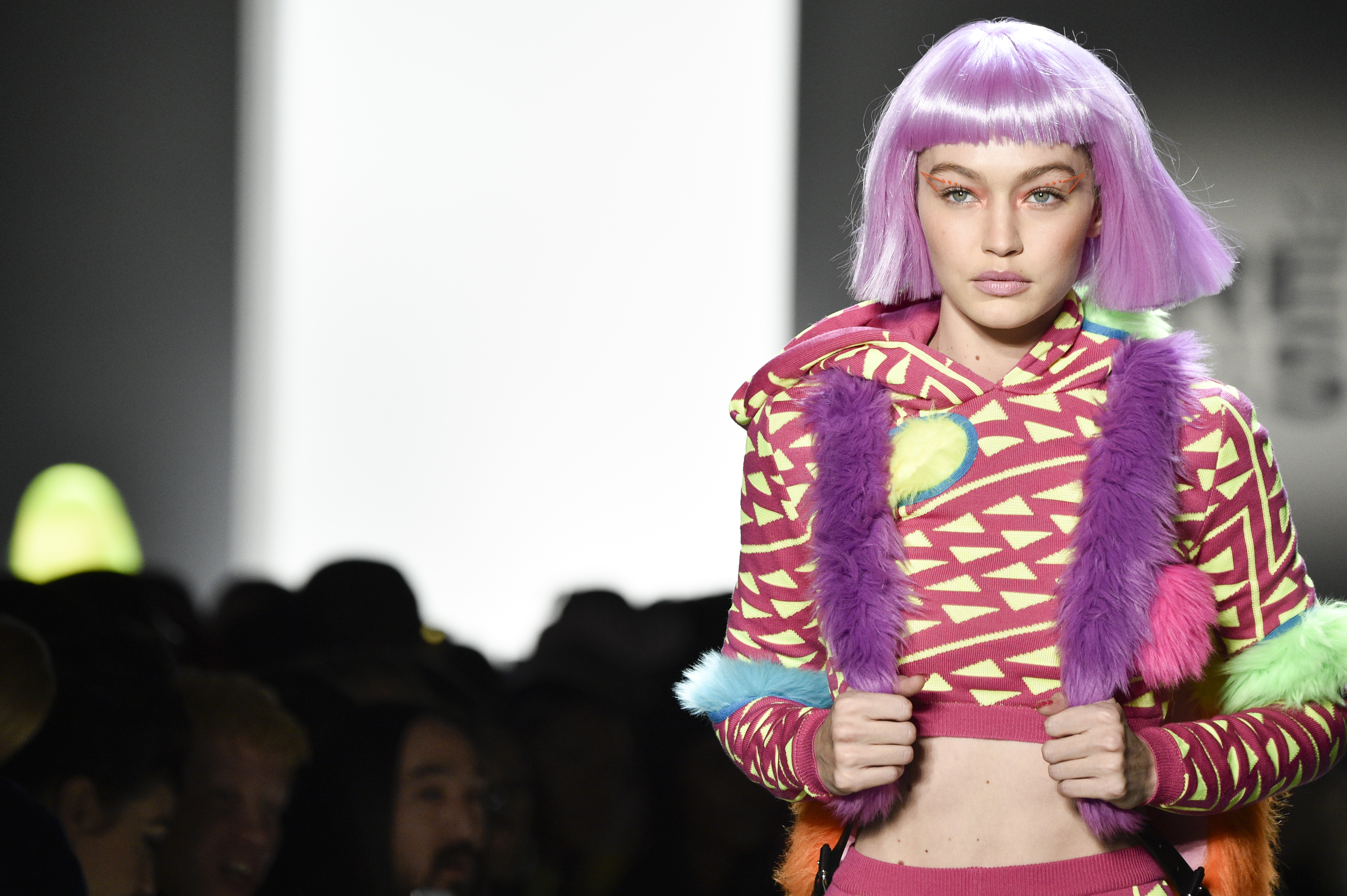 Later in the evening, Gigi Hadid opened Jeremy Scott's show in a bluntly cut purple bob that veered dangerously into 90s rave kid territory until Madonna's 1981 hit "Stay," started playing and pulled us all back into the golden age. The whole show was a crazy trip, but millennial members of the audience quickly obsessed over the Moon Boot redux, a now 40 year-old fashion trend that shows no sign of slowing down (Scott showed his version which were neon fur lined and thigh high!). As the final look emerged, GARAGE's Social Media Editor, Ashley Tyner, found the conceptual crux of the entire collection: it was an ode to Lisa Frank, whose company took off in (you guessed it) the 80s by marketing a drug-free visual acid trip in the form of rainbow unicorns and puppy dogs. All of which, of course, would make perfect sense in San Junipero.