John Galliano Muses On a Genderless Fashion Future
The designer speaks to Rachel Tashjian about bringing his feminine fantasy to Maison Margiela menswear. Photographer: Reto Schmid. Sittings Editor: Matt Holmes.
With his latest menswear collection for Maison Margiela, John Galliano snapped. His men wore skinny latex pants with jackets so perfectly tailored it was almost textile sadism. Sponge-yellow kid leather gloves were tugged over their gentle hands. Tulle was wrapped around their chests and arms like delicate mummy linens, and corset tops squeezed their midriffs with buckles and suspender slings. Some of the fabrics seemed to have an agenda of their own, and Galliano was more than happy to let them hold forth. A white trench was gathered under a tulle bodice, creating a haphazard mash of fabric beneath but also a gently puffed shoulder and a fluid skirt. There were bare chests and navels and thighs—expanses and peeks of flesh, but it wasn't an aggressive sexuality. There was an essential tenderness.
"The millennials and the Z generation are really helping to shape what we consider masculine and feminine," Galliano says. They sure are: Just look at the fine-boned Timothée Chalamet in sparkling Louis Vuitton at January's Golden Globes, or Ezra Miller's parade of pomp, or Billie JD Porter borrowing freely from the men's and women's collections. As Galliano said on his podcast—yes, to be a Margiela stan is now to be a "friend of the pod," which features the designer's brief reveries on each collection and which was launched in tandem with the collection pictured here—he was hoping to put his finger on "a new sensuality, a new sexuality." Galliano says the Met Gala stirred this awakening for him: "There is still a respect for the dress code, but also a new way of defining what that is." It isn't that the rules are being ignored; they're being broken, with newer, no less considered ones in their place.
This new order underscores that while fashion has always been about fantasy, this era is also about identity. Galliano is one of fashion's foremost purveyors of fantasy, but it has often been in the service of sculpting new personae, making him uniquely poised for this new era. Here, he uses clothing to embody a character that feels more natural, truer than concepts of masculinity, formality, or "contemporary." This is, after all, a designer whose graduation collection at Central Saint Martins merged the garments of post-revolution France with the disheveled sensibility of '80s club kids (he called it Les Incroyables).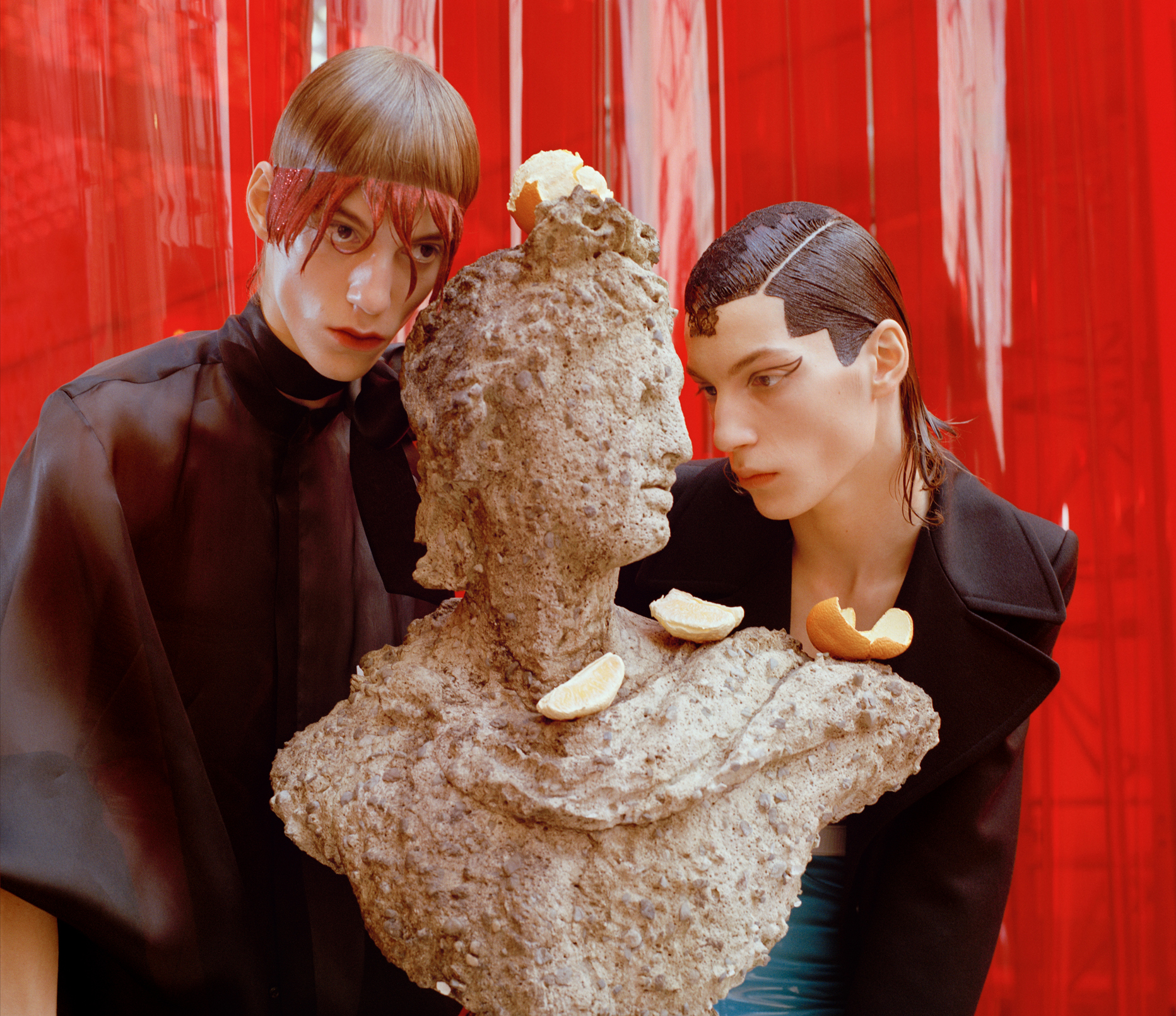 As we see here, that doesn't mean men in white dresses with blue satin sashes; indeed, the mandate comes directly from the fabric, with the use of the bias cut—a womenswear technique Galliano mastered during his tenure at Dior, where he made its hyper sensuality one of the reigning silhouettes of the '90s—now applied to menswear. "It is my way of being a part of that dialogue and exploring what is a new masculinity or femininity, through cutting," he says. "The fabric is fit-ted for you, molded to you. It's the most natural thing that a man could wear, apart from wearing nothing—it's that liberating and light. So it's a freedom of expression, of sorts, of one's gender and sexuality." It's an extreme and pristinely tailored glamour: An olive-green suit cut such that the checks run diagonal rather than straight up-and-down, a feat of cutting that looks blissful and sensual on the body. It's so well made, so rigorously considered, that it's erotic.

In theory, the heroine of any fashion collection is volume: silhouettes either get bigger or smaller. But Galliano reminds us that silhouette is also about the chemistry of fabric. "There is a natural elasticity in the fabric that occurs in bias-cutting," he says. "That natural elasticity is the most modern thing any guy could wear. It's liberating, it's light. Satin back crepe also reacts with the body's temperature, by very nature of the way it's woven. When it's on, the body temperature breaks down the fibers in the fabric, and it starts to mold to the body."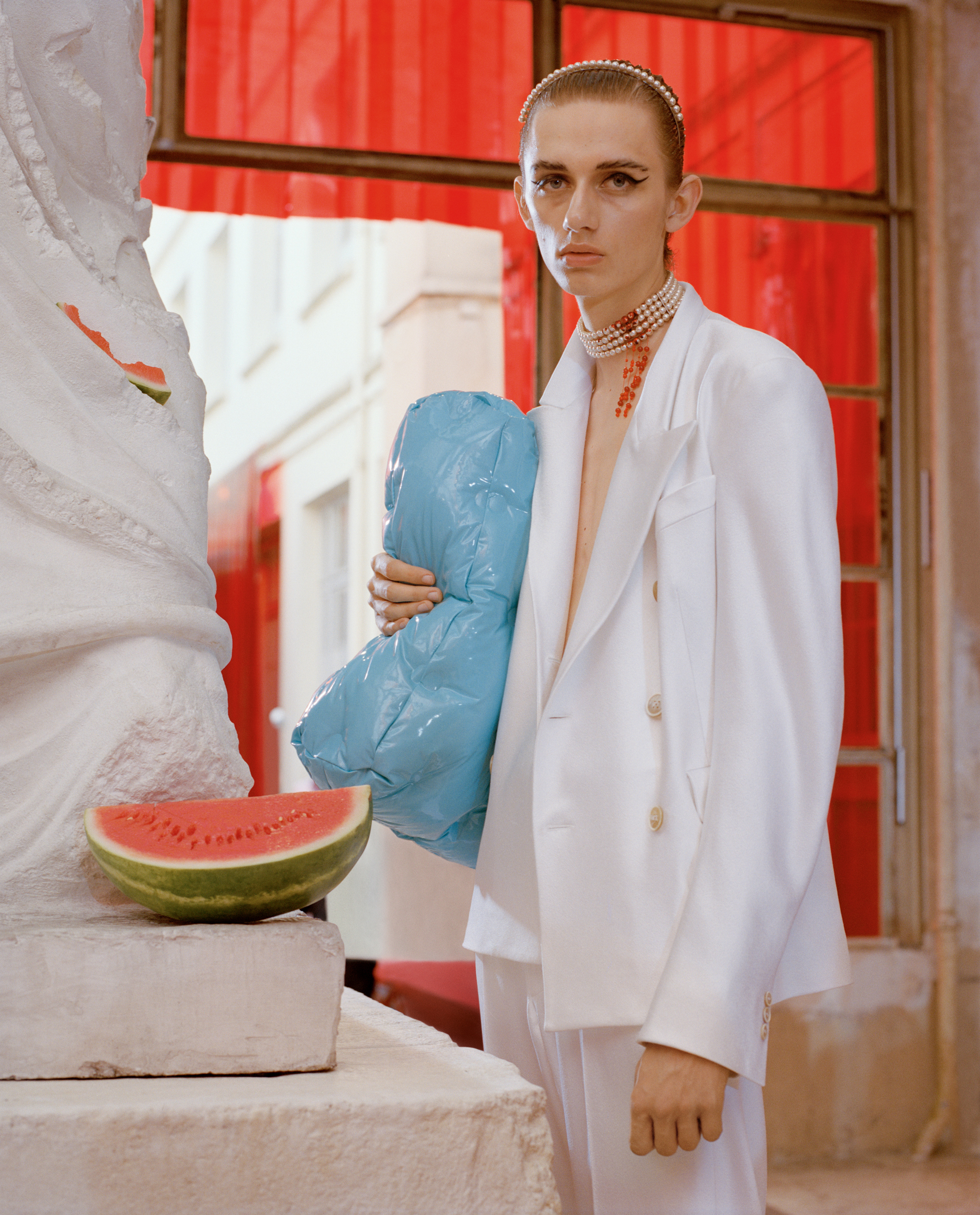 And while lots of designers are using fashion to speak their minds or push for change, that is mostly happening through surface embellishment, through graphics and logos and slogans. Meanwhile, the kinds of men Galliano is thinking of—those Met Gala denizens, as well as Mssr. Miller, Chalamet, and Porter—are playing a less surly long game. "The idea is not to make boys look like girls and girls to look like boys, but to incorporate the very concept of transformation into cutting so you do not have to think about gender," Galliano says. "It's a way of thinking that is genderless." Listen to the fabric, he says: "It tells you what to do when it's on the body, and you must listen for it, and take the time to translate it."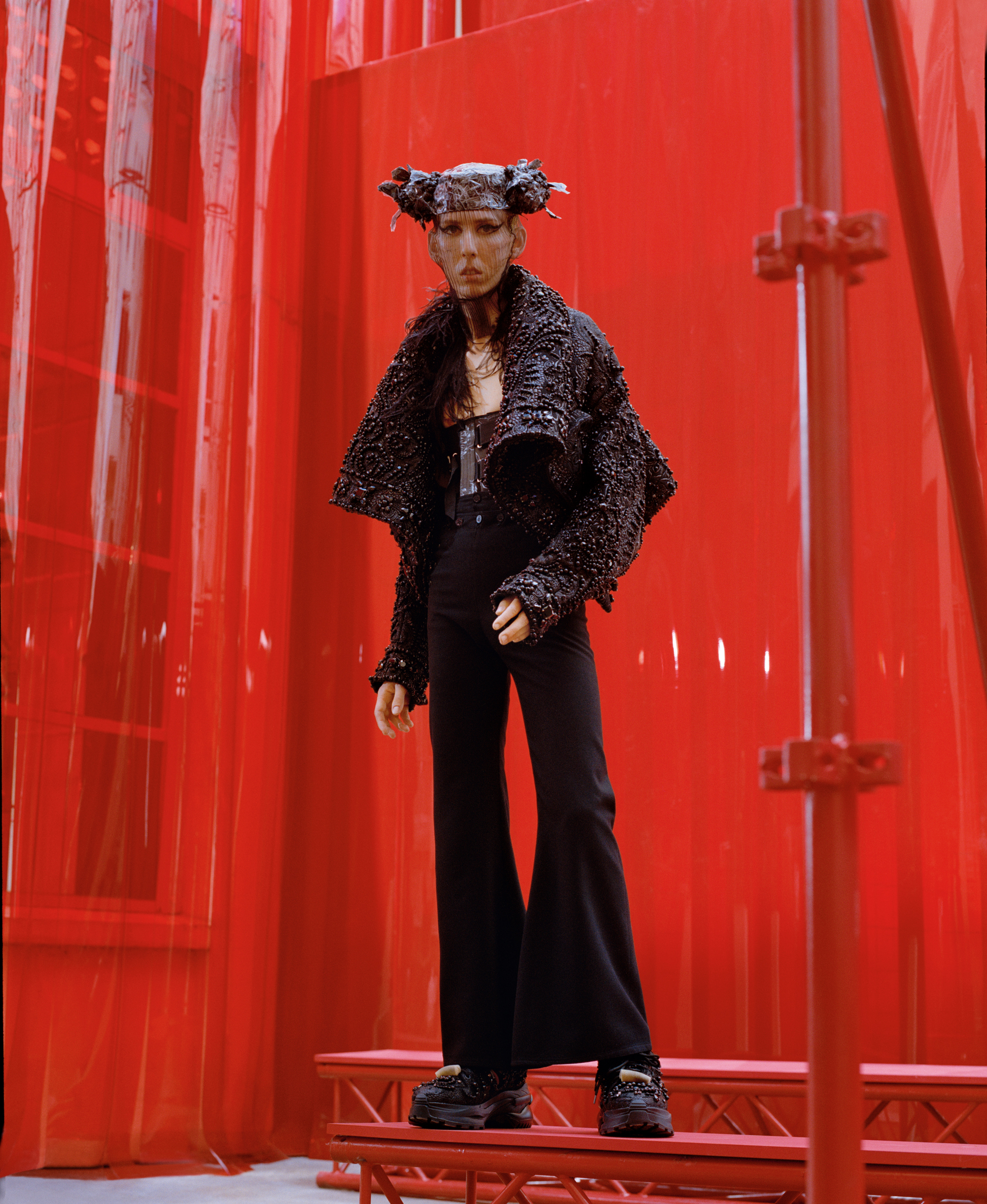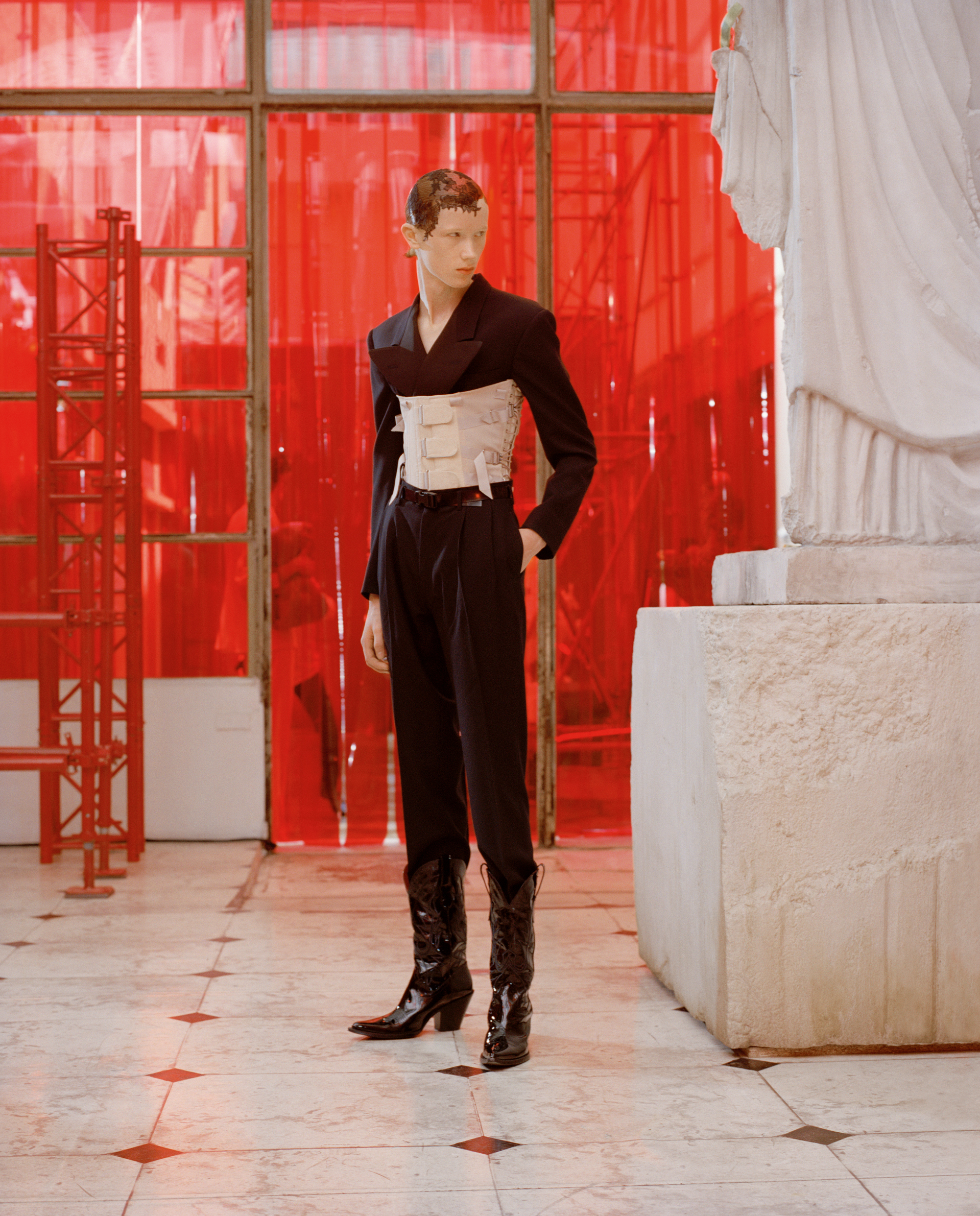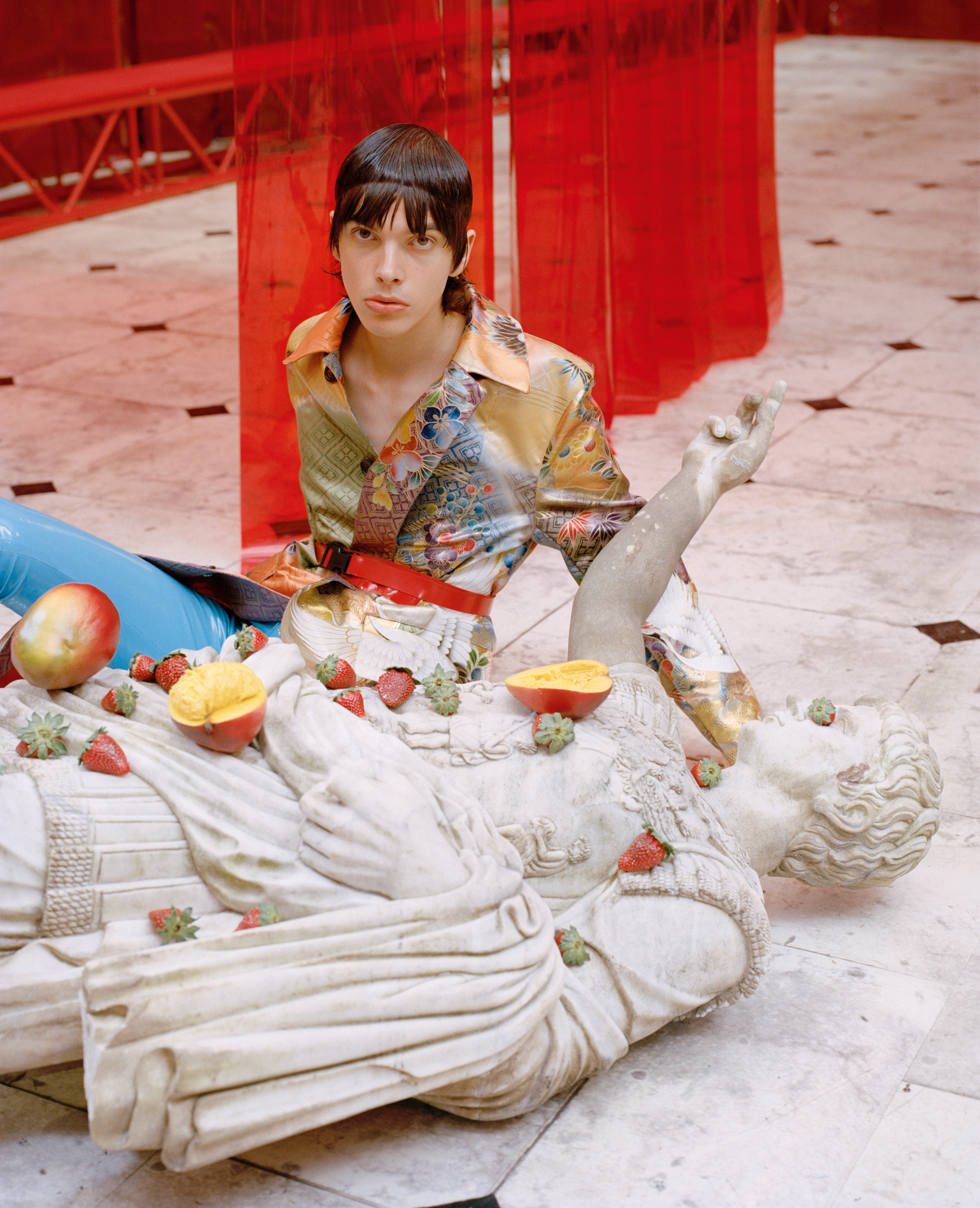 Citations: Photographer's assistants Peter Keyser and Joseph Wilson, Special Thanks Louise Mérat and Imogen Crosby.