Courtesy of the artist, Lever House Art Collection, and Petzel Gallery.
Adam McEwen Makes Us Question What is Real in Two New NYC Shows
In concurrent shows at Lever House and Petzel Gallery, Adam McEwen brings the full force of his artistic oeuvre to bear on the viewer.
Courtesy of the artist, Lever House Art Collection, and Petzel Gallery.
Adam McEwen, the 54-year-old, British-born artist is keeping busy with two new shows that opened recently in New York City. The first, a public installation curated by Roya Sachs in the lobby of Lever House, the uber-modernist Park Avenue office building, is titled '10, FEELS LIKE 2' and features both the graphite sculptures of everyday objects that the artist has become known for throughout the years, and new pieces depicting images of classic Americana. The other, a show at Petzel Gallery's Upper East Side location, includes a series of new works that consists of photos of McEwen's graphite sculptures, mounted on rough plywood faced with aluminum and then coated with an image (taken on McEwen's iPhone) of the subjects of the sculptures themselves.
At Lever House, the viewer is immediately plunged into what feels like a suspended moment in time. Devoid of any walls, you're aware of the constant movement on the sidewalk of Park Avenue—a seemingly ceaseless flow of bodies with only their AirPods preventing them from taking notice of the art sitting just beyond the locus of their attention. Walking on the translucent, white, polyethylene-covered floor installed by McEwen for the show, you could be forgiven for thinking you've stepped into some sort of frigid, post-apocalyptic, reality. The graphite sculptures of mundane, everyday objects—things like a pickaxe, a payphone, a safe, and a blister-pack of birth control medicine—are placed spartanly throughout the show.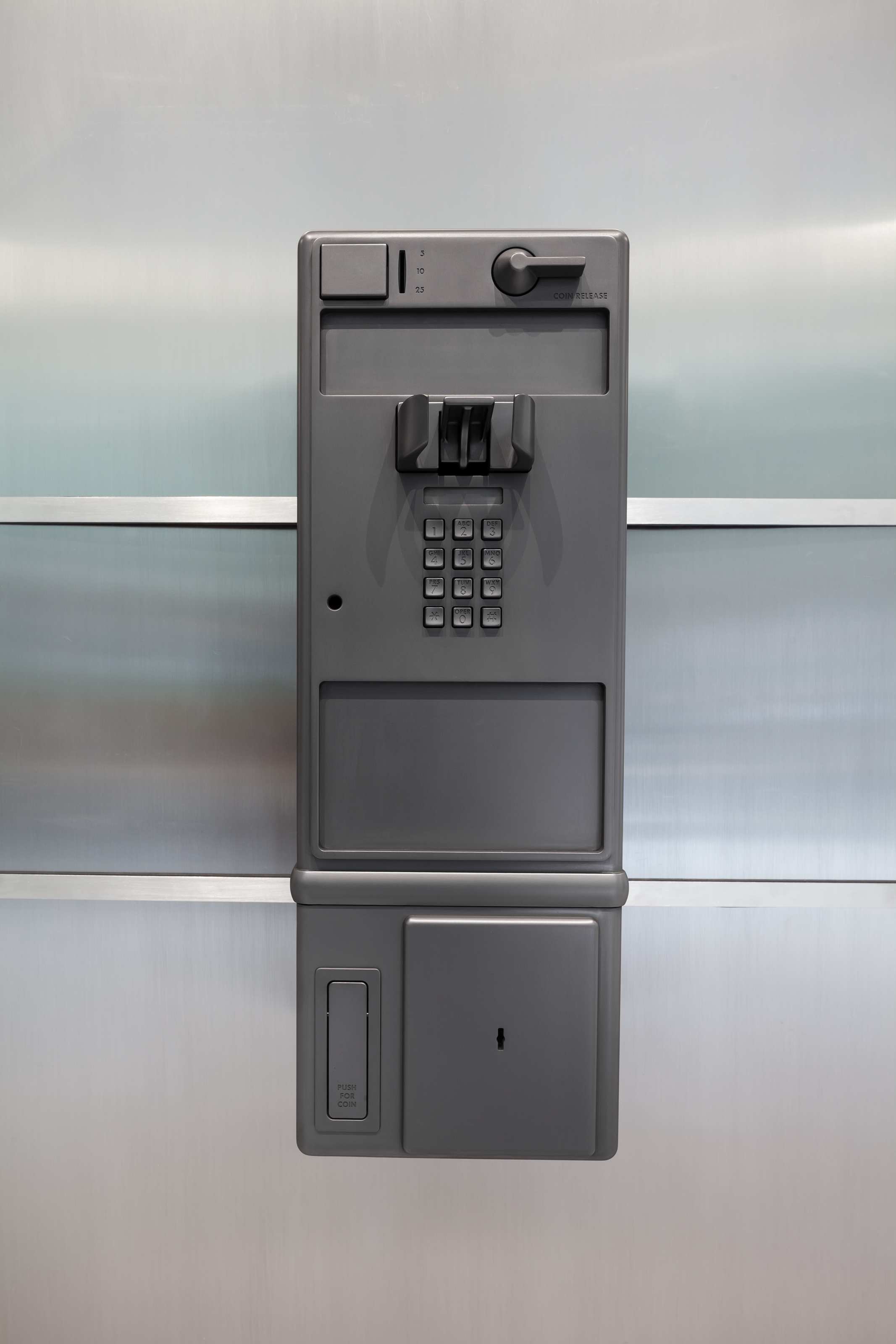 Recognizing that each object was chosen to evoke entirely different meanings to each individual viewer, I asked McEwen, during a visit to his Long Island City-based studio, from where he draws inspiration. "I suppose that I find something interesting about objects that reach the periphery of your vision, things that you keep coming back to in life. It's not about the beauty or style of an object; it's about a crossing point where humor and function, and the abject and the aspirational all collide," he explains. With each artwork carrying a bottomless well of freighted emotional rumination for the viewer, McEwen's sculptures have the ability to morph into a type of "three-dimensional drawings of the idea of a thing," as he described them in the show's press release.
He tells me that he was attracted to the opportunity of staging a show at Lever House not only because "it's a perfect modernist space," as he put it, but also because he was drawn to the idea that no one can control who would see his work. "It's truly democratic in that sense," he points out. "200,000 people walk by Lever House daily and can come and experience it during business hours."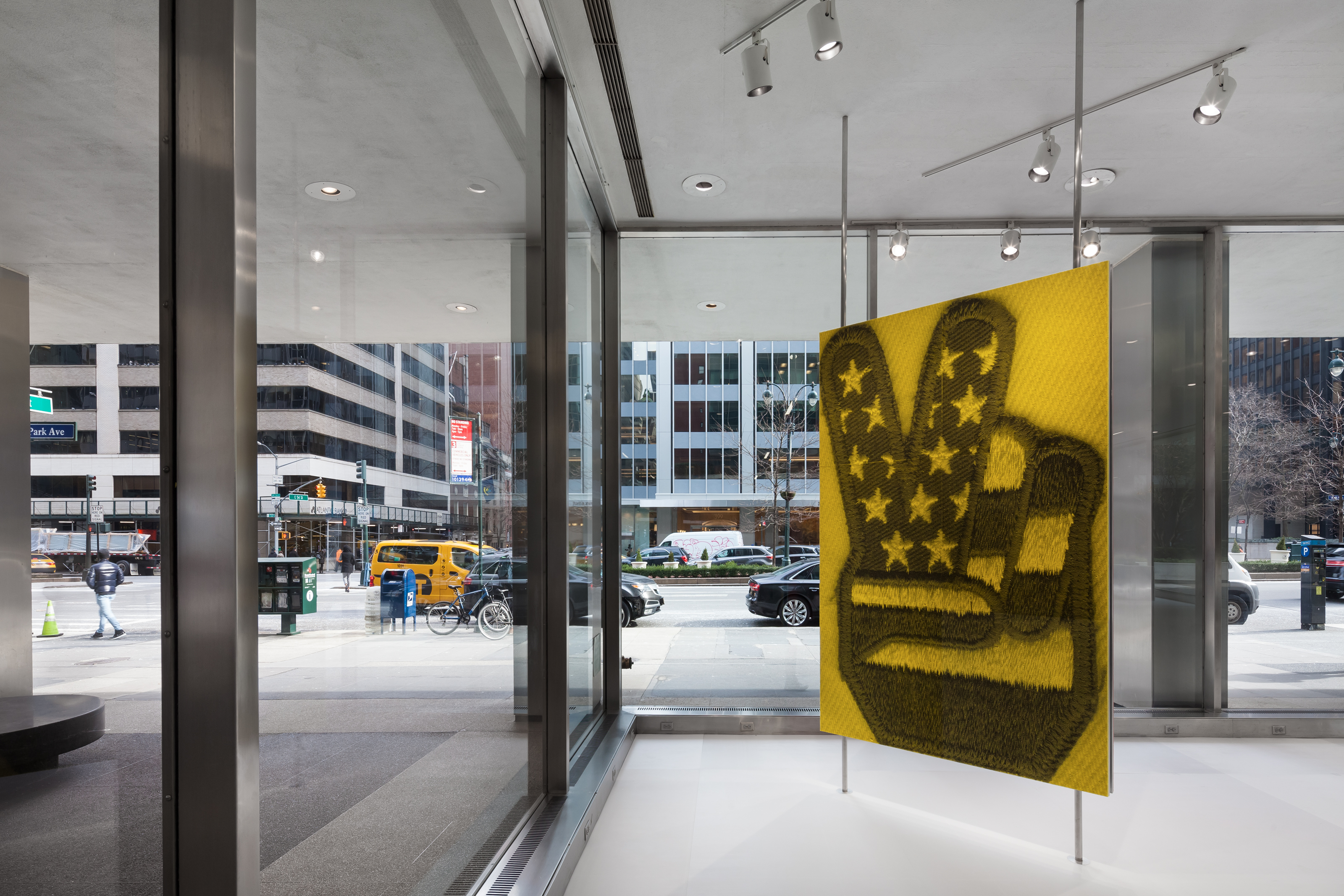 Of course, that same sense of democratic opportunity is in direct contrast to the confining four white walls of a traditional art gallery—an environment McEwen actually likens to a prophylactic. His show of new works at Petzel Gallery's Upper East Side space (the very antithesis of a truly populist environment), is ensconced within those walls, and features what is seemingly the artist's next step in the progression of his practice.
While the items McEwen photographed for these new works—retro 3D glasses, a Styrofoam—are all anachronistic in nature, McEwen tells me that wasn't his intent at all. More importantly, the objects create a fraction of a moment of instability in the mind of the viewer. Each item is instantly recognizable, but again, freighted with a different set of meaning for each person. The actual objects, while being graphite facsimiles themselves, are ultimately alluding to real objects in everyday life. Indeed, the concept of verisimilitude runs throughout McEwen's practice. What is real and what isn't? Is that a picture of an actual hotel door handle, or merely its graphite doppelgänger? If an object has no utilitarian purpose, but exists solely to evoke a specific memory or reaction from the viewer, can it still be considered real?
Eventually, I bring up the au courant label in the course of our interview. There's no getting around it. After all, there's a reason McEwen was commissioned to present a show at Lever House, an opportunity that many contemporary artists would jump at. His work resonates astonishingly well in our current reality TV moment, when it's increasingly difficult to distinguish between the real and the fake; be it on Instagram, in our daily interactions with one another, or even in the Oval Office.
From the matte black finish of the graphite objects at Lever House, to the Warhol-esque pop coloring of the images at Petzel, the 'up to the minute' moniker permeates McEwen's disparate works throughout his oeuvre. Hoping to catch him off guard and create that brief moment of instability that he so often strives to instill in the minds of his viewers, I bring up the topic of zeitgeist. "Would you reject the label of 'cool' for your work?" I asked. "Of course I would," he replied without missing a beat. "Who wouldn't reject that? I don't know what 'cool' even means. I do think that if you can find the iconic in the banal then that's interesting. But it's not cool. It's something else."
"What about the peace signs, each titled 'TBT,' installed at Lever House?" I ask. After all, if there's ever been a symbol, a piece of classic Americana that so encapsulates the very essence of '60s culture, it would be the ubiquitous visual shibboleth that the artist decided to make the focus of some of his new work. "The peace sign is something that's loaded with delicious American promise," he said. "I remember as a teenager that we had patches with it, and the feeling that it was just cool in that classical American way. It makes me think of summer and girls." But at the same time, he points out, 'In World War II it had a totally different meaning. It was the V for Victory that Churchill popularized." That dichotomy of two different meanings for the same image and the frailty—even the burden—it creates in the viewer's mind upon first recognition, and then over time, resonance through reflection, is the true through-line of McEwen's work.
As we end our time together and are making our way around his studio, slowly inching towards the door, I asked Adam about the car parked near the entrance, directly in front of the garage door that opens outside. It was a jet black '83 Chevrolet El Camino. Thinking that it was perhaps meant to be the mold for McEwen's next graphite sculpture, taking its place alongside the safe, clock, pickaxe, and birth control blister pack in the pantheon of his work, I asked what the car was going to be used for. "Oh, that's just the car I drive" he answered.
Tagged: