Stephen Varble (1946 - 1985) poses in one of his hand-made outfits, 1975. (Photo by Jack Mitchell/Getty Images)
This New Exhibition Spotlights The 'Prophet' Of Queer Performance Art
An exhibition at Leslie-Lohman Museum resurfaces the work of performance artist Stephen Varble.
Stephen Varble (1946 - 1985) poses in one of his hand-made outfits, 1975. (Photo by Jack Mitchell/Getty Images)
Imagine you're visiting a gallery on a weekend afternoon in New York. Suddenly, a person walks in, wearing a dress made of rope and pipe cleaners and a headdress of cascading styrofoam packing peanuts. Two cartons of milk adorn his chest, and another nestles among the peanuts, chicken bones protruding sharply from it. This person then leans over—perhaps an attempt to see the art more clearly—and liquid white milk tumbles out of the cartons, soaking the floor and alarming the onlookers.

Learning of this dairy-laden display decades later prompted historian David J. Getsy to wonder why he hadn't heard of performance artist Stephen Varble, the mind behind those outlandish, gender-bending outfits and performances. Once, Varble arrived at the West Village's Chemical Bank in a limo, enthusiastically claimed a check was forged, and filled out new ones for "none million dollars" by puncturing condoms filled with cow's blood that were strapped to his chest and dipping his pen in the mess. Other days were spent spraying peers with a hose in the street, clad in only pearls and a codpiece, or washing dishes in the gutter outside of expensive boutiques.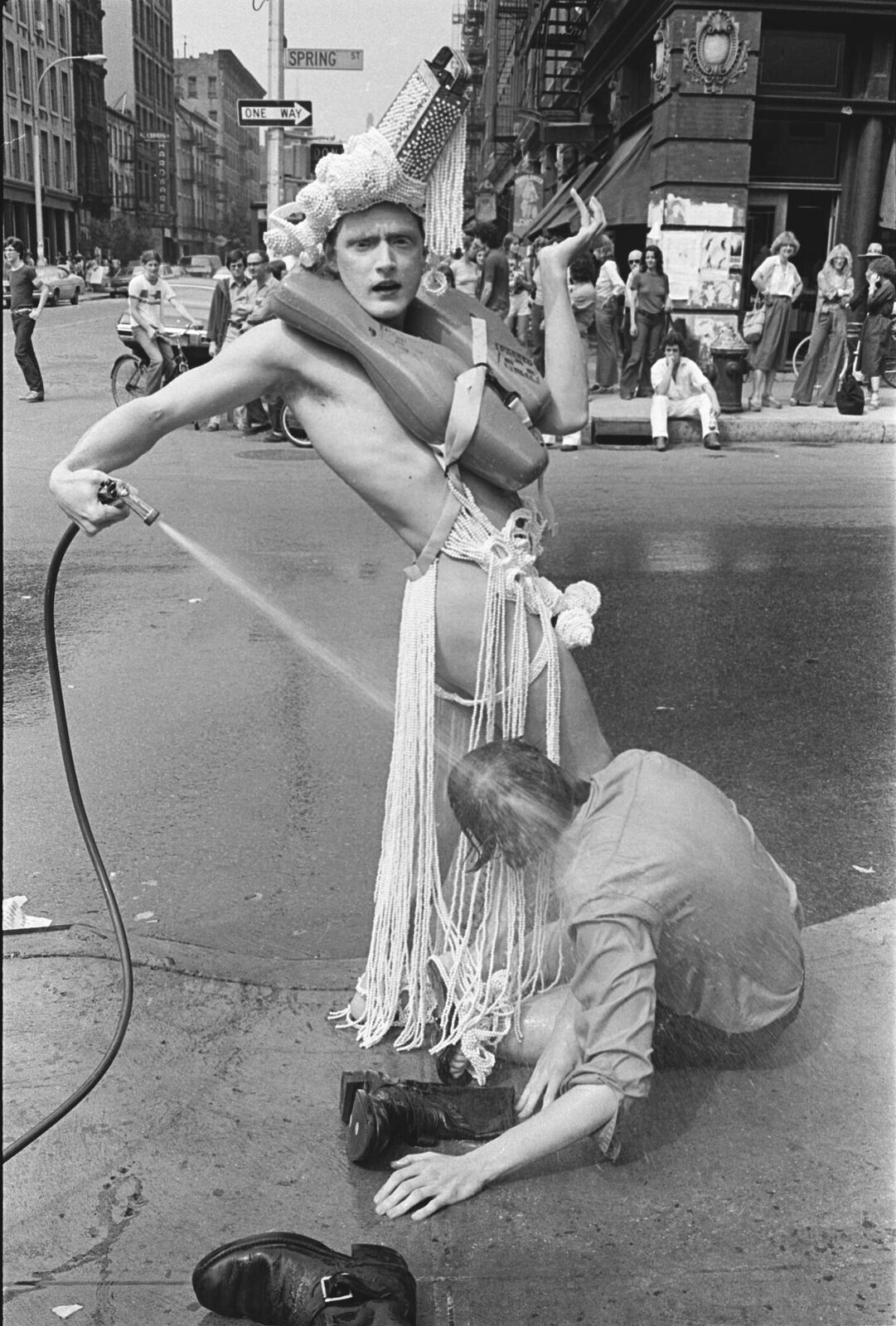 Getsy has gathered an impressive collection of photos, videos, letters, press releases, drawings, interviews, and costume recreations (by the artist Vincent Tiley) to tell Varble's story in Rubbish and Dreams, an exhibition at New York's Leslie-Lohman Museum of Gay and Lesbian Art, tracing the artist's time making experimental theater at La MaMa in the East Village, staging anti-capitalist disruptions in the street, meeting lovers, hosting exhibitions, drawing, making videos, and coming to the end of his life. In an accompanying article for the museum, Getsy writes that Varble "declared himself a prophet whose aim was to expose and undercut commercialism, the conformity of gender in public spaces, and the unequal distribution of wealth."
Rubbish and Dreams, named for Varble's penchant for making costumes from garbage, is an attempt to lift the artist from his prior obscurity in the cultural canon. Varble moved to New York in 1969 to attend Columbia University. He was praised by Andy Warhol and written up in Penthouse. He had a wealthy patron and friend who gave him funding and lent him her limousine. He penned sensationalist press releases on his own work and rallied photographers like Peter Hujar and Jimmy DeSana to document his attention-grabbing performances.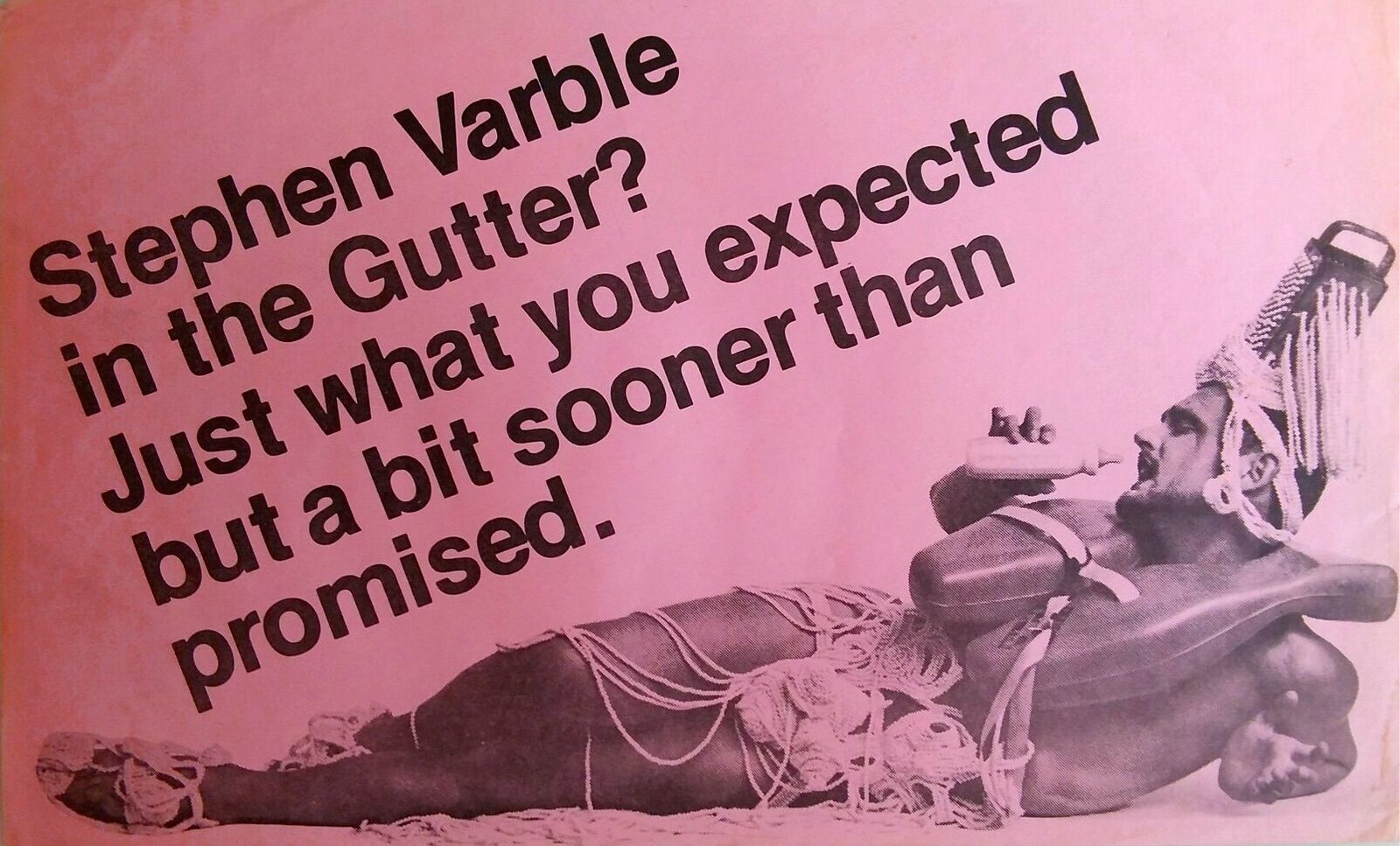 It may seem that all the pieces were in place for a successful and well-remembered career, but, compared to other artists of his genre and era, Varble has remained unknown until now. While this may appear to be a result of the arbitrary nature of fame, Getsy has some ideas about why Varble never became a household name.
"It's not just that Varble was forgotten—he exposes some limitations of the ways in which the history of performance art has been remembered," Getsy explains, noting that the performance artists etched into art history tend to be those who collaborate with "institutions of art" like museums and galleries. Spilling milk on a gallery floor at a performance curated by someone with several degrees and a fancy title might be praised by the art world elite; doing it sans invitation is another story. Even the write-up in Penthouse was a subtle rebellion: Varble lied about the level of prestige he had reached in his career, inflating prices and falsely claiming that celebrities had purchased his costumes.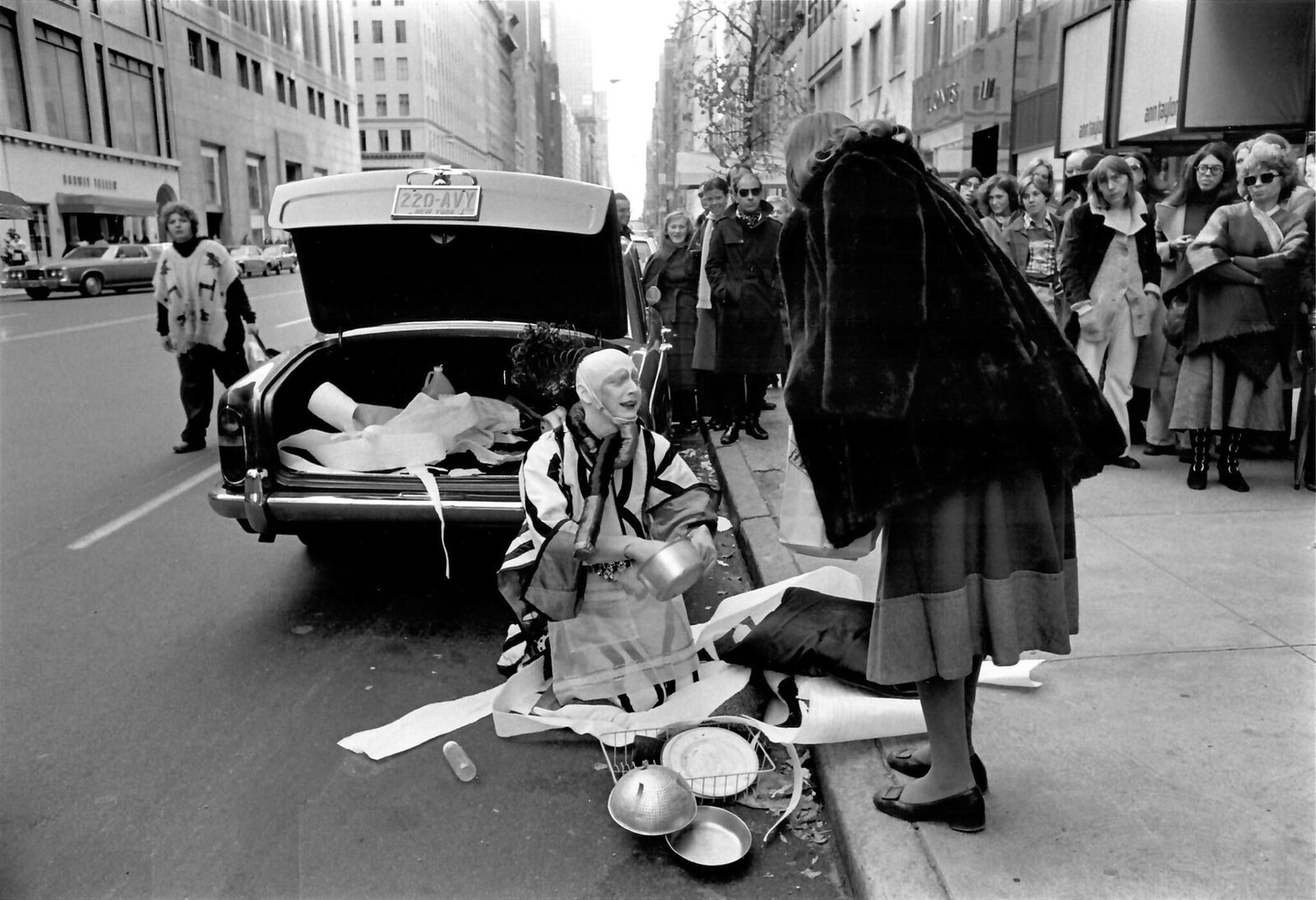 Getsy argues that in addition to the anti-institutional nature of Varble's work, the fact that he made most of his costumes and props from trash and often reused them made him less appealing to institutions than the precious, one-of-a-kind physical objects typically housed in museums and galleries. And, of course, the widespread and devastating loss brought on by the AIDS epidemic—of friends, collaborators, audience members, and ultimately Varble himself—didn't help.
A "mini exhibition" within Rubbish and Dreams presents a survey of other experimental, queer, and/or street-based artists and performers from Varble's era, including Stonewall veteran Thomas Lanigan-Schmidt, Marsha P. Johnson's theater group Hot Peaches, and Pope.L, a street performer who staged "disruptive performances" on topics such as perceptions of black men in urban areas.
Retrospectives of more commercially successful artists often have to pick and choose what to include out of a vast archive, but there are "very few material traces left" of the work of Varble and these other artists work, Getsy explains: "So it wasn't that I was editing things out so much as really trying to tell a story with a very ephemeral partial archive."
Varble didn't take to the street forever. From 1977 until his death from AIDS-related complications in 1984, he steadily shifted his focus. An exhibition placard notes that Varble moved away from performance, "growing weary of the ways in which he was being commodified and becoming increasingly strident in his proclamations about the dangers of capitalism," a gloomy reminder that those who publicly rebel for long enough may end up serving as entertainment and potential profit to the very behemoths they've spent so much time rallying against. Instead, he pursued interests in drawing; an Indonesian spiritual practice called Subud that involves ritualistic enemas and a worship practice "free from thought and desire"; and his lover Daniel Cahill, to whom he left everything in an illustrated final will.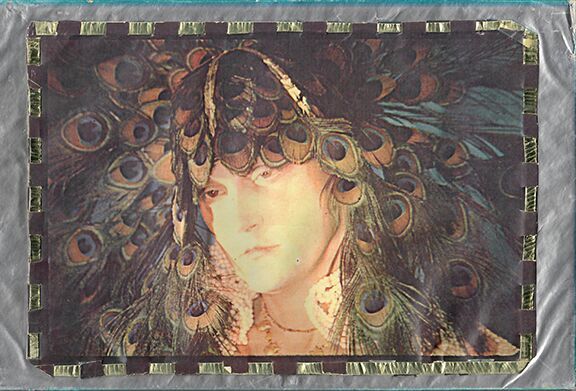 The exhibition on Varble is part of a recent increased interest in reviving and remembering the work of queer, experimental, and anti-institutional artists, with recent retrospectives on David Wojnarowicz at The Whitney, Jack Smith (an influence on Varble) at Artists Space, and a look back at East Village nightlife space Club 57 at MoMA, which gave a platform to artists like Keith Haring, Klaus Nomi, and lesbian performance artists Split Britches.
"I think the current complexity of our political and economic situation mirrors what was going on in both the 1970's and 80's," Getsy says, with both eras characterized by "hyper-capitalism," "new forms of street activism," and "the understanding that political institutions [are] not telling the truth."
And while it's undoubtedly useful to expose this subversive, queer work to a new generation, one can only wonder what people like Varble might think about it being memorialized in a museum.
Rubbish and Dreams: The Genderqueer Performance Art of Stephen Varble is on view through January 27 at the Leslie-Lohman Museum of Gay & Lesbian Art.