Goodbye, Barneys Goodbuys
The last days of the once iconic retailer can make a grown man cry.
The clothes aren't the first thing you notice upon entering Barneys New York's downtown location. It's the employees whose once smiling faces are now obstructed from view as they stare down at their cell phones, unaware you've even entered the space that was once a religious experience in the retail pantheon. Can you blame them? Without warning, Barneys filed for bankruptcy in August, announcing all but seven stores would close. Two months later, bidding began. And just last week, Authentic Brands Group announced their acquisition of the Barneys name, and with it the liquidation of all of the company's "high-end wares."
Which brings us to this week, when the so-called liquidation sale began in somewhat earnest. "EVERYTHING MUST BE SOLD! GOODBUYS, THEN GOODBYE," reads one sign outside of the store." Inside, the store looked as stocked as ever, only now there are small placards that read "SALE" affixed to the racks full of Acqua di Parma, Jil Sander, and Sies Marjan. You might have expected a frenzy but you'd find nothing of the sort. In fact, it seemed like business as usual, minus the business. Which is to say the store was nearly empty. (Which I guess is business as usual.)
That could probably due to Barneys perhaps inflated sense of the term "sale." There are several mannequins throughout the store with more prominent sale signs draped over them which seem to be silently crying out "take me with you." "Was $6500," read a size 2 Burberry fur coat. "Now $5850." Currently, most goods in store are on sale at 5-10% off (LVMH Moët Hennessy Louis Vuitton goods, for instance, remain at retail cost). This could account for the store's emptiness. "Can we all agree that 5%-10% off is not a sale?" stylist Antoine Gregory tells me. "I checked out a few Wales Bonner pieces I've wanted since Spring but even on 'sale' Barneys was charging more than any other retailer that had the items in stock."
I approached an employee to ask if the sales would grow in scale over the coming days, weeks or months, and he confirmed that to be his understanding. I wanted to hug him, but I thought that might be weird. Scott Carpenter, the president of retail solutions for company handling the sale told the New York Times that the discounts should increase "based on a somewhat mathematical, somewhat artful formula." An artful formula sounds like the name of a movie that would win Blake Lively an MTV Movie Award nomination. Carpenter confirmed that that plan is to liquidate all goods by December, though the company will extend to February if necessary, at which point one could expect the discounts to grow to, I dunno... 15-20%.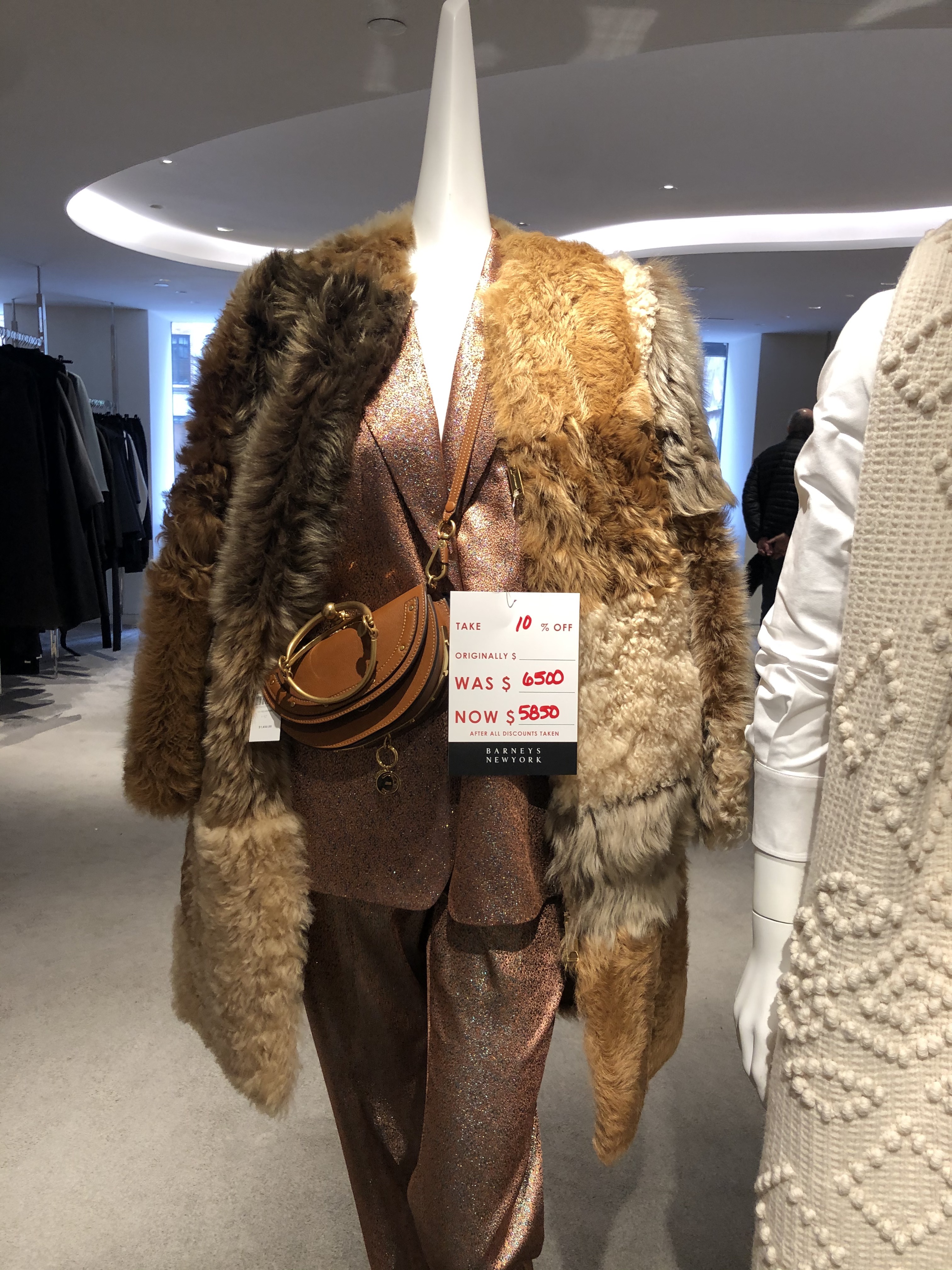 (Worth noting: An employee told me that they are adding an additional 10% off of goods at check-out for today, Thursday, only, but said it could continue.)
Why not just expedite the liquidation instead of prolonging the inevitable? "I think they may not want to alienate vendors if they plan to work with them again in the future," one former employee tells me asking to remain anonymous. This makes sense, as Authentic Brands Group plans to license the Barneys name to other companies like Saks Fifth Avenue. But what will become of the storefronts, as equally iconic as the clothing itself, once the supply runs out? The midtown flagship is confirmed to stay open for at least another year in a "slimmed down form." As for the four other locations in New York, Beverly Hills, San Francisco and Boston and its two remaining warehouses in Central Valley, New York and Livermore, California? That is unknown.
"I checked out a few Wales Bonner pieces I've wanted since Spring but even on 'sale' Barneys was charging more than any other retailer that had the items in stock."
The big question at this point remains where did things go wrong? There's plenty of think pieces for that. But there's also a reality to face of how this will affect the store's 2000 employees who will lose their job… maybe in December, maybe in February, maybe in 2020 if they are "lucky" enough to stay on at the flagship. "They were hiring people knowing they couldn't and would not pay them," Gregory says. "They were still placing orders. Young and emerging designers will suffer because of this. Barneys is one of the few places you can even buy Wales Bonner or Bode in NYC. It's disgusting what they did toward the end."
Barneys joins the ever-growing list of New York institutions including Dean & Deluca (which shuttered its last location in October), Henri Bendels (which made its last sale in January 2019), F. A. O. Schwarz (which closed its doors in 2015), and Charivari (which said goodbye in 1998),
all of whom once dominated the Manhattan retail scene until that very scene (or the lack thereof) dominated them into submission.
I hover around the check-out area, rifling through clothing I have no intention of buying in an effort to try and spot an elusive sale. Five minutes passes. Ten minutes. Fifteen. Nothing.
Tagged: