Jordan Wolfson, Untitled (Detail), 2019 © Jordan Wolfson. Courtesy the artist, David Zwirner and Sadie Coles HQ, London
Our Ten Favorite Pieces at Frieze and Beyond
From Jordan Wolfson at David Zwirner to Ibrahim El-Salahi at Vigo Gallery, here are the works we can't stop thinking about.
Jordan Wolfson, Untitled (Detail), 2019 © Jordan Wolfson. Courtesy the artist, David Zwirner and Sadie Coles HQ, London
This week was Frieze, baby! If you didn't have time to run all over London checking out all the fairs and all the galleries and all the museums and all the everything, fret not, GARAGE's did all the legwork for you. Here are our faves from Frieze London, Frieze Masters, and the 1:54 Contemporary African Art Fair. You're welcome!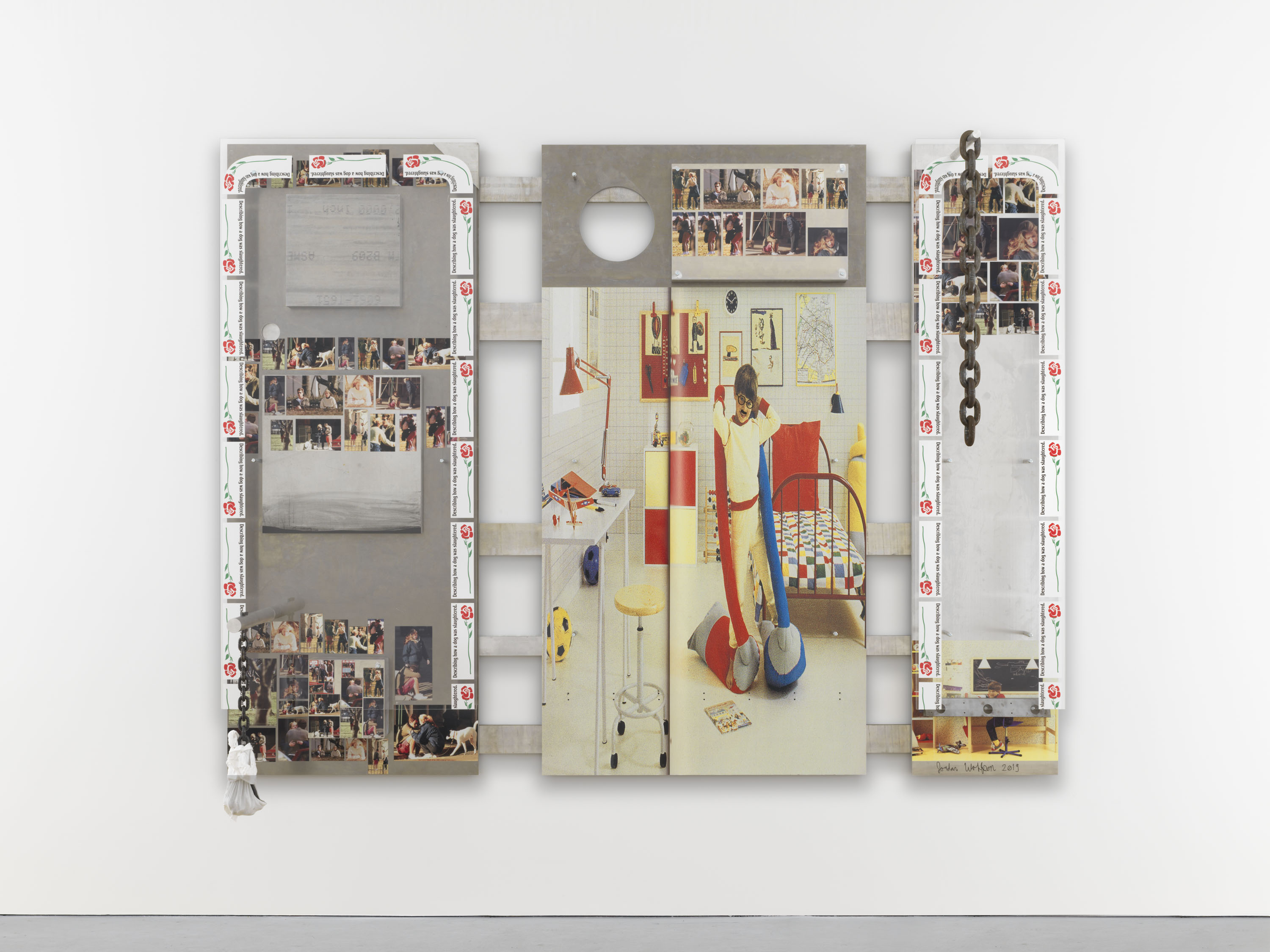 Jordan Wolfson at David Zwirner
On a sunny, frigid day in February 1996, Carolyn Bessette and JFK Jr. had a major meltdown fight in Central Park. There was crying, there was shouting. At one point, John John took CB's engagement ring right off her finger. And eventually they made up. The paparazzi captured the whole thing in what become that winter's biggest tabloid story. The latest panel by Jordan Wolfson, who doesn't so much turn pop culture on its head but rather twist it so it contorts into something wholly unrecognizable, takes that episode as its raw material. I loved it. — Mark Guiducci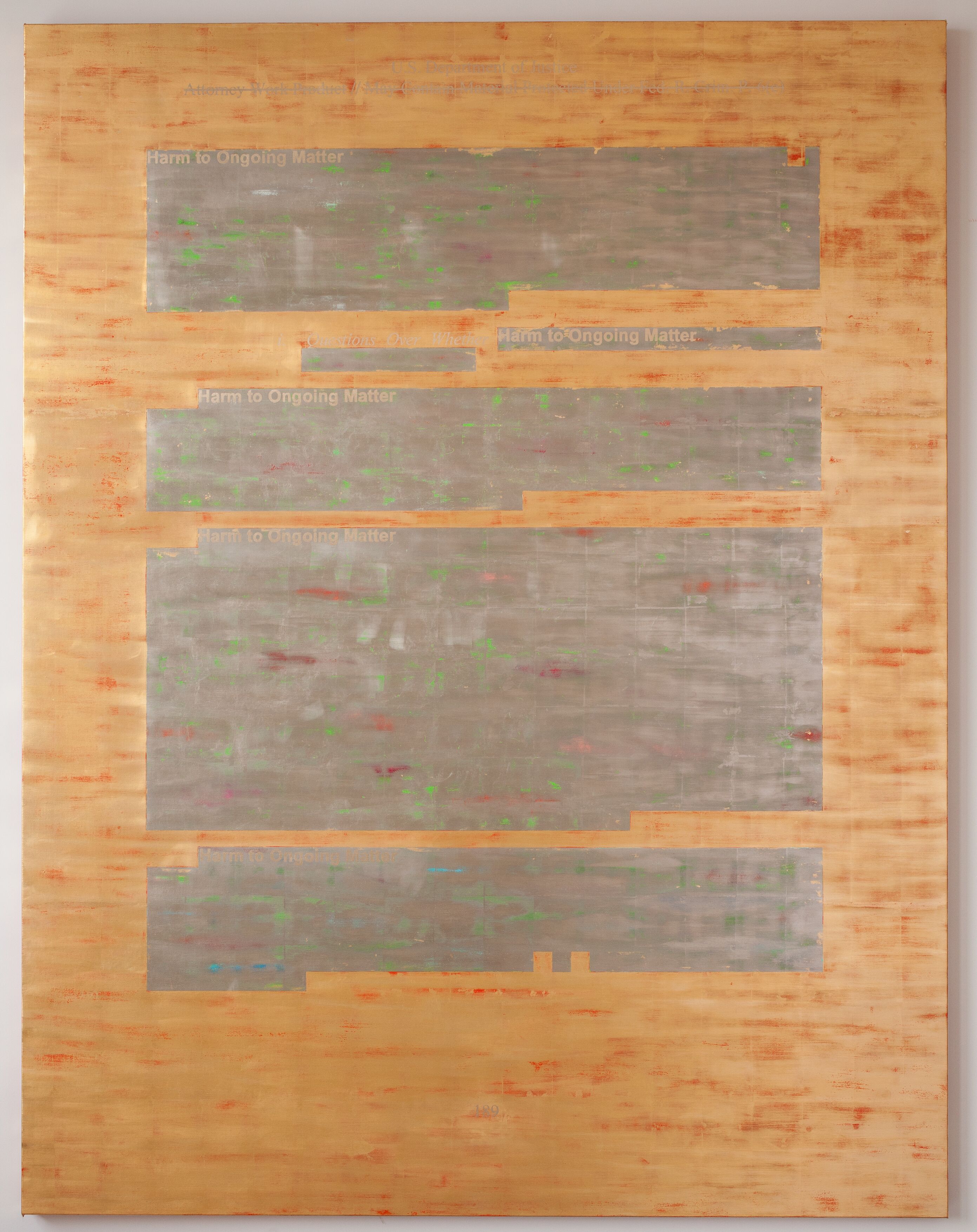 Jenny Holzer at Hauser & Wirth
Say what you may about the Mueller Report—that it was indirect, inconclusive, ineffective—its bombshell release was a marvel of the "drop" tactic more commonly associated with Kanye albums and Supreme clothes. When entire pages of the 448-page document were redacted with the phrase "Harm to Ongoing Matter", we should have known that it wouldn't get us too far. First it became a meme, and then it became a Jenny Holzer, gorgeous in gold at Hauser's booth this week. — Mark Guiducci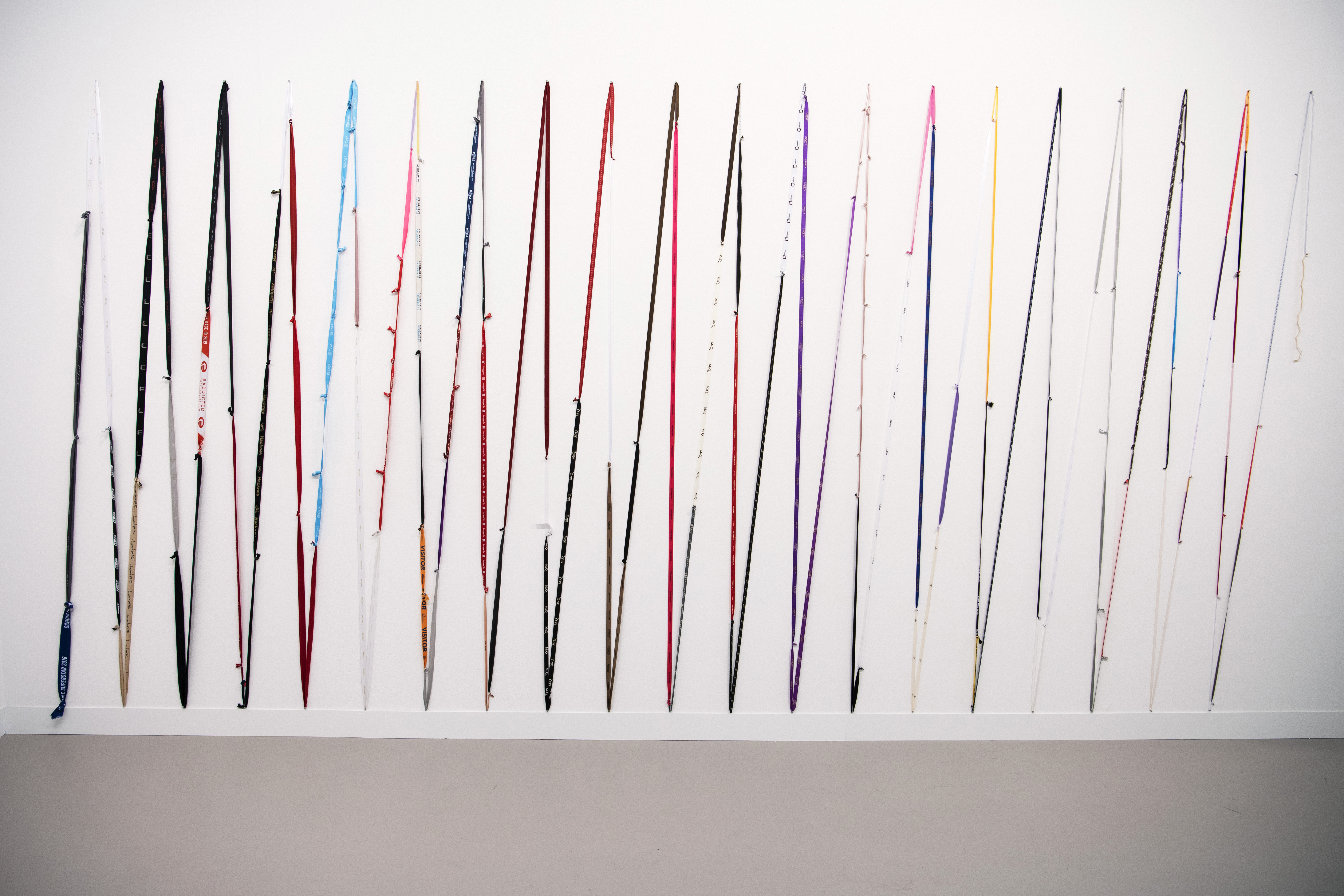 Jac Leirner at White Cube
A heart rate monitor, made of ribbons? But not just any ribbons, branded ones. With the logos of luxury brands. The ribbons that are tied around your jewelry boxes, your shopping bags from Loewe, from Burberry, from Prada, and from Hermes. All tied together and held with thumbtack. The Brazilian artist's work is centered around collecting and organizing found materials. She named this one "Punk Ostentation." You cannot get more genius than this. — Laia Garcia-Furtado
Ivan Morley at David Kordansky
Ivan Morley's abstract expressionist paintings invite you to come closer, closer, closer, and get lost within its textures. Morley loves to blur fiction and reality, giving the viewer a strand of something recognizable to draw them into the story he's trying to tell; a bad memory of a good painting. — Laia Garcia-Furtado
Alice Neel at Marlborough
Steve Cornwell was Alice Neel's studio assistant. On the strength of this portrait, they enjoyed each other's company: Cornwell is all twinkly eyes and mischievous smile, caught in the middle of a gossipy chat. He looks like he's dressed as a feast for her eyes in his periwinkle blue polo neck and pumpkin colored trousers. — Hettie Judah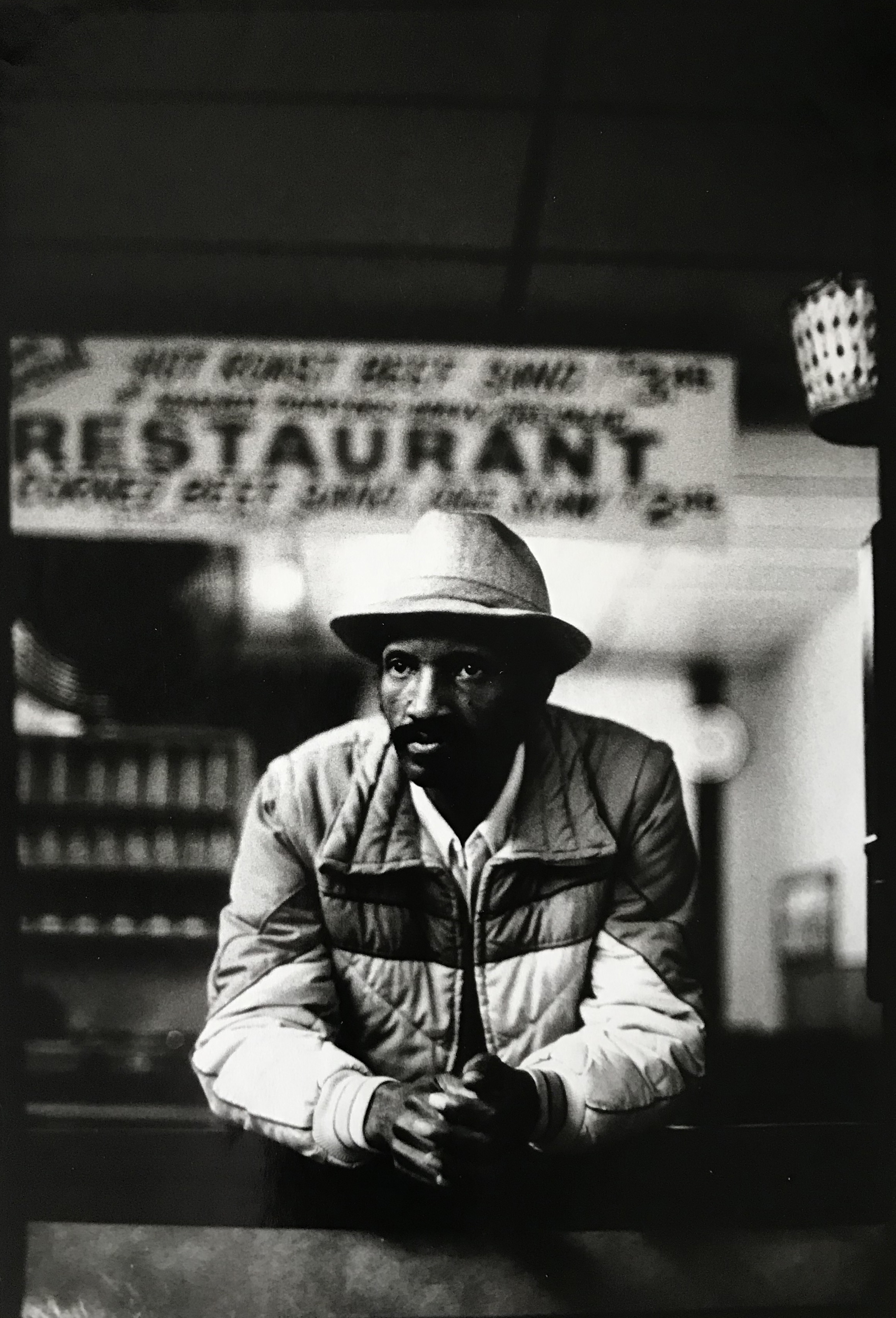 Ming Smith at Jenkins Johnson Gallery
London last saw Ming Smith's work when Arthur Jafa showed her black and white photographs in his Serpentine Gallery exhibition. The first female African American photographer to have work bought by MoMA, Smith worked as a fashion model and studied microbiology before picking up a camera. Shot in the Hill District of Pittsburgh, Pennsylvania, setting for many of August Wilson's dramas, Smith's photographs captures figures that could have stepped out of one of his plays. — Hettie Judah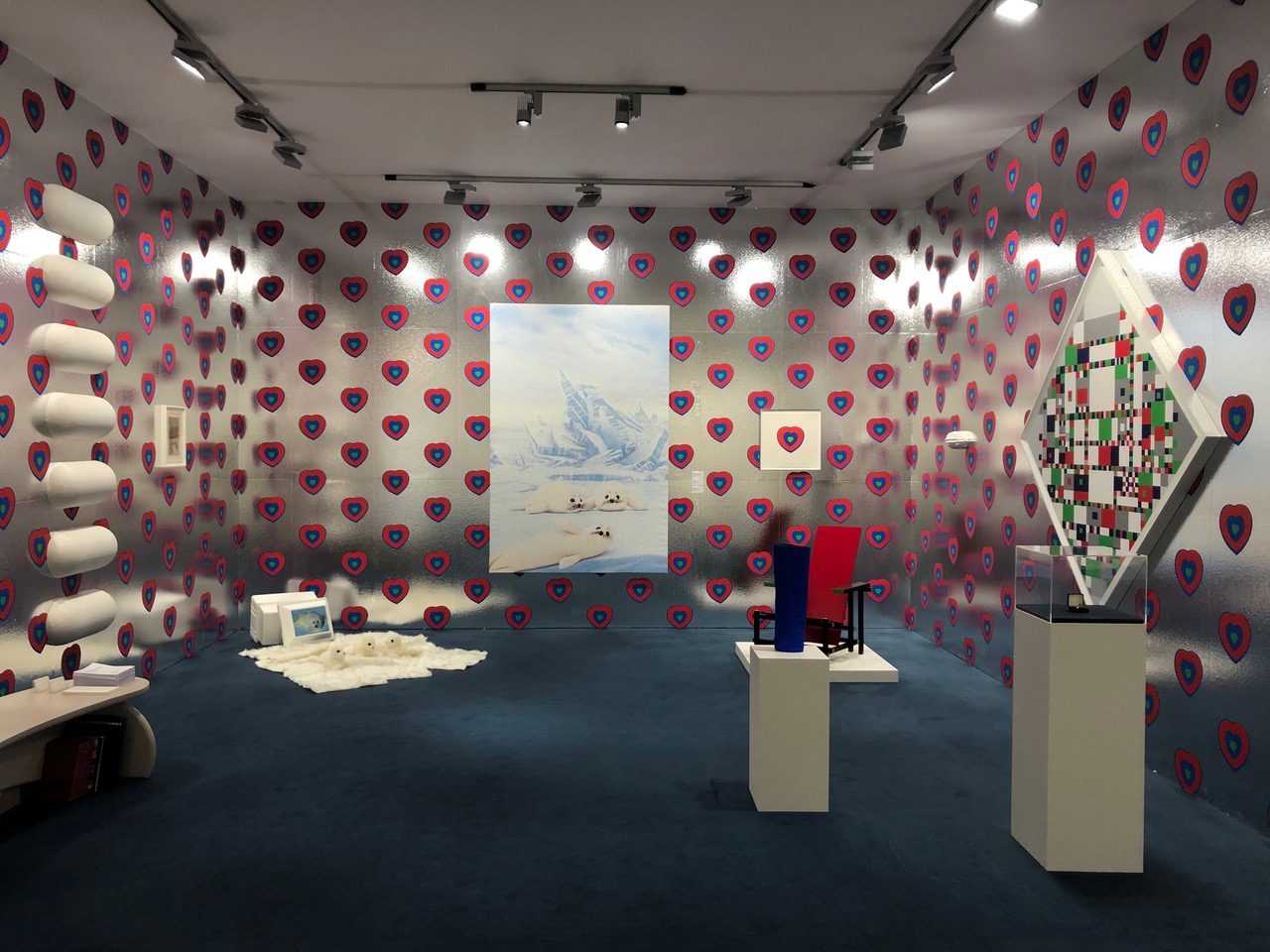 General Idea at Mai 36 Galerie
In 1994, after 25 years working together, two of the three members of General Idea – Felix Partz and Jorge Zontal – died of AIDS-related causes. Their final exhibition, INFE©TED, transferred the blue, red and green of their AIDS logo onto canonical modernist works by Piet Mondrian, Gerrit Rietveld et al. They're shown here in a total Infe©ted space, complete with mirrored wallpaper and the collective's self-portrait as three cute harp seal pups: endangered creatures that tugged at the public's heartstrings "because they're cuter, rather than three middle-aged homosexuals," Zontal explained at the time. — Hettie Judah
Phumzile Khanyile at Afronova
Plastic crowns, like the glitzy diadems awarded beauty queens. Plastic crowns, like hen party headdress celebrating transition to respectable married life. Plastic crowns, like kids' Disney Princess dress up. Shot with the fuzz, lens flare and awkward framing of rejected family snapshots, Phumzile Khanyile's photo series skewers all these supposed feminine goals: the controlling beauty and behavioral norms crowned with social approval. — Hettie Judah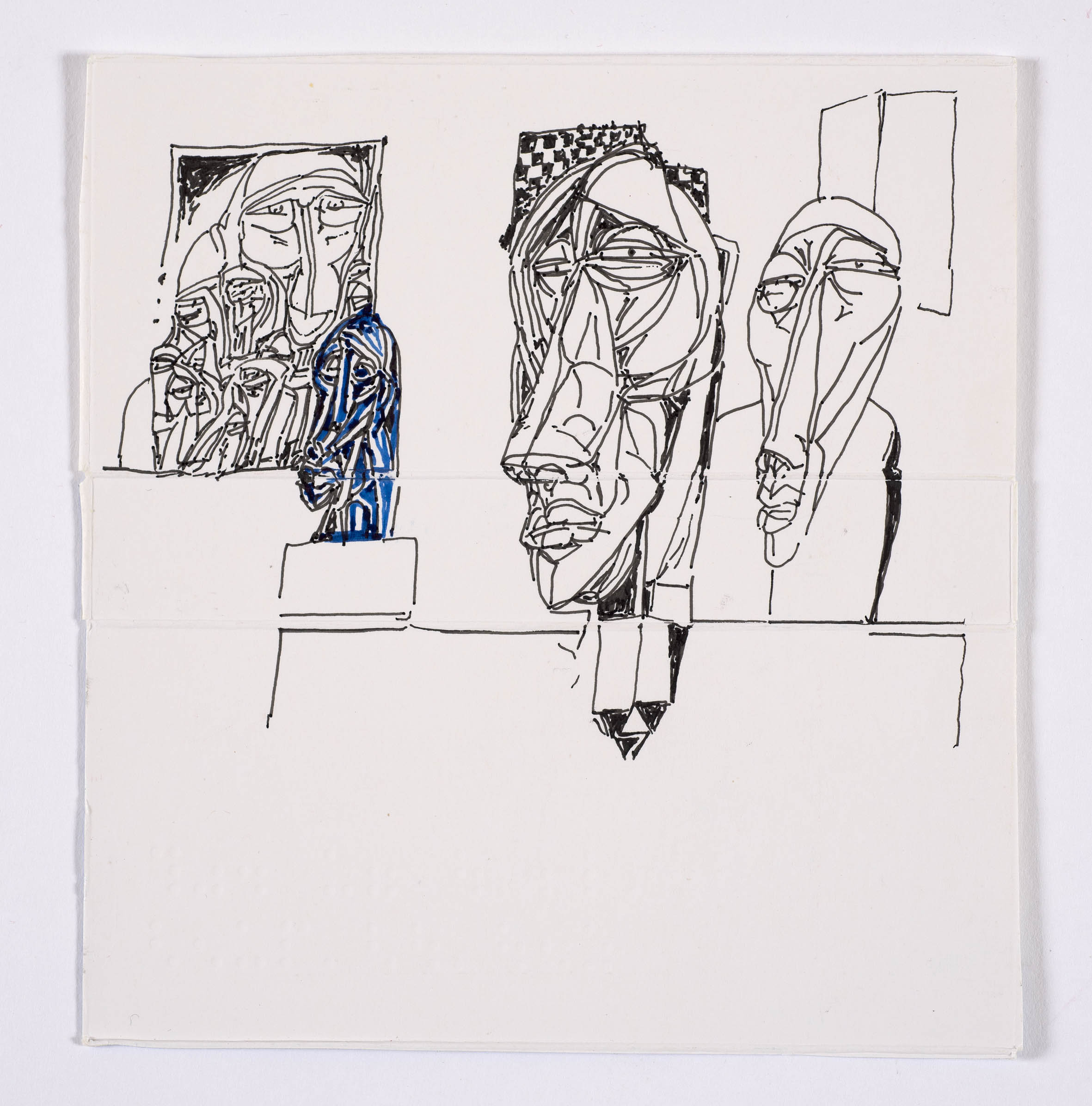 Ibrahim El-Salahi at Vigo Gallery
The great Sudanese Modernist Ibrahim El-Salahi has always used materials available to him – imprisoned without trial in the 1970s, he made tiny drawings on the paper from cement packets. Now 89, when pain confines his movements he draws on things within reach: envelopes, paper scraps and medicine boxes. Newly energized, he's returned to the studio to work some of these drawings up as big paintings, but they can't recapture the playful way he's used the transparent windows and text on the envelopes. — Hettie Judah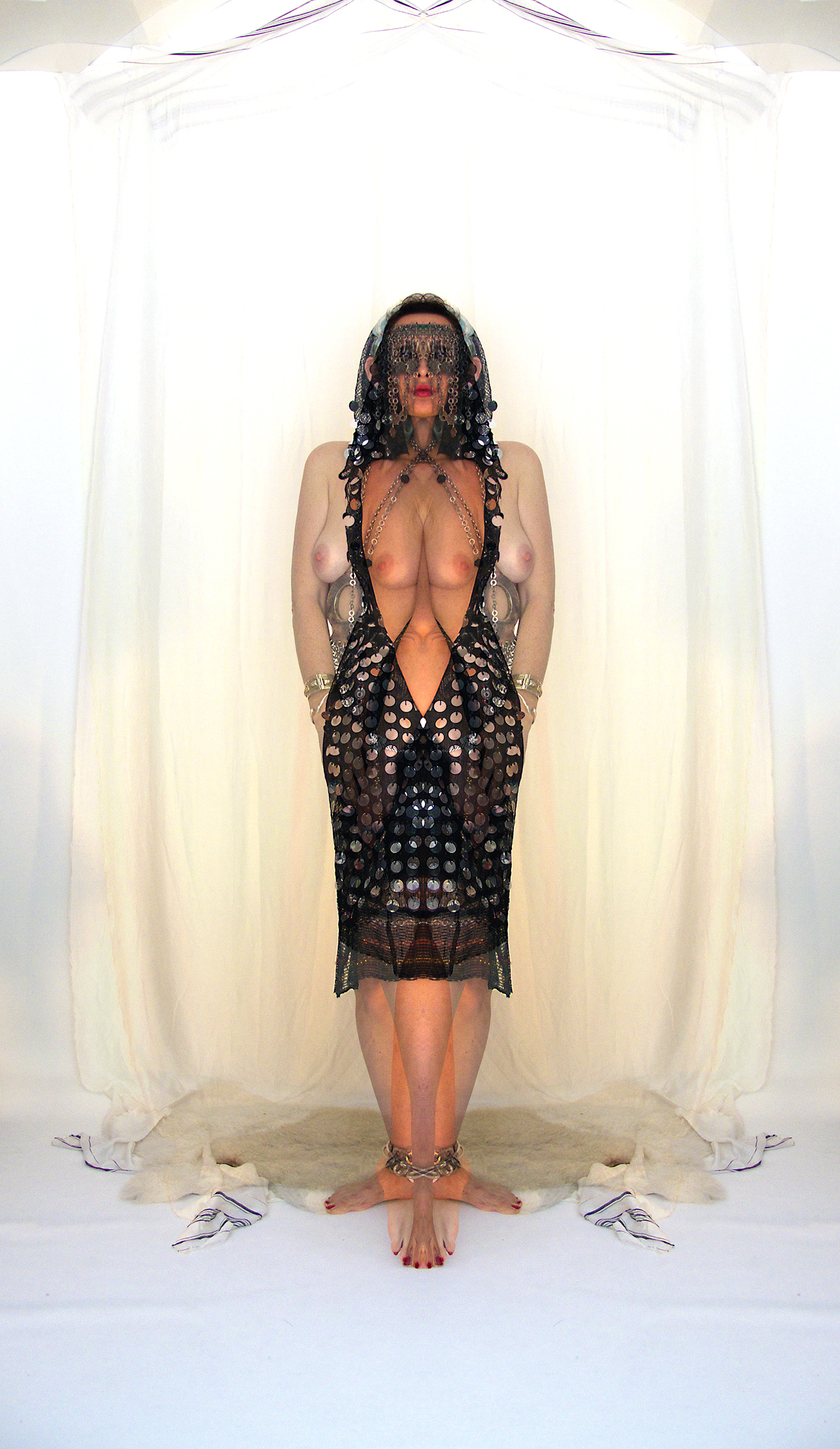 Meriem Bouderbala at AGorgi
Qart Hadasht is the Phoenician name for the ancient city of Carthage (aka New City) founded by Queen Dido in what is now Tunisia. Meriem Bouderbala's manipulated photographs floating on transparent film recast the artist as a series of sexy/scary ancient deities glorifying Tunisia's matriarchal heritage. — Hettie Judah