Accidental Style Icon: The Water Bottle From The 'Game of Thrones' Finale
A far more subtle and chic cameo than the coffee cup.
Screenshot via Twitter.
What makes a style icon?
Some say it's clothes, but true insiders know better—after all, plenty of people out there dress like the Hadids, and thanks to the rise of Fenty, more of us than ever are dressing like Rihanna, but buying the right clothes doesn't give one the glow of a Hadid, or imbue one with the reckless Rihannian spirit.
On Sunday night, the world watched with bated breath as a style icon who redefined the genre took the stage at an unexpected moment; the series finale of Game of Thrones. Yes, I'm talking about the water bottle.
Many fans were somewhat let down by the finale, but the water bottle—which appeared behind Samwell Tarly's grimy boot as the leaders of Westeros discussed future plans—felt absolutely major in context, an ode to the kind of studied carelessness that defines a great fashion collection (think Matty Bovan's purposefully raw, frantic designs.)
Of course, this isn't a beverage's first starmaking Game of Thrones cameo—just a few weeks ago, a 2010s-era coffee cup placed in front of Daenerys sparked an edit and self-referential tweet from HBO—but sometimes, the offshoot is just ineffably cooler than the original (to wit: Miu Miu springing from the forehead of Prada, or Elizabeth Olsen's steady outshining of her twin sisters.)
The coolness of the disposable plastic water bottle has definitely waned as "reusable" has become the watchword of fashion—why, Virgil Abloh even collaborated on a glass bottle with Evian!—but there's something truly iconic about the Game of Thrones water bottle making perhaps the most hotly anticipated hour of television in human history all about itself, just by showing up. That's the mark of a legend, folks! Let's take a closer look at it, shall we?
As I considered how the coffee cup might feel about being upstaged by its cooler younger sibling, I couldn't help thinking about the iconic, meme-before-meme-culture Sophia Loren/Jayne Mansfield cleavage photo,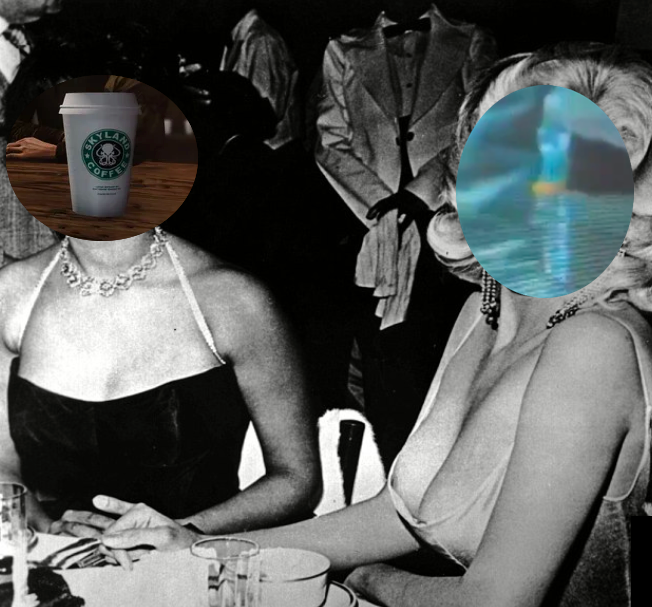 One day, you're on top of the world, and next some hot young upstart comes along and sets the Internet alight...it is the blight man (or woman, or beverage) was born for.