Rio Uribe. Courtesy of Eli Schmidt.

Gypsy Sport Closes Out Pride Month By Centering Diversity and Body Positivity
Designer Rio Uribe's GSPOT event included models Munroe Bergdorf and Aaron Philip.
Rio Uribe. Courtesy of Eli Schmidt.

On Saturday afternoon, at The Ledge, a new multi-rooftop space in Bushwick, some of fashion's brightest stars joined forces for GSPOT: a new LGBTQ+ event hosted by Gypsy Sport's Rio Uribe. The event, the first in what could be a series, was a celebration of diversity and positivity "while creating a safe space where individuality, love and self expression are highly encouraged," according to the event organizers.
The event featured a panel with guests Munroe Bergdorf, Emilia Ortiz, Aaron Philip, Yves Mathieu, Adam Eli, Miss Boogie, and Rene Imperato opening up about intersectionality, transphobia and homophobia, love, sex, and more, as well as performances by Brooklyn's West Dakota, Chicago's Imp Kid, Queen's Buffy, and Pennsylvania's Pan Dulce, plus three queer short film screenings.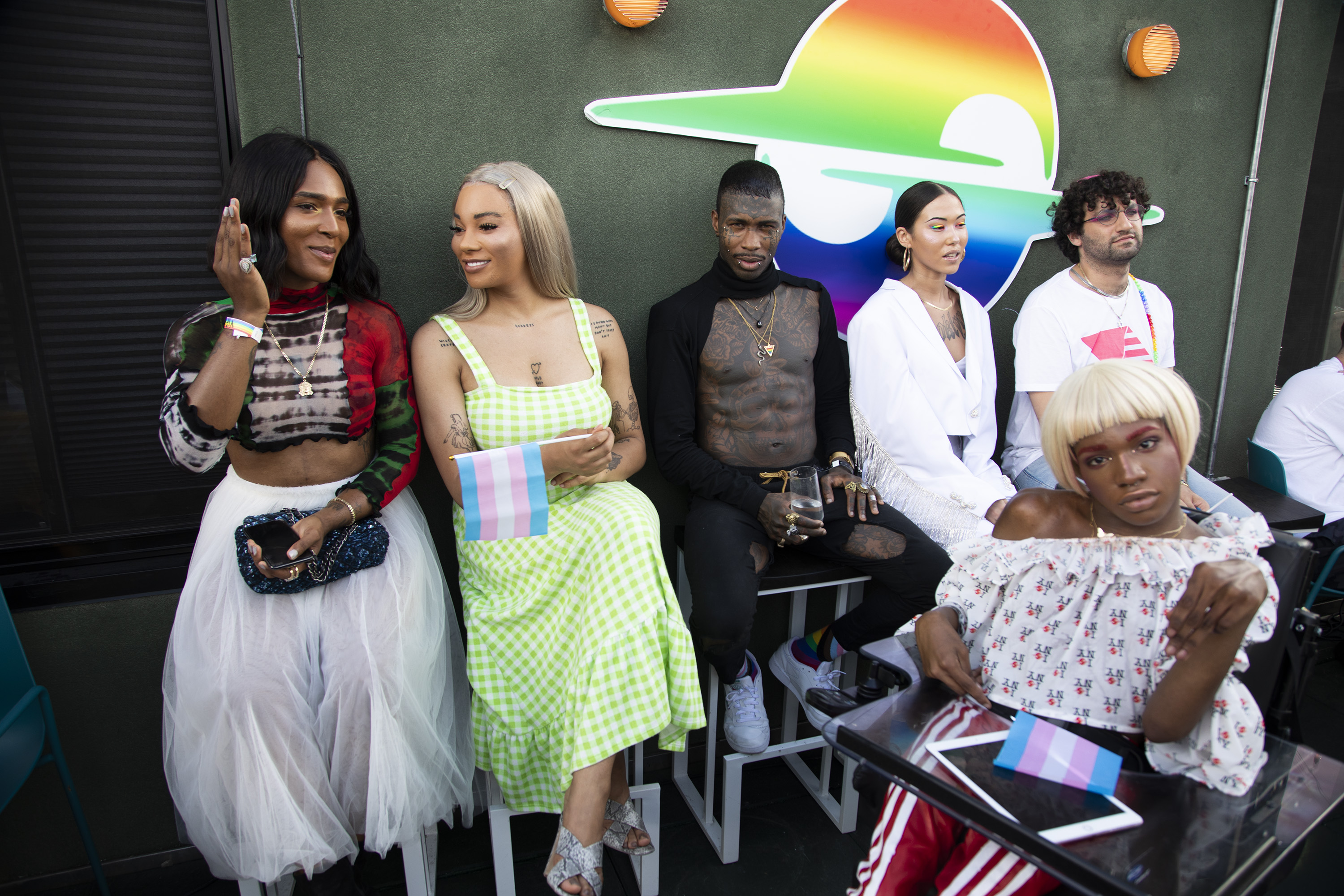 Below, GARAGE chats with Gypsy Sport's Rio Uribe about the inaugural GSPOT event and making Pride a more inclusive safe space for all.
GARAGE: Every LGBTQ+ person has a very personal and often evolving relationship to Pride, both as a a concept and as a month-long event. What's your relationship with Pride?
Uribe: I've always been torn. I have Pride and I feel Pride but I've never enjoyed the events and never felt super welcome or represented at most Pride events, especially growing up in LA where Pride looks very different than it does in New York in terms of diversity. I definitely felt like as a person of color or as a shorter person or not as muscular that I wasn't really welcome to the events. So for me it's hot and cold, sometimes I love it, sometimes I don't, and I think that's pretty much why GSPOT was born.
So what was the goal with GSPOT in terms of its service to the community?
A lot of Pride events are called safe spaces but they're actually not because there's still a lot of transphobia and misogyny and body-shaming happening at these things. So I wanted this to be a total safe space for self-expression and creativity. Like, I wanted people to be dressed in whatever the hell they want and feel amazing and celebrate themselves and at the same time be able to celebrate each other and give each other life and give each other love that we don't get the 11 months out of the rest of the year. On top that I love having a brand where I get to work with my friends, many of whom are talented artists themselves, and usually the runway is only a one minute and thirsty second walk where they can't really express all of that, so this stage is really for the models to be able to show off their other talents like drag or DJing or activism or any kind of performance art.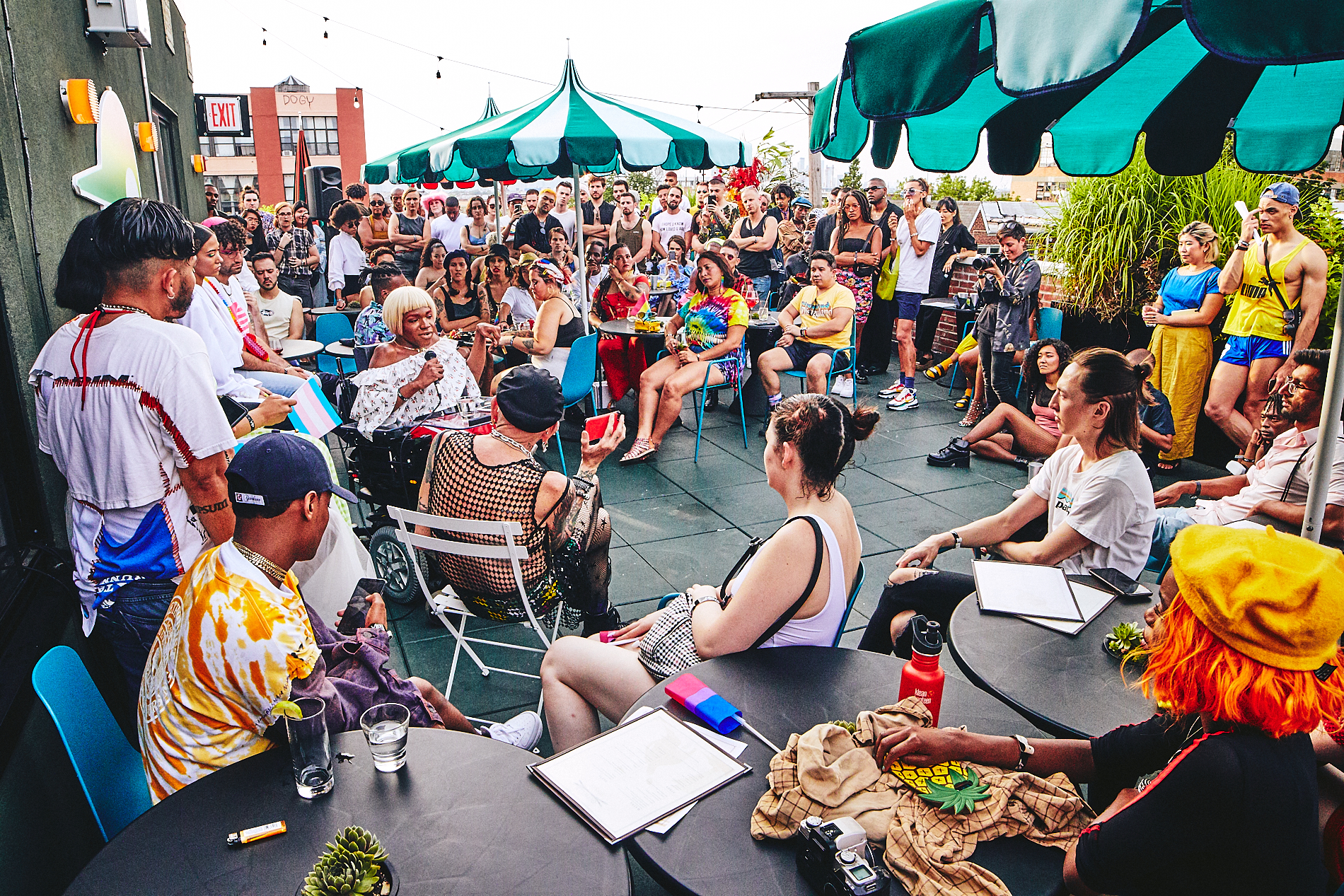 Gypsy Sport is so much more than just a clothing brand. How do you conceptualize everything that encompasses your brand?
I have a team that have worked with me since I started the brand that really understand the DNA of diversity, intersectionality and inclusivity. So when I come up with an idea we have "hot or not" in which we ask is this a hot idea or should we not test that? But I think also being a part of this generation you have to have elements of inclusivity and sustainability to really connect with our community otherwise it's pretty see-through and transparent.
How would you say the LGBTQ+ community is doing with regard to having some of the conversations you are hoping to amplify with GPSOT? Do you see these as new conversations, evolving conversations?
I think we are just beginning to scratch the surface on how diverse and how intersectional our community really is. And this is about showing each other how we look, what we look like, how we feel, how we move, how we dance, how we dress, and all the variations of that.
Where do you want to see this go?
I want this to be something that we can travel to different Prides around the world with. It's kind of where the brand is going too with being able to show and present our collection in different countries and cities. GSPOT is going to be the off-season or the sister of Gypsy Sport. Who knows maybe it will be in Japan or Tokyo? The next one will definitely be in LA. I want to be able to travel and build this community around the world.