Arizona Iced Tea's Sneaker Drop Got Shut Down By the NYPD
The shoes are, tbh, very ugly, but they cost 99 cents, so chaos was bound to ensue.
Photo via Instagram.
We're officially in the thick, sweaty depths of New York summer, a time when—as movies like Dog Day Afternoon and Do the Right Thing have taught us—things are more than liable to pop off. That was the case on the Bowery on Thursday morning, when the NYPD was forced to shut down Arizona Iced Tea's much-vaunted 99-cent sneaker pop-up "due to overwhelming demand and safety concerns."
The sneakers themselves are the signature pink and green of an Arizona Iced Tea can, transported to an Adidas body that reads "Great Buy! 99c" on the tongue. Considering that today's deal was just 99 cents for a pair, it's not totally surprising that the drop led to a stampede on the Bowery.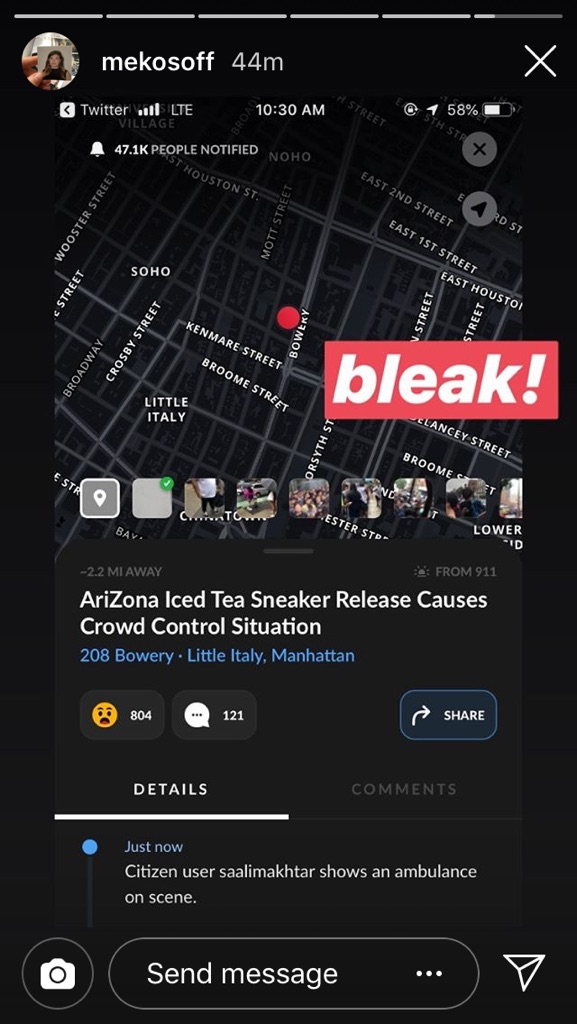 Neighbors were alerted to a 'crowd control situation' via the Citizen app, taking place next door to the Supreme store at 208 Bowery. GARAGE T-shirt mogul Chris Black was on hand at the drop, reporting back, "The sneakers are truly heinous, but they cost 99 cents. Everyone loves a deal!"
All this hubbub over the shoes begs the question...her? Really? To echo Chris, these shoes are an atrocity on par with the Mr. Peanut sneaker. Arizona Iced Tea is obviously looking to replicate the success that Dunkin' Donuts found with their Saucony collab last year, but it's just not quite there. As a legendary, "fictional" fashion doyenne once said, "Florals. For spring. Groundbreaking." Sure, it's summer, but the sentiment stands.
The NYPD did not respond to GARAGE's request for comment, because they're presumably busy fighting sneaker crime. We will update this post accordingly if and when they respond.