Trixie Mattel aka Brian Firkus in 'Moving Parts.'
Trixie Mattel's 'Moving Parts' Documentary Proves She's Not Just A Skinny Legend
The new doc, which premiered at Tribeca Film Festival, expertly textures our understanding of the drag superstar.
Trixie Mattel aka Brian Firkus in 'Moving Parts.'
"Obviously it's a microscope on me, but the macroscope is this is the golden age of drag. And even though on one hand you can have hit albums and tour the world and be on TV and have your own TV show, you're still just a drag queen and nobody, nobody respects you," Trixie Mattel tells me just days after the premiere of his new film at the Tribeca Film Festival.
Moving Parts, the new documentary focused on a year in the life of the the drag multihyphenate, real name Brian Firkus, punches you in the gut several times. But there's no bruises; no residual pain, and moments later, you find yourself laughing, thinking, "Did that bitch really just punch me? How dare she." And, "I kinda liked it."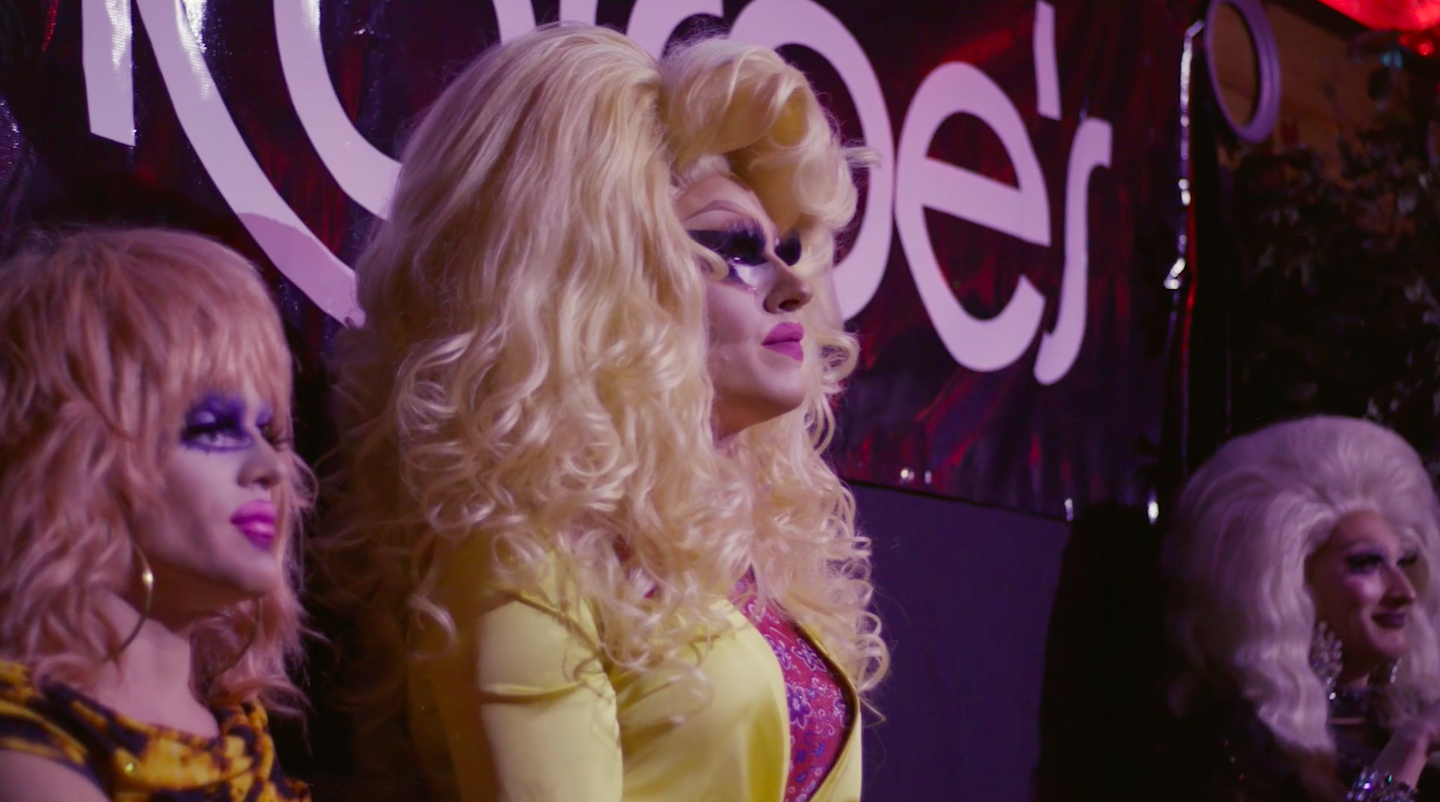 Take, for example, the admission of Firkus's abusive stepfather, which comes forty-eight minutes into the film when he's asked about it by two radio hosts during a phone interview he's taking from his bedroom. "I don't want to bring the whole room down, but I was reading about you and it actually said [that] you got your name Trixie from your abusive stepfather who used to call you that when you were acting feminine," one of the interviewers asks Firkus over the phone as he sits in his bedroom, no make-up. "And is that true?"
"Uh, yes it is," he responds, not missing a beat. "And we're waking up here with Trixie Mattel in the morning in Los Angeles, pew pew," he says mimicking the sound of a buzzer. There's a brief pause before the pair on the other end of the line laugh. "You didn't want to bring the room down. I tried to bring it back up," he says before emitting a signature laugh distinctly Trixie, and not Brian. "Is this guy still around and does he know his lame attempt to humiliate you for being yourself… you flipped it on him and now you're cashing in and making more money than your stepfather," one of the co-hosts ask. "I'll do you one better," Trixie offers. "He passed away of alcoholism." Seconds later, the co-hosts make the now familiar "pew pew" back at her.
It's one of no less than a dozen moments that will stay with me about this documentary that focuses on the somber stillness that surrounds all the moments leading up to and immediately after Trixie comes out to play. We're with her in the record studio for her album, One Stone, released in March 2018. We're there for a taping of The Trixie & Katya Show, the television series Firkus co-hosts with Katya, real name Brian McCook. We're in the room when McCook goes through what he describes as psychotic break. "I should be in rehab," we hear McCook tell Firkus off-camera, but still mic'd. We're there for the press tour and finale of RuPaul's Drag Race: All Stars 3 (she won). We're backstage at the Haters Roast tour. We're at DragCon.
He's interviewed in talking heads in drag, but it's his moments out of drag, like reading a boxful of fanmail, that the man who shares a body with Trixie emerges. In what particularly moving scene, we're in the living room watching Firkus, a blue Gold's Gym shirt on, call his mother to tell her he's paid her $1420 Wisconsin Public Service bill. "Just take off work, I'll pay for you," he offers to her, hoping she'll come to his Milwaukee show. "I better get off the phone here because I am at work…" she tells her son. (Spoiler: she ends up coming.)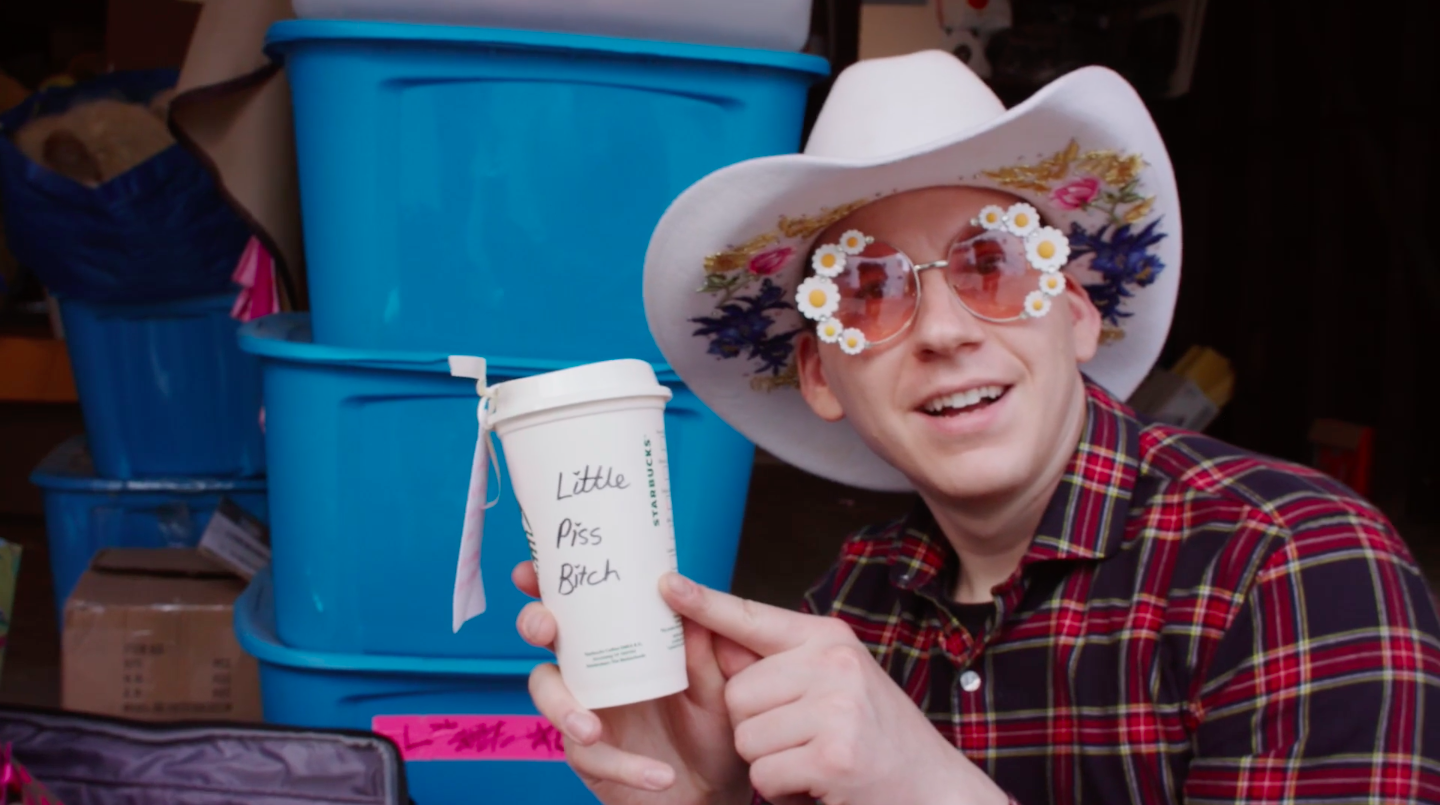 "I think at the beginning I was like Jim Halpert where I was always looking to have my like to camera moments, but then I really forgot about it," she explains. "All the interviewers are like, 'what made you decide to be so open?' I'm like, it was snake oil; I was tricked. I forgot that they were there. It's like I tell the world, you don't know who I am and this movie went, this is exactly who you are and this is exactly what your entire industry is."
And she (I interchange between pronouns with permission from Firkus) is incredibly, at times enviably, self aware. "Even the straight people who've seen it are like, 'There's something about it that's going to stay with me.' They're like, 'when I turned it off I felt like happy and sad, but also just like... it made me know something I didn't know before it started and it's very intimate.' This documentary is all about the tethers and all about the real person. So it's the back door of the Trixie Mattel experience in a way that music and comedy has never been that intimate. I mean this film… it feels like people sitting in a room looking at pictures of me naked. For me it's like people bought tickets to look at me naked and read from my diary. It's like a biopsy of me."
The film, directed by Nick Zeig-Owens, and featuring appearances by drag royalty including BenDaLaCreme, Bob the Drag Queen, Jaymes Mansfield, Jinkx Monsoon, Kennedy Davenport, Latrice Royale, Morgan McMichaels, Peppermint, RuPaul, Willam and more, had its debut at Tribeca on April 25th. The film is currently being shopped around at festivals in the hope of a wide release later this year.