Sasha Pivovarova poses with her drawings. Photograph by BFA, courtesy of Dior.
At the Dior Party, Everyone is an Artist and No One Starves
At the brand's Spring collection launch in New York, Sasha Pivovarova makes the case for the model-slash-artist.
Sasha Pivovarova poses with her drawings. Photograph by BFA, courtesy of Dior.
Dior opened the runway show for its spring collection with a provocation on a T-shirt: "Why Have There Been No Great Women Artists?"
The question was originally posed by art historian Linda Nochlin in a 1971 essay critiquing patriarchy in the art world. At the brand's party on Manhattan's West side last night, the dilemma was solved: we need models!
Officially, it was one model, Sasha Pivovarova. She wore the T-shirt in question on the catwalk in Paris, and the gallery-lit event space was filled with her work: namely, busts sculpted out of neon string, and expressionist ink strokes dashed across paper, walls, and, in one part of the room, the floor. Like the large majority of party attendees, the strokes had lithe limbs and razor-straight noses. Were these portraits? "I think of them as roles in a symphony," Sasha told me, rather cryptically. "The eyes translate different emotions."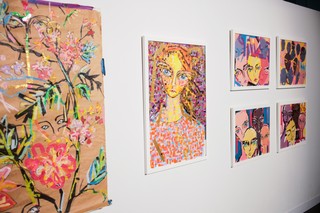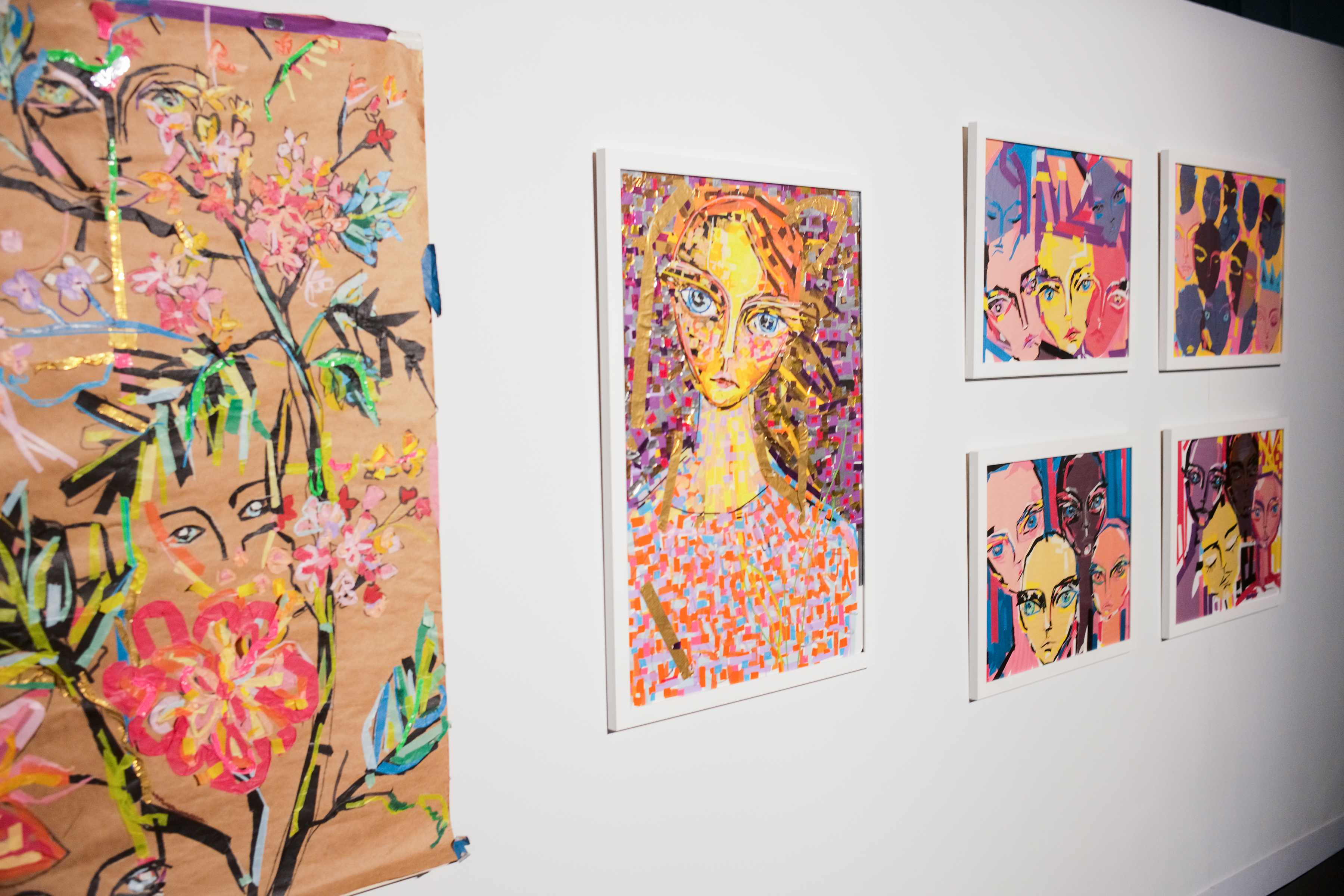 OK, so they're not exactly Guerrilla Girls wheat-pastes. Yet the Model-Artist is a trope with legs, per party guests. "It's not enough to be a product these days. You have to create a personality," noted Desmond Sam, a self-described model-stylist-DJ-photographer.
The shoe fits for other reasons: "I think the model-artist should replace the DJ artist, because they're actually starving," said 56 Henry gallerist Ellie Rines.
"Starving artist" is not quite Dior, is the thing. Niki de Saint Phalle, creative director Maria Grazia Chiuri's official collection reference alongside Nochlin, was an aristocrat turned sculptress. (In her youth, she worked as—you guessed it—a model.) Chiuri's clothes are what a heiress might wear in a Godard phase: berets draped in netting, mesh Gogo boots, crochet onesies, Breton stripes. This isn't fashion as art so much much as fashion in love a fairly literal idea of art. Which is maybe appealing, in a landscape of high-irony and silhouettes designed more for future museum retrospectives than living humans.
It all adds up. Except for that certain elements of the party seemed tweaked to a vision of the art world quite different than Chiuri's, and particular to downtown New York. Venus X was hired as DJ, and she sported a '00s-era "Dior Addict" tee, of the kind which have recently been colonizing my Instagram feed and could have easily been a vintage piece from her store, Planet X, in Chinatown. In fact, it's a re-issue, she told me.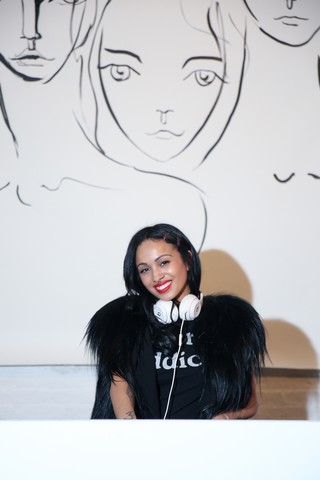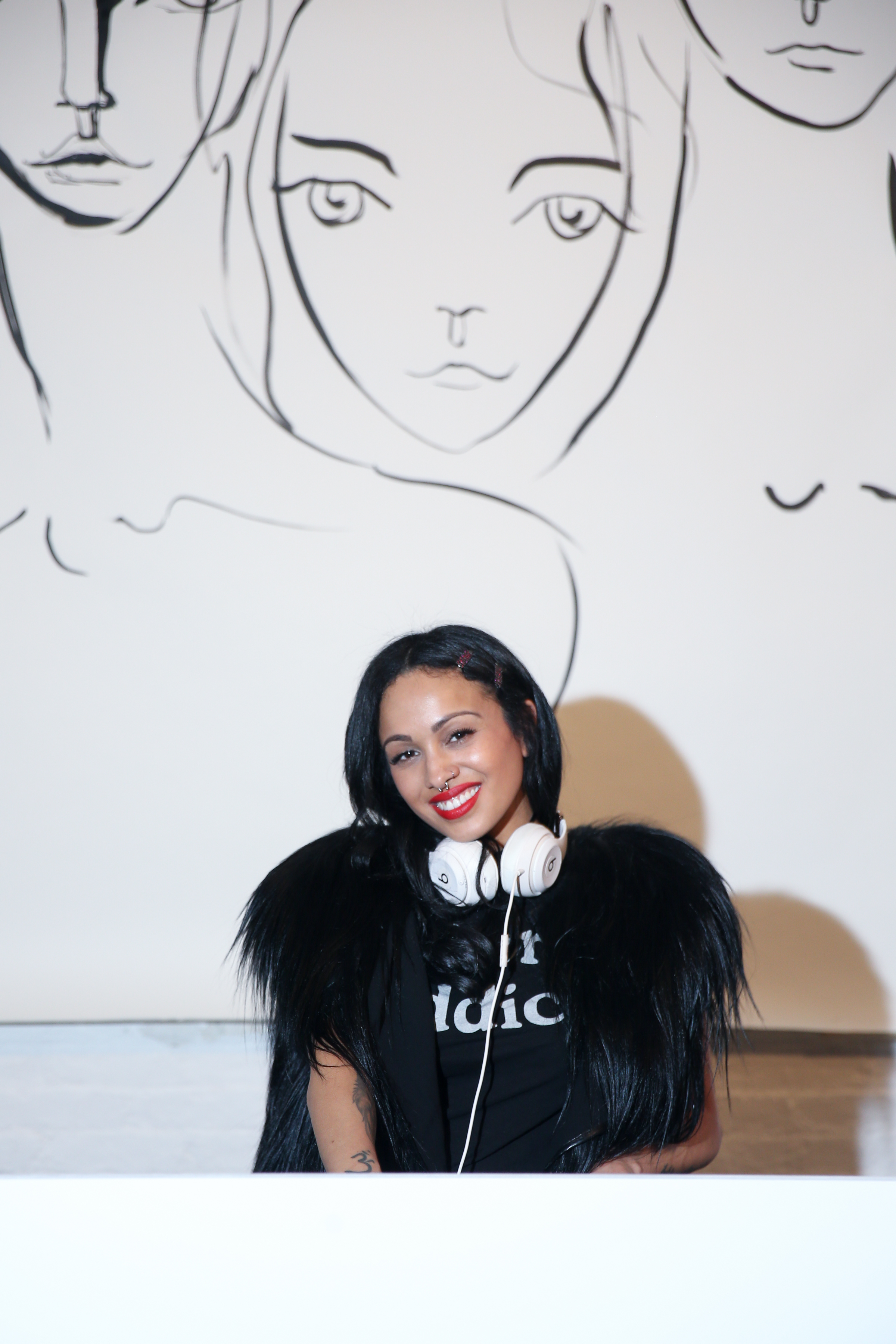 Perhaps thanks to Venus's tunes, the crowd was an interesting mashup. At one point, Victoria Xipolitakis, an Argentine TV celebrity in a see-through corset whose nipple coverage was limited to be-logoed suspenders—the logo was not Dior—took a video selfie in front of a sculpture. She beamed to the camera, lolling a head of blonde hair around. Jazzelle Zanaughtti, a model-slash-performance-artist with a cyborg look, whipped a bleach-blonde rat-tail around in solidarity. "She's living her best life!"

That's the thing about artists: it's not obvious who is and who isn't one. Models, on the other hand, are easier to spot. At one point, a definite model-waiter came by with a tray of filet-mignon sushi bites. I reached to grab one. "Oh, you again!" he said.