Danh Vo, She was more like a beauty queen from a movie scene, 2009. Collection Chantal Crousel Photo: Jean-Daniel Pellen, Paris © Danh Vo
Danh Vo's Fragmented Lady Liberty Is an Anti-Monument to Our Time
The peripatetic Danish-Vietnamese artist's Guggenheim survey reveals his complex relationship to national and familial identity.
Danh Vo, She was more like a beauty queen from a movie scene, 2009. Collection Chantal Crousel Photo: Jean-Daniel Pellen, Paris © Danh Vo
Danh Vo doesn't make all that much in the way of physical artwork. Rather, he's a connoisseur of aura, a collector of personal and public histories, a peripatetic hunter-gatherer with a globalized edge. His keen sensibility for acquiring, arranging, and tweaking found and commissioned items courses through Take My Breath Away, a rich mid-career survey of more than a hundred works just opened at the Guggenheim Museum in New York. Organized by Guggenheim curators Katherine Brinson and Susan Thompson, it includes installations, photographs, and works on paper made over the past 15 years: mischievous, multivalent, and poetic cultural interventions that couldn't be more relevant in a US gripped by a bitter political feud over undocumented immigrants.
Born in Vietnam in 1975, Vo escaped his native country via boat with his family in the aftermath of the American War, at the age of four. His parents' idea was to bring the family across the Atlantic to the US. Instead, the Vos were rescued at sea by a Danish freighter, their planned future thus diverted. So, Vo was somewhat arbitrarily raised in Denmark, and now considers himself Danish while living between Mexico City and Berlin. He's also a New York fixture.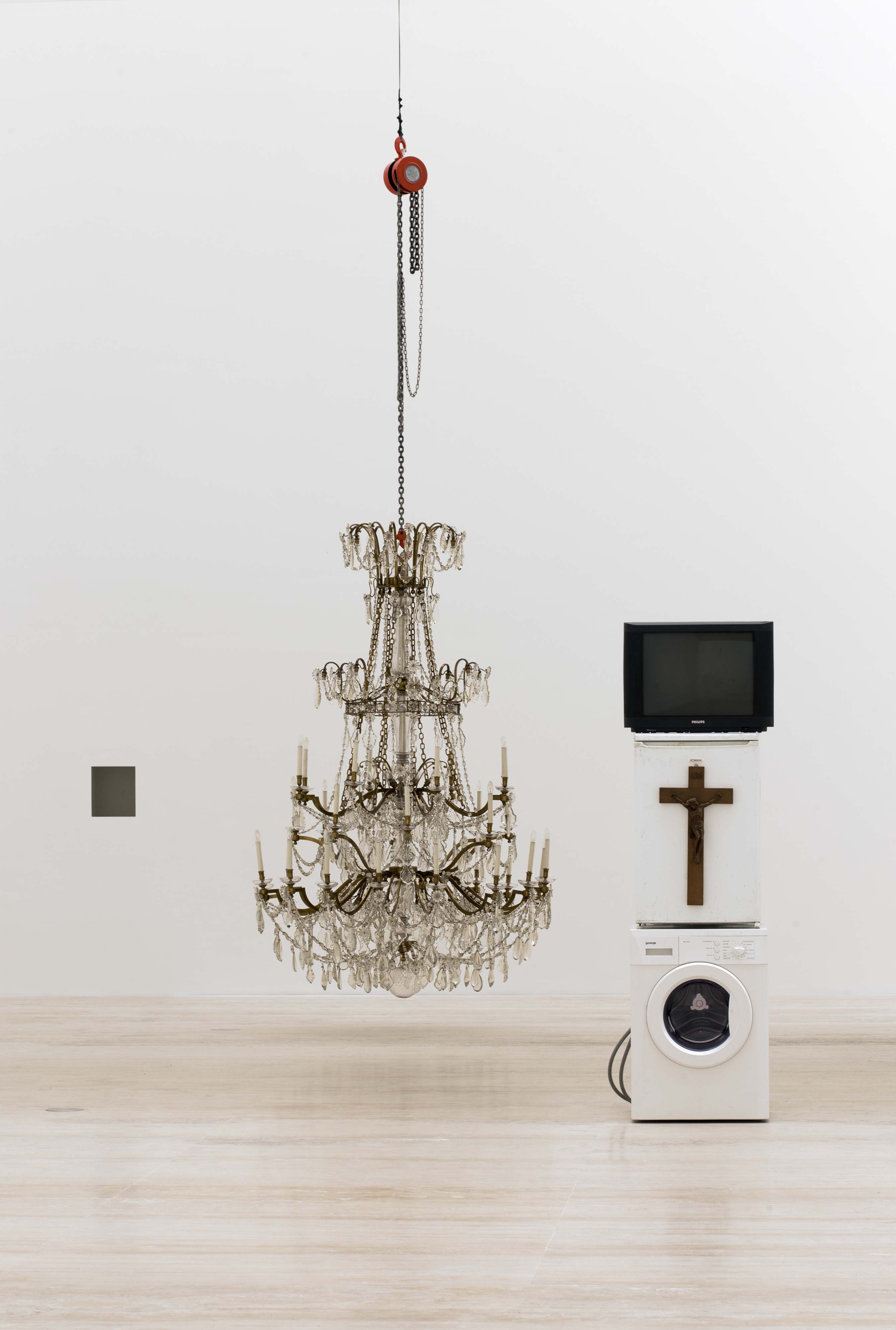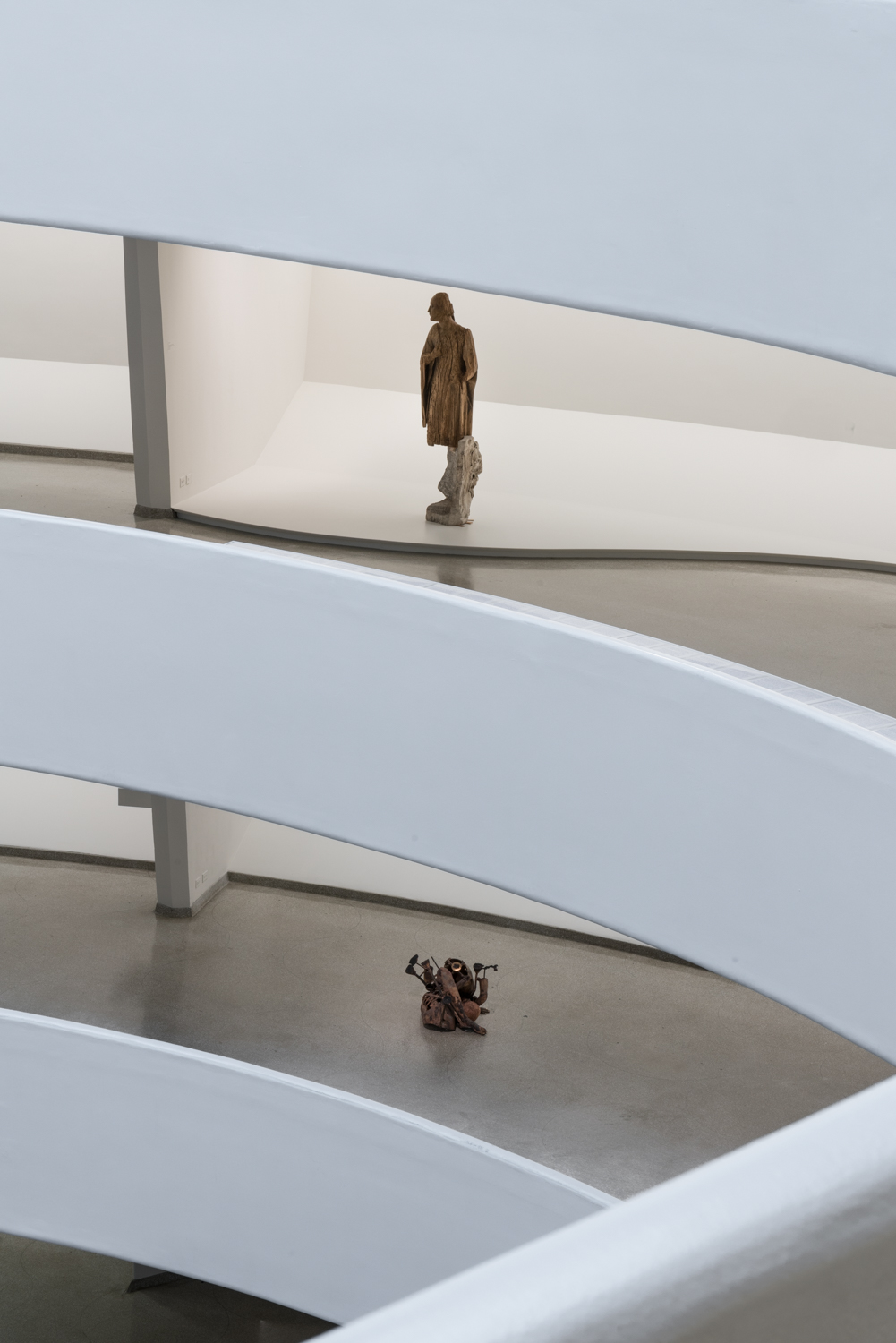 We the People, Vo's largest undertaking to date, took more than $1.5 million and over five years to complete. At 305 feet tall, this full-size copper replica of Frédéric Auguste Bartholdi's Statue of Liberty, one of the most overdetermined public artworks of all time, is more than three times the height of the Guggenheim. Vo's version remains disassembled, however, never presented or possessed as a whole. It's an anti-monument that honors the fragmentation of immigrant experience, and a respectful, even beautiful, rebuttal to the fiction of a monolithic beacon to freedom. The work cumulatively consists of some 250 copper parts, just like the original. Vo's favorite piece is her armpit.
Vo's scattered Lady Liberty was conceived in Germany, fabricated in Shanghai, and funded by his French gallery, various collections, and art institutions worldwide. She was dispersed to exhibition venues in more than 15 countries, and most of her has been retrieved for display in the present show. Adding to the lore surrounding We The People, one of the world's most prominent collectors, Sheikha al-Mayassa bint Hamad bin Khalifa al-Thani of Qatar, wanted to purchase it in its entirety. On principle, Vo wouldn't let her. Currently, she owns about a third of it.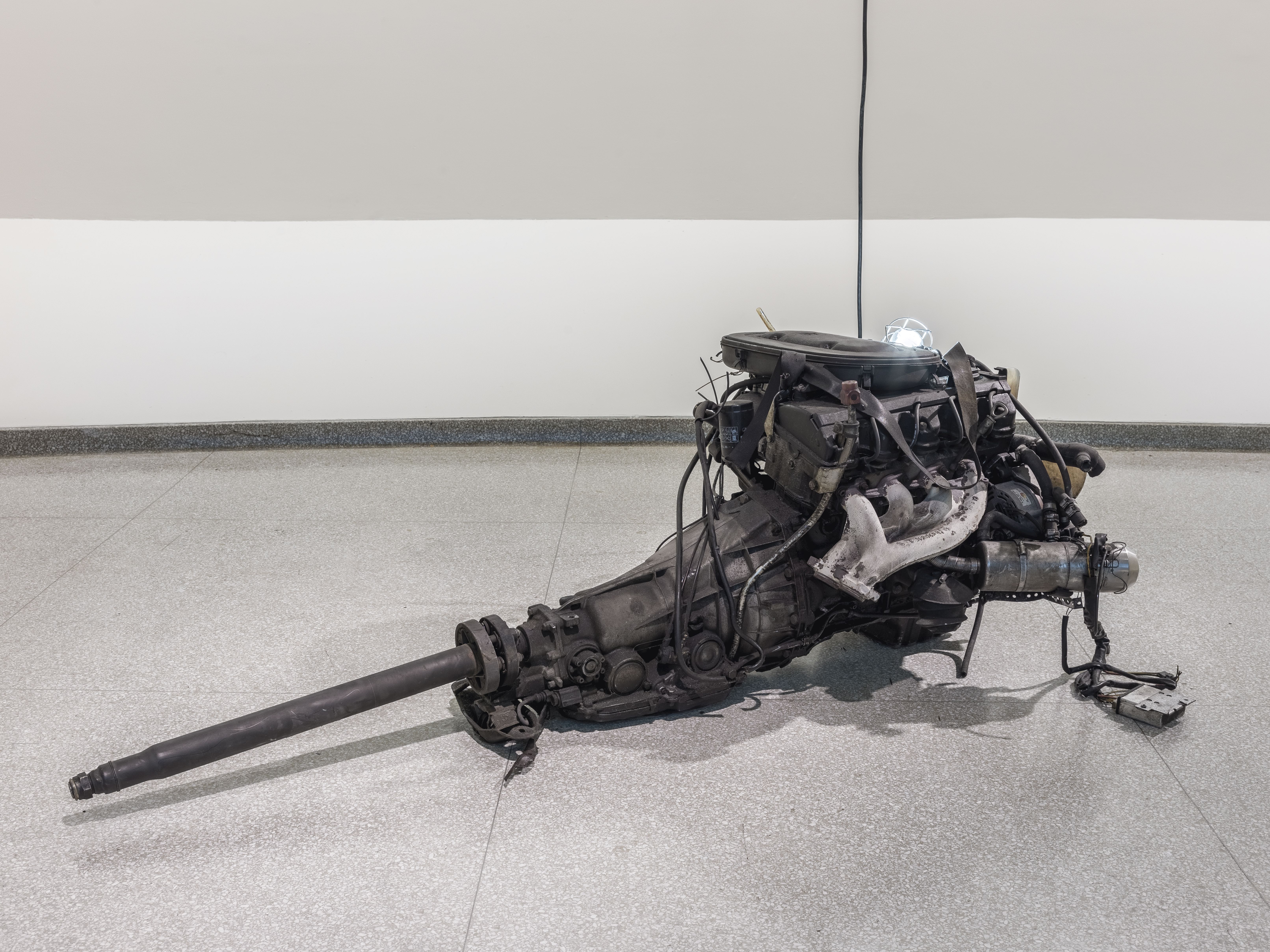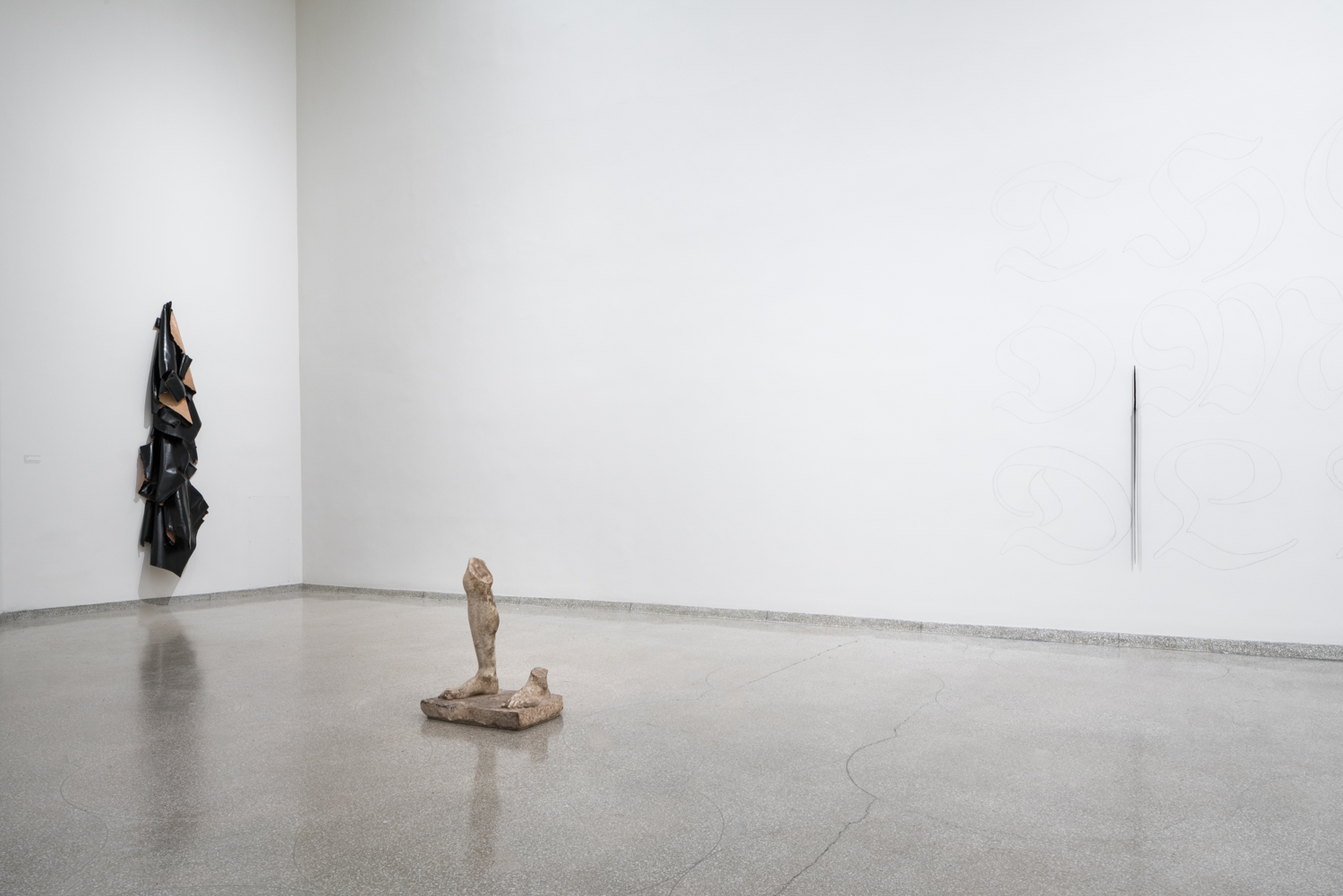 Vo can go big, but has also been known to do deliberately little—at least materially speaking— adding to his own cultural currency all the same. For Vo Rosasco Rasmussen (2002­– ), Vo "collected" friends and acquaintances by systematically marrying and divorcing them for the sole purpose of adding their surnames to his own. This work appears in the exhibition in the form of legal documents. In Take My Breath Away, he presents items deemed precious prior to his acquisition of them, including a thank-you letter from Vietnam war instigator Lyndon B. Johnson; three chandeliers from the Hotel Majestic, where the hugely cynical Paris Peace Accords were signed, supposedly signifying the end of the Vietnam War in 1973; and a rare Confederate flag with 13 stars arranged horizontally in a 3-2-3-2-3 pattern, to which he's affixed an antique flute, belt, drumsticks, and cap. It's an assemblage of items so symbolic of American pomp and circumstance that its surplus value as a set of signifiers points to its psychologically constructed nature.
Possibly most affecting inclusions, however, are artifacts from Vo's own family's history. His father's gold Rolex watch, Dupont lighter, and US military ring appear as part of If you were to climb the Himalayas tomorrow, from 2006. For another work from 2010, Vo titled the rusty engine of his father's Mercedes-Benz Das Beste oder Nichts (The Best or Nothing), similarly speaking to his dad's material success as an immigrant. For an ongoing edition titled 2.2.1861 (2009– ), Vo's father copies in meticulous calligraphy the final letter written by the Catholic Saint Théophane Vénard before his execution for proselytizing. It's in French, which Vo's father does not speak. The profits from the sales of this work, which may or may not be considered part of the piece itself, are split three ways between Vo, his father, and his gallery.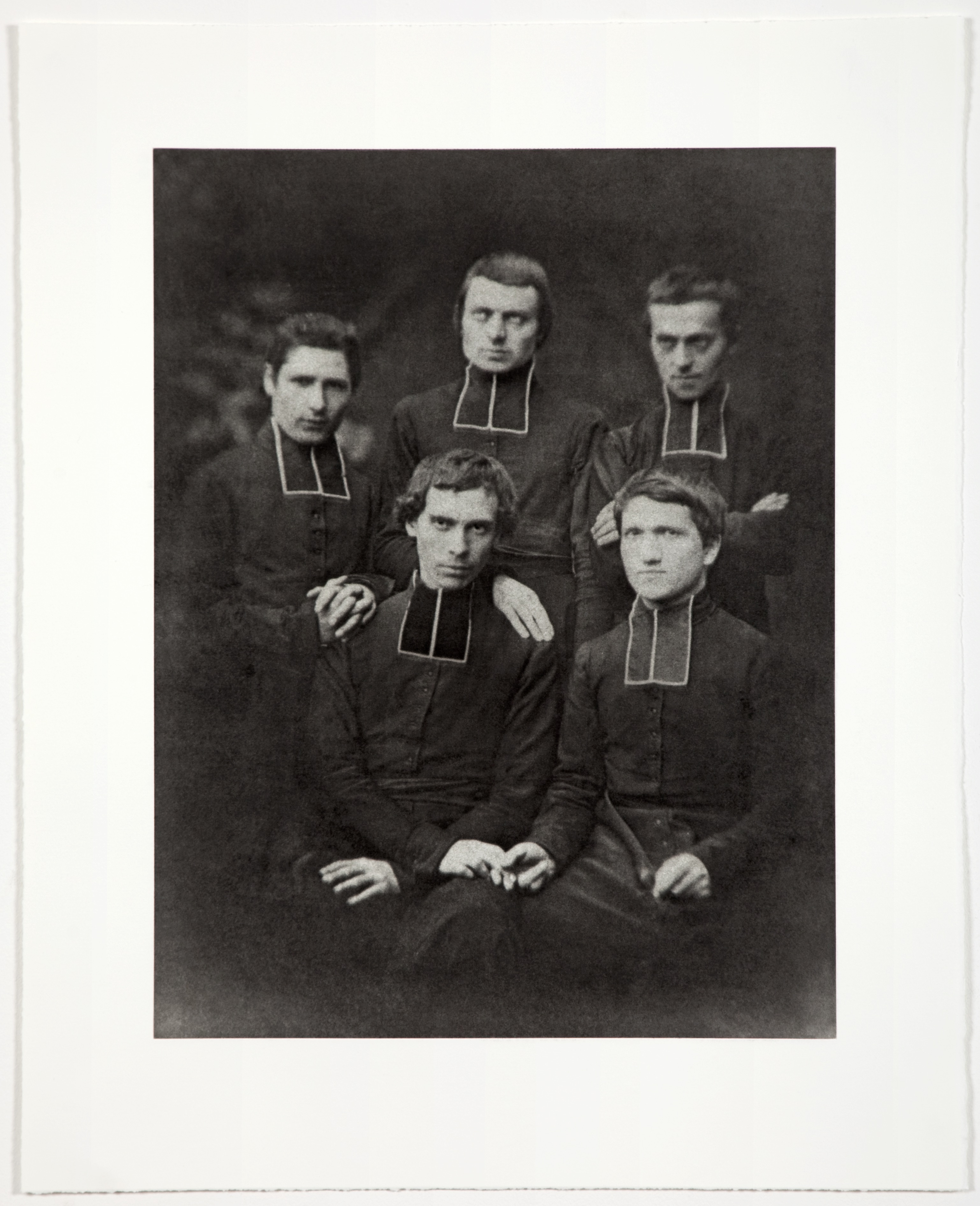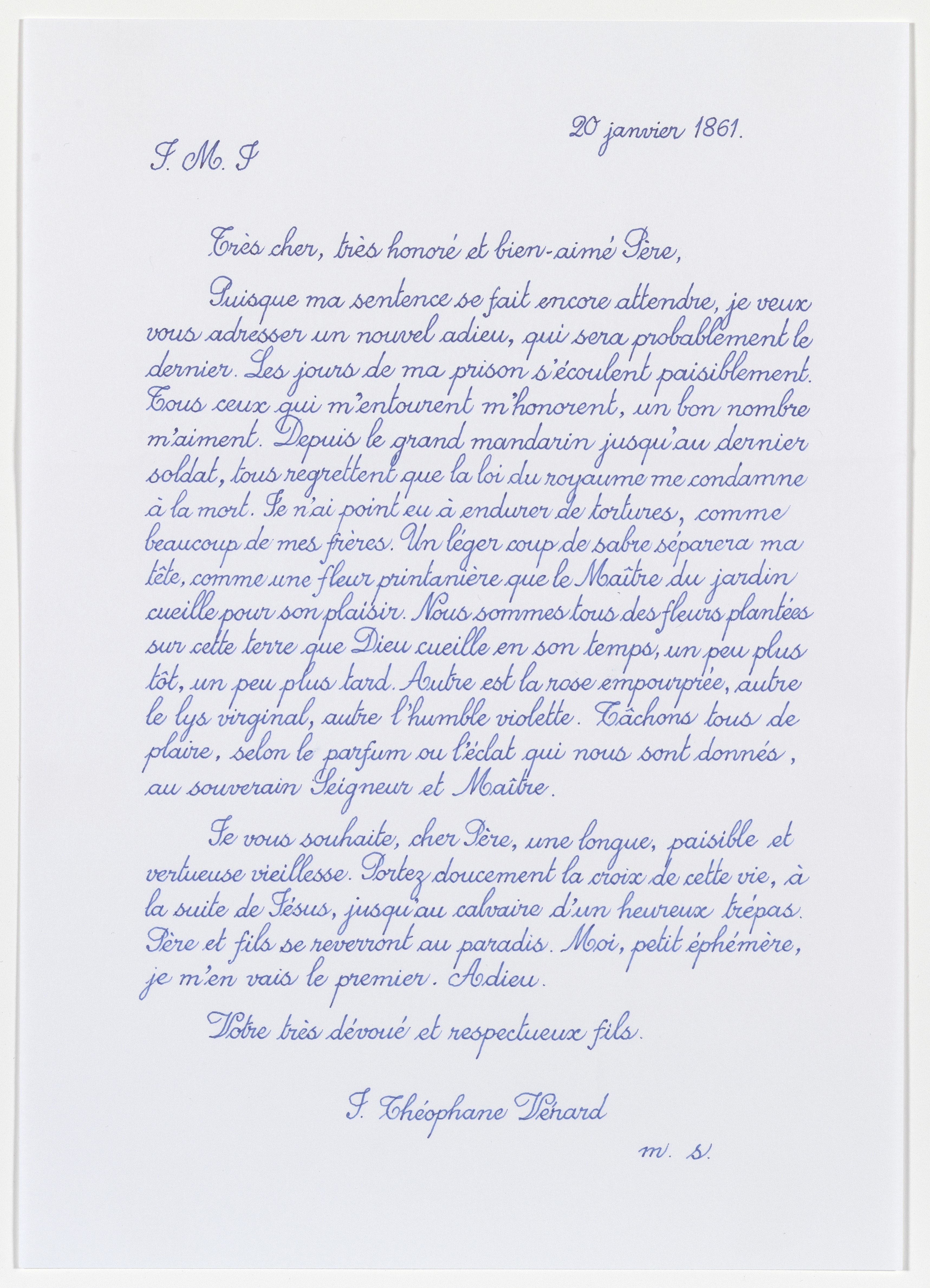 For Oma Totem (Granny Totem), 2014, Vo attached a crucifix and a casino entry ticket to the door of a mini-fridge stacked atop a washing machine. The appliances were gifts from an immigrant relief program in Hamburg to one of Vo's grandmothers; her local Catholic church sent the cross. Vo persuaded his relative to let him replace the appliances, plus the cross, so that he could take away the originals. They're in the museum now with many other objects, all testaments to physical and spiritual need.
Danh Vo: Take My Breath Away is on view at the Solomon R. Guggenheim, Museum, New York, through May 9.