Offset, Philipp Plein, Rich the Kid, and 6ix9ine. Photograph by Thaddaeus McAdams for Getty Images.
At Philipp Plein, Partying with New York's Hottest Robot Models
The German fashion designer hosted a runway rave in Brooklyn, filled with lasers and capped by a performance by Migos.
Offset, Philipp Plein, Rich the Kid, and 6ix9ine. Photograph by Thaddaeus McAdams for Getty Images.
A secret of fashion week is that most parties are boring, the standard open bar and attractive guests notwithstanding. Flash photography and restrictive footwear typically keep lit-ness in check. Not so in the realm of the German fashion designer Philipp Plein. One party in Milan last year featured giant flames on the runway and a monster truck demolition derby. On Saturday night, the Duggal Greenhouse in Brooklyn's Navy Yard, a football-field-size venue, was outfitted like an amusement park: Lord of the Rings-esque aluminum cliffs, performers in Transformers costumes, a mind-blowing amount of lasers, a Migos performance.
Most people lost a little dignity over the course of the evening. On the runway, models were overshadowed by giant robots, who wore no clothes over their body armor, but did grunt the word "Plein" as they walked. The afterparty DJs, Damian Lazarus and Seth Troxler, played from inside a flying saucer. Drinks were spiked with tiny puffs of plastic from a synthetic blizzard that went on for hours. On the ground, the stuff's texture was more lifelike: "I from Roma! You are very beautiful!" shouted one lanky young man guzzling a bottle of vodka, moments before doing a full face-plant in a snowbank.
"We're going to miss the clothes!" said a guest outside before the show. "Who's here for the clothes?" her friend responded. "I doubt anyone here has ever bought anything from Philipp Plein," Duckie Confetti, a Long Island fashion designer in head-to-toe cheetah-print, told me later, during the afterparty. "People come to this show for a party." A real estate developer piped up: "I didn't know who Philipp Plein was until yesterday!"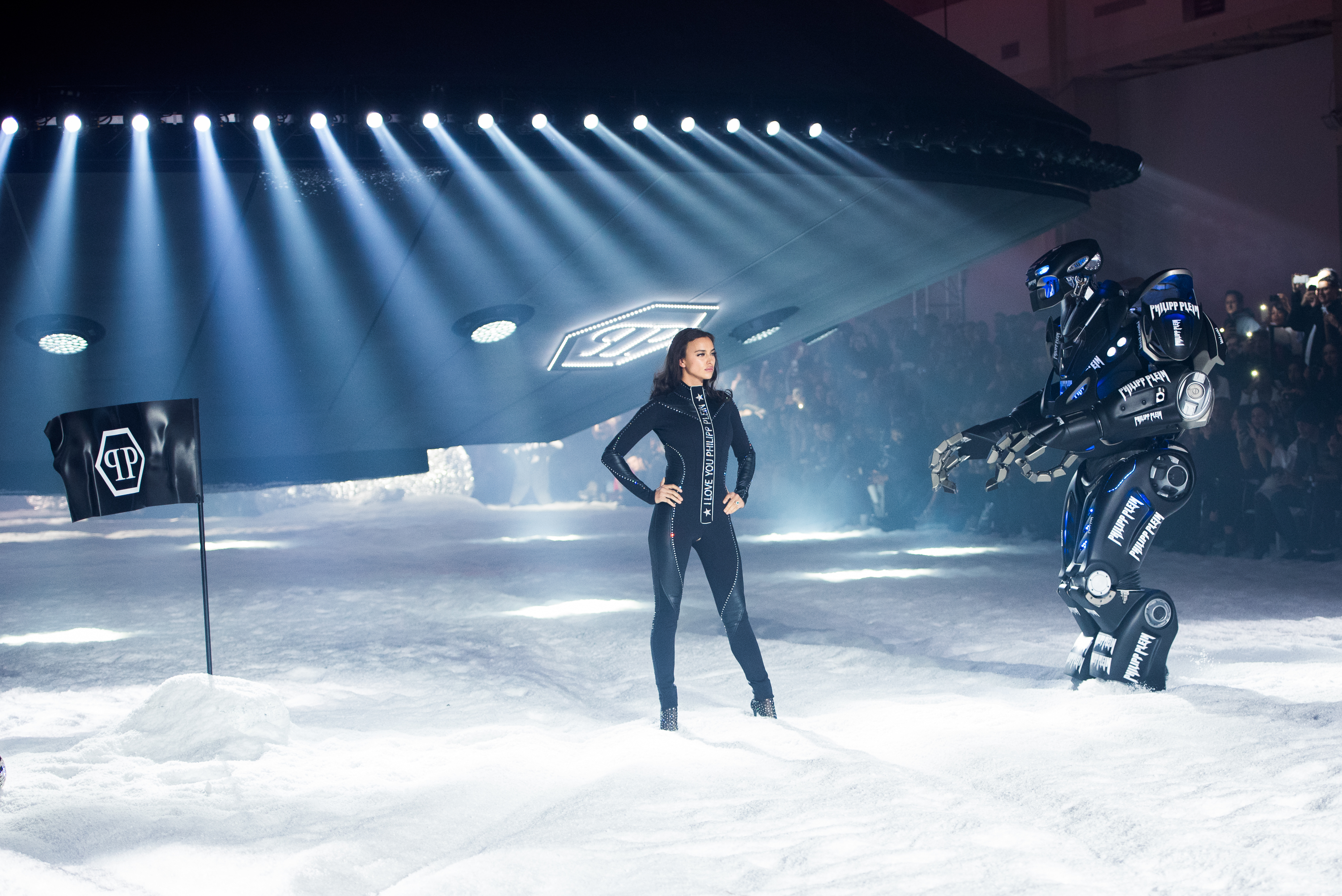 Which is ultimately what Saturday's event aimed on fixing. Like most fashion week happenings, it was invite-only, and yet ads about it were playing on the radio all week. On the brand's website, an address was posted, as well as a link to a livestream. A designer who came to fashion by way of a line of pet beds, Plein is someone whose clothes I might describe as a kind of Anti-Céline. The looks on Saturday had a loose ski-bunny-goes-to-space theme. There were snow boots and teddy-bear backpacks, latex bodysuits and backpacks with scrolling LED screens. Some models had Marie Antoinette poofs and giant bows, others, slick blow-outs. A logo t-shirt said it all, in four different fonts.
And although the VIPs and pseudo-VIPs (Migos, Kate Upton, Diddy progeny Christian Combs) were quadronned off in an upstairs balcony insulated not only by guards, but a mob of models trying to get past them, the crowd was among the most diverse I've seen at a fashion event. During the show, one model with runners' prosthetics dashed past the rest. "Thank you Philipp Plein for including our culture," Nicki Minaj said at the show last September. "Designers get really big and really rich off [it], and then you don't see a motherfucker that look anything like us in the front row half the time."
I've never been propositioned before at a fashion week party. At this party, it happened not once, but twice. Do you want to make out? A very sincere young man who couldn't have been more than twenty asked me moments after I introduced myself as a reporter covering the event. It was too absurd to be offended; all you could do was laugh. It almost seemed on-theme: it was a confusing, demented, and ultimately enjoyable runway-rave whose only rule seemed to be: "Why Not This Too?"