Photograph by Estrop for Getty Images.
Marine Serre is Designing for the Future By Engaging with the Present
At her debut runway show, LVMH Prize winner Marine Serre showed a fantastic vision of a woman who engages with the world we live in today.
Photograph by Estrop for Getty Images.
Right now, designers are obsessed with the future. That sounds redundant—the purpose of fashion is to do something new and declare the present passé—but the runways of New York, London, Milan, and thus far, Paris, have been filled this season with streamlined, techno-futuristic visions of what a person in a vague but promising later might look like, as well as dreamy, Pax Post-Apocalypta looks—flowing robes in soothing colors.

It's certainly fun to look at, and cool sportswear is definitely wearable, but it's also troubling: imagining the future is a way to escape the present. Rather than asking how we can solve the problems that make the present so unbearable—from how a woman wants to dress and spend her money, to the social and political crises that have seized nearly every part of the world—the runway vision of the future says: can all of this just hurry up and be over?
But on Tuesday, the official first day of Paris Fashion Week (following Jacquemus's show the night before), 26-year-old designer Marine Serre showed a vision of the future that felt rooted in the questions of today. How does a woman carry herself? How do women in a multicultural society dress and live? And what do symbols and signs—flexible in some parts of the world; rigid in others—mean in this era of cultural fusion and disconnection?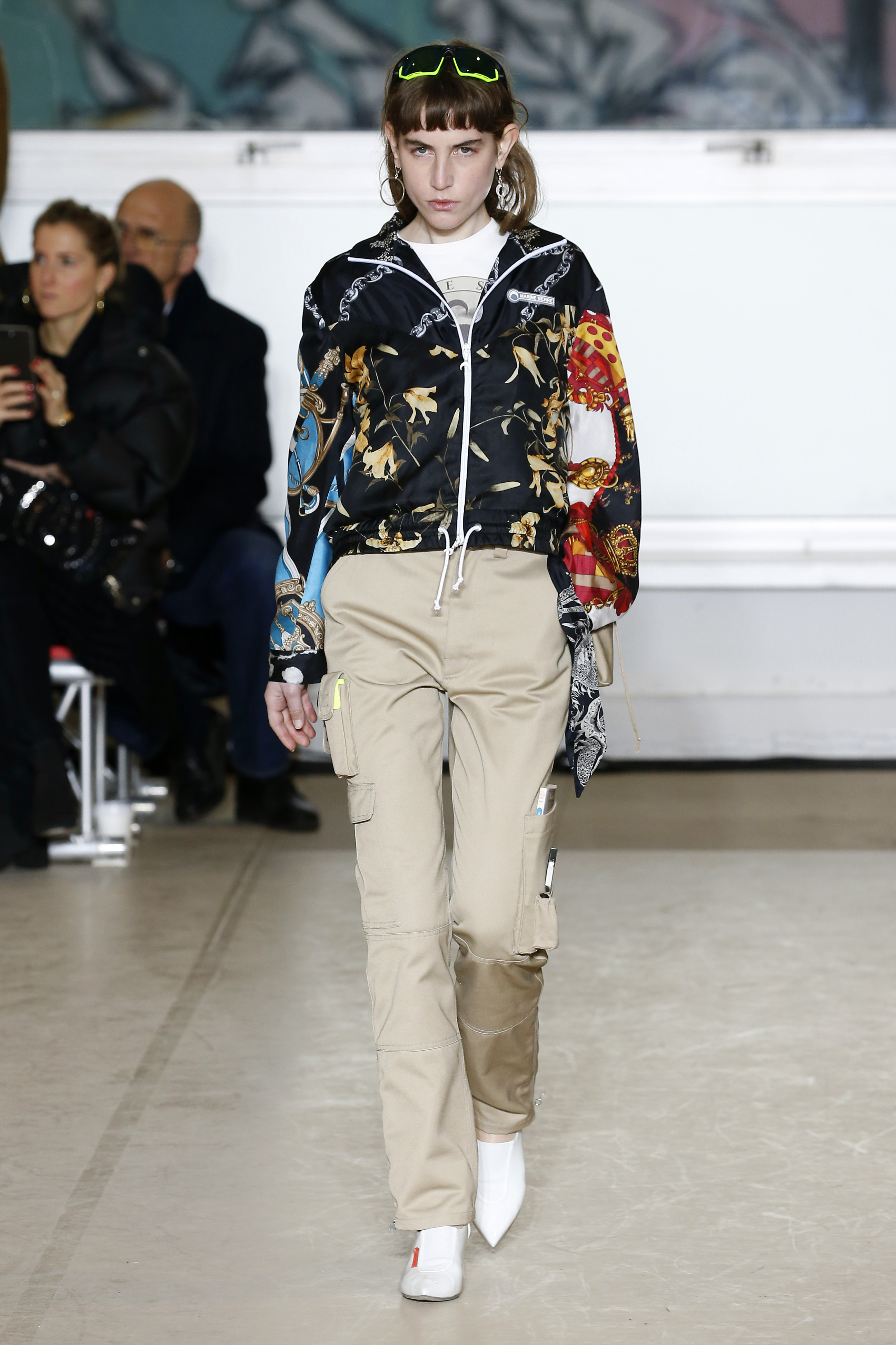 Serre, who just won the LVMH prize for new designers and is a Balenciaga alum, built her collection around a number of garments that occupy dual meanings. She showed scarves—a white rich lady staple in the west, and an essential part of religious dress in the Middle East—flowing from earrings like a new kind of ritual dress and patched into nouveau-bohemian dresses; free-flowing and layered as robes in one look and as a sporty windbreaker in another. Her now-signature crescent moon symbol—"It's political and it's not political," she has said—printed on spandex came as full sleeves as well as hoods that covered all but the models' eyes. This resembled a hijab but, she said, was a reference to "biker shapes," and a need from protection, perhaps from the gravel while you ride your motorcycle, perhaps from the cold.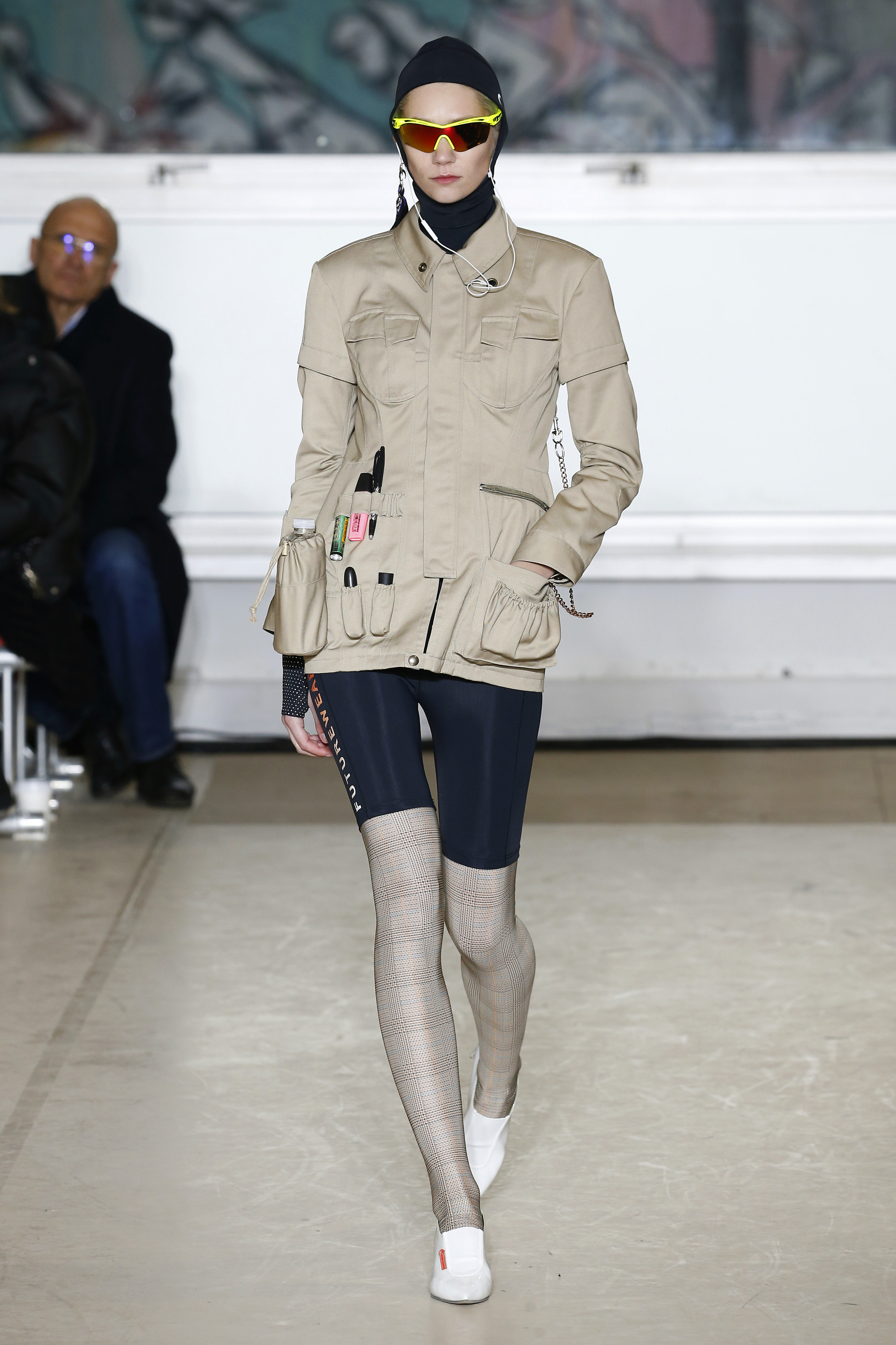 But not from the world. Serre's makes highly wearable—even functional—clothing for a woman who actually exists in the world, with a life to live and things to do. She showed a fantastic jacket with pockets for everything that would otherwise fill a woman's unruly handbag: water, pencils, iPhone, notebook. A great pair of cargo pants did the same. Handbags are a nuisance: pockets—it cannot be overstated—are a kind of liberation. (She did have one bag: a plastic ball dimpled just so at the top so it could be clutched in your palm, like a tiny globe, or "a little mini-audiere ball bag," she said in an interview after the show.) Her crescent moon may be what she's known for, but it's her expert jackets show her design skill, each one a clever fusion of sportswear and femininity, a vision of athleisure (a stupid word—let's think of a new one by the time this collection hits stores?) that doesn't leave a woman drowning in sweatshirts or trying not to look lazy in sweatpants. It's just Serre's third season, and her show was just the third of Paris Fashion Week, but her collection is already a season highlight.