Photograph by Kristy Sparrow for Getty Images.
The Endless Appropriations of Virgil Abloh
The designer's latest menswear collection attempts to subvert middle-class malaise, but instead showcases the fashion industry's obsession with ceaseless borrowing from other cultures and social classes.
Photograph by Kristy Sparrow for Getty Images.
On the ground floor of the Centre Pompidou in the middle of Paris, a room is swatched with reds and blacks, evoking sexuality in a decidedly industrial space. A gaggle of photographers struggle for space, at least thirty of them pinned behind a velvet rope into a spot the size of a toilet stall. Assistants—men and women, in their early- to mid-twenties, wearing black, ankle-length doctor's coats with white lettering on the back: Off White™ "Staff Uniform"© 2013-20XX—corral them. A few of the photographers bounce on their heels, make impassioned arm gestures when late guests threaten to block their shots of the incoming models. Hurriedly, the assistants seat the final stragglers. A heavy bass reverberates through the central speaker. Then: a booming recording of the poet Charles Bukowski speaking. The first models can be seen in the corridor. Necks crane.

"You get caught into the stricture of what you're supposed to be and you have no other choice," says Bukowski over the speakers. "I decided I'd rather starve, live on the edges of nowhere, than do anything at all; than become anything labeled. So for fifty years I was a scarecrow, unlabeled, and now I'm supposed to be a writer."
Weezer's "Only in Dreams" begins. The models begin their walk. The clothing depicts a weary evolution into middle-class adulthood in what will be the show's anchoring theme. The first model: a rumpled sweater. The next: a wrinkled button-up. The third: a suit. Then, a messier middlebrow miscellany gives way. The collection from Virgil Abloh's Off White label is called "Business Casual," a middle ground between tailoring and streetwear that's been voguish in high fashion for at least the past year. A fishing vest over a blue t-shirt, atop cargo pants with high, white socks. A sparkling-blue puffer jacket. Mom jeans. A red shirt with its buttons in a diagonal line. Intentional creases in shirts; laid-back Nike trainers and spray-painted Oxfords. Handbags that look like IKEA shopping bags, colored red with "OFF WHITE" inscribed on the side. A shoe worn on the runway that says "RUNWAY." A scarf that says "SCARF."
There's a sense you've already been here. If you've looked at a certain René Magritte painting before, if you've read any analysis by Marcel Duchamp, you already know what Abloh is thinking. His Off White shoe collaboration with Nike has shoelaces with "SHOELACE" written on them in Helvetica. He calls it "ironic detachment." Duchamp is "my lawyer," he also says. The Dadaist, he adds, gives him the grounds to copy and paste, to take and to re-apply.
But Duchamp also said, "Art is either plagiarism or revolution."
With his new menswear collection, shown on Wednesday morning, Abloh has again angled for detachment but also for social nostalgia. The clothes tell the story of a middle-class life—that which Bukowski rejects in the recording, that which Abloh, who was raised in the suburbs of Rockford, Illinois, rejected. But does the show convey a cut-and-dry subversion, or an exploitative reappropriation? The rumpled button-ups, mismatched ensembles, and the aesthetic of imperfect hand-me-downs found in Goodwills have been placed on Abloh's high-flouting runway, and as the ten-minute show comes to a close, you realize you have watched nothing less than the co-opting of a social class: a utilitarian middle- and working-class aesthetic that, in Abloh's attempt to subvert it, he has made all the duller, morphing a varied class aesthetic into the streamlined visual and economic register of the fashion elite.
Does the show convey a cut-and-dry subversion, or an exploitative reappropriation?
It is, of course, a similar conceit to that of the Georgian designer Demna Gvasalia, who takes motifs from the Internet and popular culture—the shipping company DHL, the film Titanic, IKEA, Bernie Sanders' presidential run—and, depending on how you look at it, either satirizes their superficiality or cravenly plays into them for a profit. (The DHL shirts, for instance, which are nearly identical to the seven-dollar ones the company's drivers wear, sell for $250.) "Y/Project" has also lifted from a middle-class, America register, this time tapping into the Bush era with their recent line of multilayered Ugg boots, which Vogue so daintily characterized as, "Jabba the Hutt engulfing each thigh."
Abloh would call all of this art, a Duchampian copy-and-paste. And although Gvasalia and Uggs are guilty of a similar aesthetic laziness, ever since his rise to mega-designer and collaborator, Abloh has been fashion's Charon, ferrying the industry between so-called streetwear and high fashion. His decision to play into this appropriation—to champion it, in fact—perhaps holds the most gravity, as he lives up to his given poetic name, guiding us through this current hell.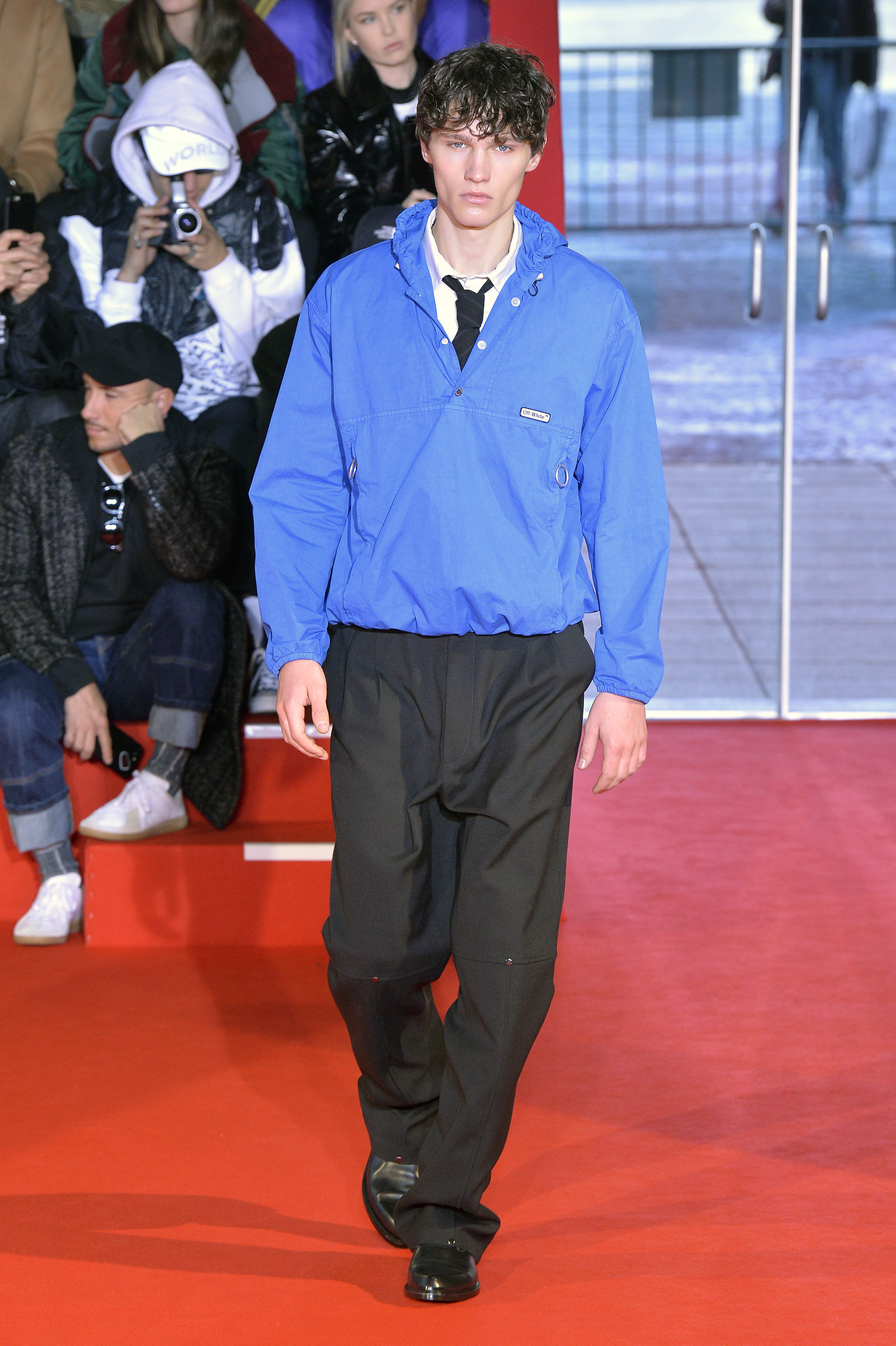 The irony of this "legitimatization" of the middle-class aesthetic is that it is prohibitively expensive to the middle-class—the classic fashion conundrum designers often face when they appropriate. Cost, exclusivity. It is the same as what Balenciaga did when they took the fifty-cent blue IKEA bag and priced it at two thousand dollars. Abloh, now collaborating with IKEA as well, is in fact doing the same thing. "My vision of this classic Ikea bag was like, 'Let me see this in another material,' so I can gain another level of appreciation," he said on-stage at the Fashion Tech Forum conference in Los Angeles. "Using my vocabulary can get a different emotion out of something that you've already seen." But how many degrees of fashion mimesis can one take a paper bag before it turns from intriguing experiment to contrived device, like endless spin-offs of a blockbuster film?
It's a legitimate question, and one that, in a way, Abloh has actually done well to grapple with. That's because Abloh's seemingly infinite appropriations do in fact have a revolutionary potential. If he were to bring his own socioeconomic roots to his fashion without also fetishizing their class connotations, he might set up his thrift-store-looking designs for them to be admired for their utility, nostalgia, and authentic charm, at their fair price point. The fashion world, for instance, has embraced brands like Patagonia, without having to have it translated for them. Might Abloh be able to find a purer way to access his middle-class background than having to push it through fashion's stultifying sieve?
"I don't want to be a celebrity designer," he told W magazine last year. "I want to keep my personal life out of [my designs]." But he also told me, in an earlier interview, "I'm not looking towards a new demographic. I'm looking towards the demographic I came from." His contradiction is telling: he teeters between wanting to absolve himself of his suburban, middle-class upbringing while holding fast to it as well. It cannot be understated the degree to which Abloh's personal background informs his aesthetic. Ultimately, he wants to reappropriate his own upbringing—to choose it rather than have been dealt it.
His trump card thus far has been to pretend as though he's still a misfit in the fashion world—that he's still in flux between the two worlds. I am "still crashing," he says. "I don't think that [my work] has been fully accepted." But of course, his work has been accepted—and widely at that. While much of high-fashion, especially Abloh's particular brand, is the result of an upward filtering of that which originates with non-elites—skateboard culture, graffiti, utilitarian work clothes, basic shopping bags—Abloh has chosen to define his core artistic talent as the ability to pull those aesthetics quickly upwards, while making few creative alterations.
"If I take a men's sweatshirt and write 'woman' on its back, that's art," he says. But it's difficult to see the ideas of Magritte or Duchamp—which were last revolutionary almost a century ago—copy the idea and call it revolutionary now, just as you couldn't paint a Cubist portrait of Dora Maar and say your "Picasso-inspired" artwork is revolutionary. Revolutions, after all, must be new.
The show is nearly over. The models all now walk together as Tyler, The Creator's "See You Again" plays. The models exit; Abloh comes out, and many in the audience begin to cheer. What has just passed is a blur of middle- and working-class clothing, the aesthetic and tenor of a milquetoast suburbia, supposedly challenged in the way of Bukowski, now being applauded by the fashion elite. It is dizzying enough for a sociology thesis, a paper that would necessarily include designers and brands from Gvasalia to Uggs to Louis Vuitton's women's trainers in its hefty footnotes.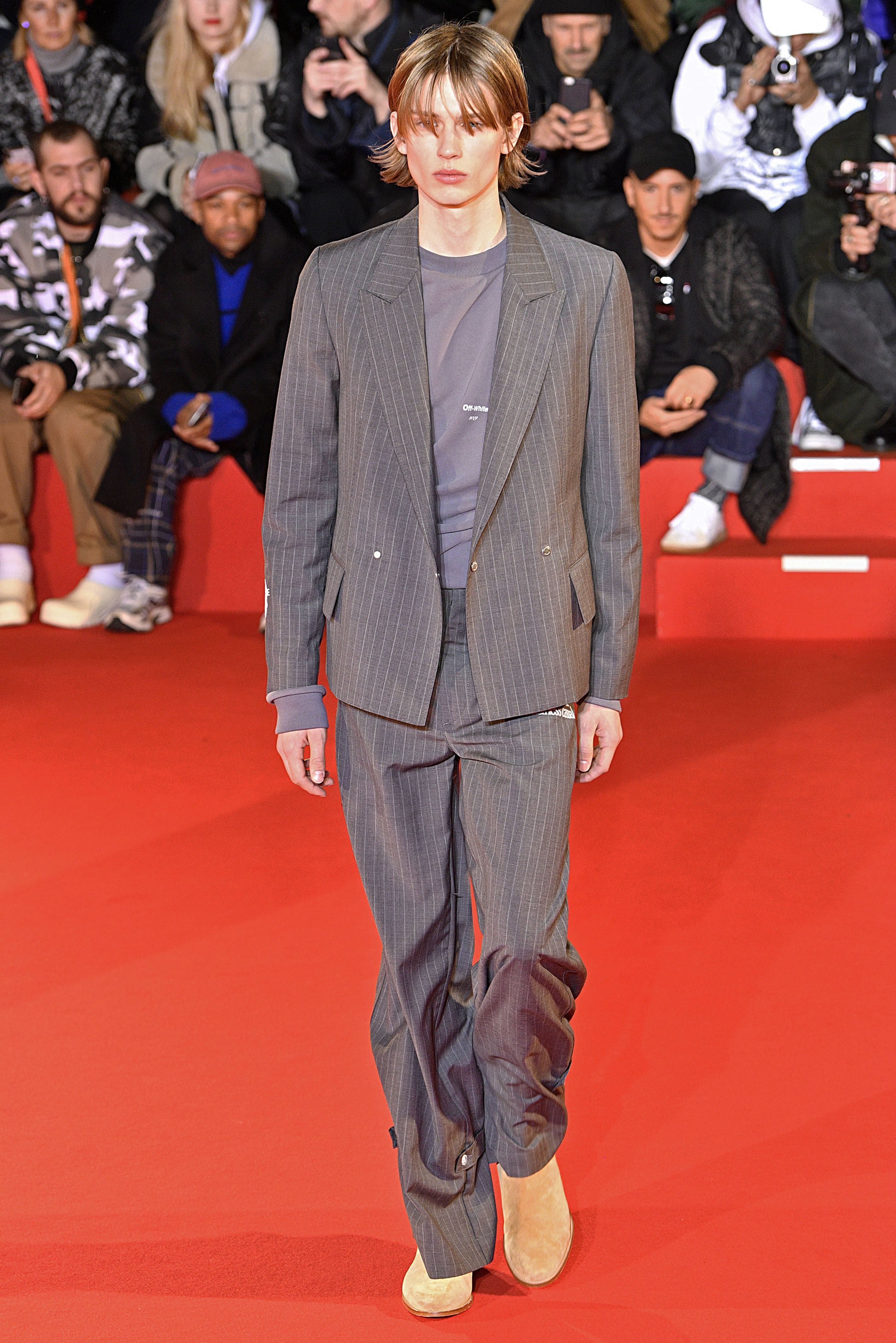 As we filter out of the museum space and onto cobblestone streets, I think about what Abloh said in a talk for Vogue's Forces of Fashion last year, which he's been repeating a variation of in interviews ever since: "My internal tool for digesting the word 'luxury' is to determine whether or not something is 'coveted.' If you covet it, it's luxurious to you."
He has used this claim to defend his high price-points, and it's a defense used by many other contemporary fashion lines and designers who draw huge crowds via collaborations and various means of "filtering up." It's also the same logic that has, over the past decade, put a $110 Nike AirMax on the same spectrum of desirability as a $595 Manolo Blahnik pump. And yet this logic also threatens to stifle creativity: if enough people want something, that thing will be valorized. The quality, the originality, the art of it doesn't matter—only its perception.
Abloh is not mounting a defense of bottom-up fashion, of fashion-ified streetwear or middle-class malaise; he's just explaining basic marketing and supply-and-demand economics. The show is over and you're left wondering: how many different ways are there to say the same old thing?