The MTA and De Blasio's Electronic Ads Threaten New Yorkers with Visual Overload
Animated billboards and sponsored Wi-Fi stations are beginning to permeate New York, but their aesthetic is predictably corporate.
A Link NYC unit
When films point to the future, utopian or dystopian, they almost always have one thing in common: advertising pervades every space. In Blade Runner 2049, holographic ballerinas pirouette through a crowd; in Minority Report, bio-IDing billboards bark at Tom Cruise's character; and in Strange Days, ads screen so close to your body they're just about on your eyelids. Even in futures without trees or democratic institutions, there are still many ways to move a product.
It goes without saying that New Yorkers' eyeball real estate is overused. If you live in a sparsely populated, less commercially saturated part of the country, you might see one piece of information every two or three seconds; in New York, your eyes take in dozens of things in the same period (or, if you're on the phone, umpteen times more). Most of these stimuli take the form of advertising: signs for stores, bus wraps, or unsanctioned stencils on the sidewalk. This information comes in through your eyes, and it's all processed by your overtaxed brain.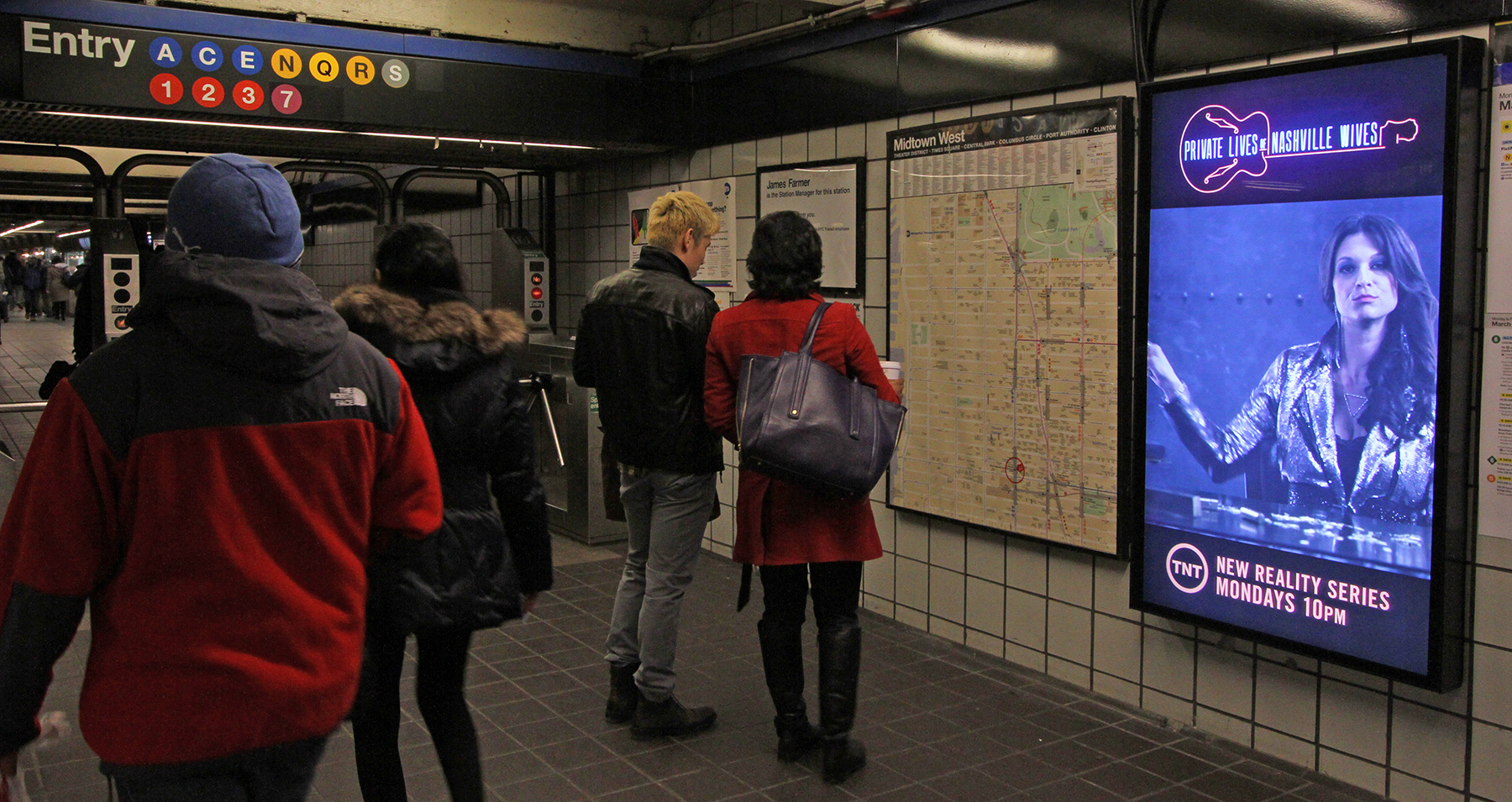 Until recently, street visuals were mostly static, but this has been changing with the diffusion of scrolling LED boards (the kind that now grace every bodega), and with the rapidly declining price of flat-screen TVs. Old-fashioned billboards are being converted into digital displays, as are other advertising spots like newsstands, bus shelters, and subways. The MTA is overhauling subway cars and stations to bring moving (but soundless) graphics to over 17,000 screens by the end of next year. A streetscape that is mostly print-dominated today will be glowing in the near future.
There are few spaces that couldn't carry some kind of ad, and with municipal budget shortfalls, anything is fair game. Ads on publicly-owned transit and street furniture can help cities to bring in more money, but the level of engagement with passersby is growing more intrusive as video, motion-activated digital signage, and gesture-driven experiential advertising enter civic spaces. In times of shrinking revenue, most want the city to get the income wherever they can (god forbid they raise taxes!), so few stop to ask how much an overabundance of advertising can strain city dwellers.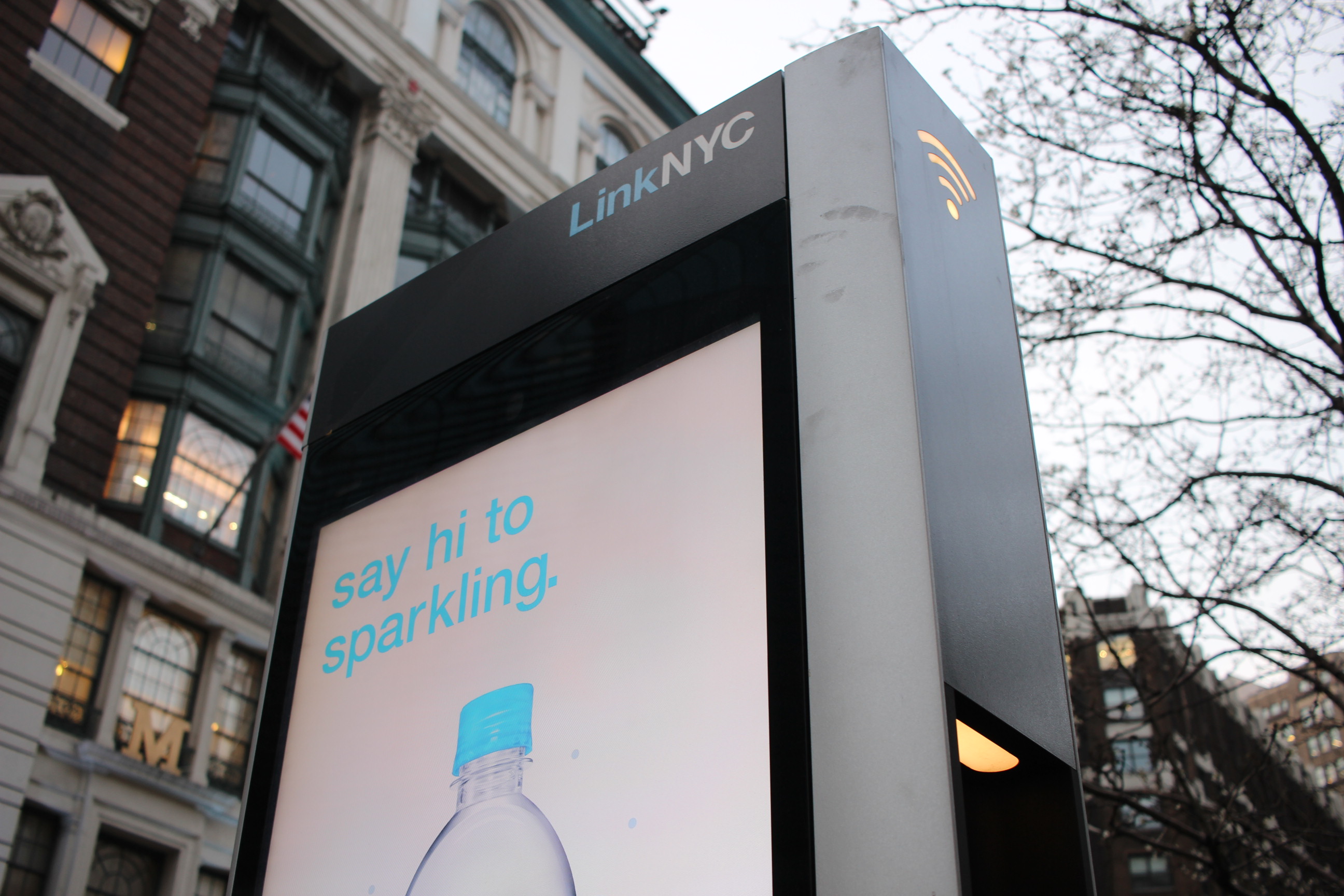 In the last three years the De Blasio administration has replaced over a thousand traditional payphones with high tech stele that deliver free Wi-Fi and phone calls, via the LinkNYC program. The boxes are supported by revenue from the ads they deliver to passersby, and, with the exception of a brief kerfuffle over public porn watching, the phone booth overhaul has been praised from all corners—a shining example of public-private partnerships getting things done in the interest of the citizenry. Not much has been said about the fact that these glowing beacons have expanded illuminated video advertising. One exception might be the small contingent of scientists who warn that light pollution is redirecting the flight paths of birds and upsetting human sleep rhythms. But for a city that prides itself on never sleeping, the argument feels weak.
The question of whether we're approaching visual saturation—something that seems so linked to the age of Instagram—is actually far older: Victorians were incensed by the proliferation of posters on every conceivable surface. Their advertising culture was maximalist to its core: deploying meter-high letters, fluorescent paint, and bold graphics. Many of the outlandish fonts associated with the Haight-Ashbury "acid tests" of the 1960s were actually reissues of woodcut typefaces produced for handbills and posters in the exploding cities of the late 1800s. Contemporary accounts often complain about the garishness of these "interruptions" in the public realm, and reformers pushed back on the scale, size, and placement of posters and murals. The reining in of ads wasn't so much a rejection of commercialism as it was a defense of "thinking space" and clutter-free living.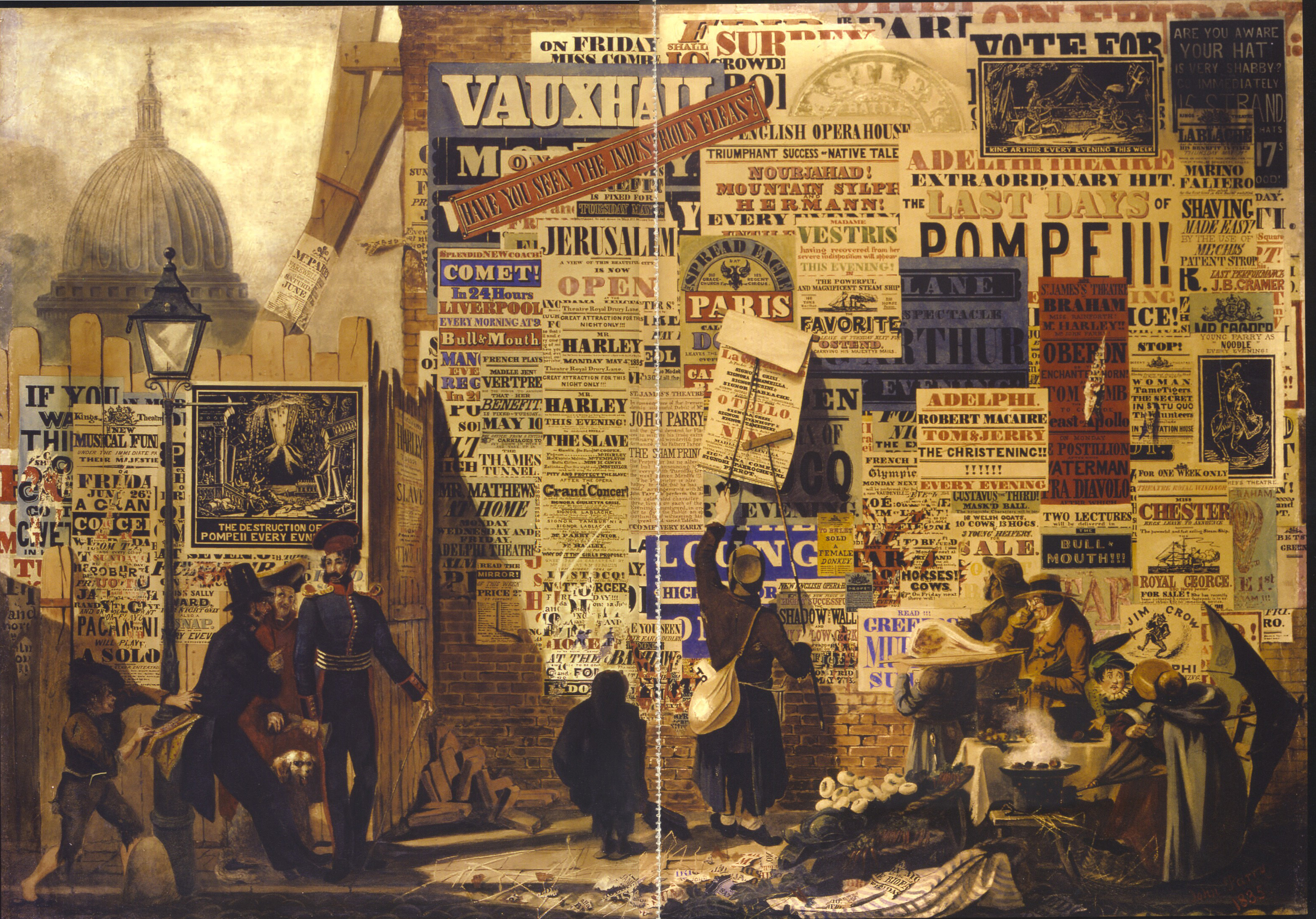 Today, we've learned far more about the brain's cognitive functions: we know the basic mechanism by which information is ingested, digested, and stored. We also know a bit more about the filing system that helps us to retrieve bits of information. There has been a broad emphasis on clearing out the junk in our heads, the most notable aspect of which might be the mindfulness movement. One fear is that our minds will start to resemble the Collyer brothers' Harlem brownstone—the epitome of hoarding—in comprising valuable stuff made sullied and inaccessible through overabundance. In the 1960s, there were already conferences dedicated to the theme of "visual pollution," and we've only accrued more since then.

Cities like São Paulo have taken action. Ten years ago, lawmakers launched into a battle against the garish advertising that had obscured many of its historic facades. The initiative, known as the Lei Cidade Limpa (Clean City Law), was a nuclear option: ninety days after it took effect, landlords and businesses had to remove outdoor advertising or face fines. The law banned billboards, LED illuminated displays, and even taxi ads in the name of order and "cleanliness." Paulistas could once again get a look at their Beaux Arts buildings, but the program also exposed the hidden-in-plain site markers of Brazilian inequality: micro favelas behind billboards, homeless sleeping spots, and sex workers.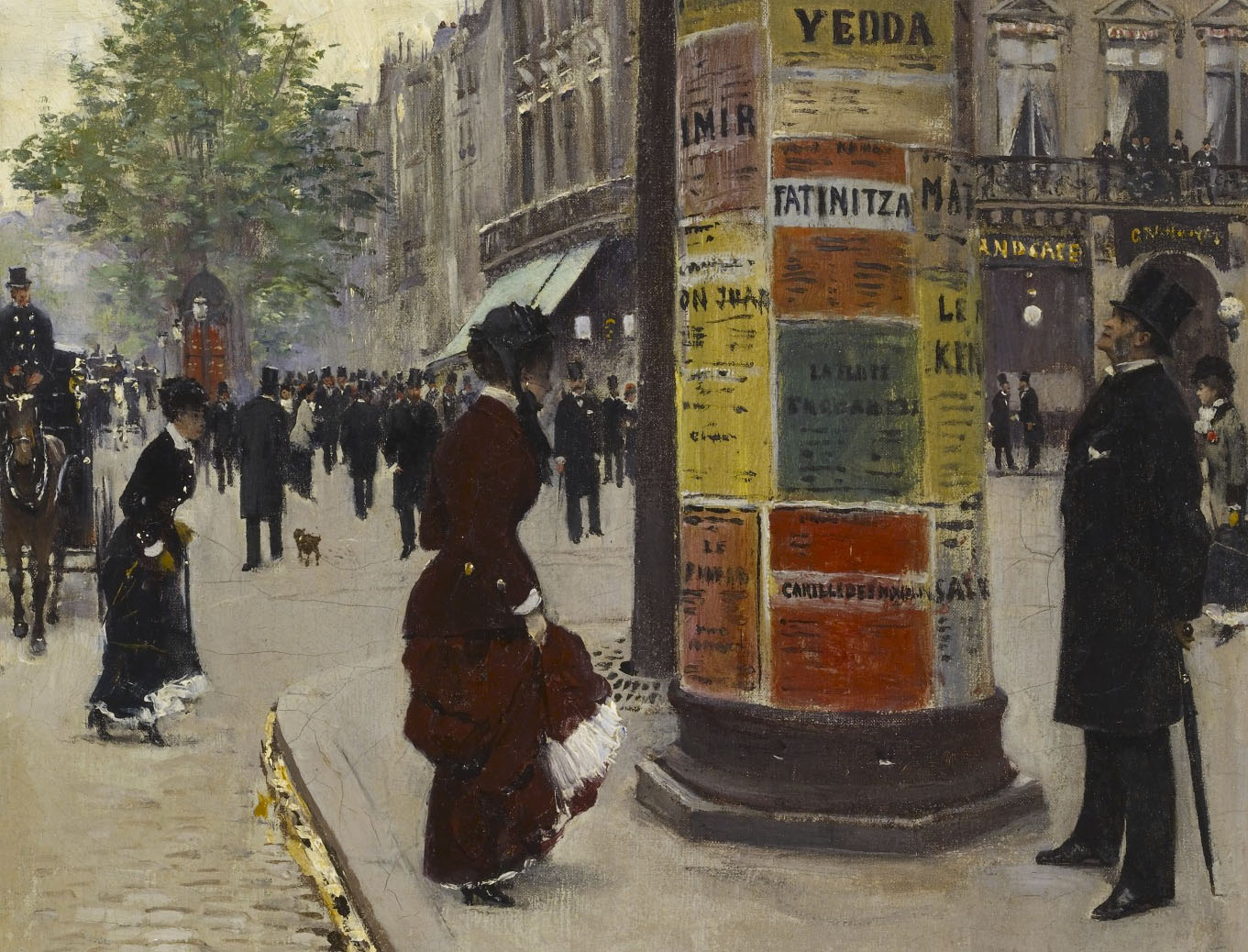 In New York it's doubtful that such a law could work—visual heterogeneity is celebrated as a cornerstone of the city's authenticity (an intangible public good that brings in millions of cool-seekers annually). Murals, gaudy ads, buzzing neon signage, and subway mosaics are defining parts of our visual culture. Initiatives that sought to rein in this freewheeling world have mostly failed (one success, if you could call it that, might be the 25-year battle of attrition launched against subway graffiti). However, the rise of programmable screens on streets and in subway cars points not to a rich future of digital diversity, but to a city of overpowering sameness. Mega companies with top-down strategies may very well sell the same ads in Seoul, NYC, and Paris, smothering urban vibrancy and distinction. A city of glimmering billboards won't necessarily burn brighter.