Photograph by Steve Eichner for Getty Images.
12 Photos from the 1998 Lilith Fair, the Best Festival Fashion Ever
Erykah Badu, Liz Phair, Missy Elliott, Paula Cole and more performed at the best Lilith Fair ever.
Photograph by Steve Eichner for Getty Images.
In 1997, Sarah McLachlan gathered a folksy coven of women singer-songwriters for a summer of girl power awesomeness called Lilith Fair. While some now think of Lilith Fair with gentle mocking—a utopia of calico feminism that was even parodied on Saturday Night Live—the festival's first iteration was a music industry revolution. As the biggest all-female festival ever in a male-dominated industry, Sarah MacLachlan was on the cover of Time and McLachlan, Fiona Apple, Sheryl Crow, and Joan Osborne were on the cover of Entertainment Weekly; and it was the highest grossing touring festival of 1997.
Still, its rah-rah spirit was met with very justified criticism. "I remember at the time thinking, in my snarky, rock-critic-y way, Why does this have to be so crunchy and folky? How come you don't have Courtney Love or 7 Year Bitch or Elastica?" Lorraine Ali told Glamour last year, on the occasion of the festival's 20th anniversary. "Why isn't Lauryn Hill or Missy Elliott on this? Going in, [a lot of women at Rolling Stone] had reservations about Lilith because it was taking the most passive thing in popular music that women were doing and putting it forth as the united front of women in music, and it wasn't united at all. It wasn't inclusive of everything that was going on, and it wasn't showing the innovation in music."
But while many massive artistic undertakings meet criticism with defensiveness, Lilith Fair came back the second year with a lineup that was much more diverse, racially and musically. You might even consider it legendary. (And that word is on our banned list, so you know we mean it!) To read the lineup now is to marvel that this was pulled off even then (bearing in mind, not every artist played every city): Lauryn Hill, whose groundbreaking The Miseducation of Lauryn Hill was released at the end of that summer; Erykah Badu; Bonnie Raitt; Missy Elliott, at the peak of her collaboration with Timbaland; Sinead O'Connor; Liz Phair; Lucinda Williams; Queen Latifah; the Indigo Girls; Natalie Merchant; Suzanne Vega; Meredith Brooks; Joan Osborne; Shawn Colvin; Lisa Loeb; Me'Shell Ndegeceollo; and more. (Full disclosure/humblebrag: I went. It was unreal.)
And while concert fashion has been worth watching since the first man banged two sticks together on a stage and made someone dance, the late '90s, especially when it came to outdoor performances, was an especially rich time for artist attire. Musicians were styled more personally, less in the hands of major designers and more in the service of artistic expression; and at Lilith, most were more concerned with keeping cool than looking it. (Later that summer, I saw Britney Spears perform at the same outdoor venue, the Polaris Amphitheater in Columbus, Ohio, and she had only a handful of costume changes—although, she wore as many belly-baring shirts as five of the Lilith performers combined.)
But while there weren't elaborate costume changes of the kind we now expect at festivals, each musician's style was an expression of her voice, as essential to her performance as any other element. Here is a selection of incredible shots from that year—what we certainly consider to be the Fair's best ever.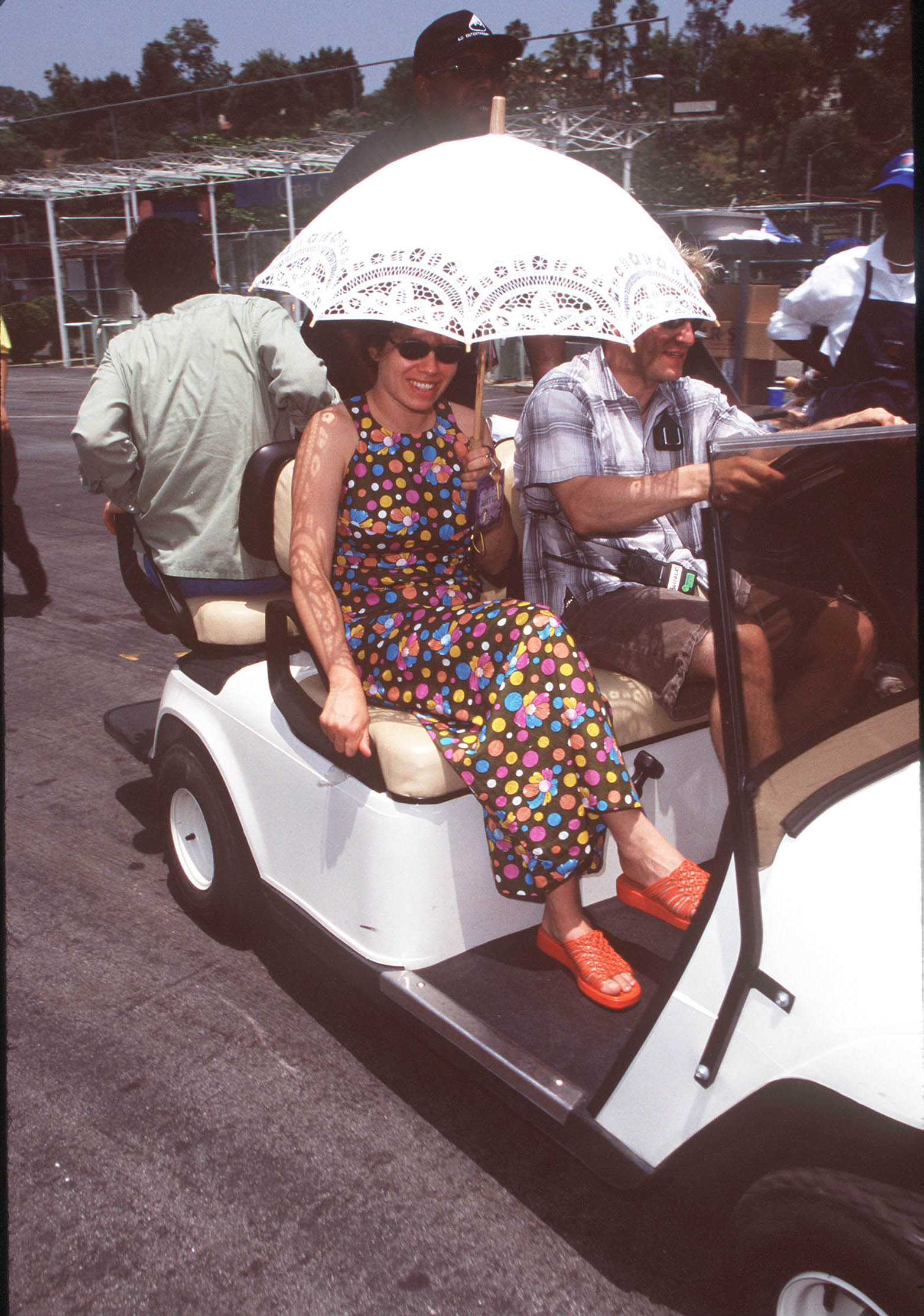 Natalie Merchant rides to the stage in a polka-dot print dress with red slides and a white lace parasol, at the Rose Bowl in Pasadena, California.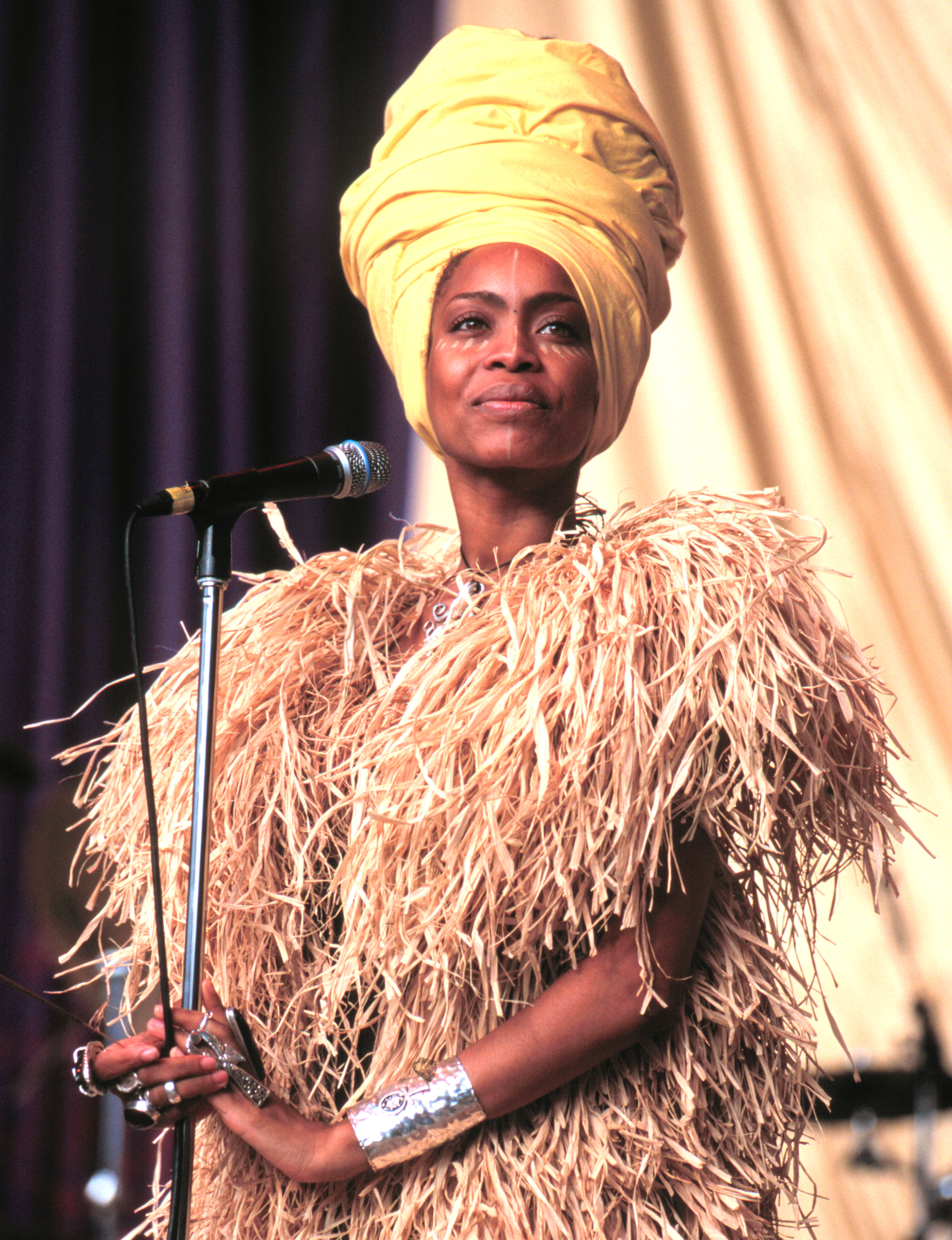 Erykah Badu performing in a raffia coat, in Mountain View (above) and Pasadena (below).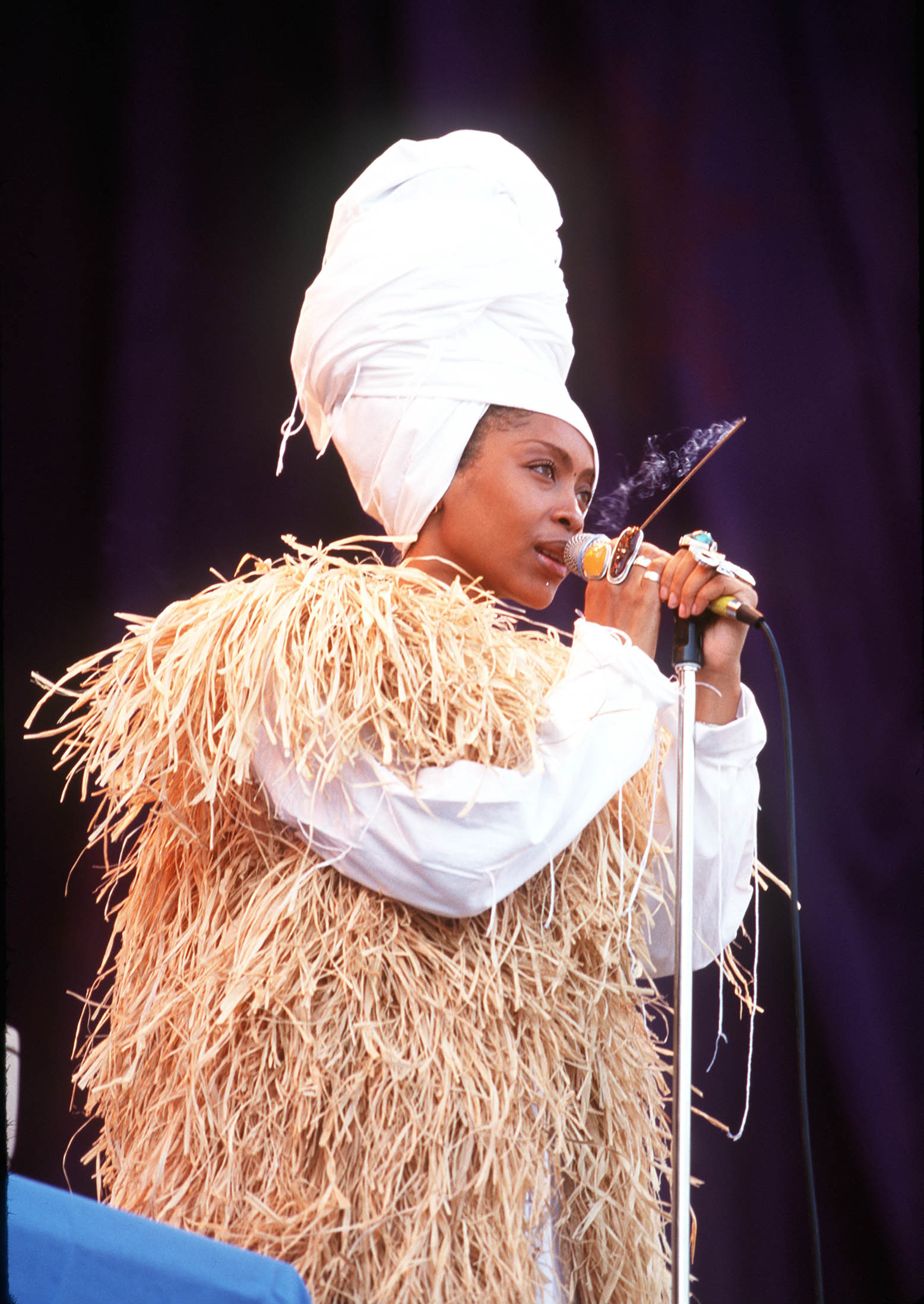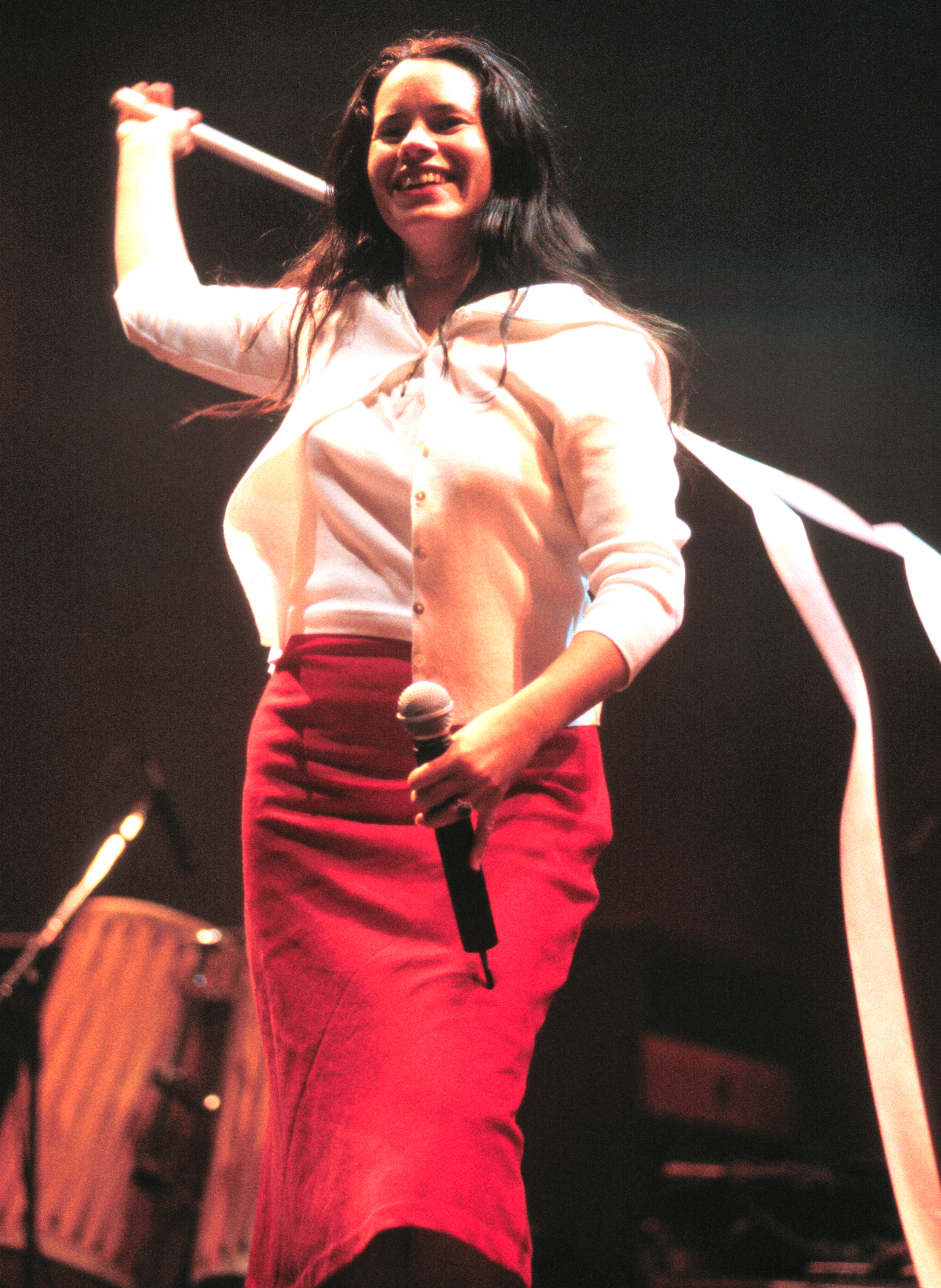 Natalie Merchant performs with a rhythmic gymnastic ribbon in a cardigan and pencil skirt. (Can you imagine her waving this thing while singing "Carnival"?)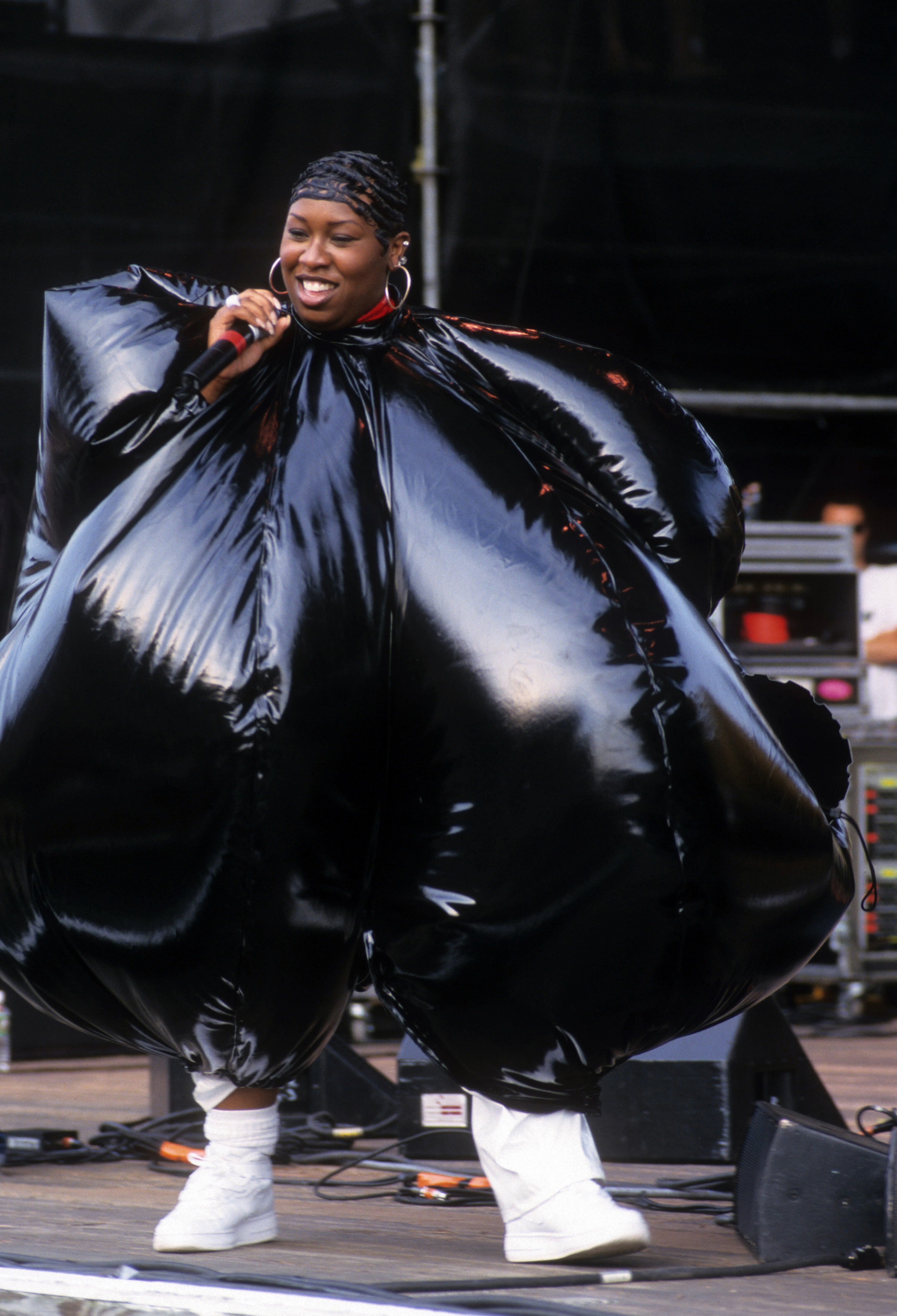 Missy Elliott performing in the infamous trash bag suit. As Vega told Glamour, "I remember seeing Missy Elliott in her [inflatable] suit, running up the aisles going, 'Y'all better show me some love because it's really hot in here!'"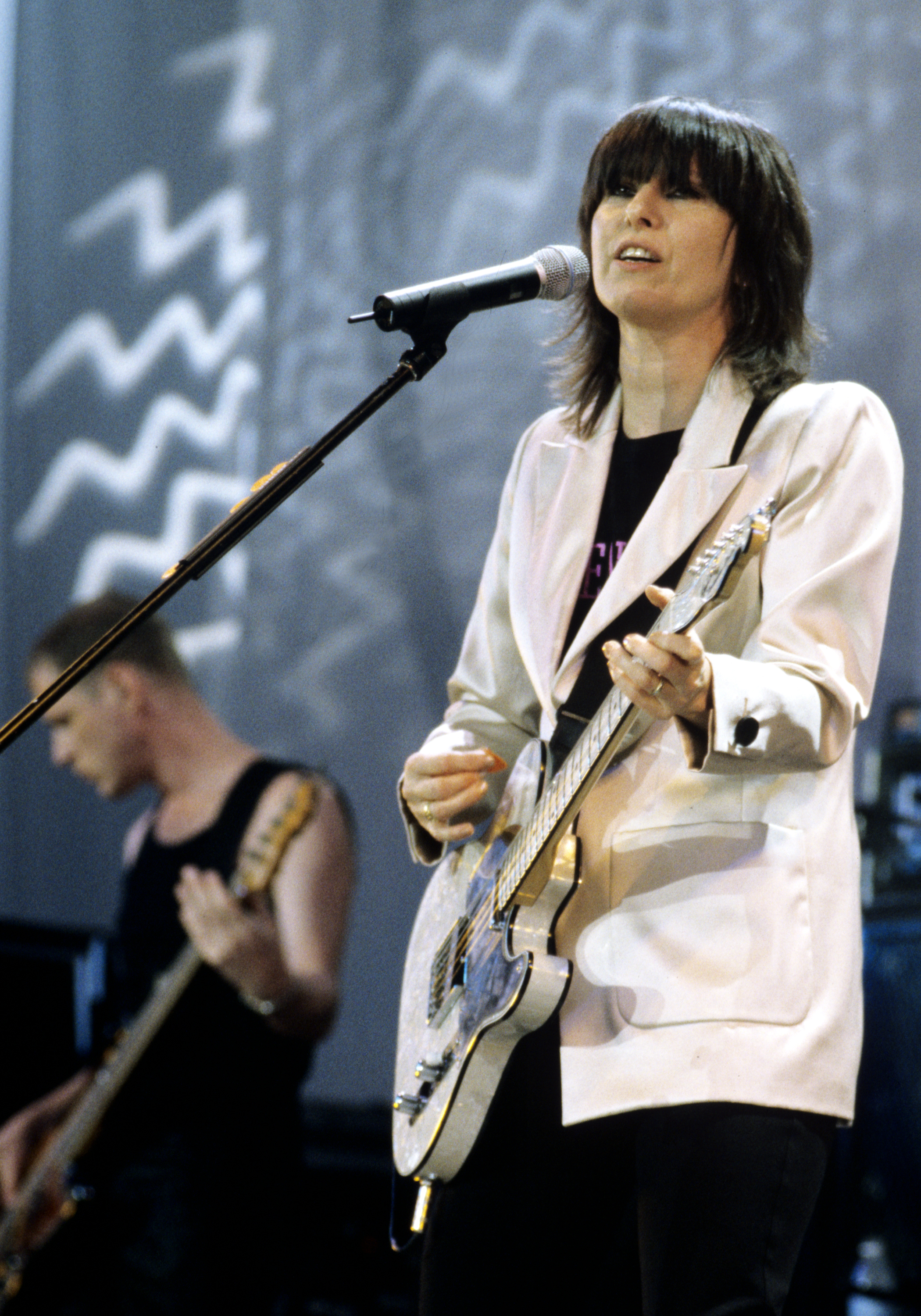 Chrissie Hynde looks like the missing Ramone brother, with better hair, clothes, and music.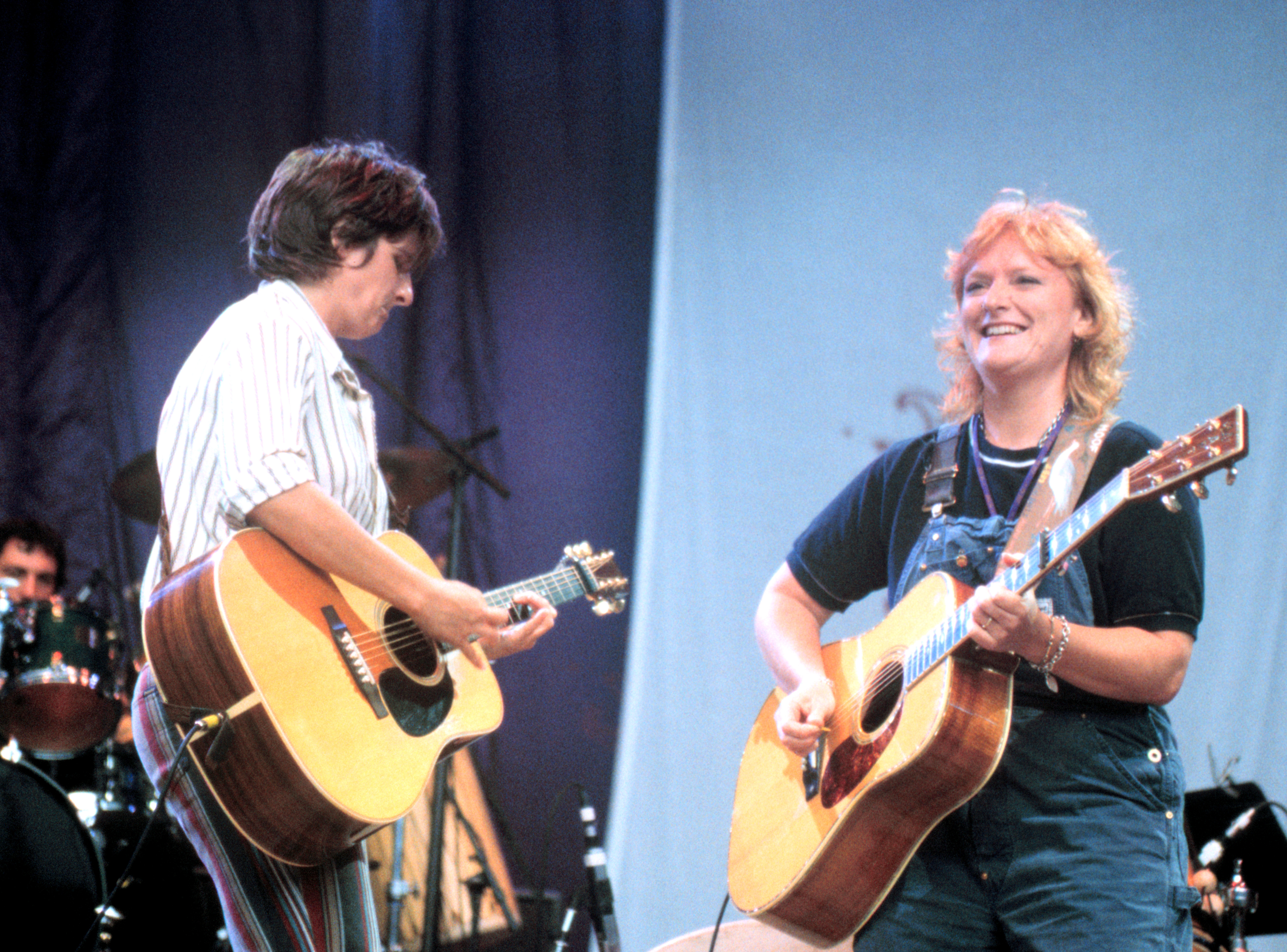 The Indigo Girls: Amy Ray in a striped button-down and striped pants, and Emily Saliers in overalls.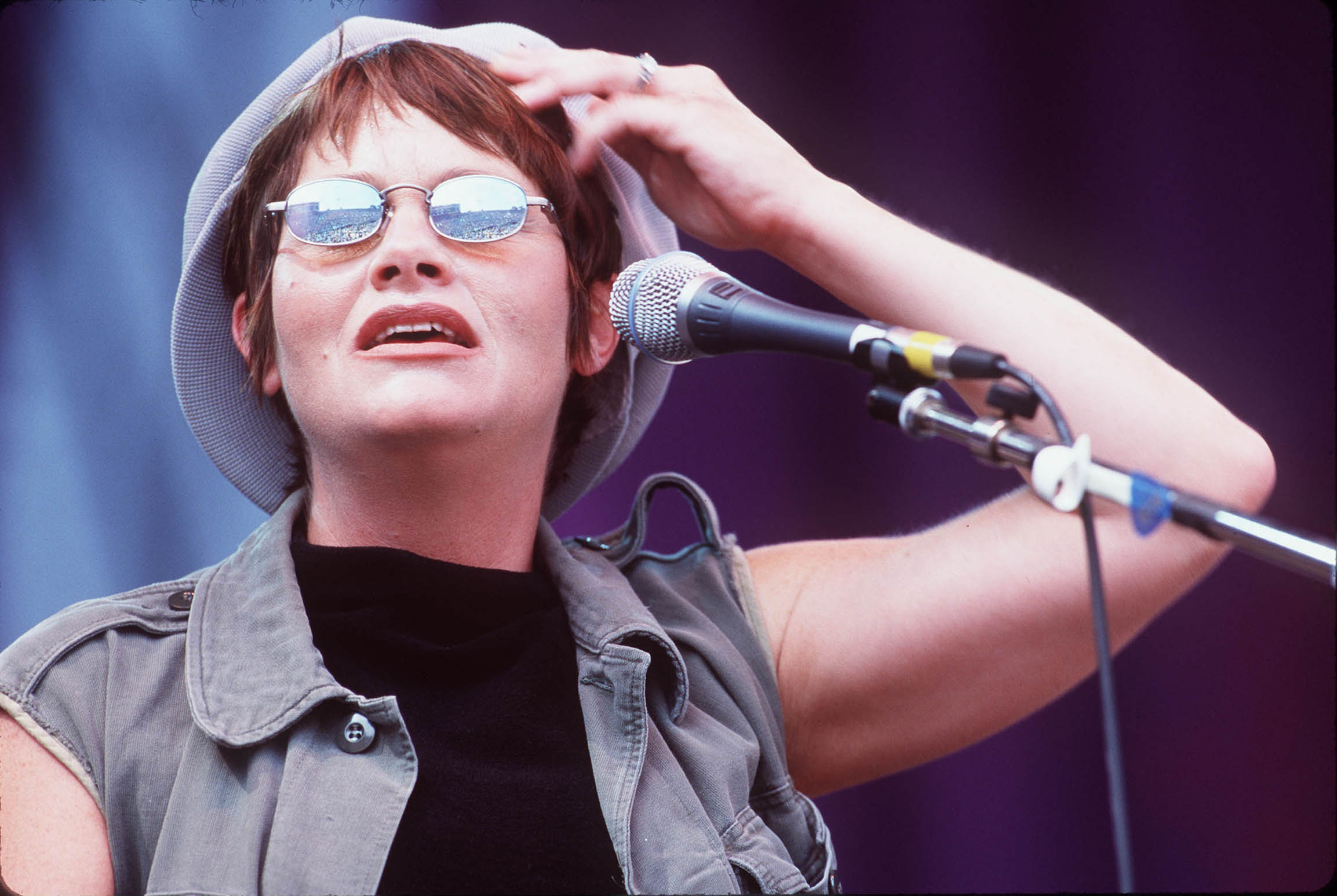 Shawn Colvin. Tiny sunnies came home to her favorite room! (OhmygodI'msosorry.)
Sarah Bettens from K's Choice in a floral slipdress and sneakers.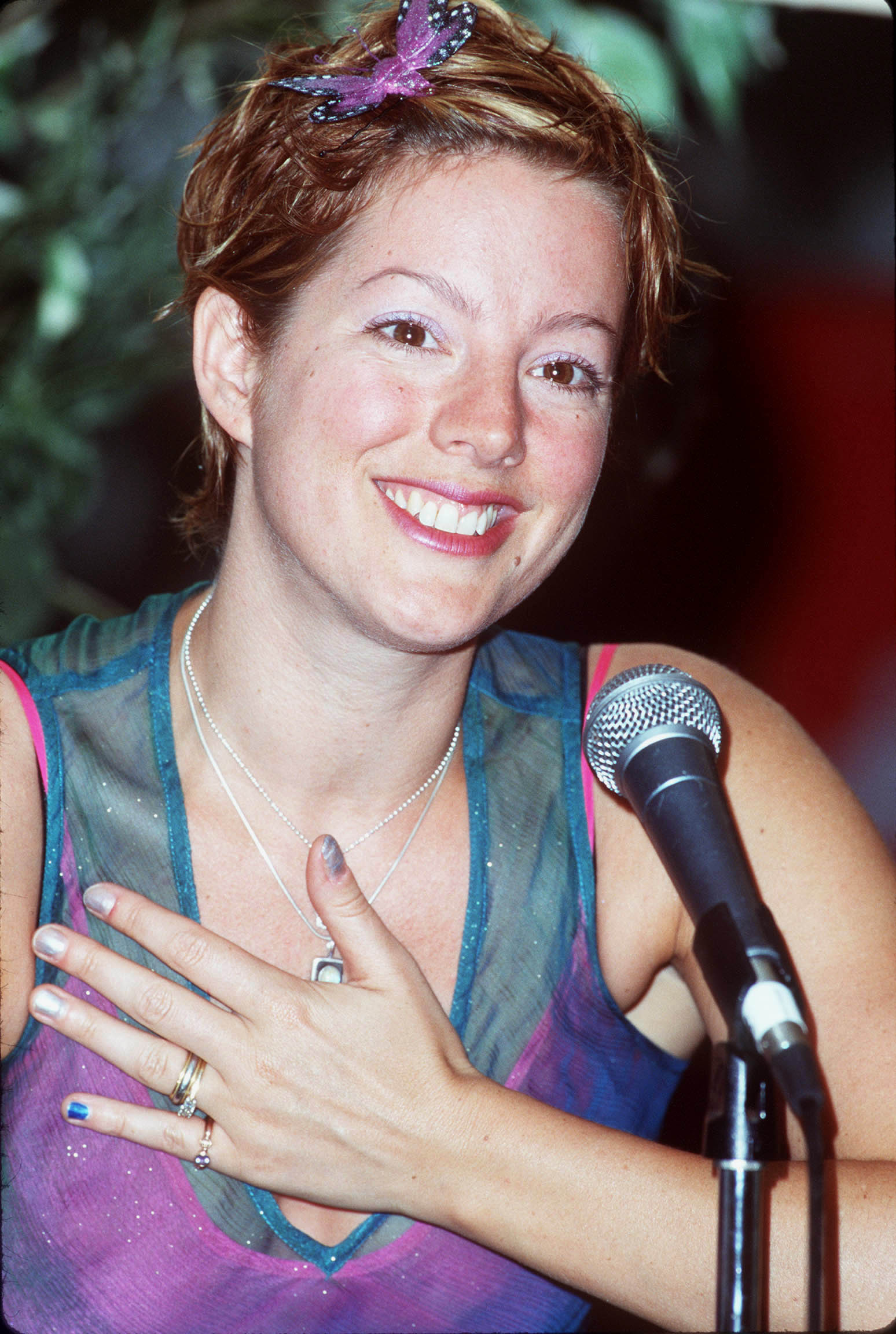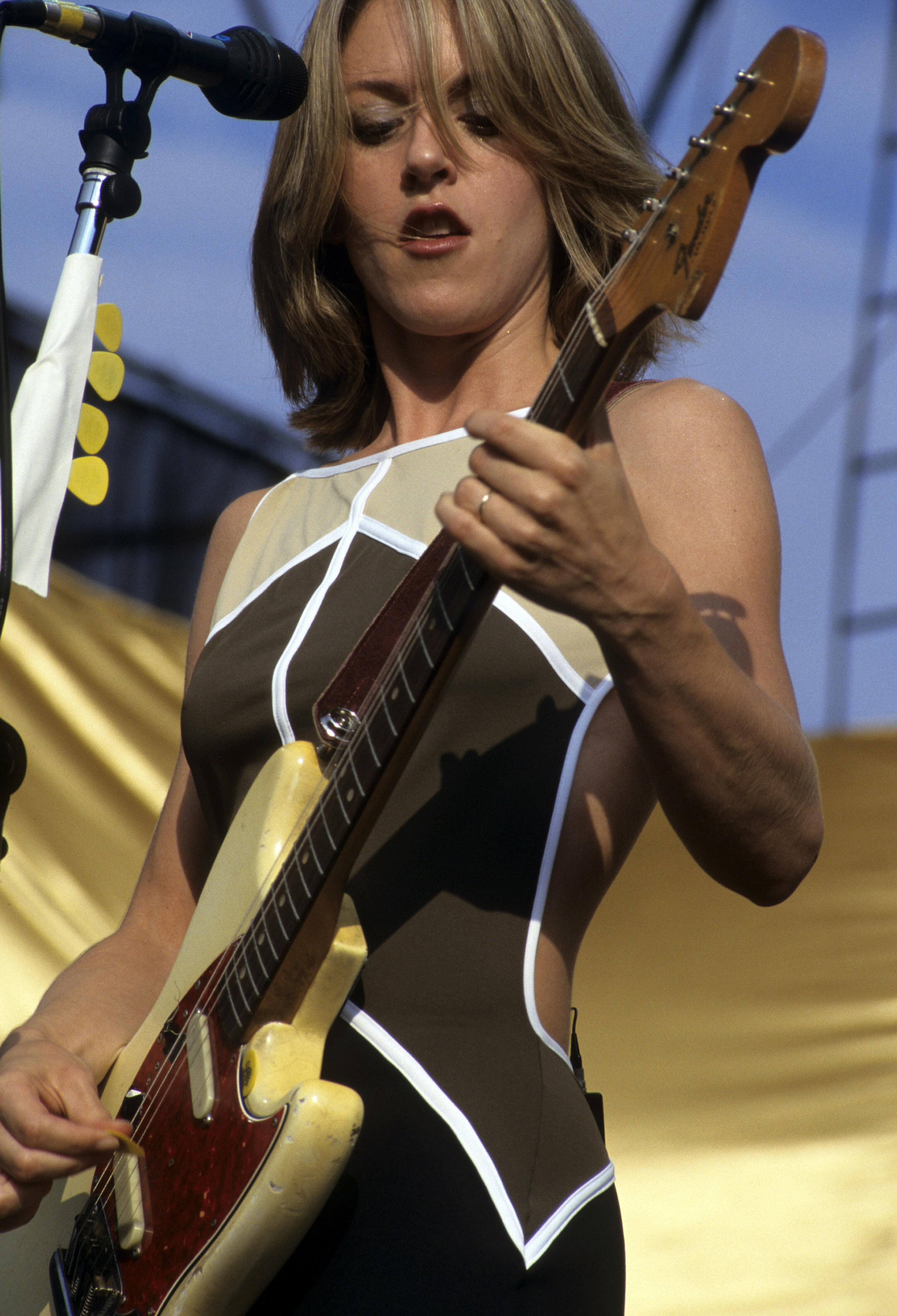 Liz Phair in a brown and khaki dress with an open back.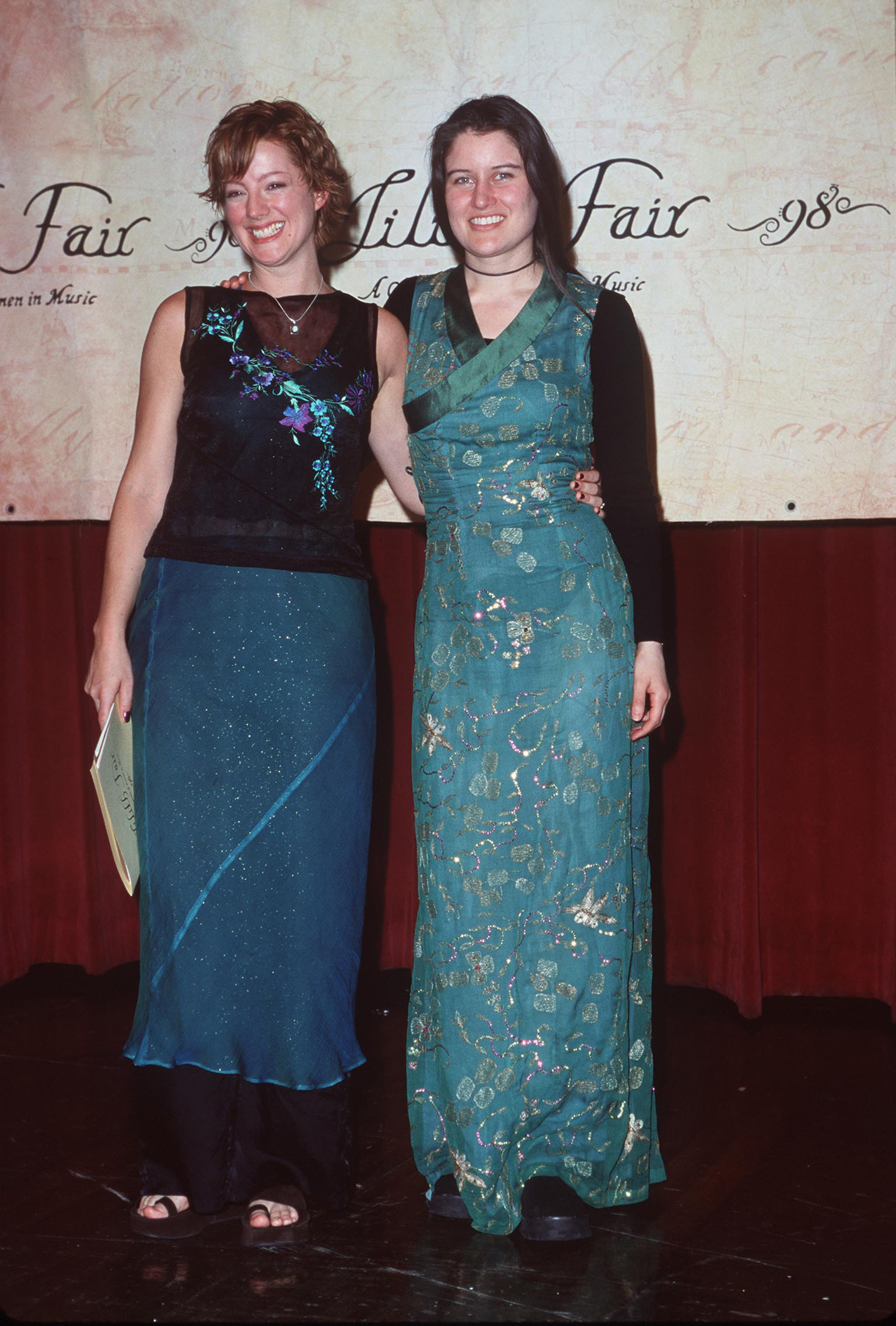 Sarah McLachlan and Paula Cole at a press conference announcing Lilith Fair in April 1998.