Photographed by Patrick Chen.
Johan Galaxy Thinks Your Fit Should Stink
The model-stylist has plans to follow in the footsteps of Naomi Campbell, and Anna Wintour.
Photographed by Patrick Chen.
Johan Galaxy was launched into the fashion industry thanks to a lucky break from Walter Pearce, the 23-year-old talent prodigy and Midland agency co-founder who helped establish the embrace of unusual faces on today's runways. After Pearce brought him to a casting for Hood By Air's Fall 2015 show, Galaxy quickly skyrocketed from unknown to the face of the brand. Since then, he's headlined campaigns for Thom Browne, Kenzo, and Telfar, all while working non-stop to style his own editorial projects for artists like Smokepurpp and Dave East. We caught him in between photoshoots to talk about the art of making something out of nothing, his plans to become an editor-in-chief, and that one time Anna Wintour said he "walks with vengeance."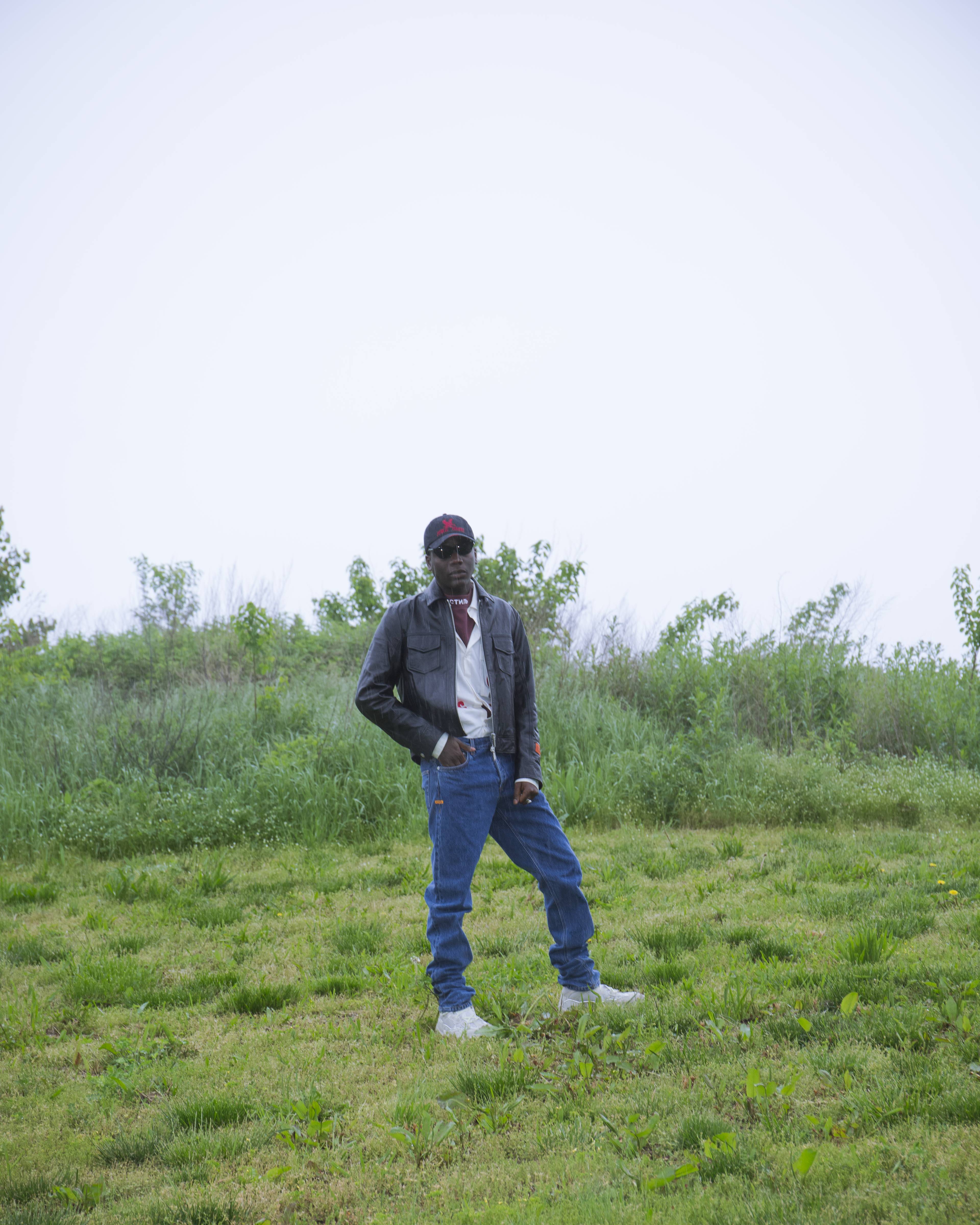 GARAGE: You've worked with some really amazing collaborators—Hood By Air, Theophilus London— who've also kind of served as mentors. Can you tell me about your relationship with HBA?
Johan Galaxy: Originally I believe it was during the time of casting season, like Fall/Winter '15. I'd built up an Instagram following, where I was always showcasing my fits. Walter Pearce, my manager, was low-key looking for people to cast, so he reached out. We exchanged info, and then I actually ended up coming to a casting. Although it was my first time ever doing anything professional, they literally called me back within the hour asking if I wanted to be the "Face of HBA." I was like, "Sure."
How did that feel? Where was HBA at that point? Like before or after Anna Wintour started coming to their shows?

Anna Wintour was sitting in the show. Someone told me she said, "He walks with a vengeance." It still drives me today. I will take that to the ends of the earth.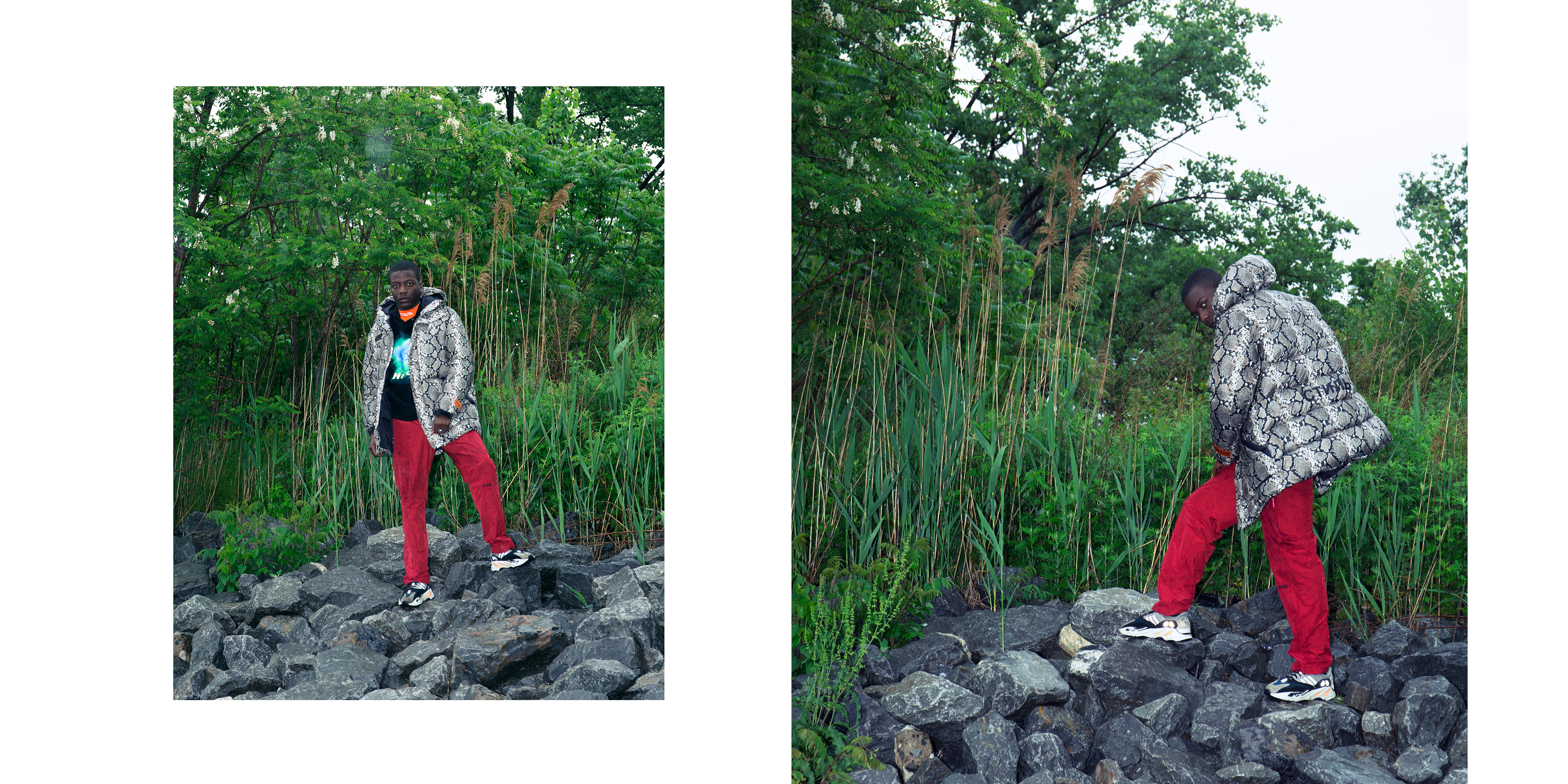 When someone that you admire compliments you like that, it's almost like this feeling of, "I'm on the right track. They see me. They're watching.
Exactly. The feeling of "I'm where I'm supposed to be. I know that there's a purpose of me being here." So then, I started working for the brand. Creating visuals, wearing the garments...

Figuring out the styling?

Yeah, and basically bringing my character to it. Everyone that worked there, they brought something, a character trait, onto HBA. It was like this big family thing.
What a cool first experience. Most of the time your first job no one gives a fuck what you have to say.
Yeah. Exactly, they usually don't care about the model.
But you're more than a model. I want to know what you learned about styling in particular from that experience.
I would say it's mostly about the coordination, but you don't have to be matching down to the socks. You can think of the next-level, of new ways. Working there I had the opportunity to really challenge my masculinity. A lot of people won't go there because their mind frame is "A guy can only wear this or that." They're kind of boxed in. A lot of people are like, "What am I allowed to do?"

And you're like, "What's possible." Which brings me to—

Stink.
Stink. Define "stink." Stink is...
"Stink" is when your outfit really brings out your confidence and it really allows you to show your true character. When you're feeling yourself, you're drinking that juice. Your power juice. No one can stop you. It's me against the world. It's like, "Oh, she's stink right now. She's going off, killing it."
Tell me about working with Theophilus London. Your second big gig. It sent you around the world.
We met at Converse Rubber Tracks, and he noticed my style. I learned from him that there is no such thing as "No." You have to plan for Plan A or Plan B. There is no Plan C. I would be given the craziest scenario, like being dropped the jungle. You don't have all the tools and you gotta figure shit out within seconds, not even minutes. You have to create nothing out of something. And that's why I'm so excited about black artists right now, even though there have always been black artists.

But recognition is powerful.

Yes. I feel like the recognition is nice now because there are so many people that devote their time, energy, and pride, and this is like a breakthrough moment. I'm so happy to see success and acknowledgement. I love the fashion industry right now. It's so amazing.
It's exciting as fuck, right? What do you think about Virgil Abloh's appointment?
Literally nuts.
It makes my heart beat fast.
Like Louis Vuitton is such a huge part of our visual culture. I could remember wanting to buy Louis Vuitton growing up. It was all about the Louis belts, and the Louis pocket key chains. And the way girls rocked it.

I remember once, my brother and I went to Chinatown to get my mom a fake Louis bag for her birthday. You know what I mean?
It's so amazing to see someone in that position who comes from the nothing-out-of-something cloth. It just makes me feel so inspired, like, "Don't quit." For him to be at Louis is literally crazy, because it's going to be a representation of us. Now we can try new things. It's all about adding to what already exists. If you're not adding, then it's a loophole.
Speaking of addition: Virgil does music, he does design, he does clothing.

And architecture.
He's literally an architect. I think that he really represents how culture has flattened. You don't have to pick anymore, you could be anything. Why is everybody doing everything now?
I feel like in the past, it was a mindset thing. Success really frightens people. There's possibility, and also failure. But you don't have to do everything at once, the dots will connect eventually without you even noticing it.
And you'll be the dot that connects everything. What are your dots?
Music and fashion. I want to be an editor-in-chief. That's what all it's about, coming together to form and create new ideas.