Photos by Taryn Simon, courtesy of the artist and Gagosian Gallery, New York
Rabbits Are Taking Over Australia, and Artist Taryn Simon Knows Why
In GARAGE's inaugural issue, artist Taryn Simon shared a portfolio from her show "A Living Man Declared Dead and Other Chapters."
Photos by Taryn Simon, courtesy of the artist and Gagosian Gallery, New York
Between 2011 and 2012, Taryn Simon's monumental show A Living Man Declared Dead and Other Chapters toured London's Tate Modern, Berlin's Neue Nationalgalerie, and New York's Museum of Modern Art. For four years prior, Simon traveled around the world researching and recording bloodlines and their stories. The subjects she documented include feuding families in Brazil, victims of genocide in Bosnia, the body double of Saddam Hussein's son Uday, and the living dead in India. Simon worked to determine the codes and patterns that are embedded in the narratives she documented, drawing them out and presenting them as variations of archetypal episodes from the present, past, and future. A Living Man highlighted the space between text and image, absence and presence, order and disorder.
Taryn Simon was born in 1975 in New York, where she lives and works. Her previous work includes Contraband (2010), an archive of images of items that were detained or seized from passengers and mail entering the United States from abroad; An American Index of the Hidden and Unfamiliar (2007), which reveals objects, sites, and spaces that are integral to America's foundation, mythology, or daily operation, but remain inaccessible or unknown to a public audience; and The Innocents (2003), which documents cases of wrongful conviction in the United States, calling into question photography's function as a credible witness and arbiter of justice.
108 rabbits are the only animals in the show. They have been bred in an Australian research facility where they are deliberately infected with RHDV virus, in an effort to control the Australian rabbit population.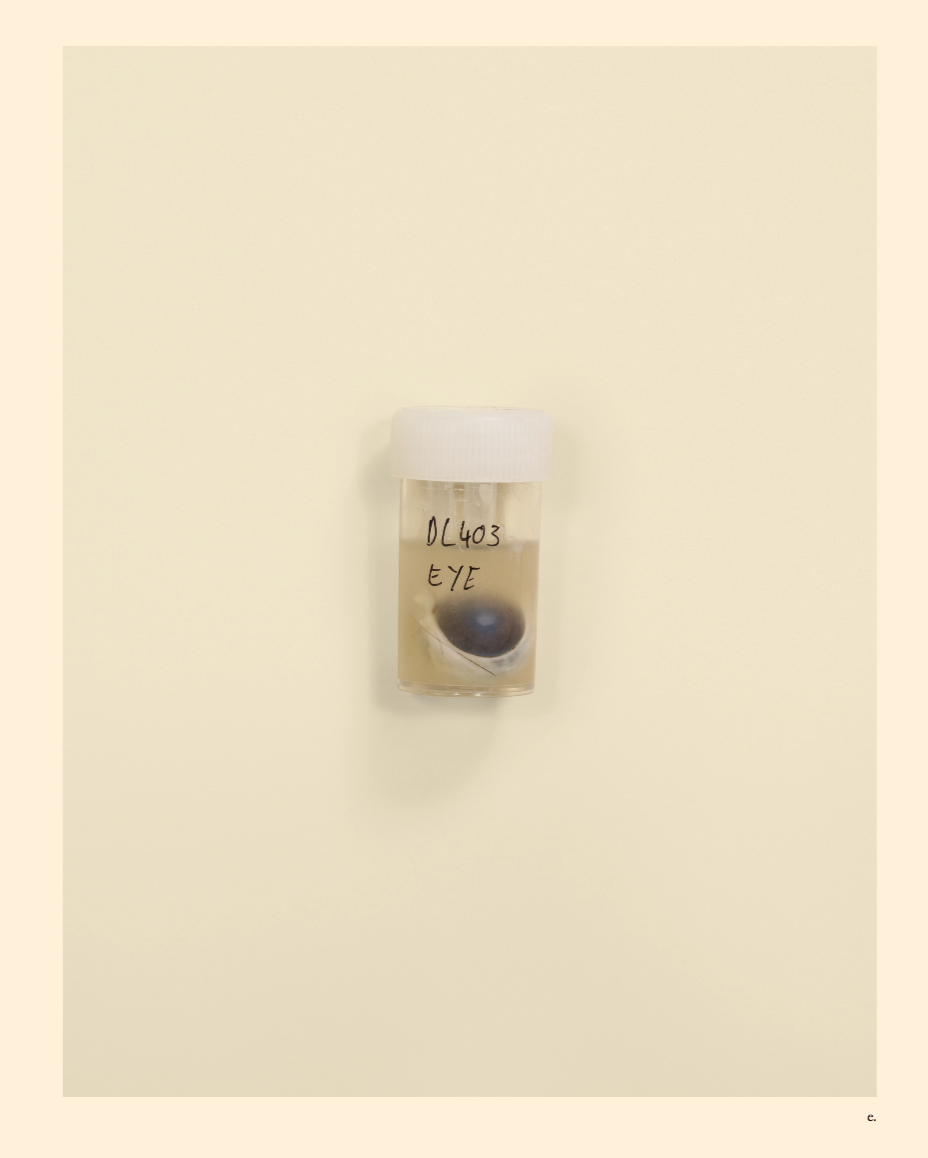 Twenty-four European rabbits were introduced to Australia in 1859 for hunting purposes on an estate in Victoria. Within one hundred years the rabbit population exploded to half a billion. As a consequence of early sexual maturity, short gestation, and larger litters, a single female rabbit can produce between thirty and forty young per year.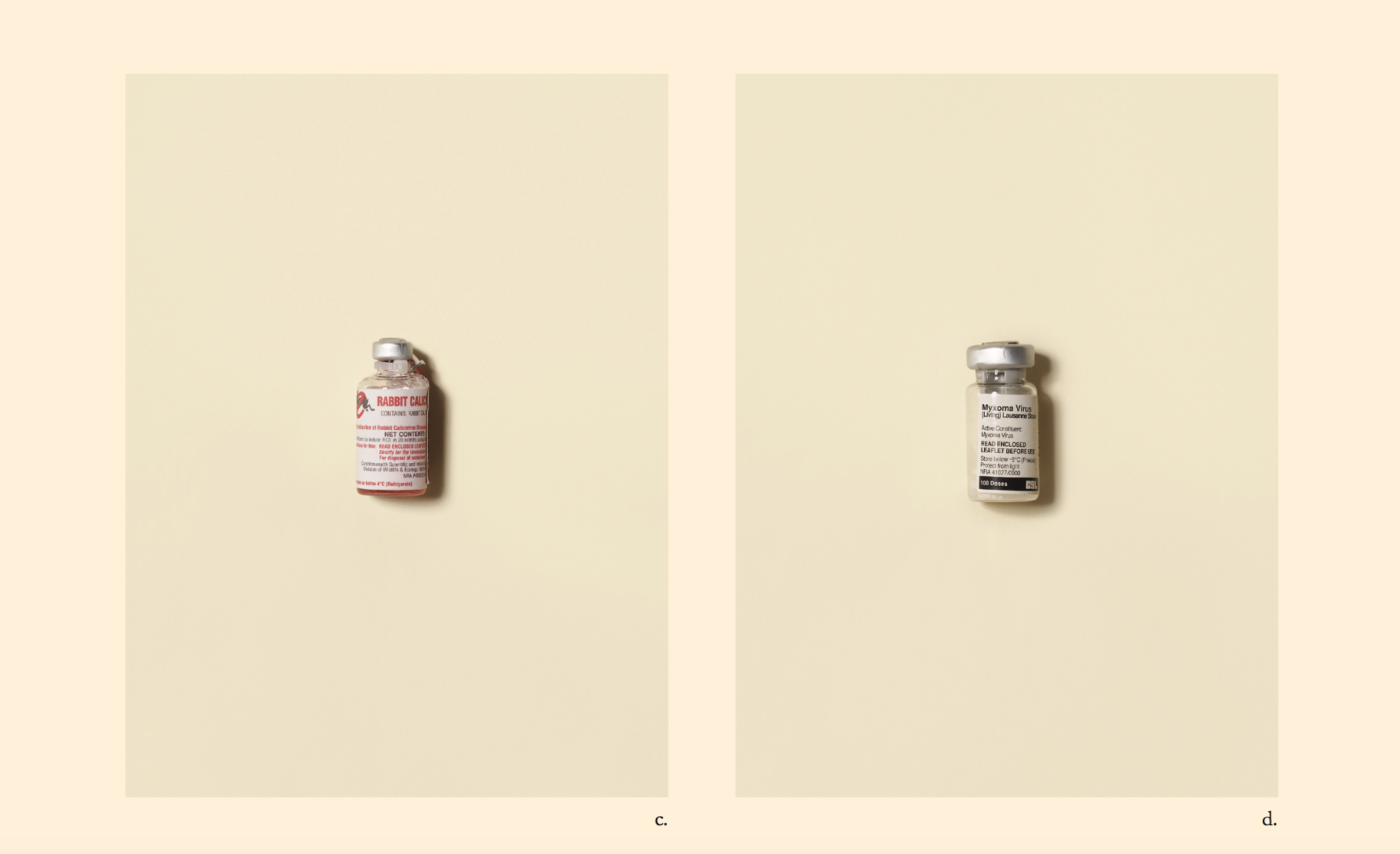 Since the 1950s Australia has introduced lethal diseases into the wild rabbit population to control growth. This includes the rabbit haemorrhagic disease virus (RHDV), which was introduced in 1995. Rabbits in certain regions have shown moderate resistance to the original strain of RHDV, but not to field strains that subsequently emerged.

In a controlled test, the Robert Wicks Pest Animal Research Centre (RWPARC), a division of Biosecurity Queensland, bred three bloodlines of test rabbits (A,B,C) from wild rabbits (A.1,B.1, C.1) trapped at Turretfield near Adelaide, a region that has shown resistance to RHDV. Scientists at the RWPARC infected the test rabbits with samples of RHDV field strains collected in 2006, 2007, and 2009. These newer field strains killed most of the rabbits in the course of the trail, revealing that these strains maintained greater virulence than the strain of RHDV introduced in 1995. Rabbits not infected were euthanized.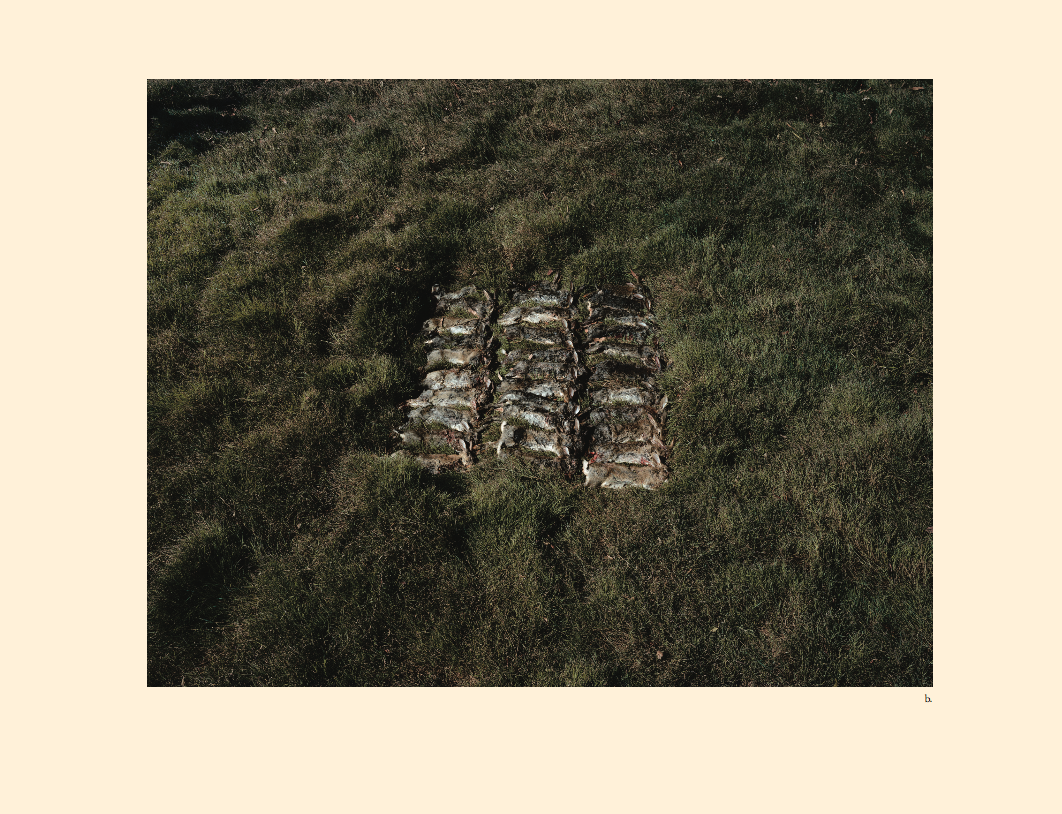 European rabbits have no natural predators in Australia. They compete with native while, degrade land, and damage native plants and vegetation. Earlier population control methods involved shooting, trapping, destruction of warrens, fumigation, and the construction of 3,256 kilometers of fencing. Severe environmental and agricultural damage attributed to rabbits incurs annual cost in Australia of between 600 million and 1 billion AUD.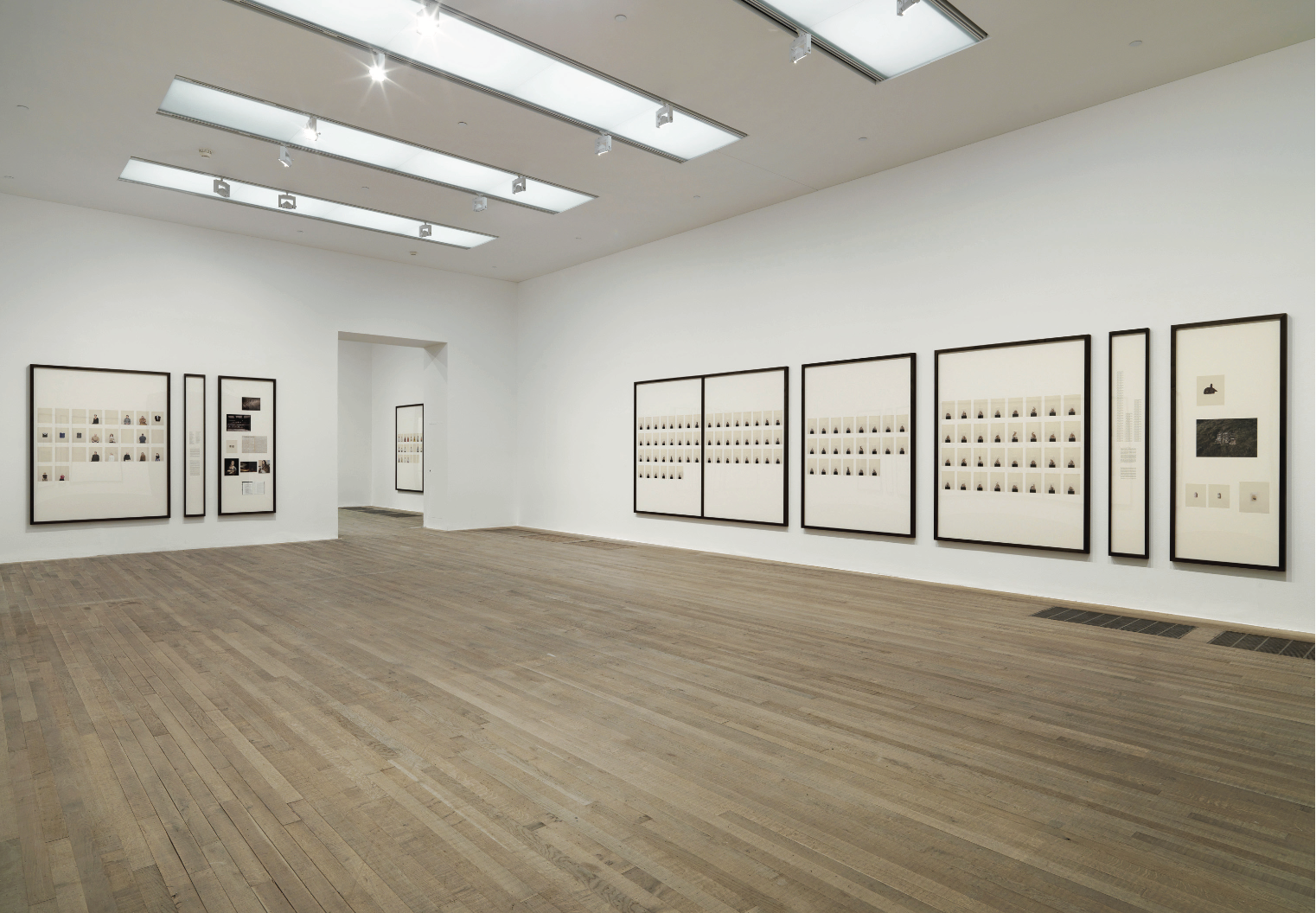 A version of this story first appeared in GARAGE No. 1.