A History of Electronic Dresses
From Alexander McQueen LED garments to poorly wired minidresses at Max's Kansas City, GARAGE traces the history of clothes that lit up runways and red carpets.
Early days: Attempts to wire up clothing date back well into the last century: A 1939 newsreel predicted women of the new millennium would wear jumpsuits with electric belts that adapted the body to climactic changes, keeping you at the perfect temperature no matter where you were. A few decades later, in 1967, It-girl Diana Dew would frequent Max's Kansas City in minidresses with potentiometers and pants with pliable plastic lamps sewn in—garments she designed herself as "hyperdelic transsensory experiences," she told Time. Her dresses had a tendency to explode from overheating, establishing a current in the history of electronic garments: the danger—either physical or mental—of a hard-wired ensemble.
1999: Alexander McQueen's fall/winter collection for Givenchy takes inspiration from the impending Y2K threat. With the world gripped by fear of a digital apocalypse, McQueen presents fashion in dreaded anticipation of the new millennium: circuit board patterns, PVC mod dresses, and silver computer-age suits. At the finale, McQueen shows a flashing LED bodice and matching cap that resemble a motherboard with glow-in-the-dark pants.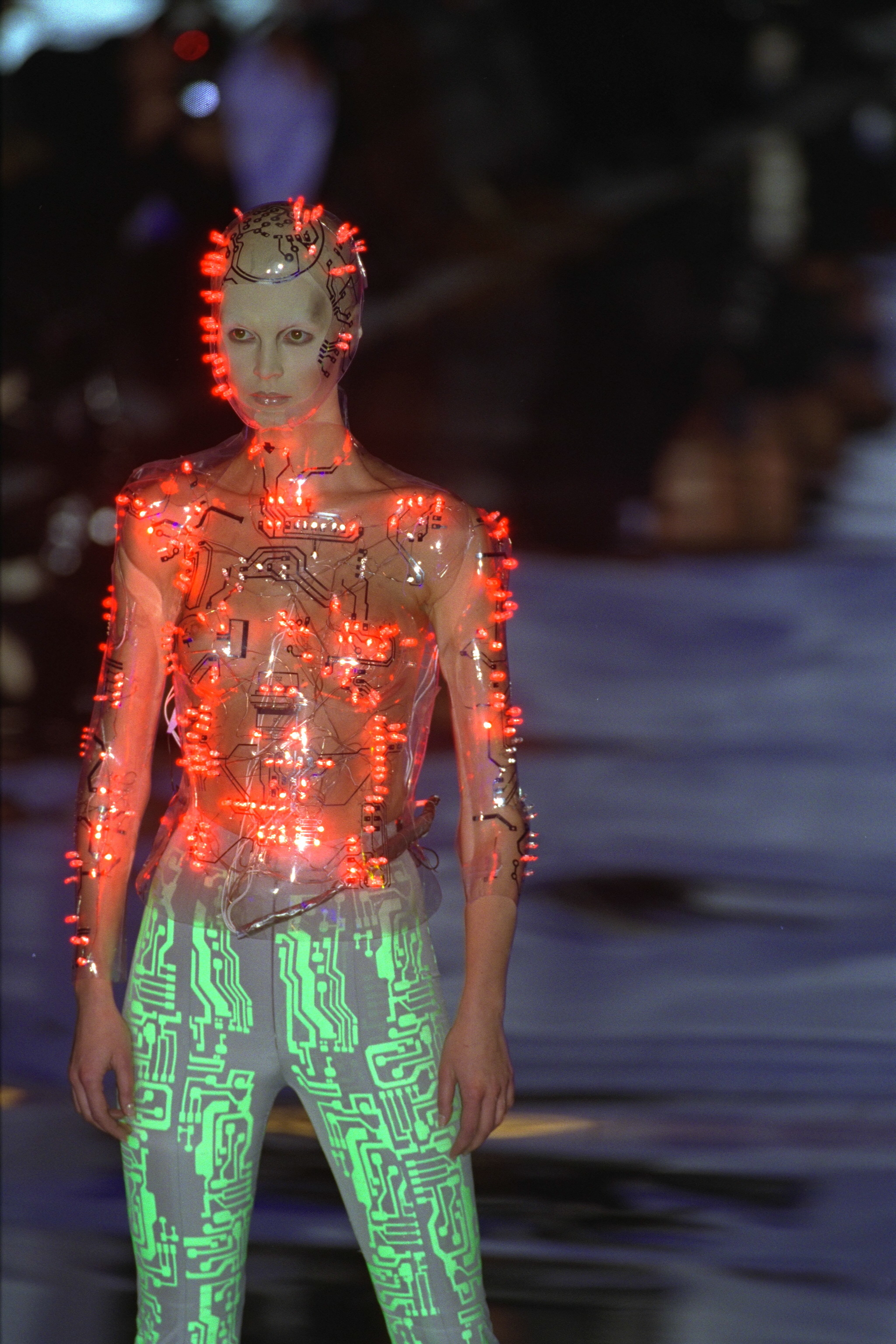 2006: Avant-gardist Gareth Pugh makes his solo show debut in a spring/summer collection that culminates in a showstopper: a glowing vest made of swooping panels of electroluminescent plastic. It is modeled by artist Casey Spooner, who, according to Pugh's right hand Carson McColl, "had to sign a death waiver to walk in it."
2007: Electronic dress master Hussein Chalayan introduces mechanized clothing into his spring/summer 2000 when he debuts "Remote Control," a metal dress with automated flaps that lift to reveal pale-pink tulle. But it is during his fall/winter 2007 show that Chalayan creates his most ambitious e-frock: the "Video" dress. Hand-wired with 15,600 LED lights, it illuminates the runway with a pixelated moving image representing the changing seasons. It's a subtle addition to the discourse around the environment, fueled by the timely release of Al Gore's climate change documentary An Inconvenient Truth.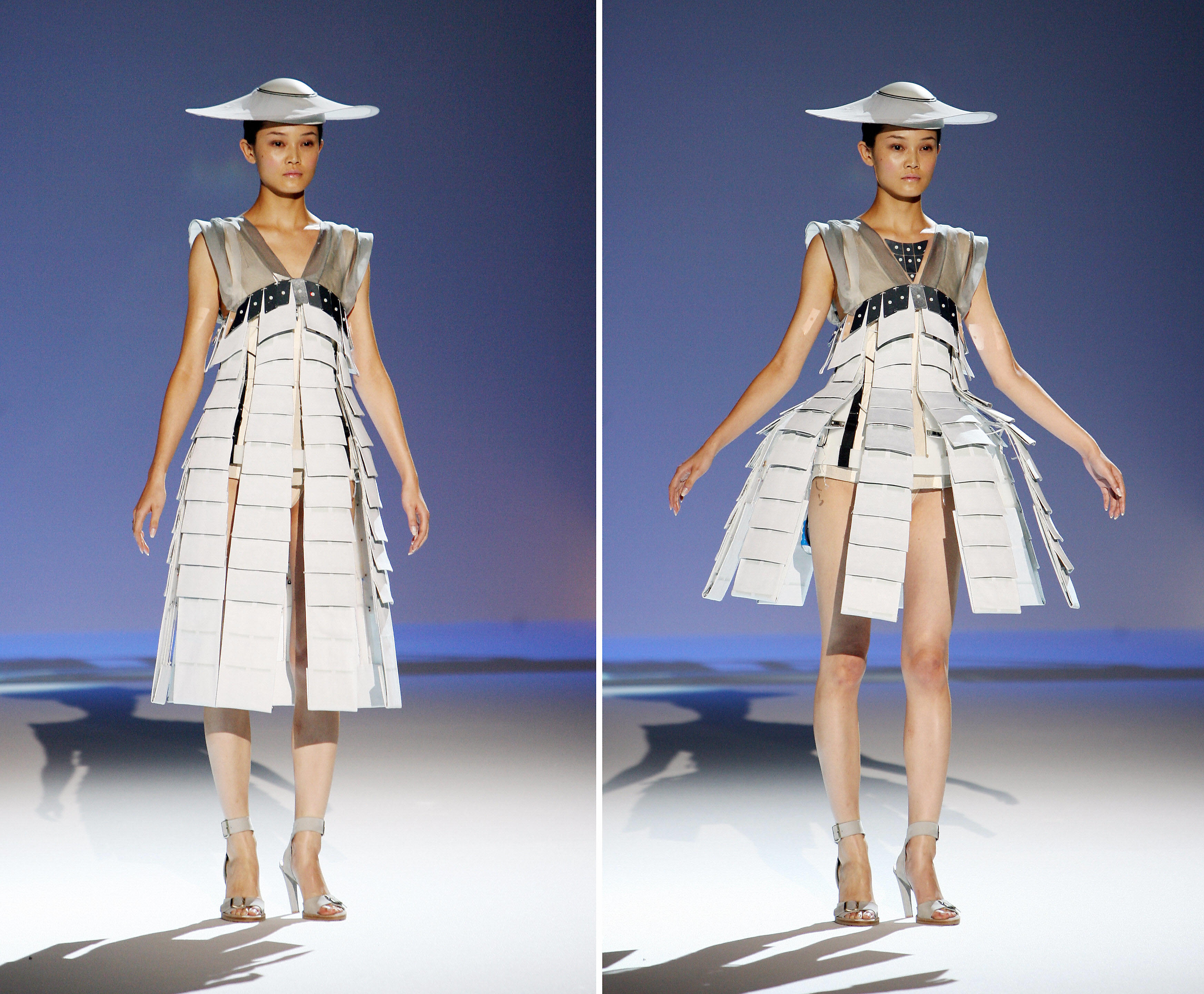 2010: Always channeling robot energy, Lady Gaga wears an animatronic dress during her Monster Ball tour, designed by then–Haus of Gaga creative director Matthew Williams and costume designer Vin Burnham. The "Living Dress" sheaths Gaga in a pleated, translucent fabric that unfolds to reveal her face and body while wings open from behind.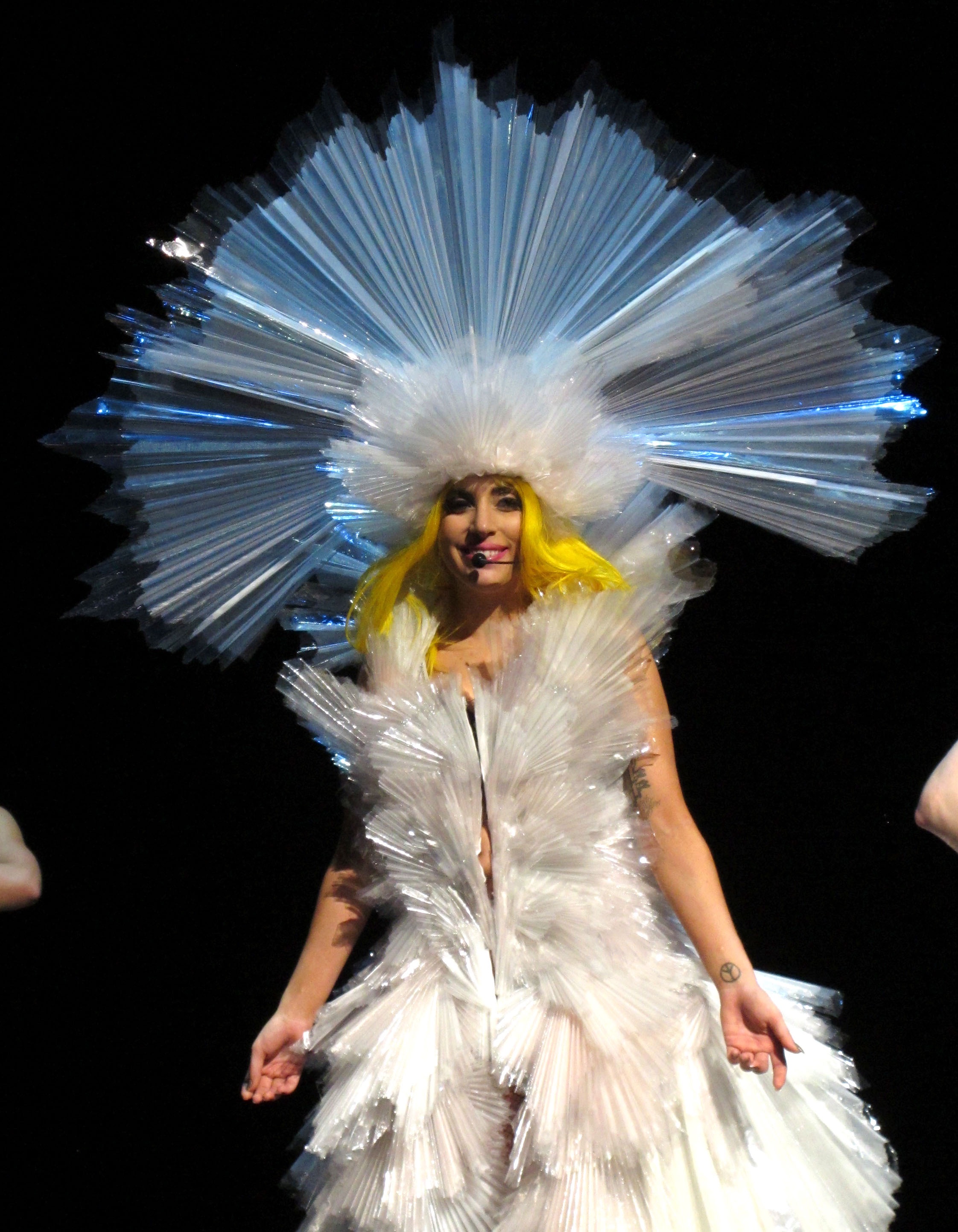 2010: For her second Met Gala, Katy Perry wears a soft-pink gown with LED lights strung throughout. Designed by wearable tech brand CuteCircuit, it marks the first time an LED-lit design appears on the red carpet.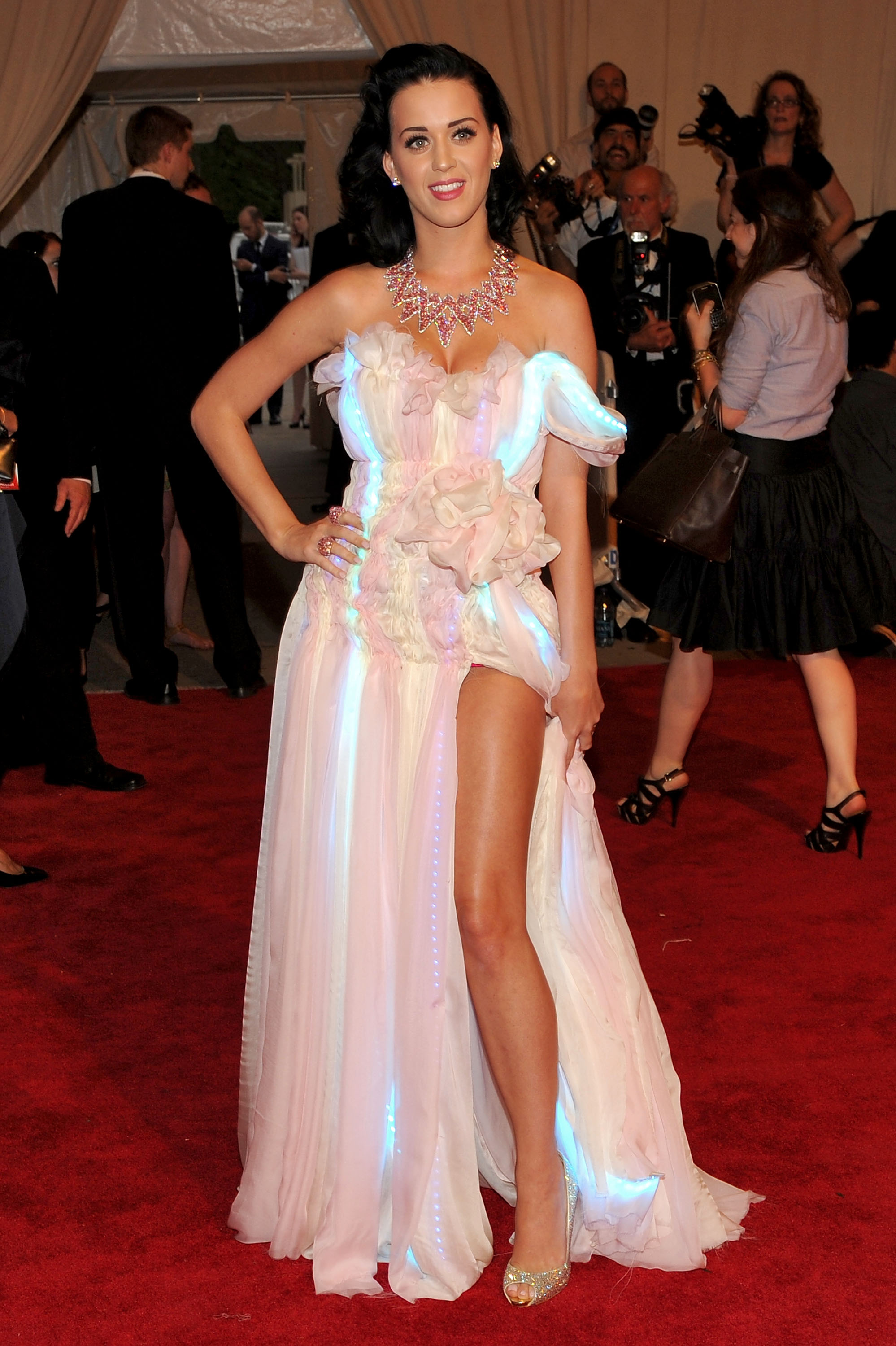 2013: New Zealand experimental artist Carlos Van Camp opens couture tech maven Iris van Herpen's spring show, Voltage, wearing a van Herpen–designed costume that conducts electricity. Bolts of lightning emanate from Van Camp as a parade of models wearing 3-D-printed garments takes couture into uncharted, thermodynamic territory.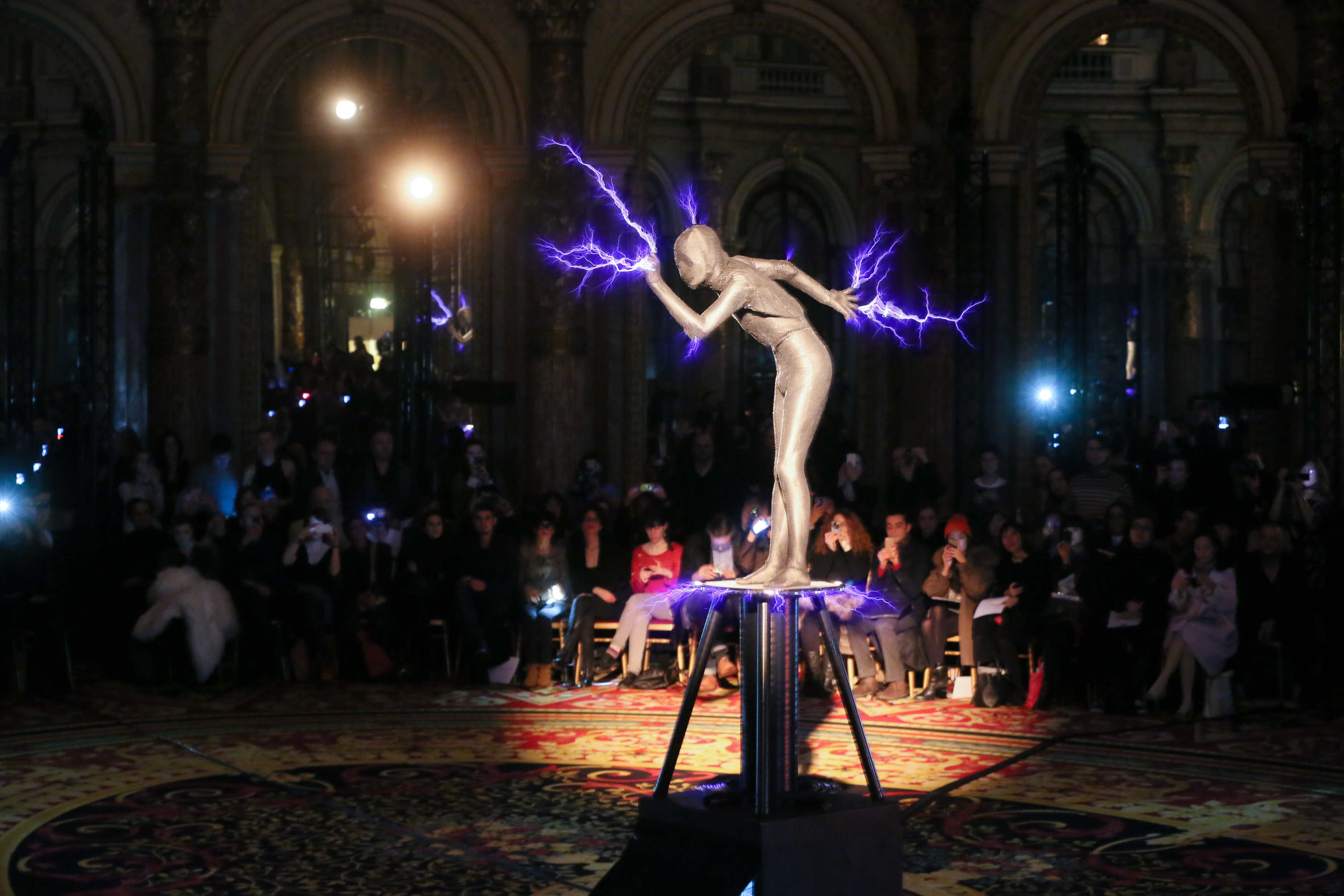 2014: Where some electronic designs are clunky and heavy, Richard Nicoll's spring/summer 2015 collection reveals a shift toward making wearable tech romantic and light. The ethereal baby-blue gown that closes the show uses fiber-optic fabric activated by LEDs glowing down the runway.
2015: At London Fashion Week's fall/winter collections, studio The Unseen debuts "The Eighth Sense," a sculptural jacket claiming to display the wearer's aura. Using an EEG headset, electromagnetic signals are converted into wavelengths and sent through the garment via small electrical currents that shift the material's colors to match. Curious spectators at Somerset House are delighted by the resultant color patterns, proving different for everyone who tries on the jacket.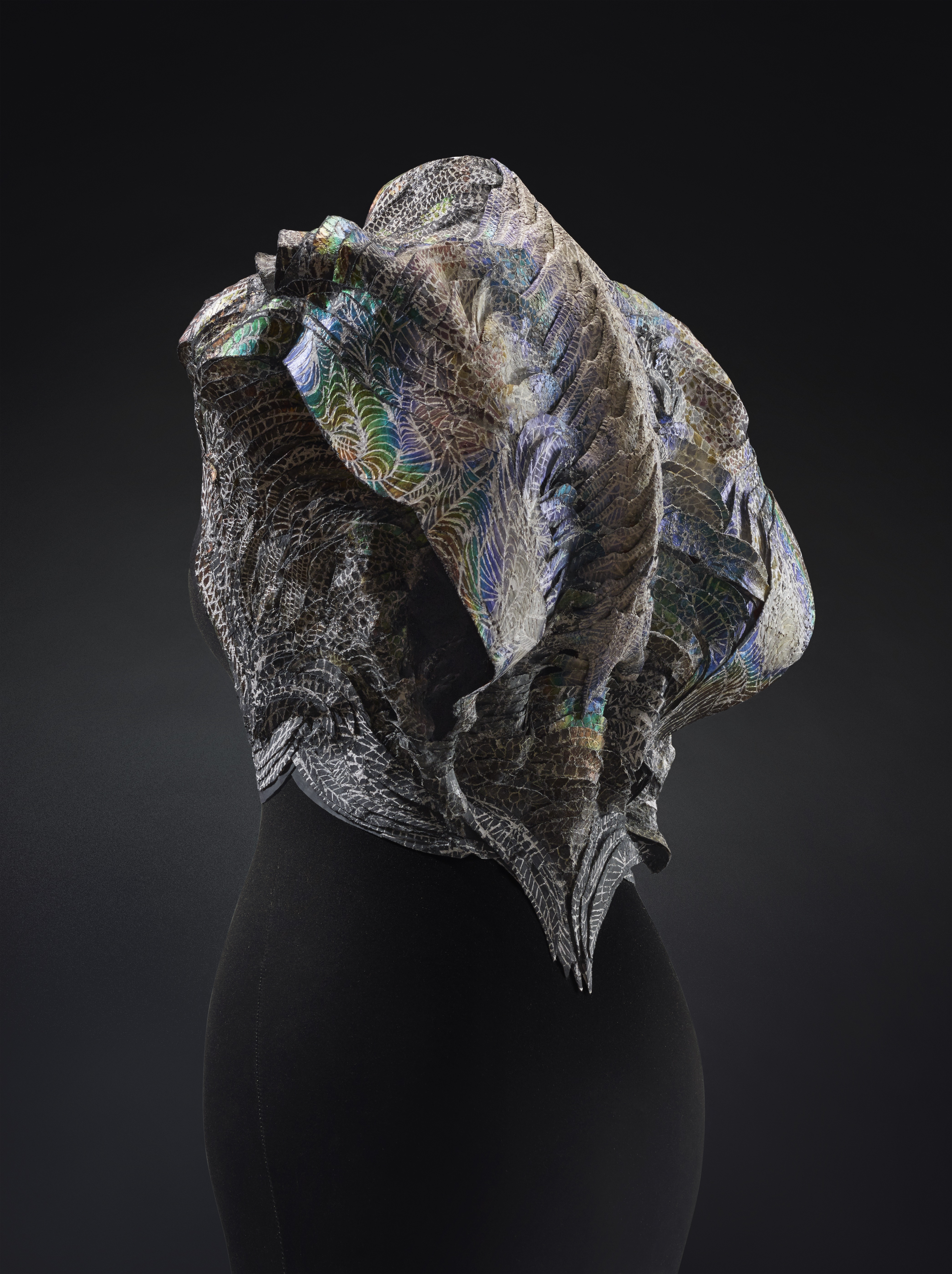 2016: Six years after Katy Perry's Met Gala appearance, Claire Danes walks the event's red carpet in a glow-in-the-dark Zac Posen dress. Made from custom organza woven with fiber optics and powered by 30 tiny battery packs, it aptly channels the year's theme: Fashion in an Age of Technology. Posen calls it a "Galactic Cinderella" moment.