Photograph by Anthony Casillos.
The Erewhon Drip Report
Inspired by Kanye's tweet on "Erewhon drip,"​ we visited the LA grocery store and captured the style in real time.
Photograph by Anthony Casillos.
On Friday April 20th, Kanye West continued his tweet streak with a photo of a person from the shoulders down, wearing a Columbia windbreaker, sweats, cream-colored socks, and only one blue slide (supposedly a Yeezy prototype) accompanied by the text: "Grocery story drip Erewhon drip laundry day drip airport drip."
This combination of a performance sportswear brand fleece with a pair of sweatpants and slides—one or two of the items given a just-so high-fashion twist—captures the kind of leisurewear that seems to have inspired the upcoming Yeezy collection, a drip version of what you wear the the grocery store, to get on a cross-country flight, when all your other clothing is dirty—or to...Erewhon? For those who don't enjoy the jasmine-drunk delight of residing in Los Angeles, Erewhon may be an unfamiliar regional cipher.
Erewhon Market (pronounced "Air-Uh-Wahn" or a mumbled "Air One" if you're in a hurry because you have a casting to get to!) is an extremely fancy health food grocery store, which sells expensive health food combined with steeply marked up organic Driscoll strawberries that you could get at your standard supermarket. They have all the gourmet trend foods and creepy Goop-esque diet goops, but also the rustic charm of the late 60s natural food movement that the store was born in. But you aren't buying local microgreens for twice the average price because you want that farmers' market quality––you're shopping at Erewhon for the culture. That mark-up is the price of entertainment––and for some, the price of clout. You can see Scott Speedman ordering coffee, or Mamie Gummer picking out a calla lily, or a stray Riverdale-ian near the ready-to-eat bar. I love watching Instagram models chug Mountain Valley Springs water and celebs hesitate over the raw foods fridge.
So what, precisely, is Erewhon Drip? I visited the Los Angeles Erewhon (on Beverly Boulevard; the mothership), and the Calabasas Erewhon, the realm of the Kardashian-West family, to find out. One can assume Kanye has frequented both the Calabasas outpost and its urban sister. Maybe he uses the back door? Both are excellent places for Drip-Spotting but each have their own distinct ambiance.
This is your Erewhon Drip Report.
Saturday Morning: Los Angeles Erewhon
The Erewhon look should scream yoga-methamphetamine-chic, or, as my friend Vivi used to say, "addicted to comfort." Alo Yoga and Lululemon leggings and sports bras, a sea of Nike Flyknits, and those obscene Apple ear sticks all push the narrative that many denizens are coming for a juice with collagen beauty water immediately post-SoulCycle, but there's too much intact contour to buy into that chronology. The Tonic & Juice Bar, however, is the heart and soul of see and be seen in the LA Erewhon. It has small signs that politely say, "Please Do Not Eat At The Tonic Bar."
Pinpointing the Erewhon Drip in the LA outpost is a little more challenging than at the airport or laundromat, because it's bristling with posers and try hards. The drip is a wholly vibe and instinct-based science, but a good test is asking a shopper if you can take a picture of their outfit, which I did for a whole weekend. The real ones will look a little abashed, like you've caught them in their worst couch-leisure-wear (which you have!), trying to stealthily pick up some coffee beans, but they're also careless and unruffled. They will blink slowly at you, hungover from vodka sodas or The Bar Method, and flatly say: "A picture. Of my pajamas? Ok?"
Two best friends in evident drip, Rachel and Hannah, were shuffling make-up-less and bra-less through the granola aisle. One was wearing the top half of a silk pajama set and Adidas slides and one wearing the bottom half and floral Nike slides. They were Rachel's pajamas that she bought on a business trip to China. Hannah said, ruefully, "We come to Erewhon everyday. We don't want to talk about it."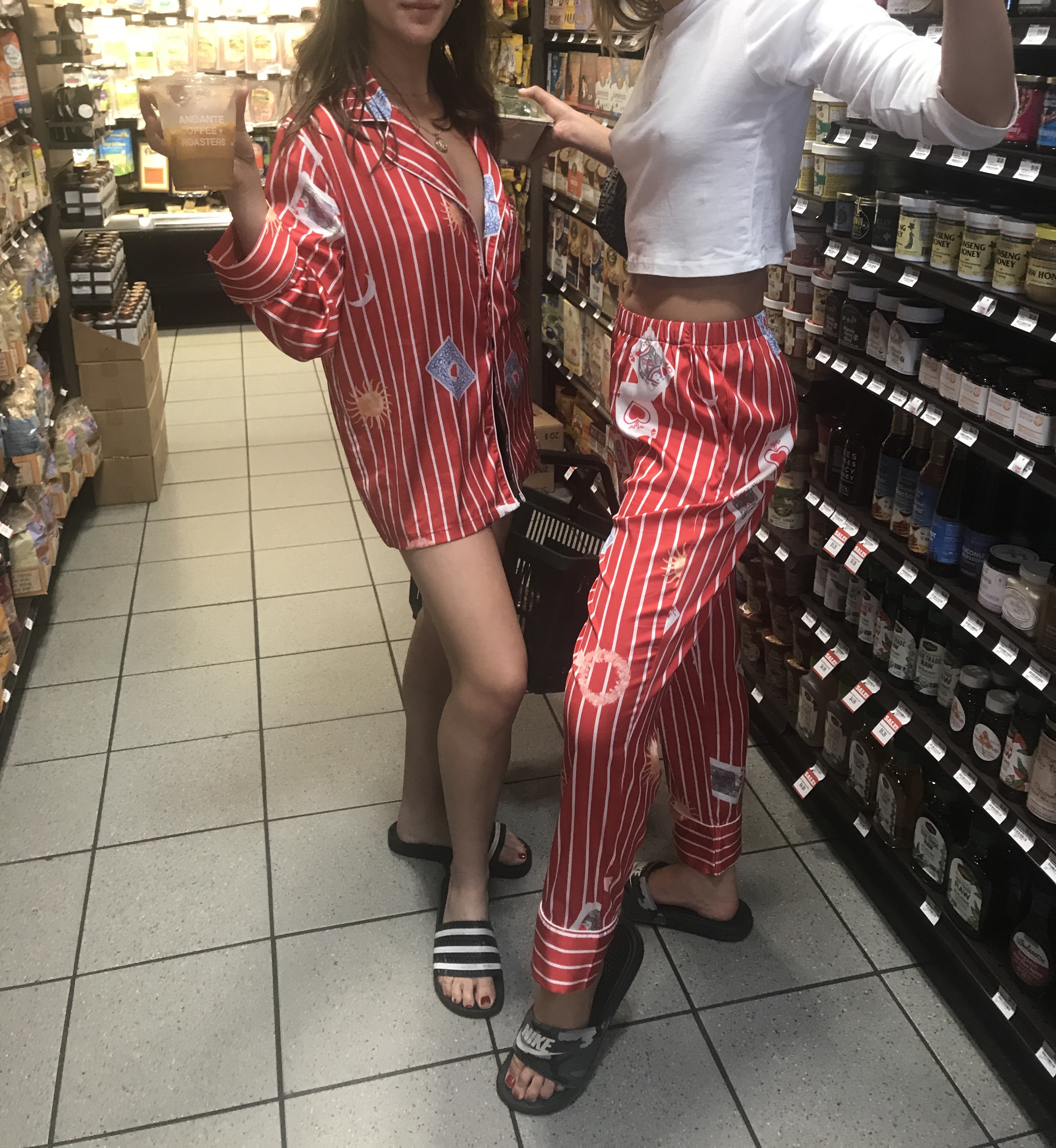 The boy who was wearing a look nearly identical to Yeezy's photo seemed nerdy, rich, and like he had literally just woken up. He was in a torn but velvety-soft-looking tee, gray sweats, and black mesh slides over only one sock.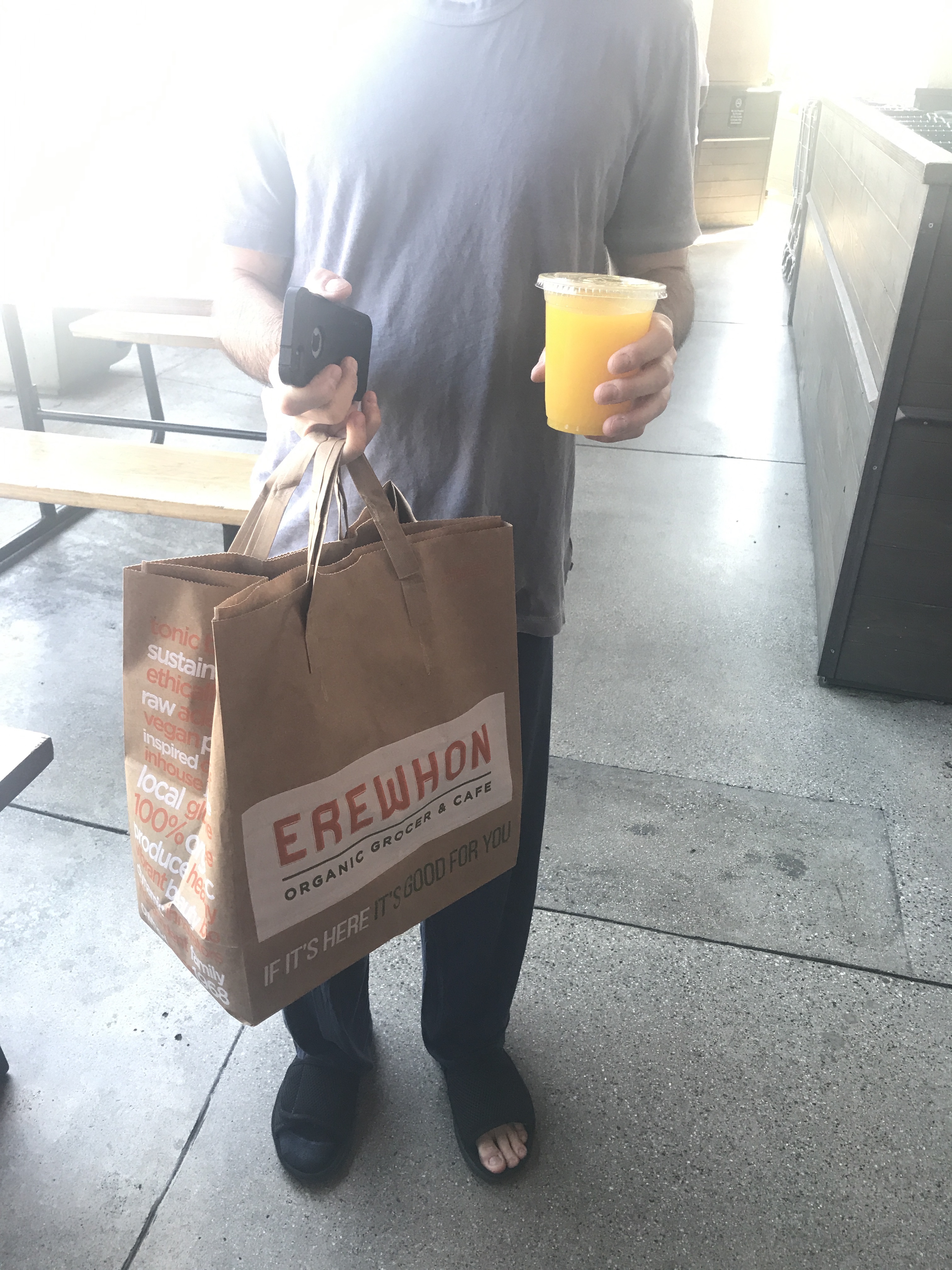 The bone-dry posers, on the other hand, craned their heads around a lot and looked too calculated, or, as Merriett (one of the LA Erewhon staff, who always secures me a Gjusta baguette) said, "the people who are nobodies come in here to be seen. Like if you look right now at your eleven o'clock." Miss Eleven O'Clock was in jean flares, a canary yellow fur coat, and a baker boy hat.
It has small signs that politely say, "Please Do Not Eat At The Tonic Bar."
Dripping through Erewhon requires a "did not give a fuck this morning" grace doused in the subtle scent of subterranean wealth. Imagine your laundry day outfit––your least favorite pair of underwear, your stained sweatpants––but imagine you've been a celebrity since you were a child. Your t-shirt's holes were torn under the direction of Rei Kawakubo and your locker room slides are probably Gucci. But you don't want to be caught out in your Erewhon drip by your crush. As Merriett noted, "When Jake Gyllenhaal comes in here, he's wearing a white t-shirt and jeans and he's––Merriett makes a "psshht" noise to imply zooming––"in and out. Gone." Those who dripped were marked by speed, stealth, and the private, unsexy chores of a weekend morning. A girl in white socks and white slides and almost definitely a standing laser appointment raced in with her head down like she had an egg on a skillet back home.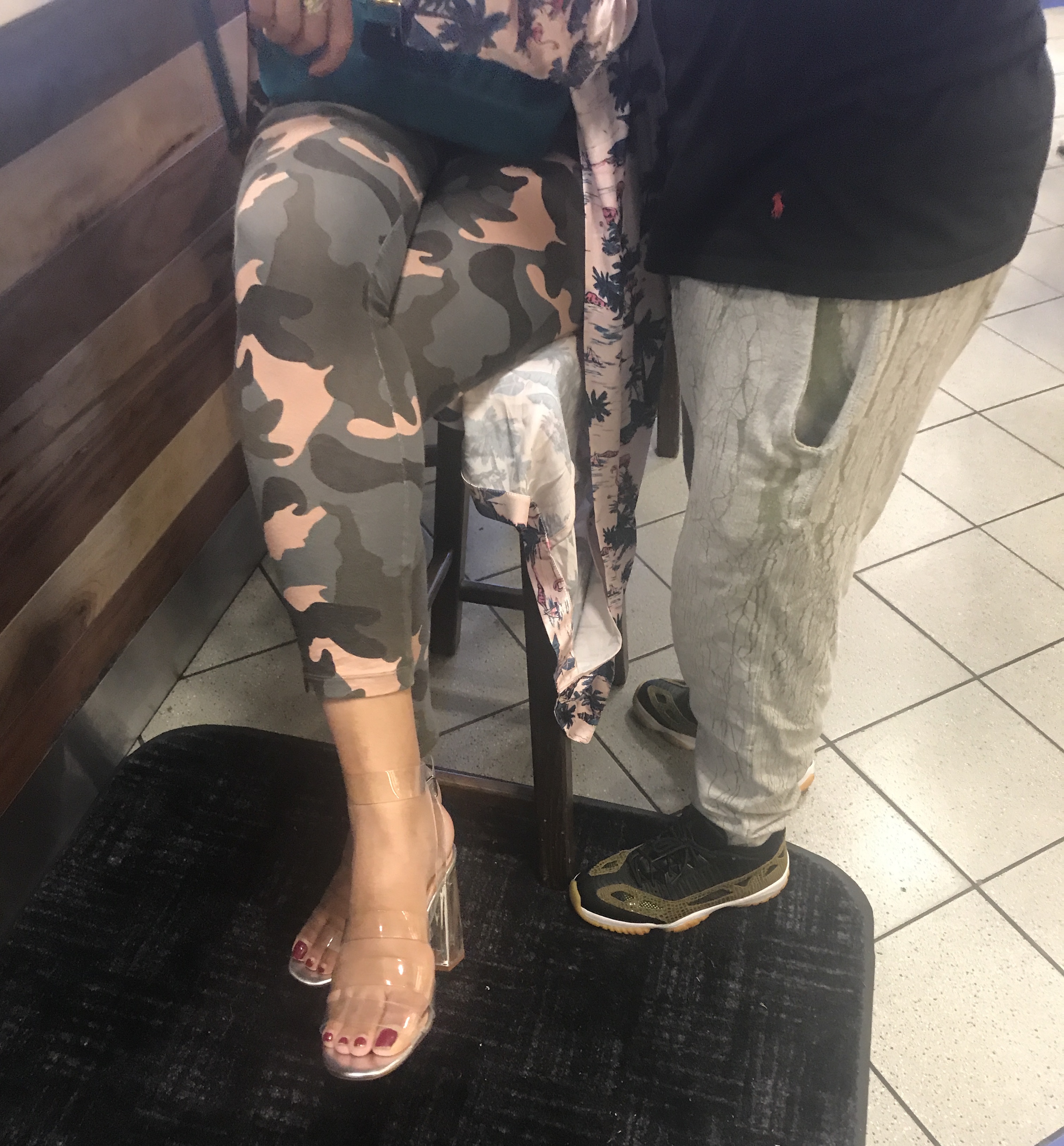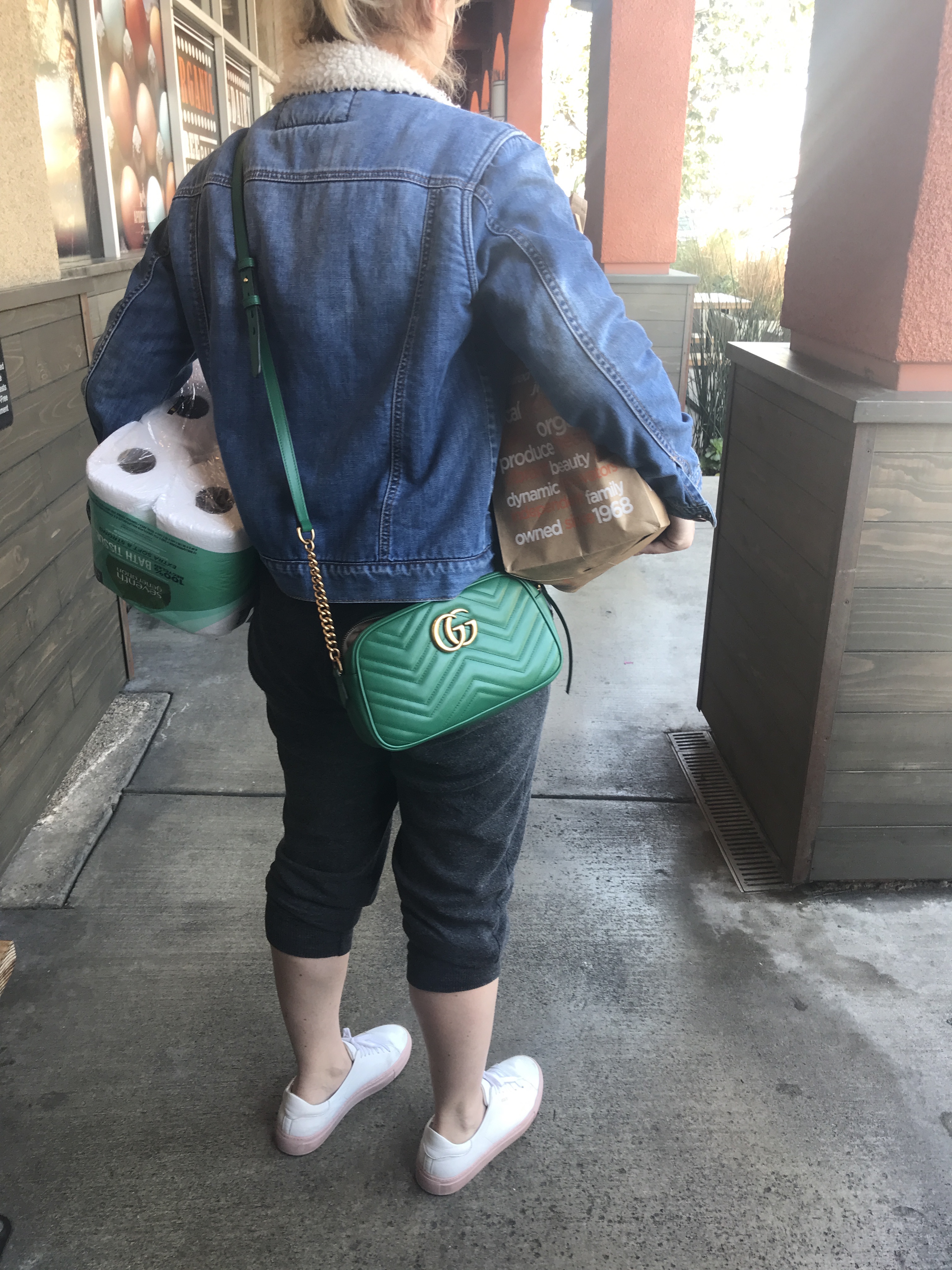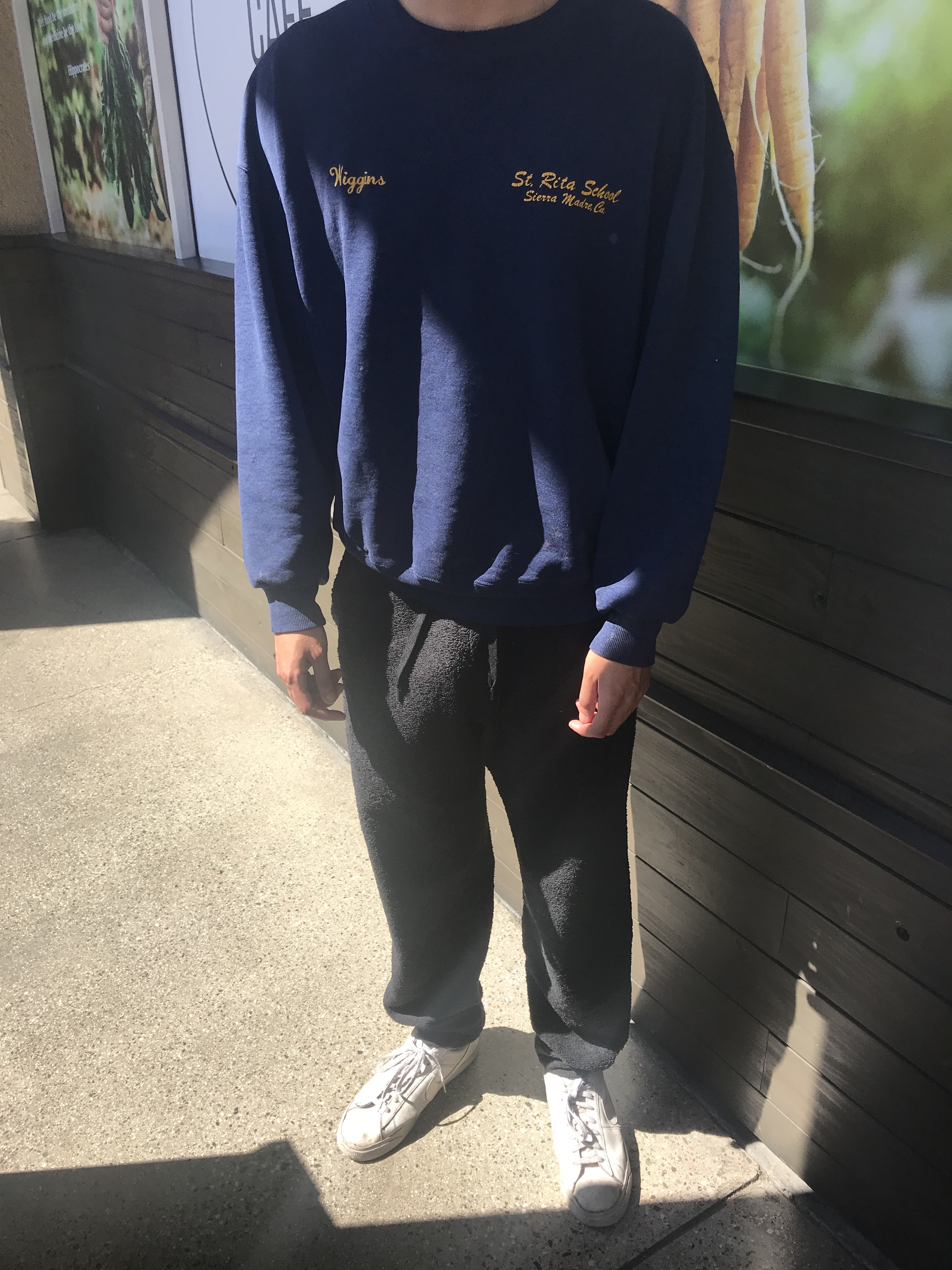 Sunday Morning: Calabasas Erewhon
The Calabasas Erewhon on Agoura Road, Kanye, Kim, Kris, Kylie and the whole gang's local grocery store, has a pleasant small town feel because of the people. The drippers trickled in with various small missions. Catching them by surprise was a consistent delight. When I explained to one girl I stopped at the door that I was writing a story about what people wear to Erewhon, her eyes widened and she said, "But this isn't what I wear to Erewhon." We both paused a beat to consider the elegant contradiction. She let me take a photo.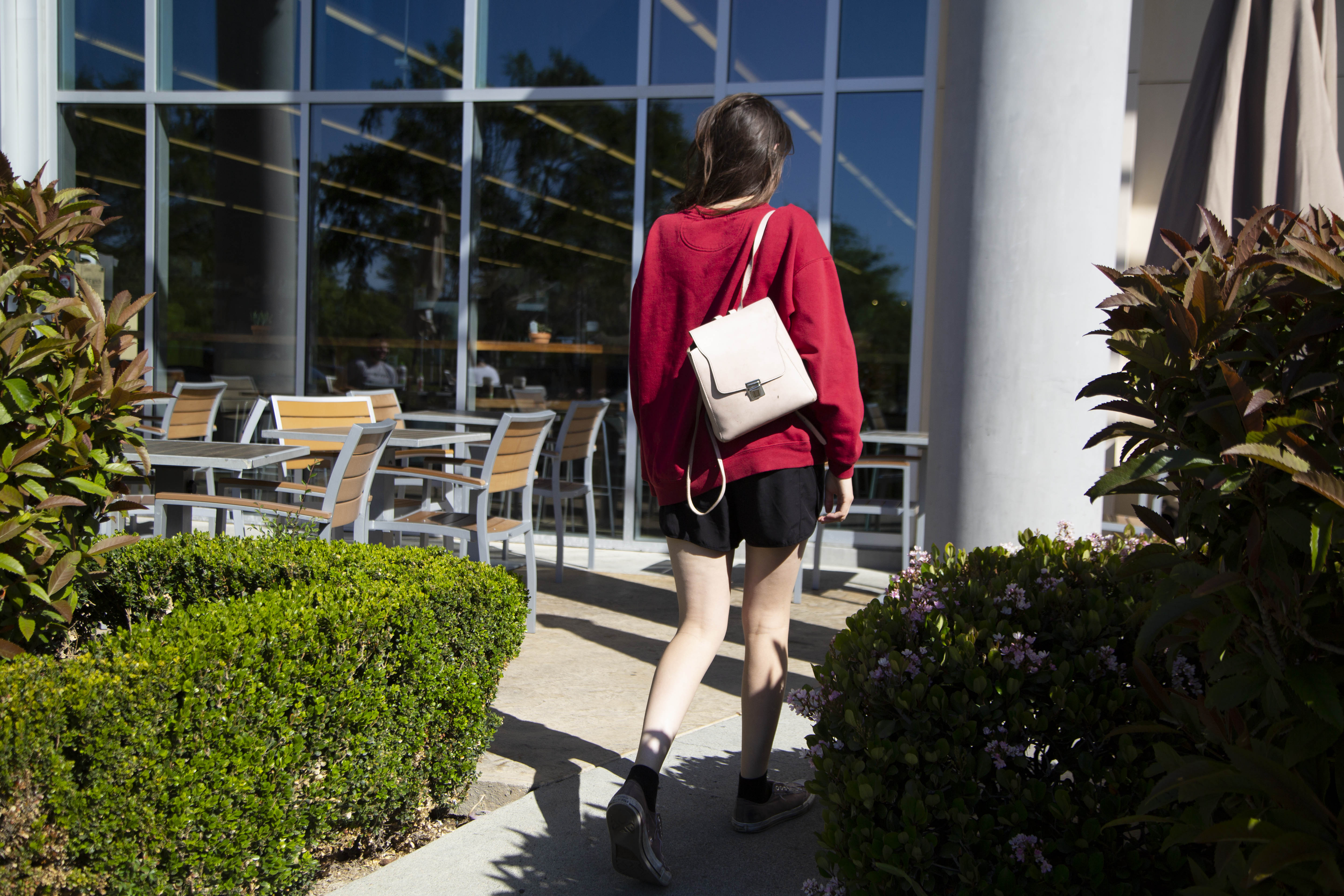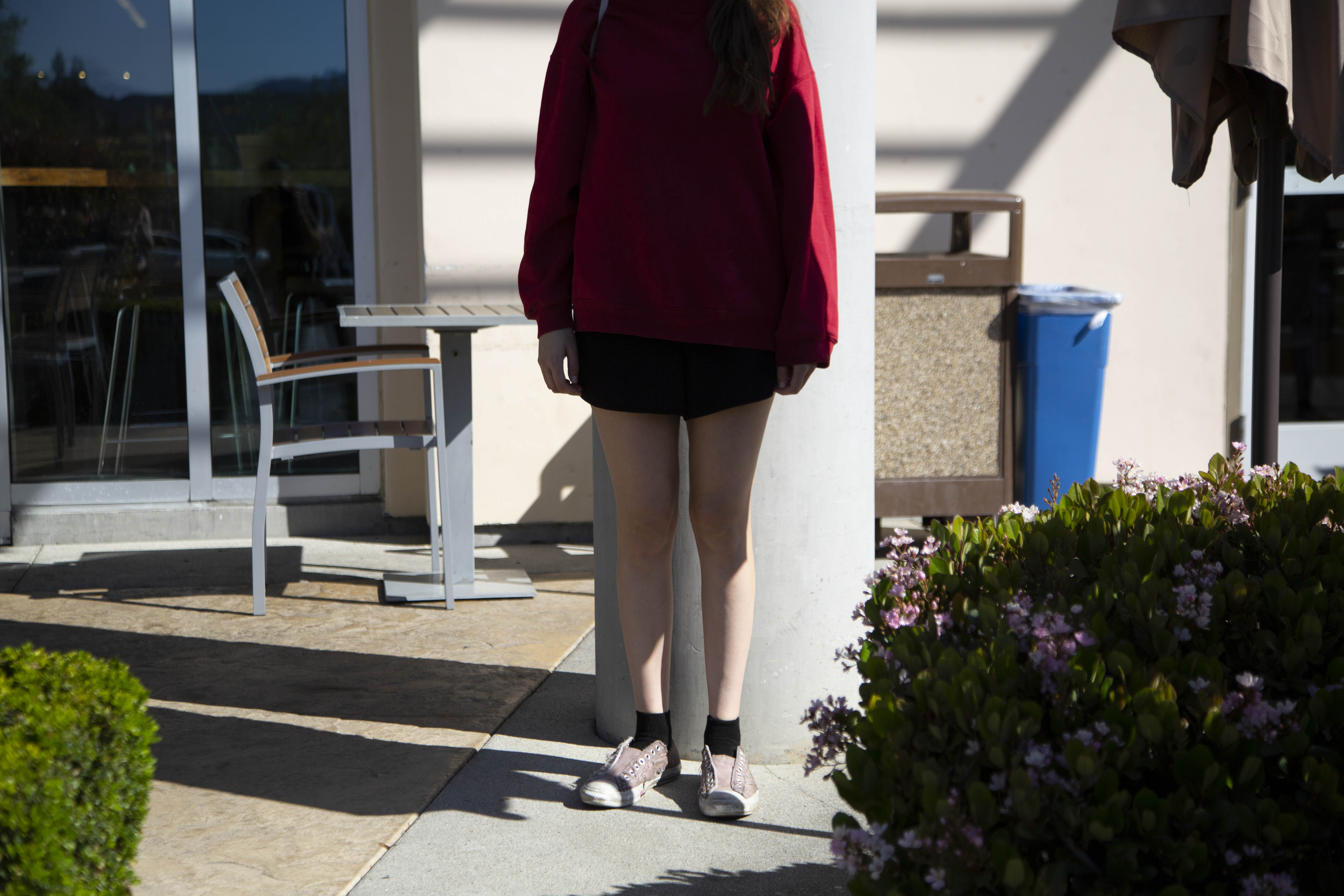 Leisure wear and its astronomical rise in acceptability as formal wear and high fashion is nothing new, but with the laundry day drip/Erewhon drip/airport drip, Kanye has tapped into a poignant area of the trend. His headless photo of the person wearing only one slide immediately communicates the vulnerable discombobulation of a shit-I-forgot-to-buy-milk run, a might-miss-my-flight run. It traffics in the radical unselfconsciousness of when you wake up a little hungover and you start rummaging around for clothes from the floor and drape yourself in just barely enough to interface with a semi-public iced coffee. You're secure enough in the cult of personality you've woven that your style can drop to its most base, common level, the last clean outfit on your floor, the thoughtless grocery store getup, without diminishing your aura.

Of course, I'm just your knockoff Castiglione, gossiping about the courtiers. But the most interesting and vaguely tragic through line tracking from sprezzatura to drip is how the court has always cozied longingly up to the un-premeditated plebeian style. The momentary decadence and perverse pleasure of rolling up to the grocery store in full drip on a Sunday morning belongs to you and me, the full bandwidth of which Kanye and our many pop courtiers are doomed never to experience because it always means something when they show up. Drip in their hands must always be performed. Nevertheless, we love when the Popular Court captures and celebrates the drip because God, do they make it look good.