That Time Jackie Kennedy Borrowed the Mona Lisa
Margaret Leslie Davis's book remembers "history's riskiest art exhibition."
In January, the White House submitted a request to the Guggenheim to borrow Van Gogh's Landscape with Snow, a charming Arles landscape featuring a wandering man and a shadowy dog. The museum, unable (and perhaps unwilling) to accommodate the request, proposed a counteroffer: Maurizio Cattelan's solid gold toilet sculpture, America—a work that satirizes everything President Trump represents.
Things weren't always this way. In 1963, Jackie Kennedy convinced the French government to send a delicate, 450-year-old painting to Washington, D. C.—the Mona Lisa. On Wednesday, the White House Historical Association will release a new edition of Mona Lisa in Camelot by Margaret Leslie Davis, a book that shares the grainy details of history's riskiest art exhibition and offers a timely reminder of what we might be missing.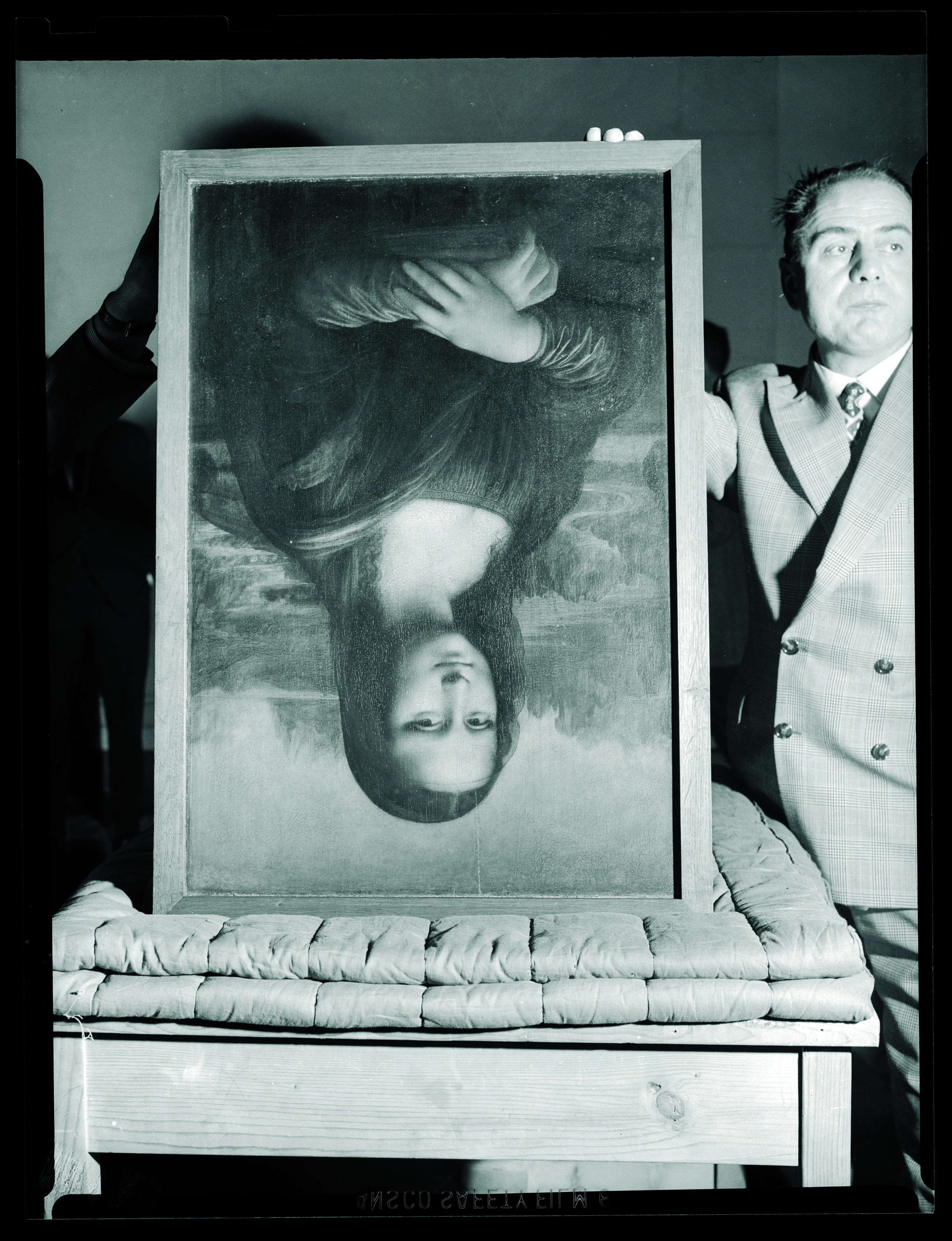 There is, as Davis explained to GARAGE, a good reason why this history isn't better known: "In light of that year of horror, everything was forgotten." The November 1963 assassination of JFK entirely overshadowed the exuberance of the exhibition, its afterglow replaced by national mourning. In Mona Lisa in Camelot, Davis picks up the half-forgotten pieces, guiding us through the inception, orchestration, and execution of the Mona Lisa's visit. She stresses the headaches of transatlantic shipping and the tensions of the project's Cold War context, underscoring its high-stakes feel as a diplomatic balancing act.

When France made a loan of the world's most famous painting, it was an international symbol of liberty, what Davis calls an "icon of freedom." The Mona Lisa's 1963 display at the National Gallery, and then the Met, served as a harbinger of golden years, of a nation fully—and finally—embedded in culture and intellectualism. But as much as it's a tale of art-historical heroism, the book also reminds us that it wasn't the spacious first-class ship cabin, or the twenty-four-hour guards, or the temperature-controlled casing that brought the Mona Lisa over. It was Jackie.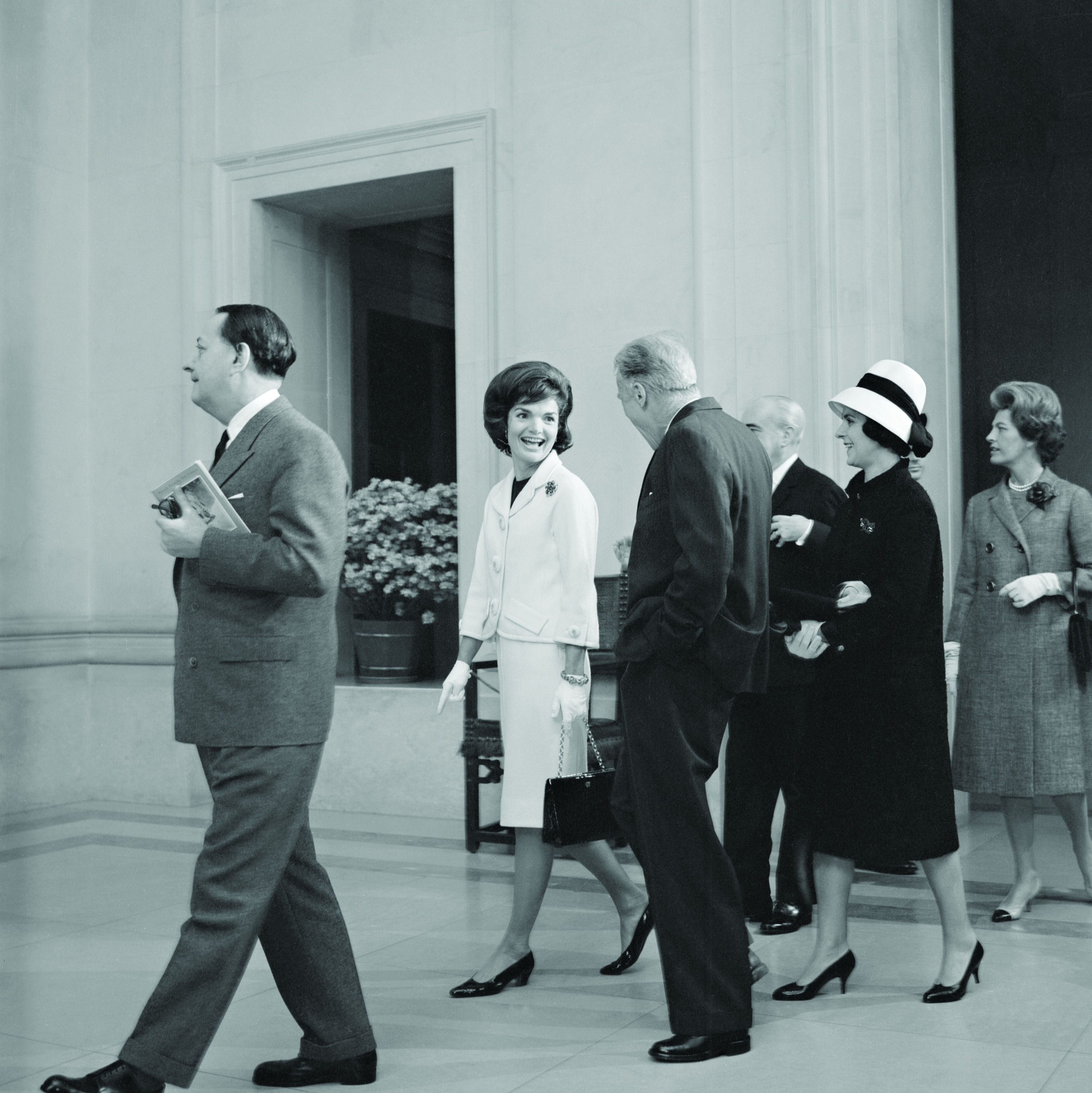 Although the painting wouldn't go on show until 1963, Jackie planted the seed for the event in 1961, during the Kennedy's first presidential visit to Paris. While President Kennedy and Charles de Gaulle gruffly conversed, Jackie wooed her hosts. During a lunch at the Elysée Palace, de Gaulle hardly touched his food, so enchanted was he by the First Lady. In her "low, slow French," she engaged the French President in philosophical debate around French history. At these meetings, Jackie slyly (but genuinely) won their confidence—and expressed her desire to display France's treasure in the American capital.
Reporting on the trip, one writer noted, "Jackie bewitches, simpers, and bubbles with sophisticated banter." The absolute gendering of this sentence betrays its subject's shrewdness. While the President monitored France's nuclear ambitions, Jackie cultivated the affection of its leaders. Her image of hair-sprayed femininity undercut expectations and awed presidents and constituents alike. At the end of their Paris trip, President Kennedy would famously rejoin, "I am the man who accompanied Jacqueline Kennedy to Paris, and I have enjoyed it."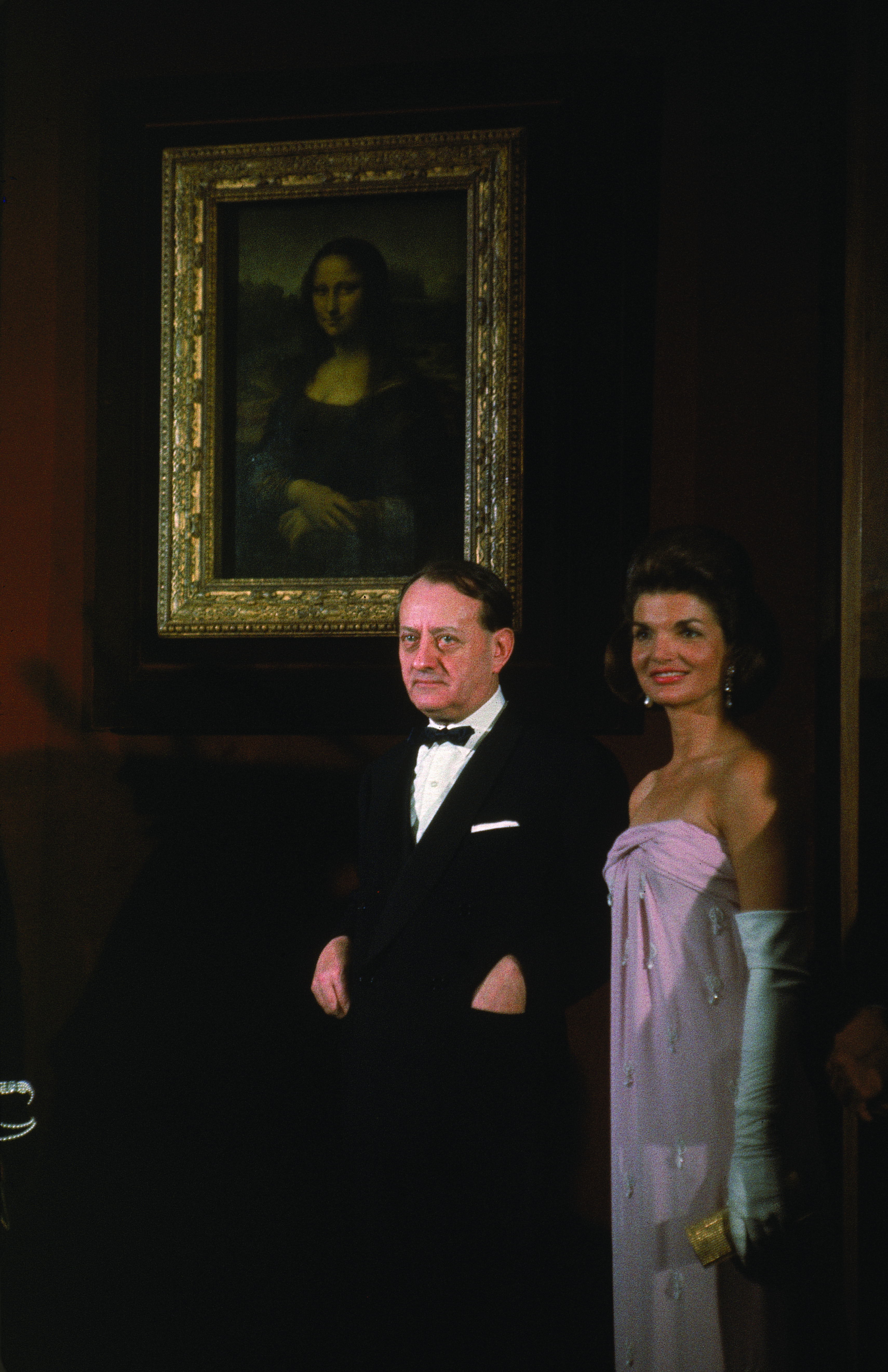 "Think of the American hubris!" exclaims Davis. "No one else could have cajoled both Charles de Gaulle and Cultural Minister Malraux into doing this crazy thing." Behind the hubris, though, Jackie "really saw the exhibition as an emblem of friendship between the US and France. This was right at the time that France was convinced of its need for a nuclear arsenal. Her plan was seen as one of the bridges to overcome that."
Beyond being a respite from the Cold War and a boost in popularity, the exhibition pushed the US into the narrative of Western art history. Prior to the Kennedy administration, the arts were, in Jackie's words, treated as a "stepchild in the United States." Popular French opinion had it that the Mona Lisa couldn't travel to the US—because American gangsters would hold it hostage. Jackie Kennedy, however, was determined to bring her country cultural legitimacy. She saw art as a national necessity and thus a governmental responsibility. She wanted to democratize it, turning her nation's capital "a living museum."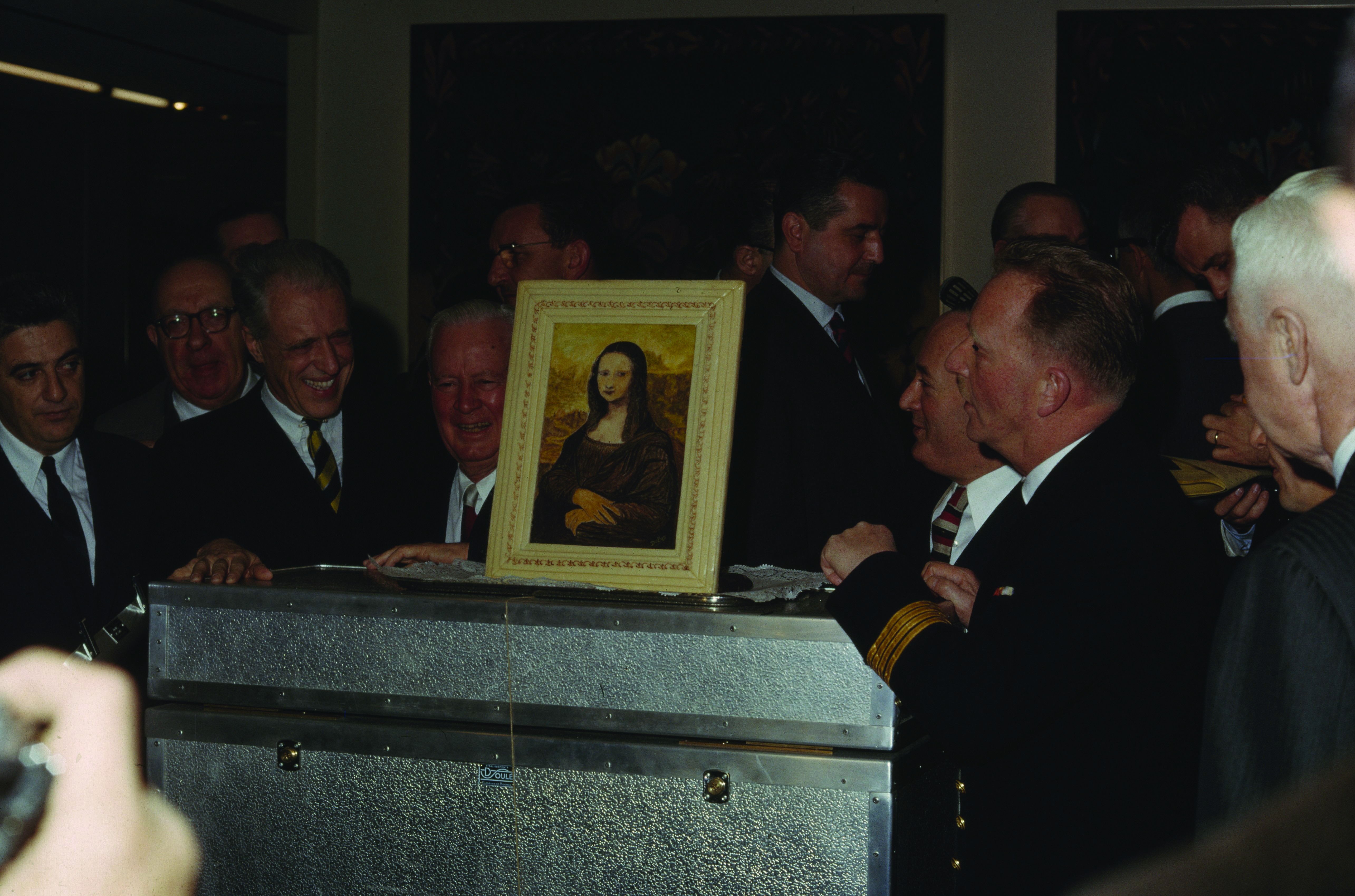 Of course, there's still a certain elitism to this—the daughter of a stockbroker and a socialite doling out art to the rest of us. The Mona Lisa is the work of an Italian artist, claimed by the French government as their treasure without recognition of some obvious problems. It's an image of a woman, painted by a man, representing an ideal of "civilization." The whole event is burdened by a fairly narrow conception of what culture really means.
Nevertheless, the exhibition was a wonder. "Women were carrying babies," a conservator at the Louvre recalled. "One of them burst into tears on seeing the Mona Lisa, to my amazement. I thought that our campaign had been well done since the visitors were clearly emotional and thrilled." Nearly two million people saw the painting during its American sojourn. For many, it was their first visit to a museum. The exhibition attracted Americans of all types; Jackie Kennedy had turned the museum into a space of human connection (or at least reminded everyone that it could be). Arguably, the present moment is less modern in this regard. "There's nothing like great art to create a fusion between different attitudes. It's a common ground. It's awakening, enlightening," writes Davis. "Something we need now more than ever."

Margaret Leslie Davis's Mona Lisa in Camelot will be reissued by the White House Historical Association on March 21. The Mona Lisa itself hasn't left the Louvre in 44 years, but may be about to travel again.