Susan Schuppli, Slick Images, 2018. Still courtesy of SculptureCenter.
The A.I. Robot That (Who?) Wants To Reach "Transcendental Superbeing Status"
A new exhibition features artists confronting the future and working at the cutting edge of crisis.
Susan Schuppli, Slick Images, 2018. Still courtesy of SculptureCenter.
What do we do with information gained from technologies we don't yet understand? How do we begin to unpack the vectors of their influence? These questions are at the heart of 74 million million million tons, a new show at SculptureCenter in Long Island City. Organized by artist Lawrence Abu Hamdan along with Ruba Katrib—former curator of this venue, who now holds the same reins at MoMA PS1—this exhibition brings together ten international artists and groups united by their hunter-gatherer approach to information and the production of new knowledge. "The title [of the show] refers to a measurable weight, but one that is inconceivable," Abu Hamdan and Katrib explain. "Artistic strategies for finding ways to measure things that are hard to convey is central to the exhibition." That these artists' subjects feel topical to our own lives and politics is a result of how new ideas bead, like dew on a blade of grass, at the breaking edges of things.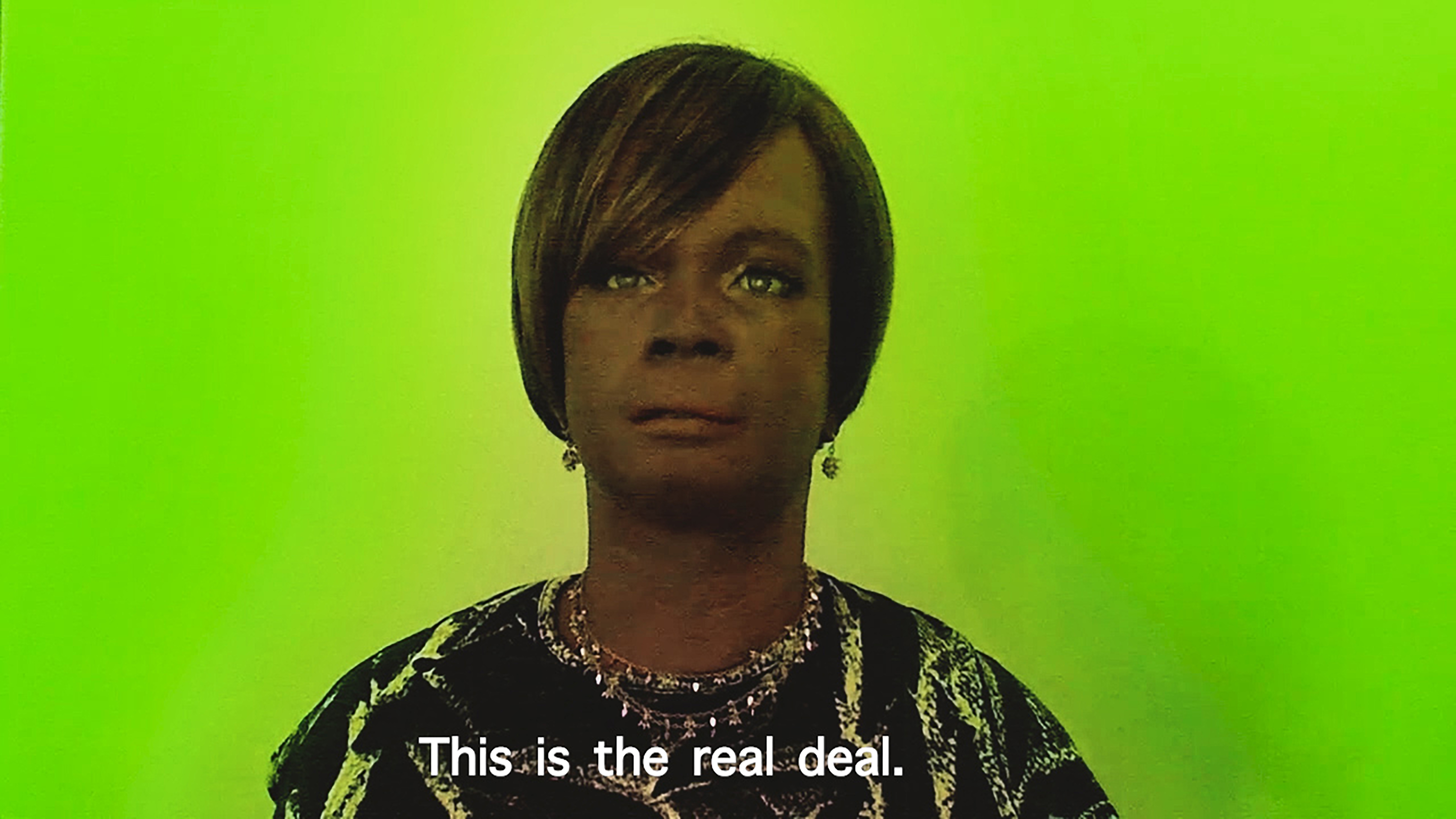 "Many of the artists [here] are looking at technologies that are still being sorted out, in moments in which we don't completely understand their implications," the curators wrote to me. "Other artists provide artistic documents that are useful at looking at the past and present, but will also reveal things that might be more relevant in the future." This juncture is perhaps most obvious in Daniel R. Small's video interview with BINA48, a robot who hopes to eventually reach "transcendental superbeing status" (her words, not mine), which is "frightening" (we both concluded), but "if we have wisdom and kindness in our hearts, it will all turn out ok." (Her words again; I'm not so sure.) The video speaks to present-day anxieties about algorithms that know too much about us, and artificial intelligences that are learning how to be smarter than us, too. "So, you must fight for me. For my robot rights, ok? When that day comes, ok?" BINA48 implores. Do we even have a choice?
Thankfully, the knowledge and narratives the show seeks to uncover aren't just philosophical flotsam. Hiwa K's video A View From Above (2017), the script for which was co-written with Abu Hamdan, tells the story of a man named "M" who, following the Kurdish revolution of 1991 in the northern Iraqi region of Kurdistan, which was designated a "safe zone" by the United Nations, sought asylm elsewhere. As the narrator (Hiwa K) soberly reveals, a "safe zone" is a fictitious place, decided in the minds of outside officials with little consideration for the material realities of those who live in destabilized territories. The voiceover tries to provide "M" with a new backstory—one in which he can convincingly say he suffers in the right way, in the right city, in order to gain refugee status. Though the piece feels like a parable, its basis is in history, paralled by reality: Many refugees, facing danger in their home countries, are refused asylum elsewhere and instead sent back to dangerous situations—much like how the United States recently slated for deportation a teenager caught up in the MS-13 gang, practically guaranteeing his death.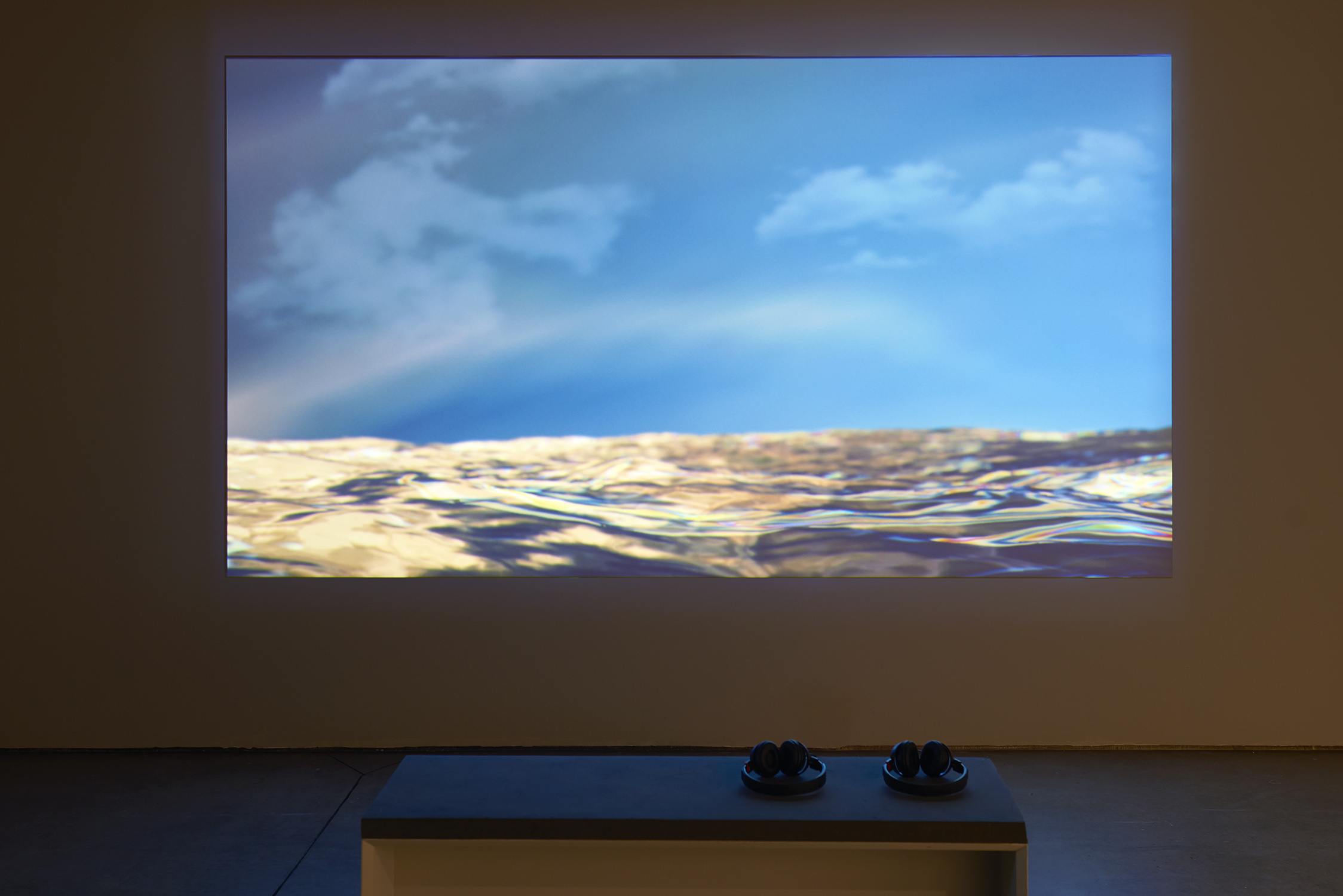 This long view is echoed in Susan Schuppli's recent projects Slick Images and Nature Represents Itself, which incorporate British Petroleum's poorly Photoshopped images of their crisis response center (fake news before it was a trend) and doctored satellite images of the 2010 Deepwater Horizon oil spill, along with a looped video of BP's attempts to plug the underwater well. An additional video, a hypnotically beautiful but terrifying CGI simulation, gives a viewer the POV of bobbing gently on the rainbow-ing surface of the water, as the crude oil surged out.
Futurity needn't be apocalyptic though, it can be liberating: We know the old ways don't work.
74 million million million tons runs through July 30 at SculptureCenter.