3D rendering in an Endless Everglades advertisement. Image courtesy of the artist.
Meet the Artist Selling Live-Work Space in a Swamp to Troll Miami's Gentrifiers
Carlos Rigau's Endless Everglades project half-seriously suggests that artists move to the Florida marsh for affordable rent.
3D rendering in an Endless Everglades advertisement. Image courtesy of the artist.
"You're sick of displacing the historically disenfranchised. Endless Everglades," says a spokesman over soft, corporate muzak. He's standing in front of the abandoned Aerojet facility in the Florida Everglades, a concrete complex overrun by trees and tall grass. Framed by a wall of graffiti, Carlos Rigau sports a black suit, long slicked-back hair, a mustache and goatee. He's reminding you of the guilt you feel for being a gentrifier, and he's offering a creative solution.
Although the video could be mistaken for a real estate advertisement, Rigau made it during a recent stint at AIRIE (Artists in Residence in Everglades), which he used as an incubator for his Endless Everglades concept: a live-work space for creatives in the swamp. Part performance, part legitimate business model, the property development company's goal is to "develop rural areas by remodeling abandoned buildings for maximum connectivity," thereby allowing artists and creative disruptors the chance to live a truly sustainable, guilt-free lifestyle. The goal of Endless Everglades is also, he added, "to surpass its margins and turn a healthy profit."
A painter, sculptor, performance artist, gallerist, and creative entrepreneur, Rigau is a first-generation Cuban from Little Havana, Miami. For ten years, he has probed the role of artists in neoliberal urban development, from "Pump It Up," a manic motivational video for painters, and "Basement Deals," in which Rigau sold paintings out of his basement in Bushwick using a green screen as a gallery space. When I met him in his new Chinatown gallery and event rental space, respectively titled Constance and Eternal Revelation, he gave me the full pitch: "The guilt of living and working in the urban setting has worn on creatives. The income one must earn to live in an urban setting is not sustainable. In the near future, vendors will be able to offer drone deliveries anywhere at any time. Endless Everglades." Rigau poured me another shot of Evan Williams as he told the story of his stay in the River of Grass. Veering from the tone of company spokesman to longtime friend, Rigau discussed the horrors of displacement by the new economy, which he, as an artist, is inevitably a part of. "I feel guilty myself—and I'm [Hispanic]."
The AIRIE residence is located in a small, cabin-like apartment in the remote Pine Island area. "There's no wireless, there's no TV, there's almost no phone reception if you have Metro PCS," Rigau said. On the first night, his friend Dudeman visited, the owner of an IT company, an avid hunter of wild boar in the Glades, and, in Rigau's eyes potential investor. This was his first go at the Endless Everglades sales pitch, which crystallized the absurdity of the premise. "We went to the Old Ingraham Trail and walked for two hours in a direction, late at night, lit to the gills. Dudeman had his .45, a giant knife and a giant flashlight, and was saying 'Bro, we're walking this way, bro.'"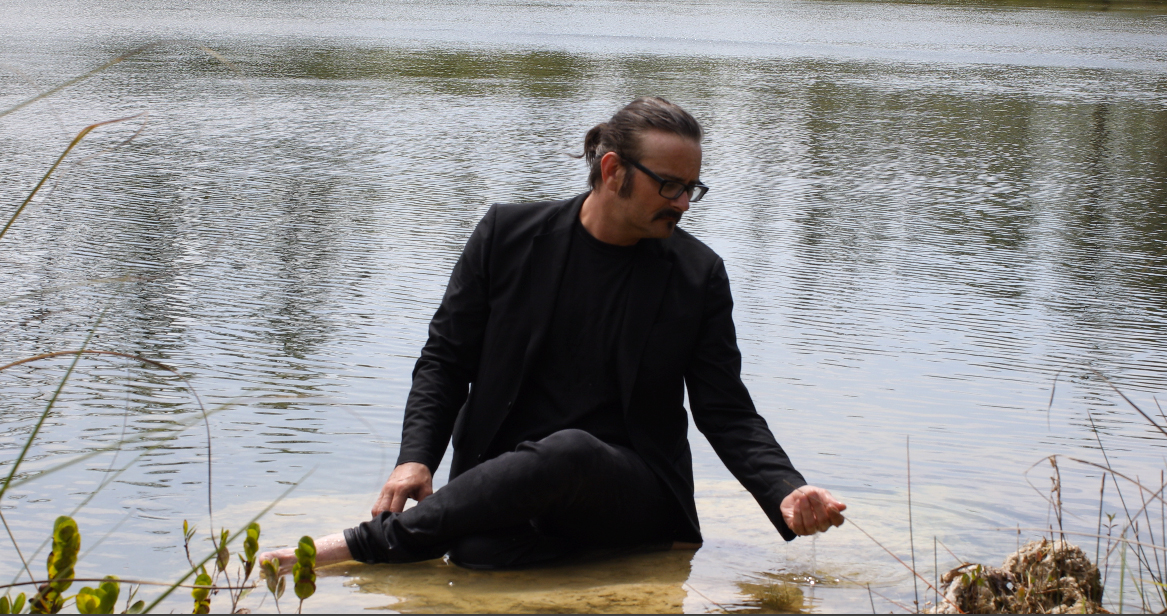 Before the residency, Rigau read Edward Bernays' Propaganda—a classic text from 1928 on the manipulation of public opinion—and a book about the Gulf American Corporation, which in the 1960s and 70s hoodwinked buyers from the Midwest by selling land that was underwater or otherwise undevelopable. In his room at the residency, Rigau filled a wall with post-its containing notes on Freudian psychology and pieces of real estate con-man wisdom. The research informed the design of Endless Everglades' creative assets, the logos and animations that populate the pitch videos. Soothing, nondescript, promising something they could never deliver, the assets were produced by designers on Fiverr, the freelance services marketplace. Rigau used it to highlight the ubiquitous pay and benefit disparities in the gig economy. "Our logo was made by a Fiverr designer for like $10; the 3D rendering was made for like $100. $30 for the voiceover." The film was shot on a 4K camera and drone, with assistance from his uncle, a cameraman who is also named Carlos Rigau.

Rigau toured the glades with park rangers, who explained how the park came to be. During these hikes, Rigau learned about the artifice of the Everglades itself: "Everglades National Park is kind of a Disneyesque version of a national park. It's not real," he said. "It was restored—the only way for the Everglades to exist in any capacity that it used to is to have no roads or canals, all the way from Lake Okeechobee to South Florida. But that's impossible at this point." Though contrary to the urban development of late capitalism, Everglades National Park employs similar methods of controlling and managing the environment: instead of artists and creatives getting moved in, its native flora and fauna.
Of course, it's illegal to build on Everglades land, but Rigau ironically comments that there's a bright future for the idea. When speaking sincerely though, Rigau realizes that what started as an art project could perhaps be turned into an evil beta test for re-development of national parks, a con-turned-concept, a self-fulfilling speculation. Though it's not likely in the short-term, Endless Everglades is compelling because it reminds us of capitalism's ceaseless colonization—there are no guarantees. "There's been inquiries from people who check the #microinfluencer or #creativeentrepreneur hashtag. Once I sent the spiel though, I didn't get a response."
His advice for the creative who's looking to settle in the swamp?
"When you're walking in the bog, up to your hips in thousands of years of sawgrass sediment, you might want to lean on a tree and take a break—but don't wrap your hand around the trunk. Put your fist against the front of it. You don't know what's lurking behind that tree. This is the giant metaphor for the whole work."