Jewelry Designer Tom Binns is Making Stuff Again—But It's Not Jewelry and This Isn't a Comeback!
Fashion world favorite Tom Binns has a selection of pieces at Dover Street Market.
"It's always been called jewelry," Tom Binns told me in an interview at Dover Street Market last week, uttering the word "jewelry" like diamonds are a girl's worst enemy. "And I hate that word. And I hate the word designer." I asked what he would prefer. "Cynic is one," he said, and laughed.
I don't know about you, but I've missed Tom Binns. Actually, I do know about you: you've been wearing giant earrings like they're the most casual thing—Binns invented that. You've been looking at the stoically tasteful clothing worn by the women currently in the White House, and thinking about when Michelle Obama paired John Singer Sargent-worthy gowns with big tangles of pearls and chains and rhinestones—those were Binns's necklaces. You were wandering through the Rei Kawakubo exhibition at the Metropolitan Museum of Art this summer and thinking, I wish more fashion made me question what a dress really is, whether plastic is actually a luxurious fabric, whether sleeves are only meant for arms. Binns did that, but with jewelry, creating assemblages of gritty and blingy items that winked big at the notion of what fancy jewelry was supposed to be made of. Remember that chain necklace with the stamped medallions in place of precious jewels? "LARGE SAPPHIRE," read two coins flanking a larger one at the center that read: "BIG FUCK OFF DIAMOND." Wouldn't you love for luxury to be that funny right now? (I'd actually love for stand-up comedy to be that funny right now!)
Binns did all that and more, and now he's doing it again (sort of). After an absence from the world of fashion—or at least the world of wearable art—Binns is selling a selection of objets—some obviously wearable, some less obviously so, from his most recent output, which he calls "Art Jewelry," at Dover Street Market. Rei Kawakubo, Comme des Garçons designer and Dover Street Market overlord, selected her favorite pieces to show in the Tokyo store, then the London store made its selection, and now, the chumps of New York have our share, too. There are Looney Tune earrings. There is a necklace formed from a dense jumble of Barbie shoes. There is a Cartier Tank Watch (it's fake!) with a nail driven through it. I asked him how it felt to do that. "Faaaannnnntasssstic," he said. "I gave it a right old bashing" (though the process of nestling a nail in a watch face is antithetically quite delicate, he explained).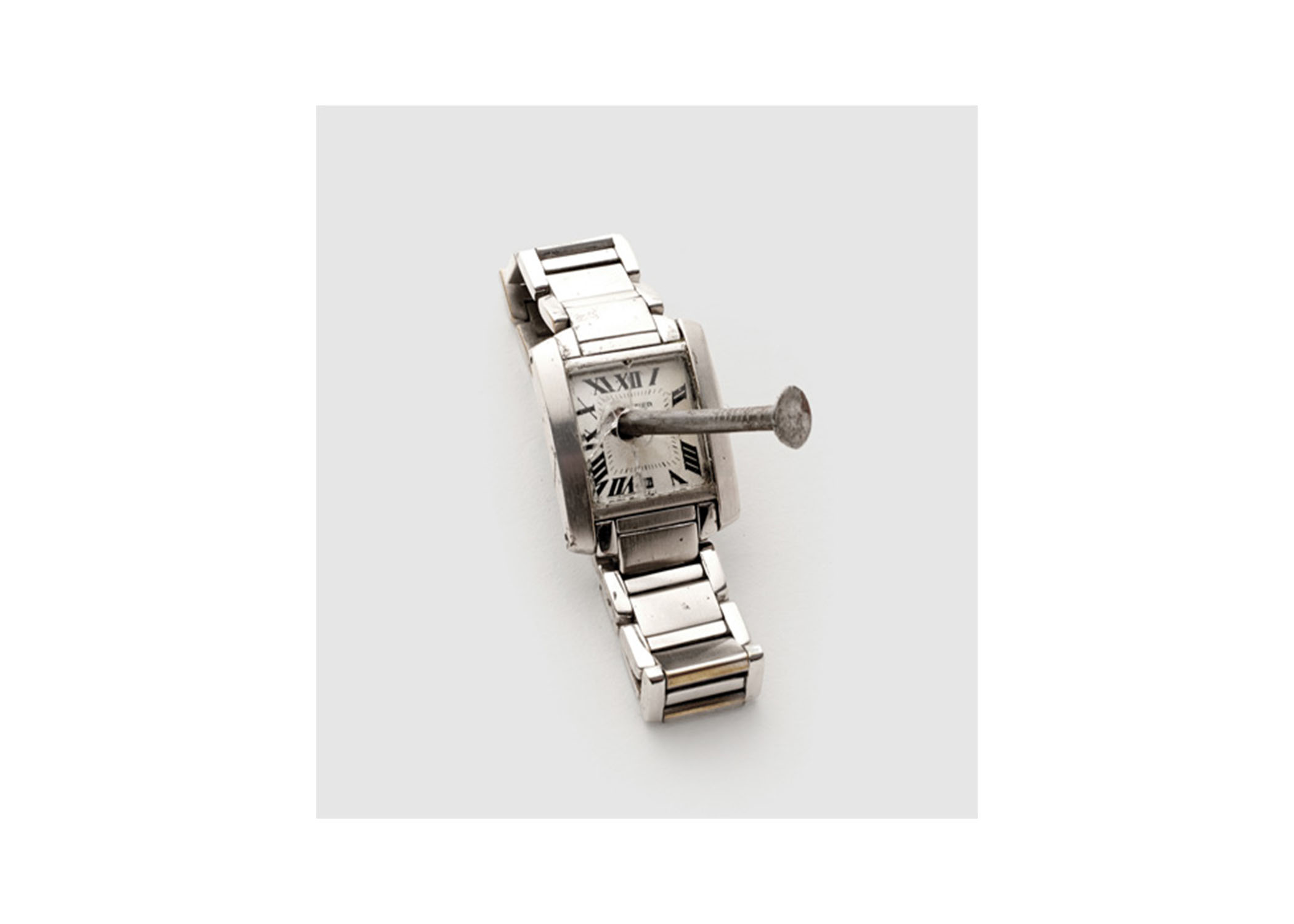 And there are pipes: Goofy's head emerging from a pipe, a doll's legs splayed out from a shuttlecock nuzzled in a pipe, and a rusty coil spiraling out of a pipe.
But despite all those pipes, ce n'est pas une comeback, said Binns. "I never really wanted to be part of the fashion world," he said. "I mean, it's just, when you make things that people wear, and people call it 'jewelry,' then they make it into fashion. But there's not very many places you can go with it, other than a craft store."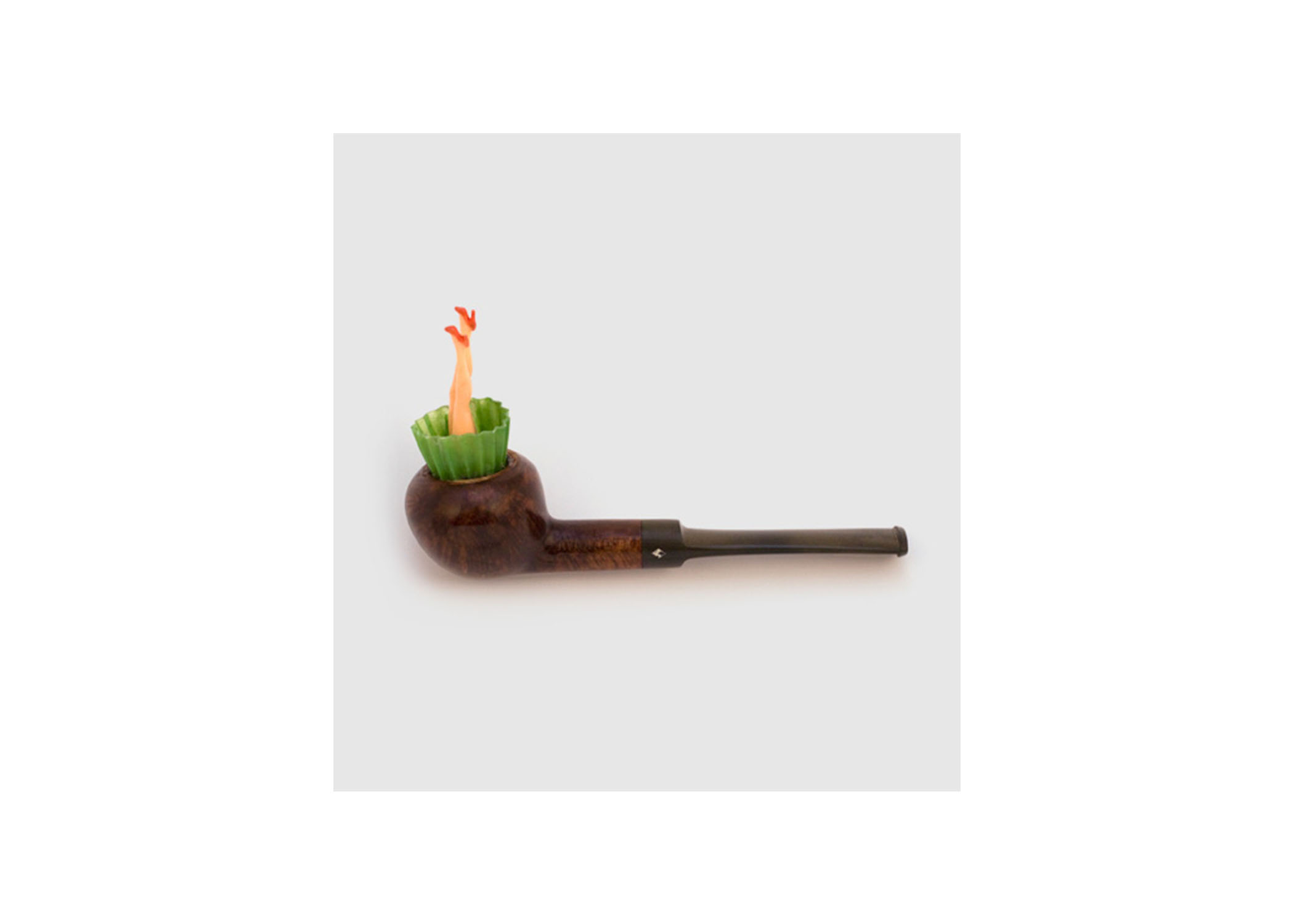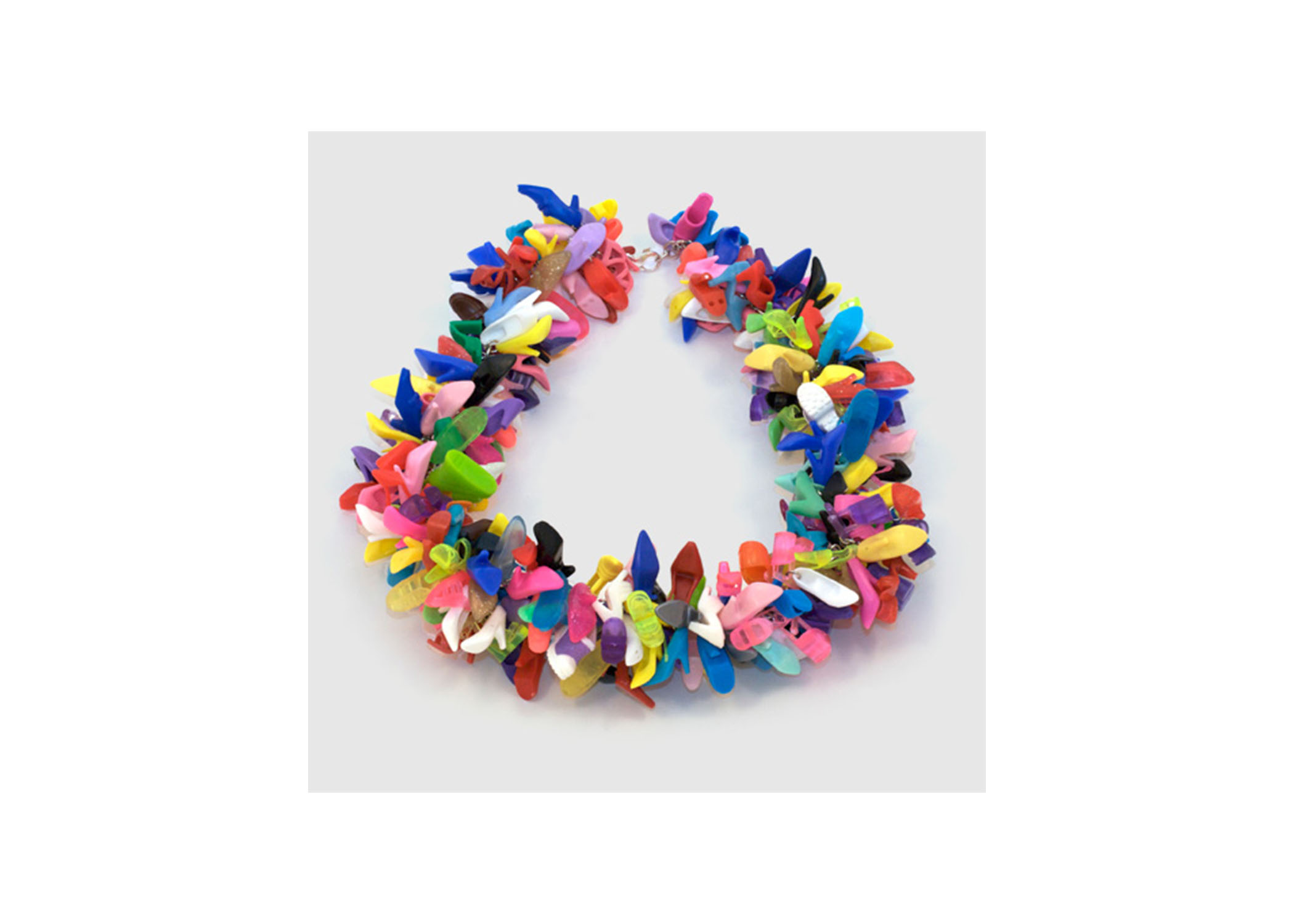 Binns is sensitive about his position as a fashion world (or –adjacent) figure. "Having always been a marginal fashion person, I love the glamor," he said. "I don't mind all that, but I find there are, few and far between, people who are real artists. Rei is one. There are maybe a couple of photographers. But it's limited. And the rest, it's just padding. Landfill."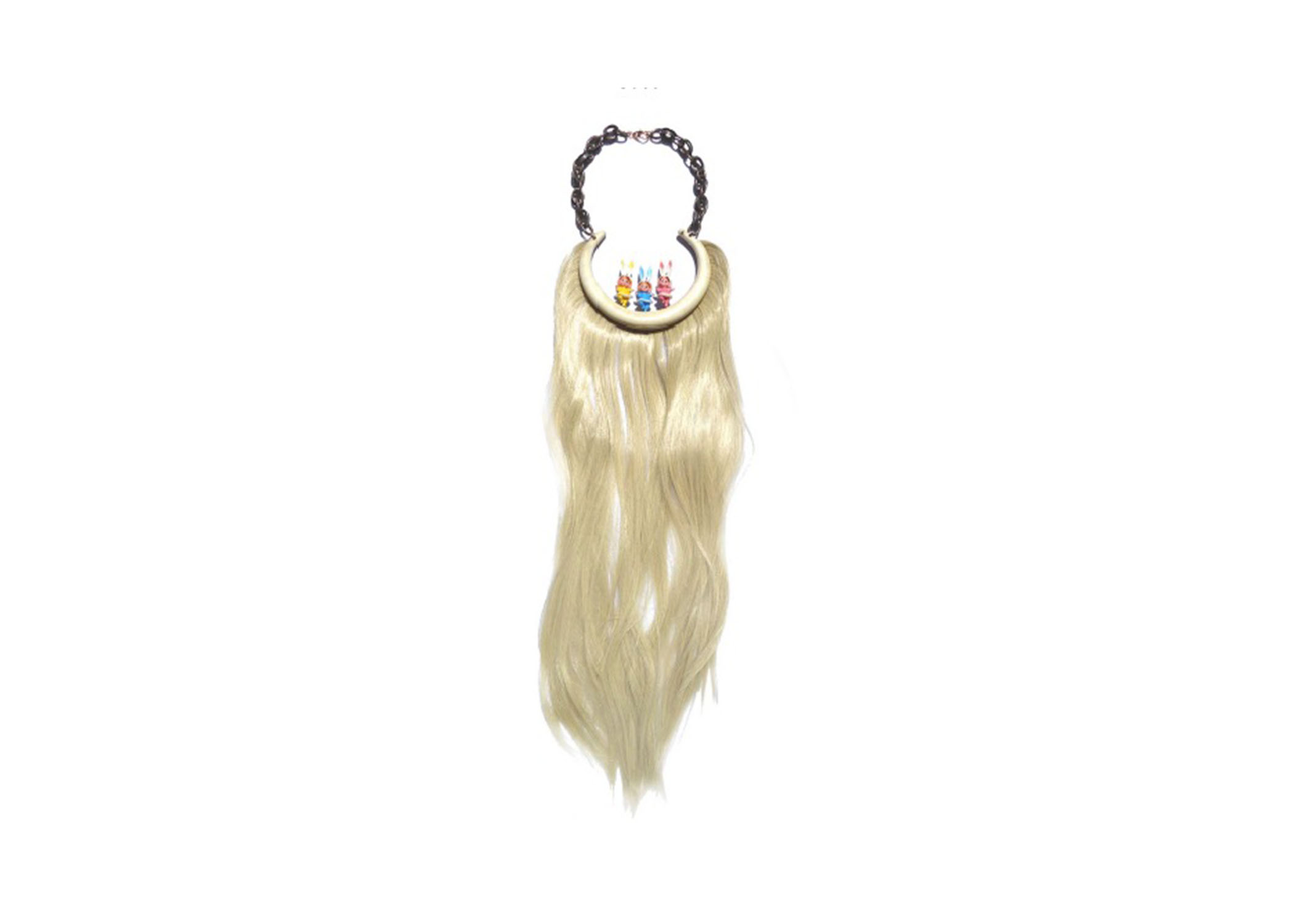 Landfill is actually the kind of thing Binns could make a terrific necklace out of. And that's what's driven his latest work, a departure from the commercial pieces he once made that played up the fake-y, costume elements of the jewelry's components. He had a store in the West Village, once upon a time, when Marc Jacobs ran Bleecker Street, okay?, and his line was worn, as I mentioned, by celebrities of the highest order, until too many copycats and his 'tude made him stumble, the New York Times reported earlier this year. If his earlier work made you look twice at luxury, his new work pushes things in an even more avant-garde direction, with squashed cans, shards of computer chip, strands of hair yanked from wigs, chunks of watch band links, and then, like magic, a clutch of rhinestones or pearls bringing it all together into a poised whole. "I pull it into a reality that people can get," he said. "'Oh, it's got pearls on it.' But it's a mad thing."
Still, he seems to agonize about being pigeonholed in the world of fashion. "I don't know how to explain," he said, returning to his attempt to describe the blurry role he feels his occupies between fashion and art. "I don't want to call myself an artist. It's for other people to call you an artist—it's not for you to call yourself an artist. What I do is just make people happy." So put that in your pipe and smoke it!