Darling, How About a Spritz of Something Divine?
When you're stuck at home with nowhere to go, a good movie and a new perfume are the ultimate escape. Why not throw in some luxe jewels for good measure?
Collages by Joy Matashi. Fashion Editor: Jared Ellner
The endless gray stretch of quarantine has warped time into units previously unknown to me, measuring hours by phantom presences. Perfume—a closetful of it, so many bottles and vials that I can barely shut the door, a reminder of past travels and smiles—has been a faithful companion during this disembodying hover-year. Its mirror: the pulled-down shades and soft dark envelopment of watching films, light flickering off a beat-up laptop, offering respite and another layer of other—real time—pass and melt. In both, vaporous, fickle media, ever-changing, light particles dancing off my face and skin, I surrender myself to their own inner workings, worlds, and pathways—they give my rolling, fretful, nearly-always-bursting-with-question-marks mind a chance to stop, collect itself, drift, play.
Where can my physical body go if it is locked indoors? I can transfer and inhabit, nibble, feed off, empathize, and fall in love with actors and scents, a new one a day, according to my mood. In losing yourself, you get re-embodied. My heart beats with different screens, varied scents. Here is a scattering of stars, ones who have nurtured me and provided escape and pleasure during this year, individualistic women who shine gemlike, inspire and dazzle, with fragrances dreamed and real paired with them.
VONETTA MCGEE
The San Francisco–born star of two idiosyncratic Westerns—Thomasine & Bushrod (1974), in which she plays a high-spirited, compassionate bank robber gleefully giving money to the dispossessed; and The Great Silence (1968), which sees her bringing unwavering determination and resilience against pure evil and venality—Vonetta McGee was known for her spare, economical gestures, which hid explosive emotions. Andy Tauer's austerely beautiful Lonestar Memories has an impenetrable, pottery-shell exterior and luminous eyes. Dry and overheated, it's secretive, holds its feelings close—you wipe the sweat from your brow, shake the dust off your worn leather boots; there's copper-color incense, roan horses taking shelter in weathered barns. A slow-burning gingered bloom an hour into wearing, a widening smile only for those who deserve it.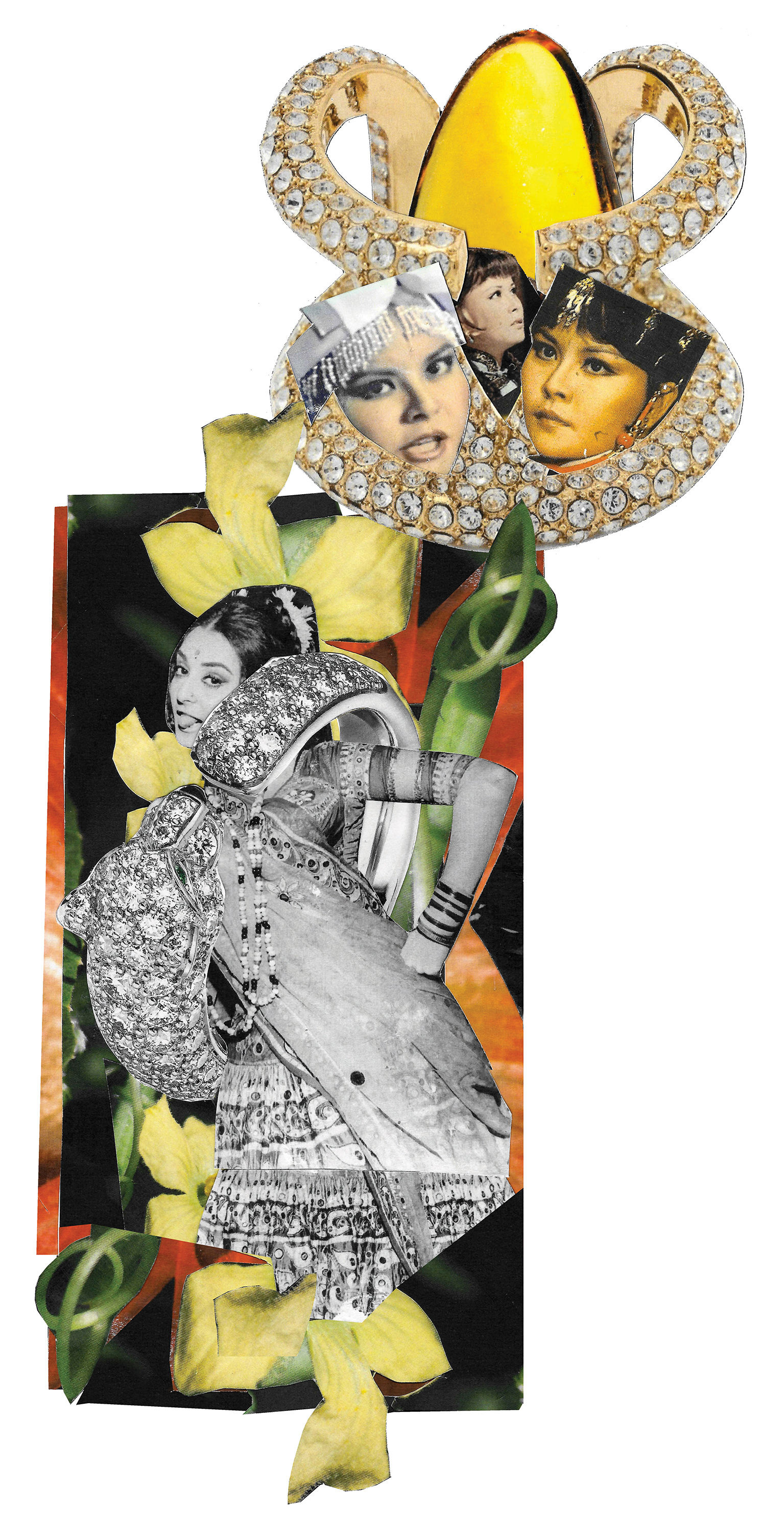 PEARL CHANG
The Taiwanese martial arts supernova behind the unclassifiable and fantastical Wolf Devil Woman (1982), Pearl Chang was a multi-talented director, writer, producer, star—often all at once. Her extreme energy spiraled in all directions. She tore through her kung fu epics with whirlwind power and lightning-bolt editing, whiplash-inducing battles fought in outrageous jeweled and tasseled headdresses, poles and swords flying through the air. Australian designer Naomi Goodsir has created perfumes as unpredictable, illogical, and daredevil as Pearl—the electric, forked-tongue Nuit de Bakélite, with its livid, shape-shifting, furious green tuberose that lasts for days on the skin. And Bois d'Ascèse and its soilish, dampened-ash scent of dripping caverns, unearthed pu'er tea, gnarled roots, just-plucked feathers with flesh still attached, and spat-out wine. They're both visceral, wildly inventive scents fit for the untetherable force of nature that is Pearl.
SAIRA BANU
One of India's most popular actresses from the 1960s through the 1980s, Saira Banu glows with a happiness that radiates through her dancing, her lushly made-up, smiling eyes, the vivid colors and textures of her flowing scarves and minidresses. In Junglee (1961), she's swaying and dipping in and out of a field of flowers, and I can no longer tell which is which. A school of fish swims by. Roses. Saira laughing. She trails her love on the water, which ends in a splash. Whispered Myths by Imaginary Authors is a perfume as joyful and persistent as she is, filled with fruits that don't exist, an explosion of rinds and pulps, seeds from an extinct species of cantaloupe found near the Aigues Mortes salt marsh in the Camargue, pink as algae and flamingoes. Adameku by DI SER has an apricot osmanthus doing the splits, burst of juice, hair swing, blinding brightness, lamé fabric and metallic threads, space-age sweetness, fruit with a fiery pit, uncatchable, chime-laughs, hollowed-out melon slices as bracelets, mischief, patter of high-heeled shoes on the rain-soaked pavement.
JOSEPHINE BAKER
Joy, freedom, and courage are synonymous with Josephine Baker, whose influence reverberates today both artistically and through her work with the civil rights movement and the French Resistance. Le Cri de la Lumière (The Cry of Light) by Parfum d'Empire is dizzying, strong, and has a glimmering ambrette note like warm skin, a vertiginous turquoise flash of arms and legs in endless motion. While dancing in Princess Tam Tam (1935), Baker throws her shoes off, one in the ice bucket for champagne (matching Le Cri's effervescent intoxication), one against someone's head, and tears off her metallic gown to jump from the stage. All eyes are on her; her fire and abandon swallow the screen, a complete and total pleasure in her body. Ability and freeness flow from her, hypnotic flashes off her eyes and earrings. Kick off everything that hinders you. A scent that pushes forward, propels, a swirl of blinding light.