It's the End of the World As We Know It and... Designers Are Feeling It, tbh!
At Paris Fashion Week, the looming existential anxiety manifested itself in beautiful clothes.
That fashion is frivolous is alleged to be a given, even though it is essentially a display of our own personal freedom, and is such is thought to be a reflection of the times. You've heard about "skirt hem theory"—when the markets go up, so do the hemlines!—but a part of you maybe also thinks it's bullshit (it's not not). Despite the increased presence of panniers on the runway, fashion's response to our interesting times has not actually been "let them eat cake."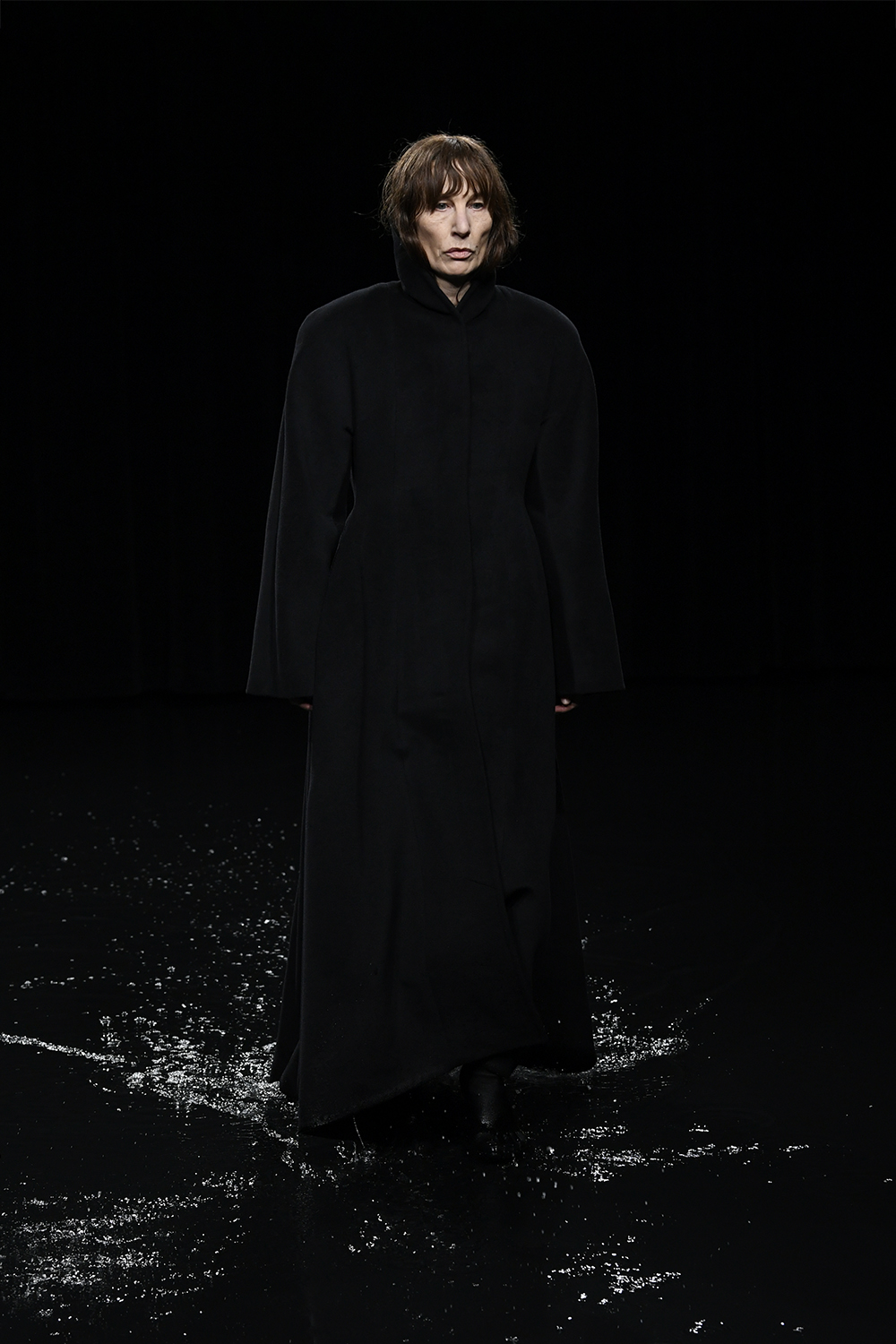 The shows this season in Paris, particularly, had a different feeling of urgency. At Balenciaga, Demna Gvesalia drove the point home the strongest. A week or so before the show, editors received an email letting them know they'd be unable to be accommodated on their usual front row, and assured that they would be on the same boat as their colleagues, a message that surely ruffled more than a few feathers. When guests arrived at the fashion show venue, the usual soundstage on the outskirts of Paris, they found the place flooded, with only the tippy-tops of the chairs on first and second row visible above the water. He'd drowned the first rows—a status symbol rendered obsolete. Some editors received massive all-black bouquets before the show. Funereal.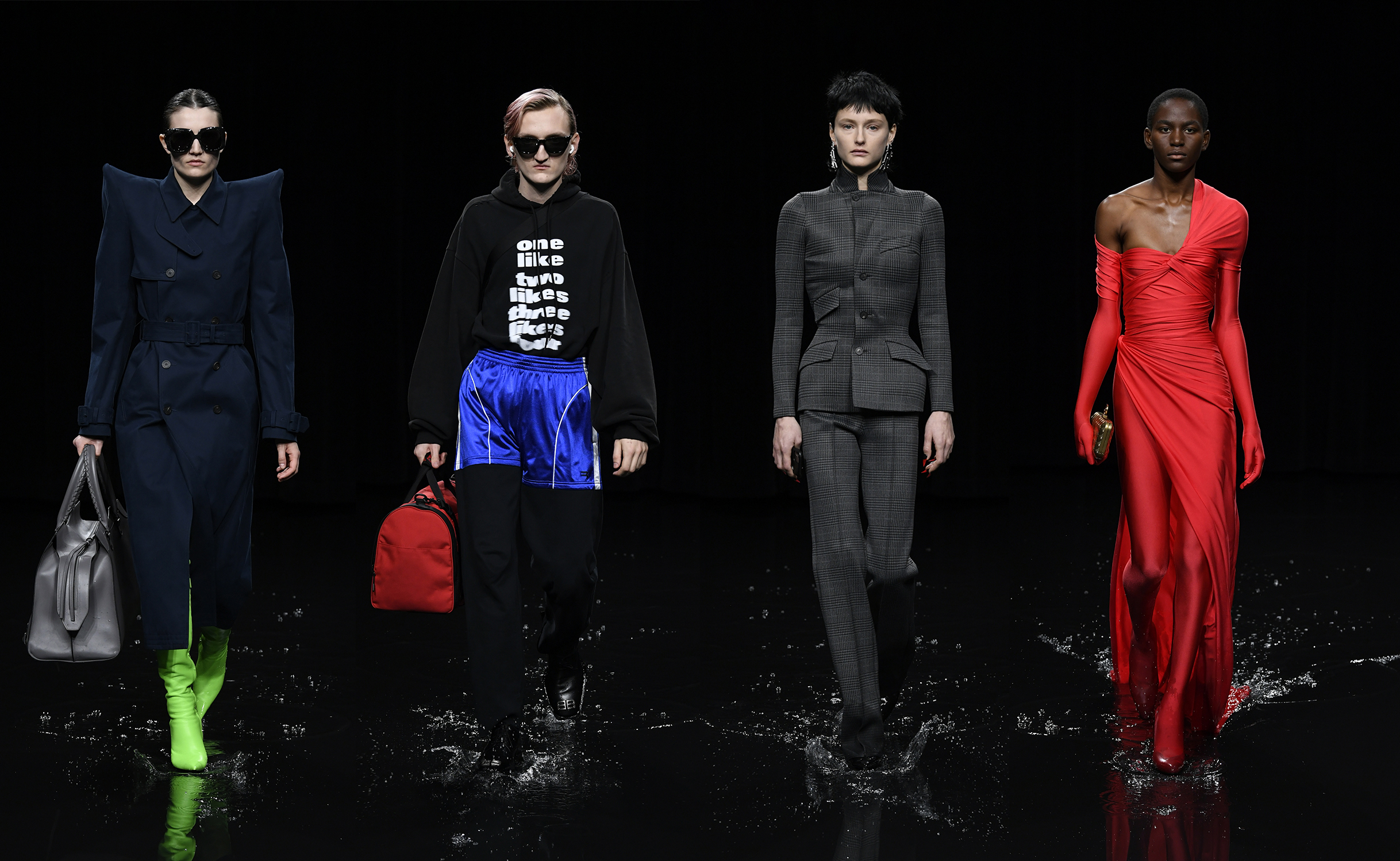 And the clothes? The models walked on water, and on fire, and they walked upon bustling metropolis as screens above them projected the devastating images throughout. The first 14 looks were all black, starting with the first look, a long velvet dress with long sleeves and a turtleneck, like something a monk might wear. Then more robes, suits, dresses, all in black, worn by men and women. Although color was later introduced in the collection, one thing that remained consistent throughout was how the models were completely swathed in fabric, with just their hands and heads visible. Gvesalia continued to explore and be inspired by Cristóbal Balenciaga's own passion for volume, and the results were no less beautiful because of their perceived harshness. The shoulders continue to play a starring role—see how pointy shoulder make a navy trench coat or a cable knit turtleneck drip with aggression, watch how an oversized rounded shoulder can imbue the wearer with the confidence of a priest in a renaissance painting or alternatively Uncle Fester (not that that's a bad thing!). There were full-on soccer kits and motocross uniforms, although it was the look that featured a hoodie tucked into a pair of running shorts worn over a pair of trousers, but that upon closer inspection are not actually two separate pair of pants. Beneath all the weirdness were the most exacting, perfectly fitted suits that stretched over the bodies like a second skin, and glamorous gowns that clung to the body like wet silk. It was a simultaneous mourning and celebration of the human race. Here's where we are and here's where we're going if things don't change.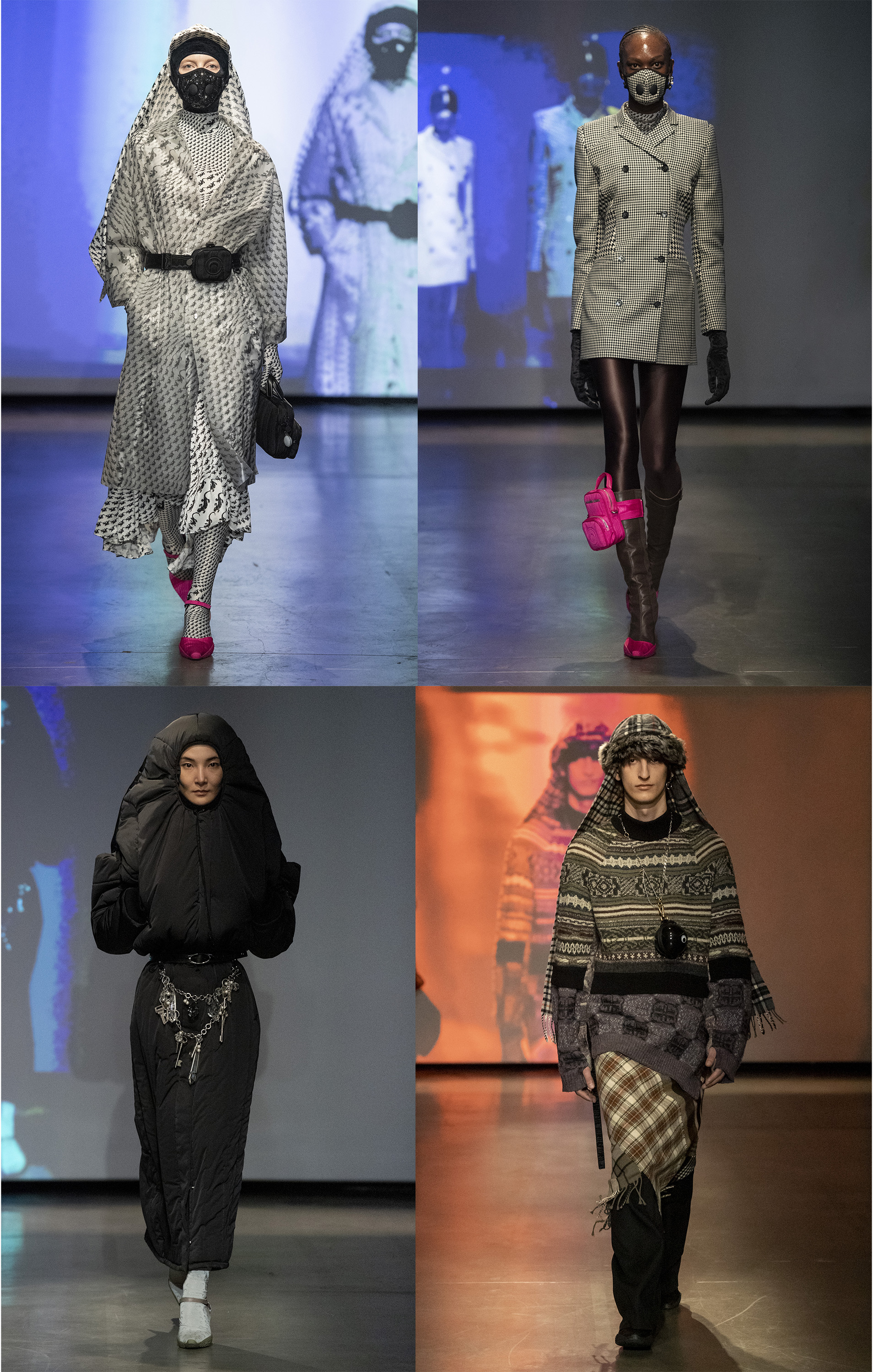 They say that Marine Serre is a designer making clothes for our dystopian future. And it's true that her latest collection was inspired by Dune, but Serre hasn't become one of the most creative forces in fashion right now just because everyone loves sci-fi. Once upon a time, writing about a world shaped by advance technology, autocrats, and shrinking natural resources seemed like the stuff of pure fantasy. We may not yet be driving around in flying cars, but at some point the stories in the books weirdly became prophecies (did Dean Koontz predict coronavirus in his 1980 thriller The Eyes of Darkness?). The 28-year-old designer doesn't have those totem-like points of reference for so many in fashion—a mom getting ready to go dancing at Studio 54, a perfect grandmother that passes on her perfect fashion sense to her kin (not that there's anything wrong with that)—but instead by that ever-present sense of dread that is emblematic of the millennial experience. She knows that our collective dystopian future is in fact here.
Talk about the coronavirus was inescapable the whole season, but what else to think about when Serre sent looks with decorated face masks that perfectly match a model's ensemble? There are fanny-packs, boot-packs, even bags to carry water bottles (which have become a mini-trend of their own)—a person's essentials readily available at all times. Even Serre's shoes, with their little rubber-esque heel seem like they're made for running, or at least for walking great distances. A standout of the collection was the little black jacket with a hood that was more like an egg you could put your body into, worn with a fitted long skirt, accessorized with a double belt—one that cinched tightly at the waist, and another one that draped across the hips with all manners of jangles, like so many old keys. Looking at it, it's not hard to imagine someone's grandmother, 40 years from now, passing along her secrets of style, but also her tips for protection, and passing down this jacket along with it. A classic.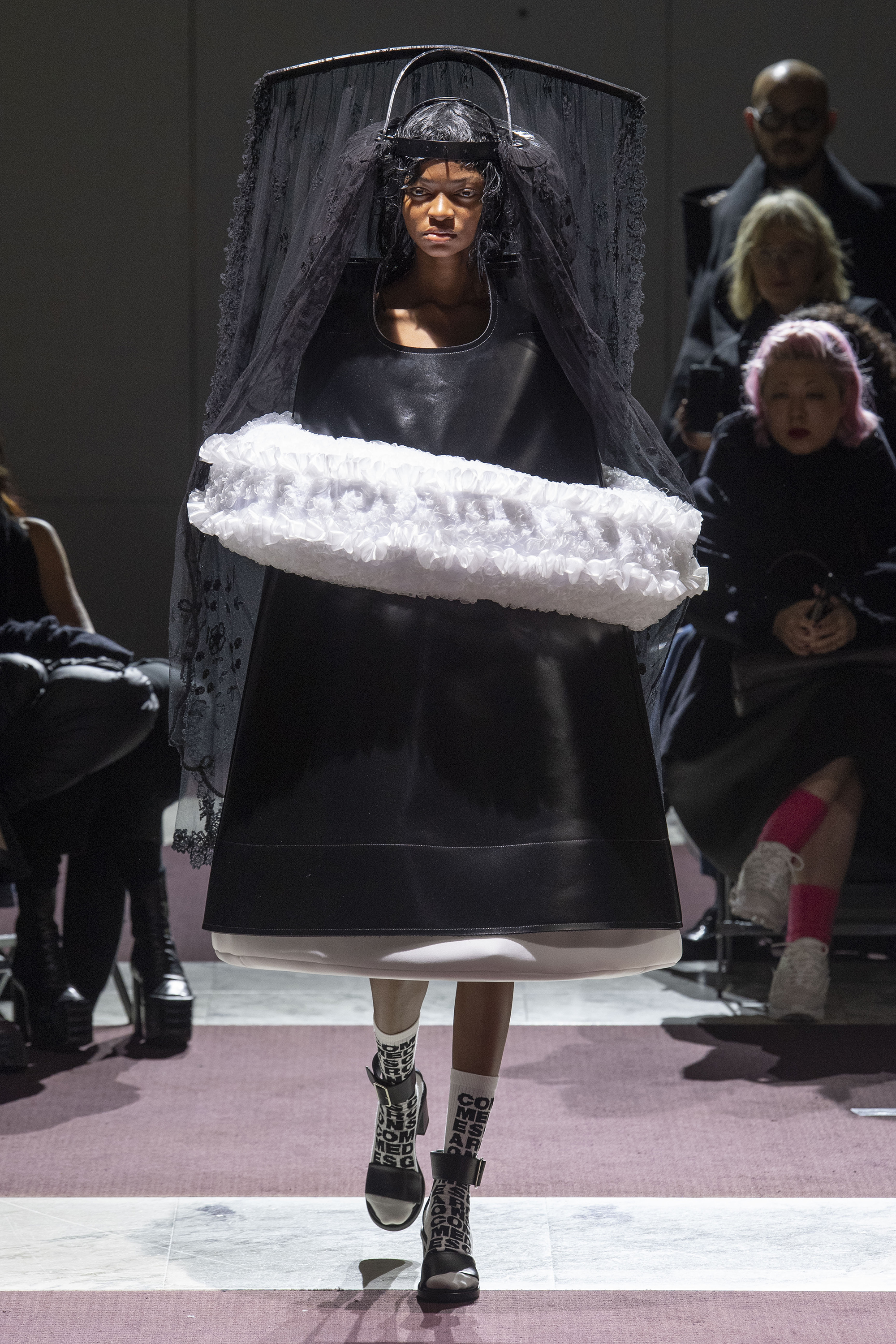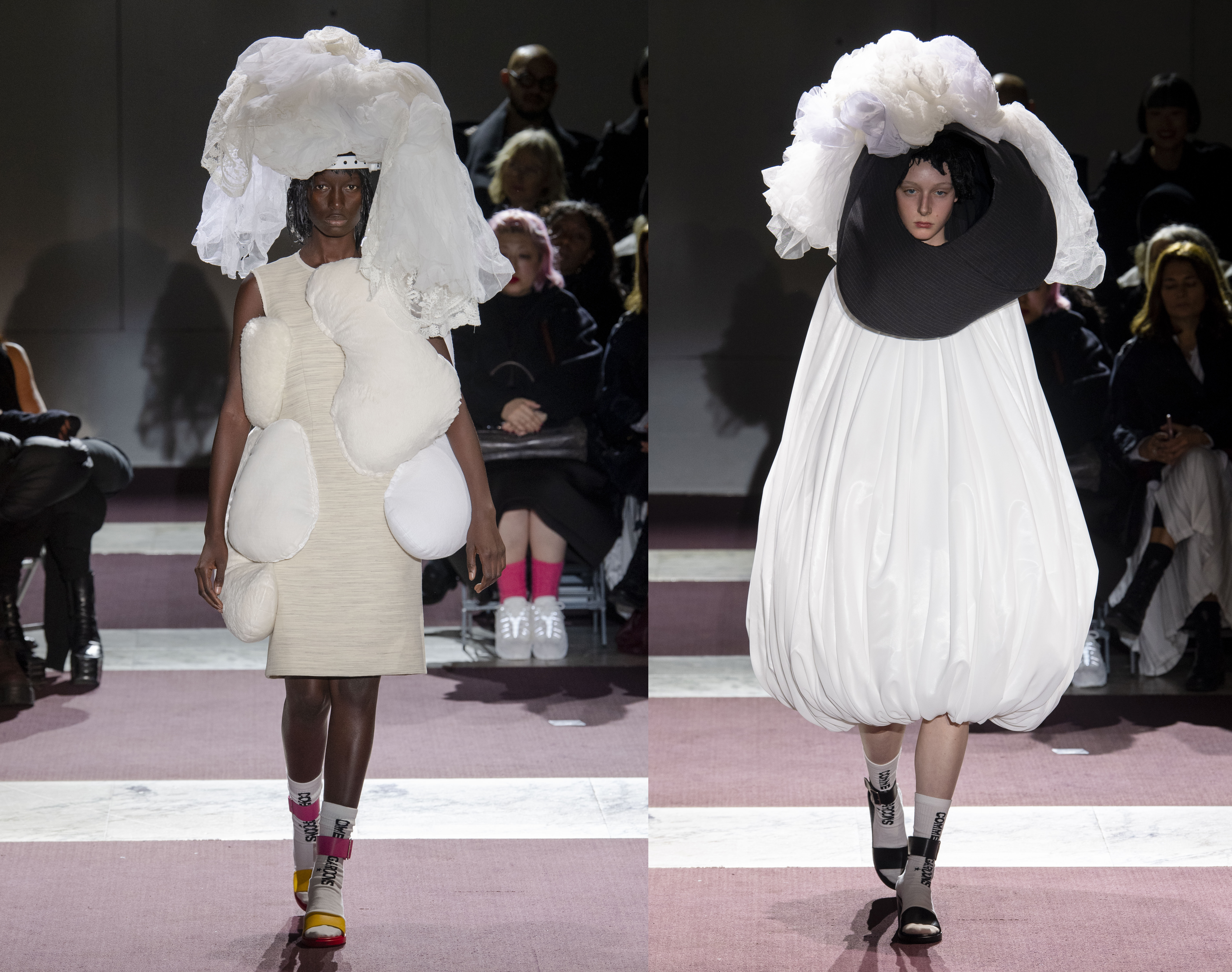 At Comme des Garçons, Rei Kawakubo was thinking about the new, as she always does, and yet this time, her search for it made her think back to her own previous collections. A mental upcycling of sorts. There were lumps and bumps, there were bulbous shapes, there were two-dimensional cutouts, and looking at the models slowly walking down the runway, each with their own particular soundtrack, my brain started imagining these characters, walking through the world, and making their own outfits out of the little things they find around them. With the second look, an A-line cocoon made from black leather, worn with a thick white ruffle donut-like belt, like a floaty a child might wear at a pool, and a black lace veil held by an almost medical-grade metal hat-contraption, I imagined a world where a person is ready to almost drown at all times—and is that why she's in mourning?
A cream dress with lumps sewn throughout spoke of a long-gone innocence. Remember the first time you saw Kawakubo's lumps and bumps collection from 1997? When you realized the possibilities of fashion to be political and to be creative beyond what you'd been taught and what you'd always seen? As the show moved through its 20 diverse looks—joined not so much by a theme, but a vibe—I thought, how lucky we are to have a designer make space for you to just stop, think, and sit for a while with these clothes.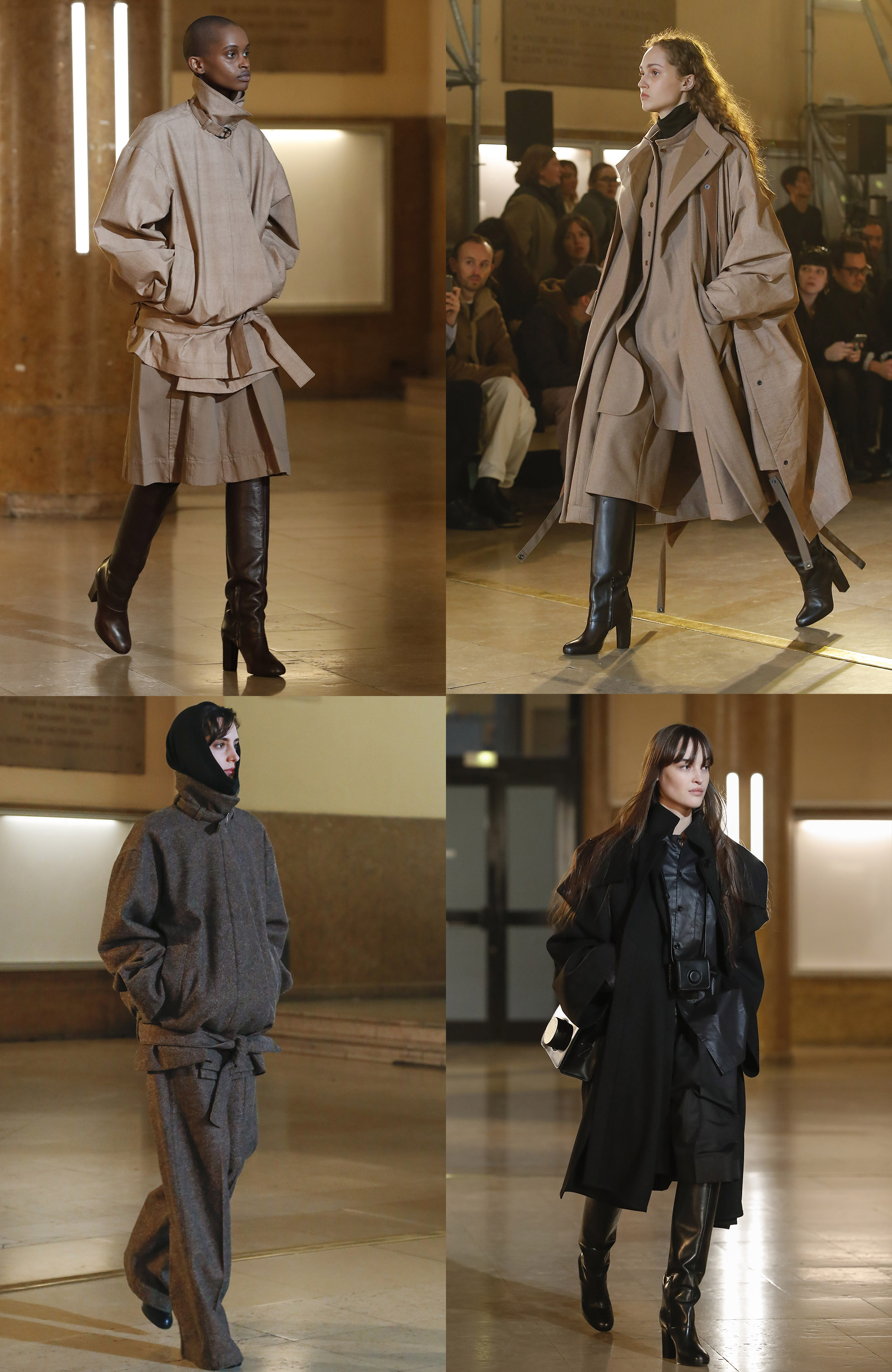 But the clothes and sets do not need to be extravagant in order for them to ask us to slow down and think about the world. The Lemaire show took place in a school, and curiously the space was devoid of the usual photographer's pit that lets us know where the models will be coming from—the literal direction of the show. The models as it turned out, walked in from every direction, one at a time, two at a time, young men and older women, young women and older men. They walked out of doors and into staircases, they looked around, they stopped and thought about where they were going and they continued on their path, like a Tati movie but mostly just like real life.
There were no grand proclamations about the state of the world anywhere near the show, except for maybe the masks and Purell available once you walked into the space, and yet this show had a very high emotional tension. There was something about these people, wearing all their monochromatic layers—parkas cinched at the waist, trench coats over jackets over turtlenecks, balaclavas, sturdy but absolutely fabulous tall boots, that made me think of protection. Christophe Lemaire and Sarah-Linh Tran are known for making clothes whose defining characteristic is ease, and yet in that ease there was also an armor. The models weren't happy and they weren't sad, they just were. Just people on the go trying to get to their final destination.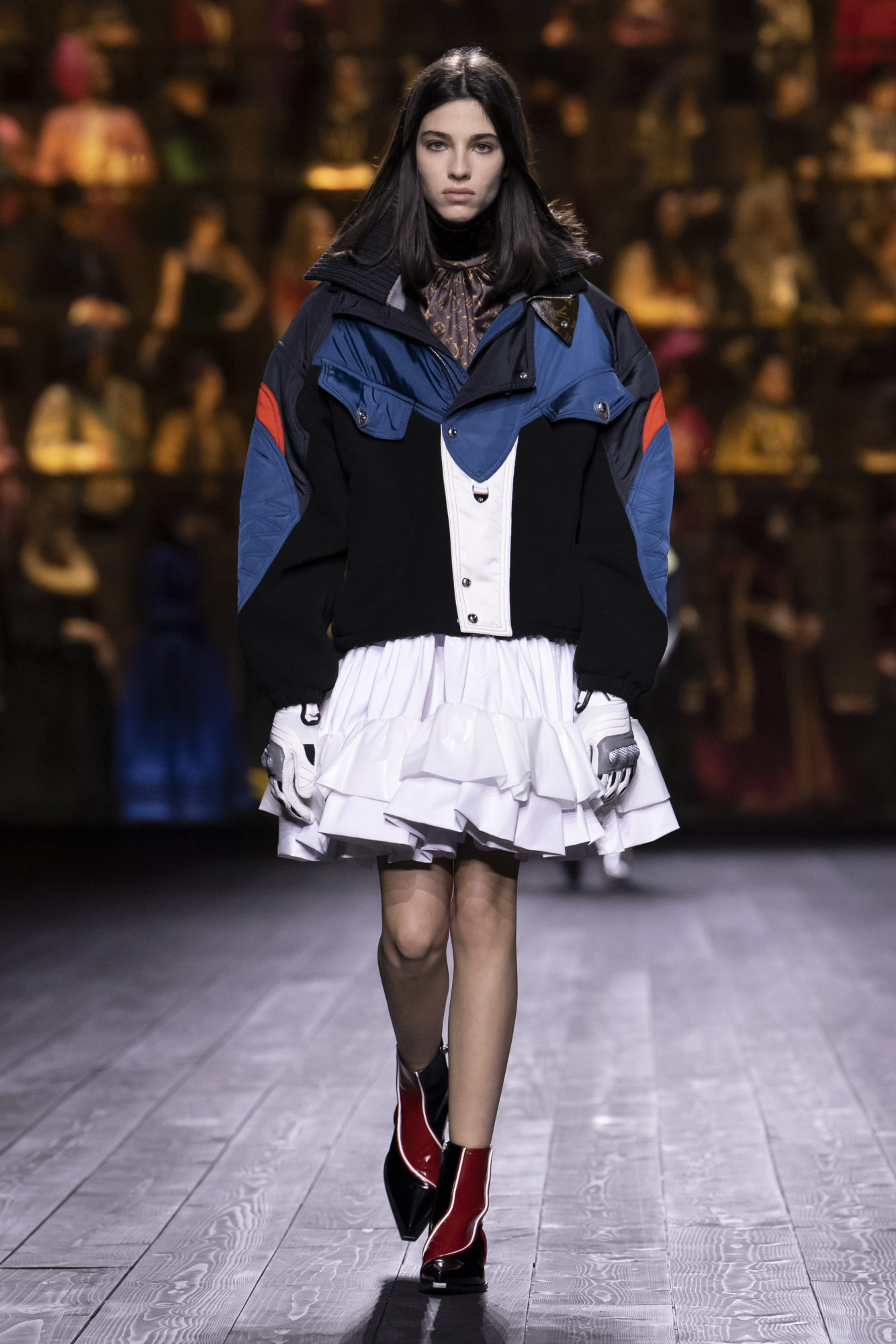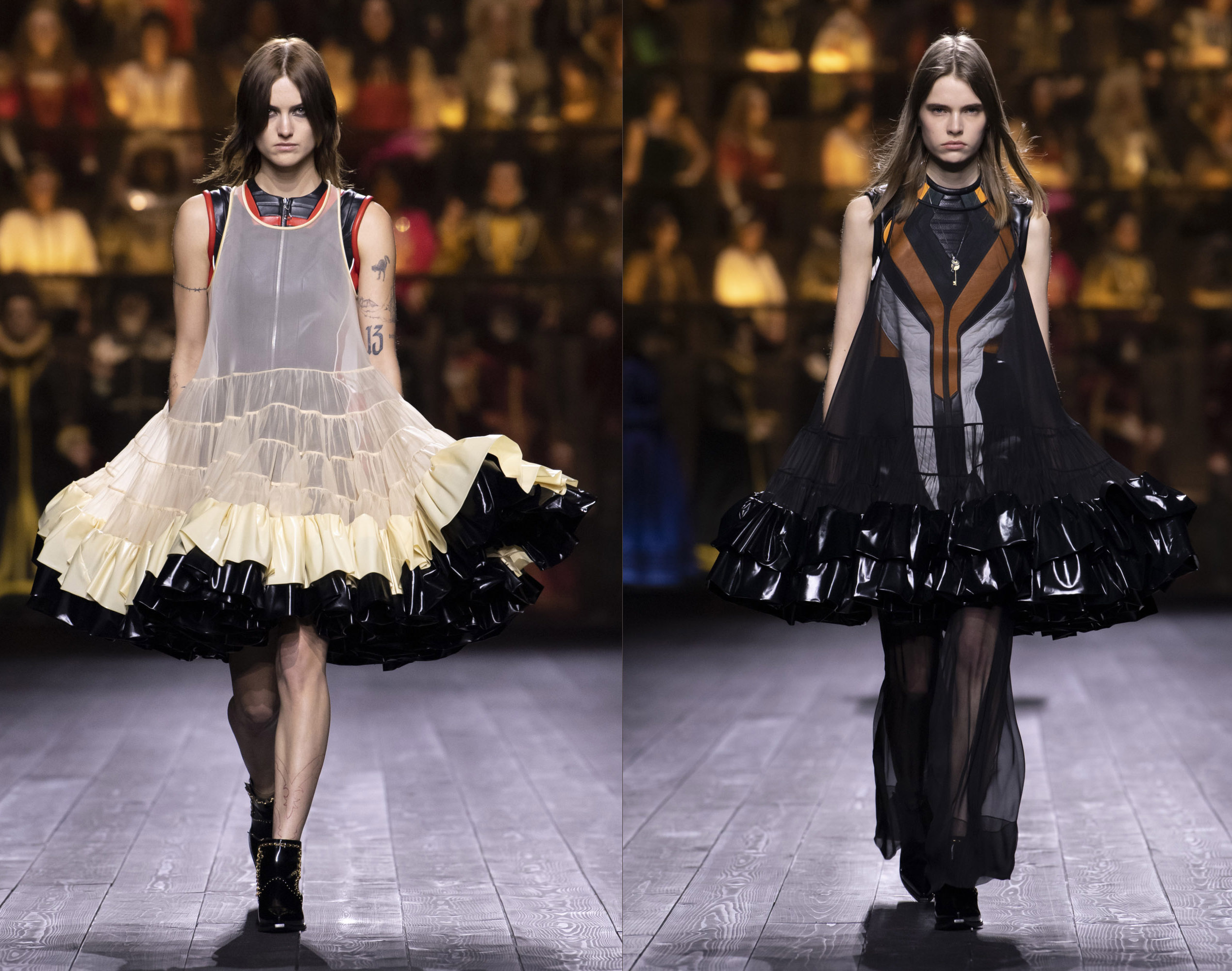 At Louis Vuitton, Nicolas Ghesquiere was thinking about time (probably because he's one of the chairs for the Met Gala this year, whose theme is... time!). There was a different sense of fluidity in his clothes, like an oversized parka worn with a layered, ruffled skirt whose energy felt very new in its sense of proportions and references. A sheer A-line dress in cream, worn with multiple ruffled layers underneath danced as the model walked, its apparent formality hidden from both the wearer and the viewer at first glance, and yet a different version, in black this time, worn with a pair of sheer black trousers underneath hinted at that most favorite fashion word "louche." Very Bianca Jagger in a not-obvious way.
Ghesquiere said, "I wanted to imagine what could happen if the past could look at us." But I couldn't stop thinking about how we're not sure there'll be a future for us to look into. These clothes will at least hold us over until the fall.