From left, looks by MAXIMILIAN and BALENCIAGA
GARAGE's Super Fantastic Fashion Week Roundup
All of our favorite looks from the Spring 2021 collections.
From left, looks by MAXIMILIAN and BALENCIAGA
And so comes to an end one of the strangest fashion seasons we've had in recent memory. The GARAGE team made their way through all the videos, all the lookbooks, all the livestreams, and picked their favorite looks, which we're delighted to share with you here. They're a perfect representation of the diverse styles dominating the runway this season, and the designers still making us believe in the transformative powers of fashion, from the established labels to the young upstarts just starting to make their name known.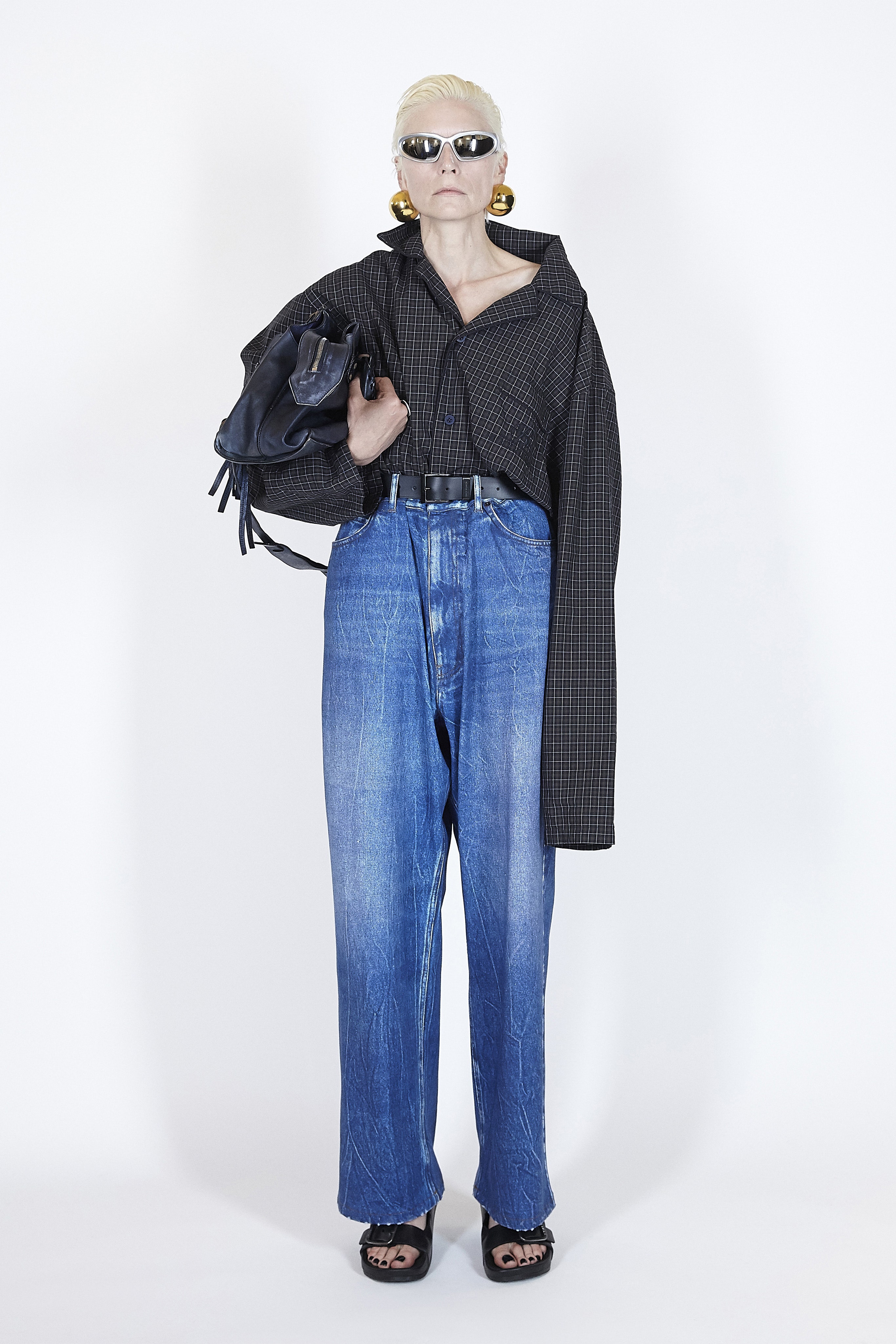 This Balenciaga look is, without a doubt, the most perfect look ever created. At first it seems approachable, easy, and simplistic—entirely ordinary. But what made me fall in love is its camouflaged complexity; the carefully considered demi-tuck, the elegance and absurdity in the proportions of the sleeves, the clinically cut denim so specific that I'm not sure we have a name for the fit yet in the contemporary fashion vernacular. All around all-star. –Gabriella Karefa-Johnson, Fashion Director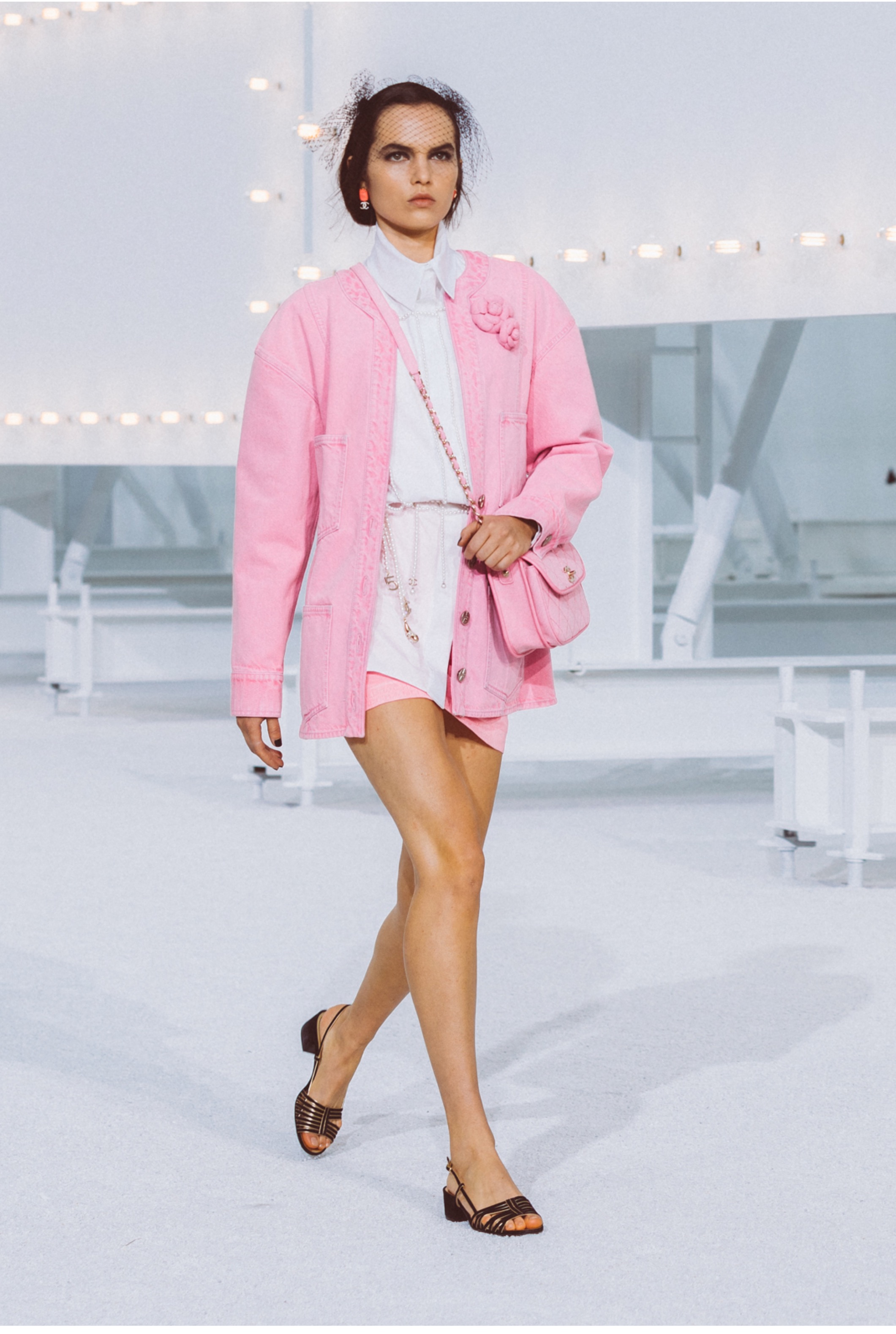 Virginie Viard explored a version of casual dressing at Chanel, but it was this bubblegum pink moment that spoke loudest to me. It's a very, very elevated version of something one might have worn to go to the mall in the early '90s, yet nothing about it exactly screams Mall Madness. A body-con pink skirt that's almost hidden underneath an oversized white button-down shirt, topped off with the classic Chanel jacket that hits mid-thigh, done in deliciously pink denim. It's already perfect before we even get to the matching quilted bad slung across the chest, then it's just absolute heaven. –Laia Garcia-Furtado, Features Director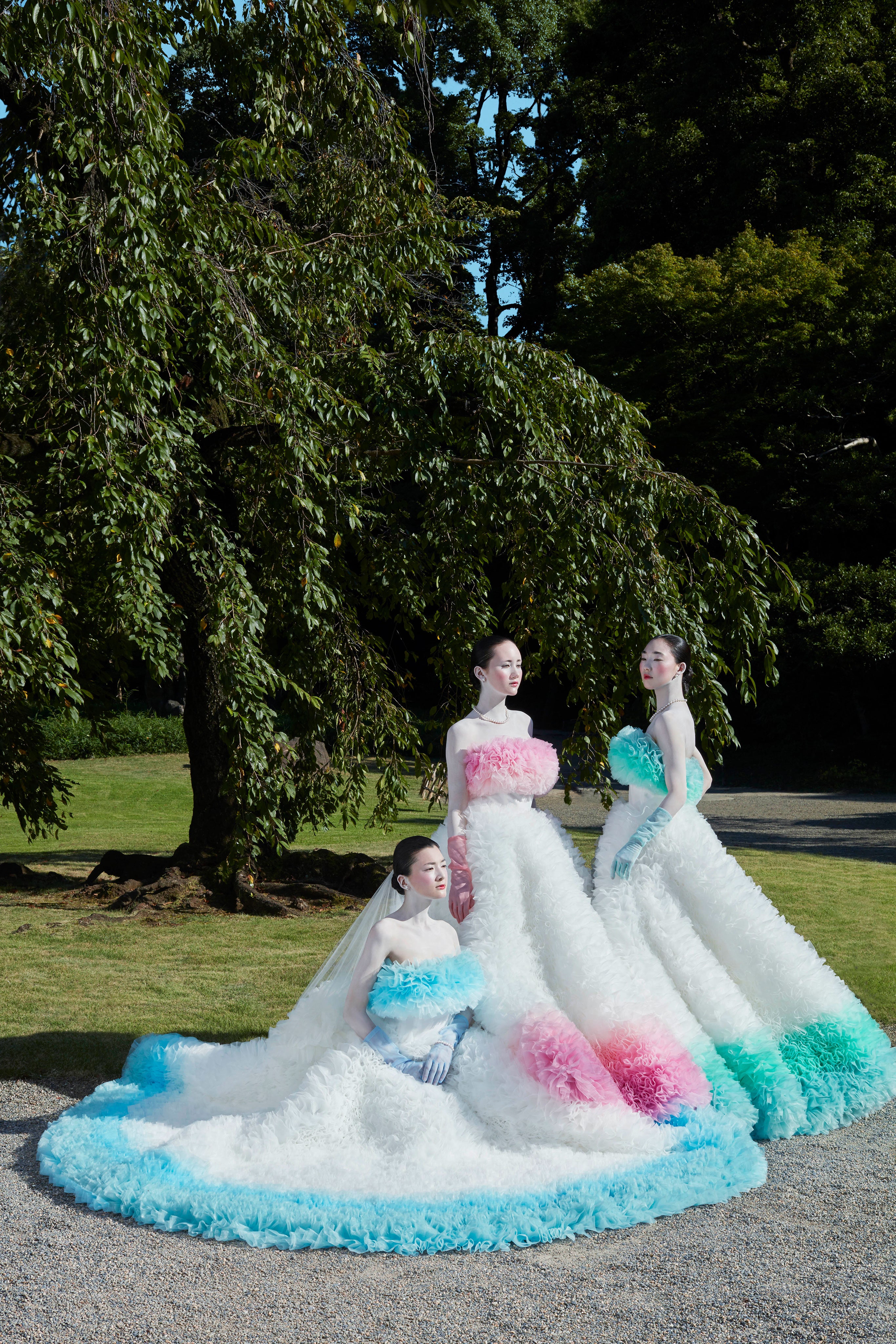 Tomo Koizumi's opening triple-look was the first thing to make me gasp this season (lol the DRAMA). The simplicity of shape, the volume and scale of the skirts, along with the genius idea to turn his signature ruching into an ombré neckline and trim is what did it for me. These dresses are a gigantic step forward for the young brand as he navigates his way from breakout wunderkind to established fashion regular. –Jared Ellner, Associate Fashion Editor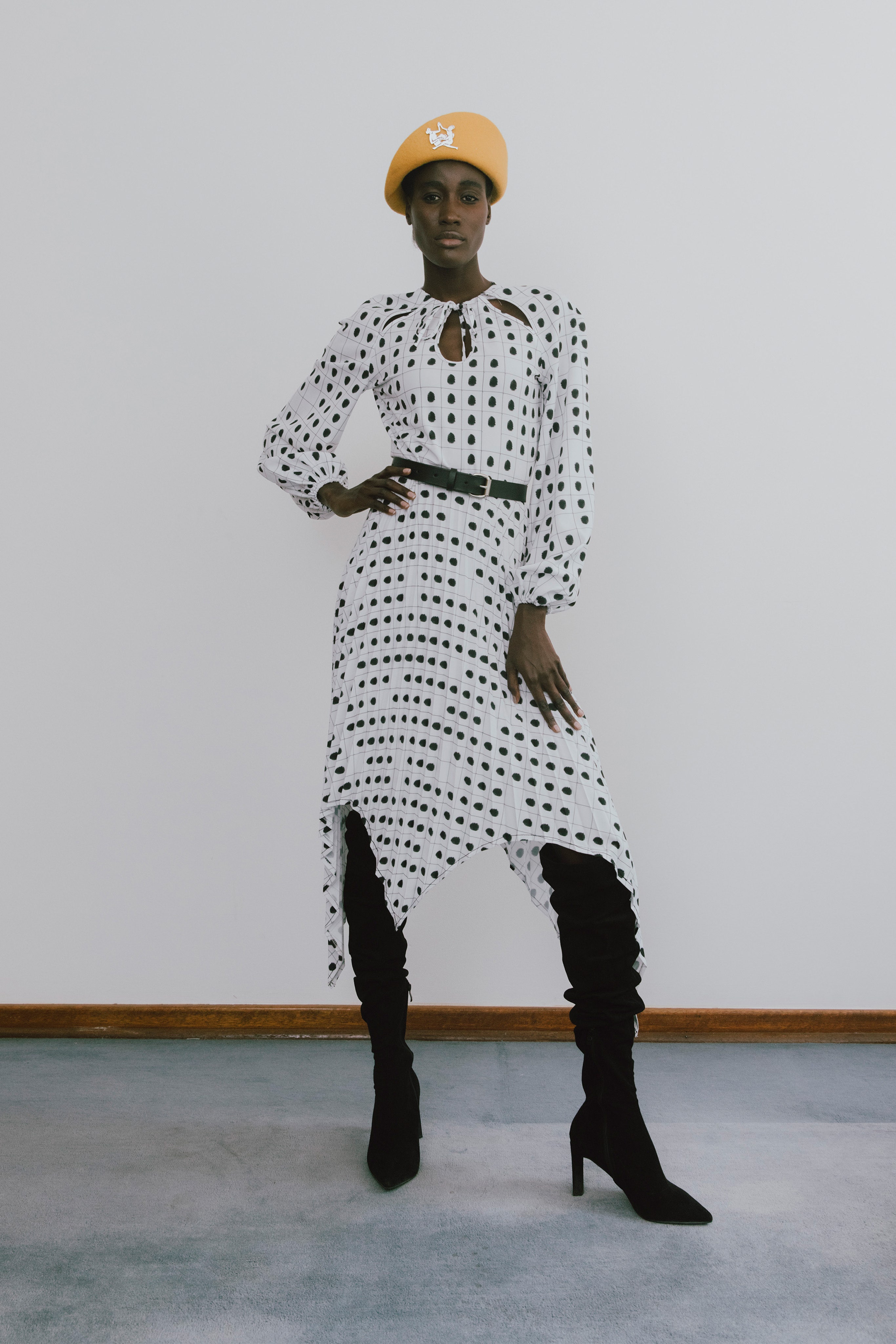 After reading Jonathan Ancer's Betrayal: The Secret Lives of Apartheid Spies, designer Thebe Magugu crafted his Spring 2021 around the concept of political espionage (!), keying in historical references to rewrite old notions of stealth-dressing. At first glance, it looks like this sheer, keyhole-neckline dress is covered in polka dots, but upon closer inspection, they're the fingerprints of Olivia Anne Marie Forsyth, a confessed spy (and eventual double agent) for the apartheid government in Magugu's native South Africa. In an era when everyone is being watched at all times, maybe, for once, it would feel nice to do the watching. –Eileen Cartter, Social & Culture Editor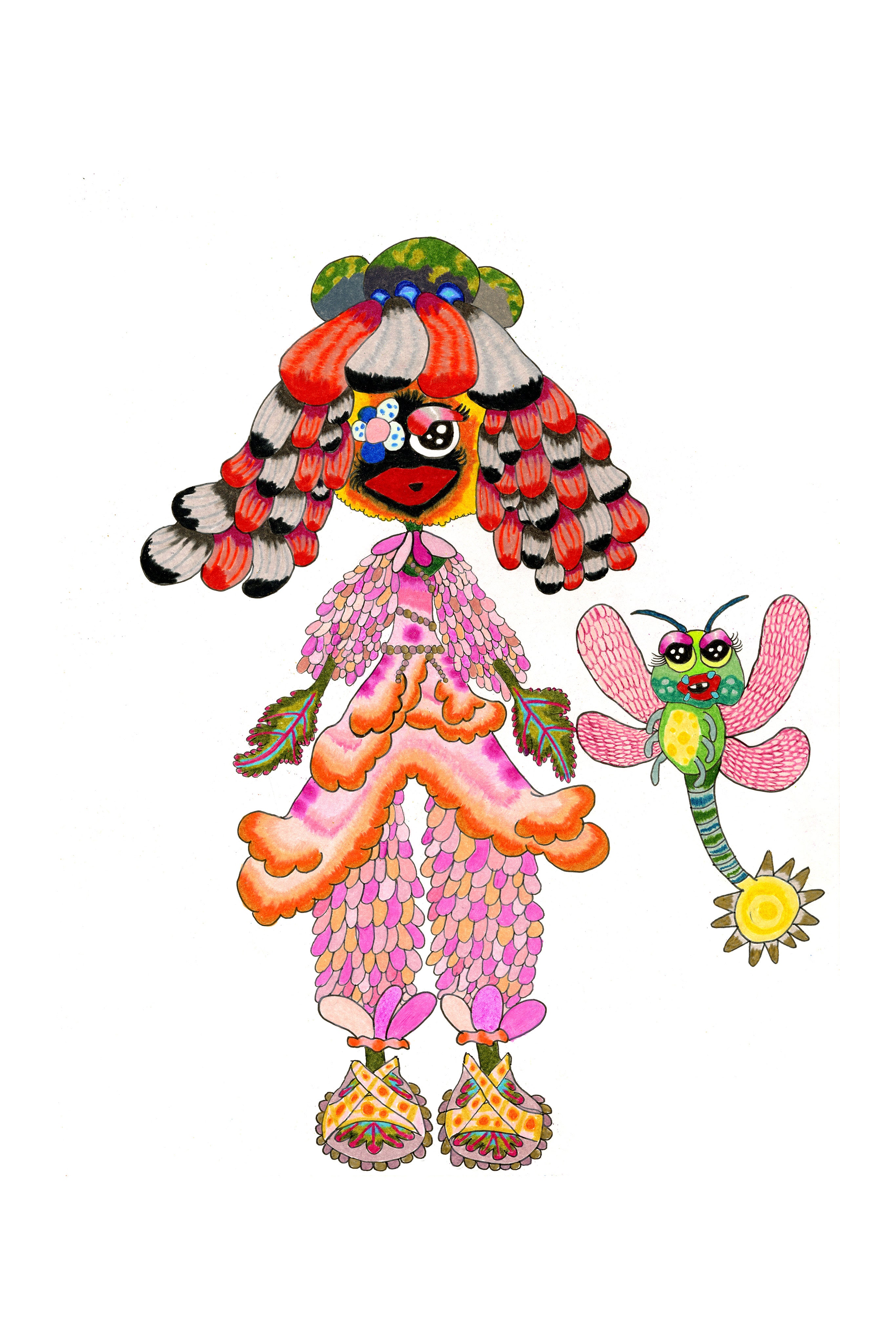 Right now, I am into anything you can wear while gardening—I'm interested in how fashion storytelling can help us to imagine things that seem impossible and that don't yet exist, to direct our attention and love back to the land, back to more sustainable ways of living and interacting with each other and the planet. Judging from the spring collection, it's obvious that the designer Collina Strada and I are perfectly aligned. This look, realized in collaboration with the artist Sean-Kierre Lyons, is a perfect representation of Strada's "all things are interconnected" ethos. What better look for harvesting my vegetables? –Ashley Tyner, Special Projects Editor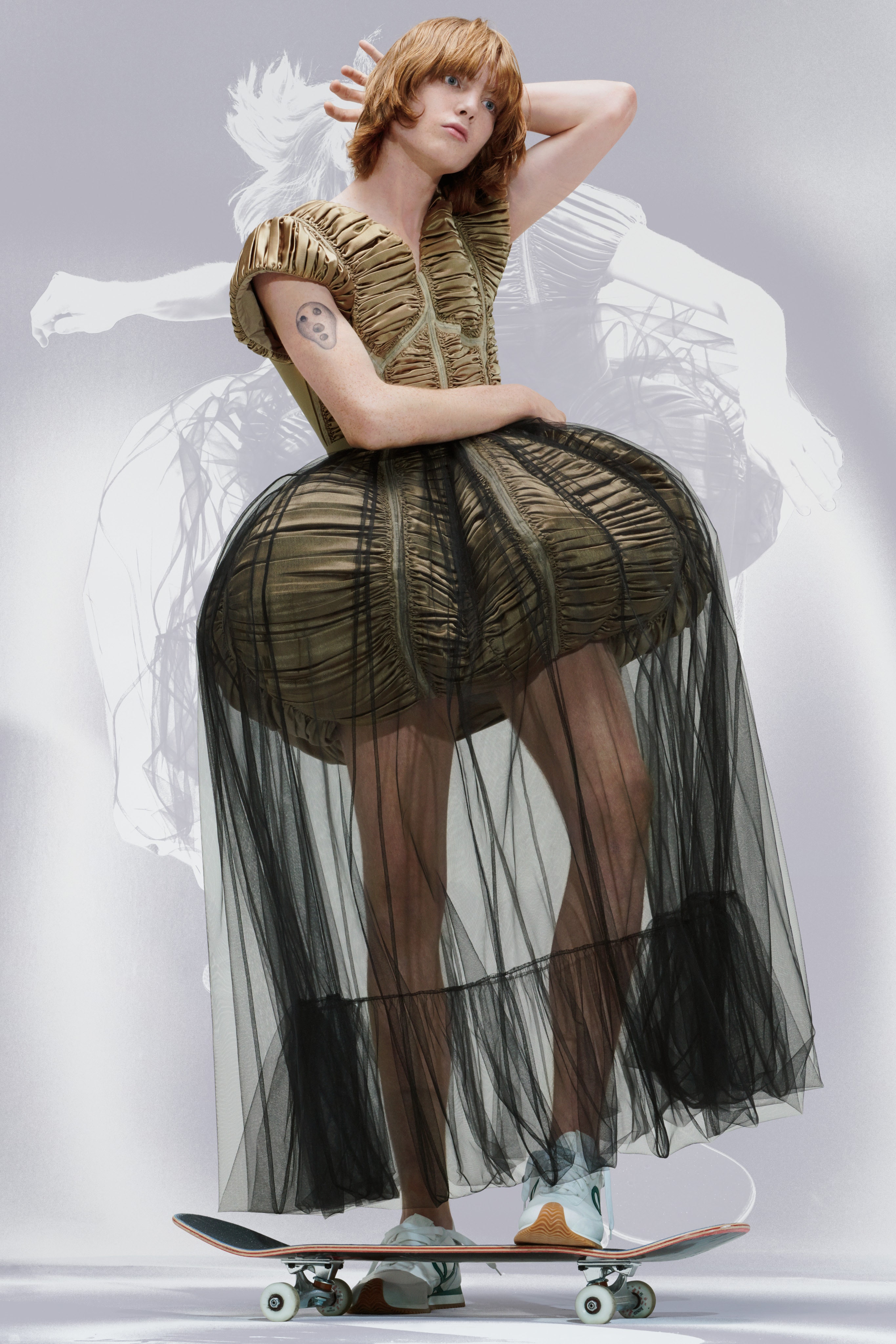 Jonathan Anderson is the king of the oversized, extremely voluminous silhouettes—and his vision at Loewe made me feel joyful. I like the idea that one can wear an intricately pleated, mushroom-shaped dress under a black ruffled slip skirt with sneakers to ride your skateboard around the city. There's freedom in volume! –Sophie Kemp, Editorial Assistant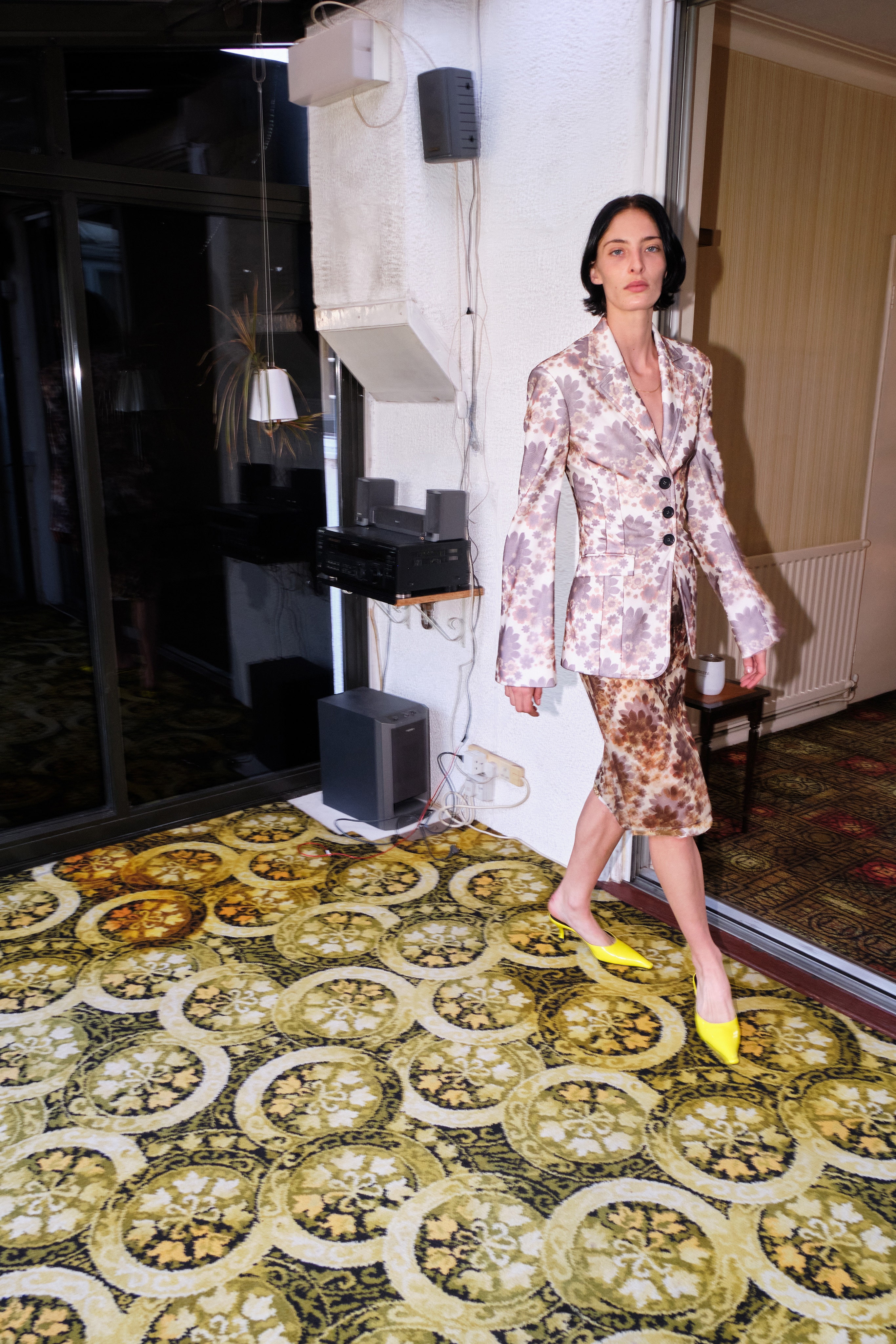 Like many of us in these isolated times, I have become one with my house. I'm really tickled by the idea of dressing like my couch, blending into my curtains. This Kwaidan Editions look feels like Francesca Woodman—the 1970s upholstery-style print just does it for me. –Gabriella Karefa-Johnson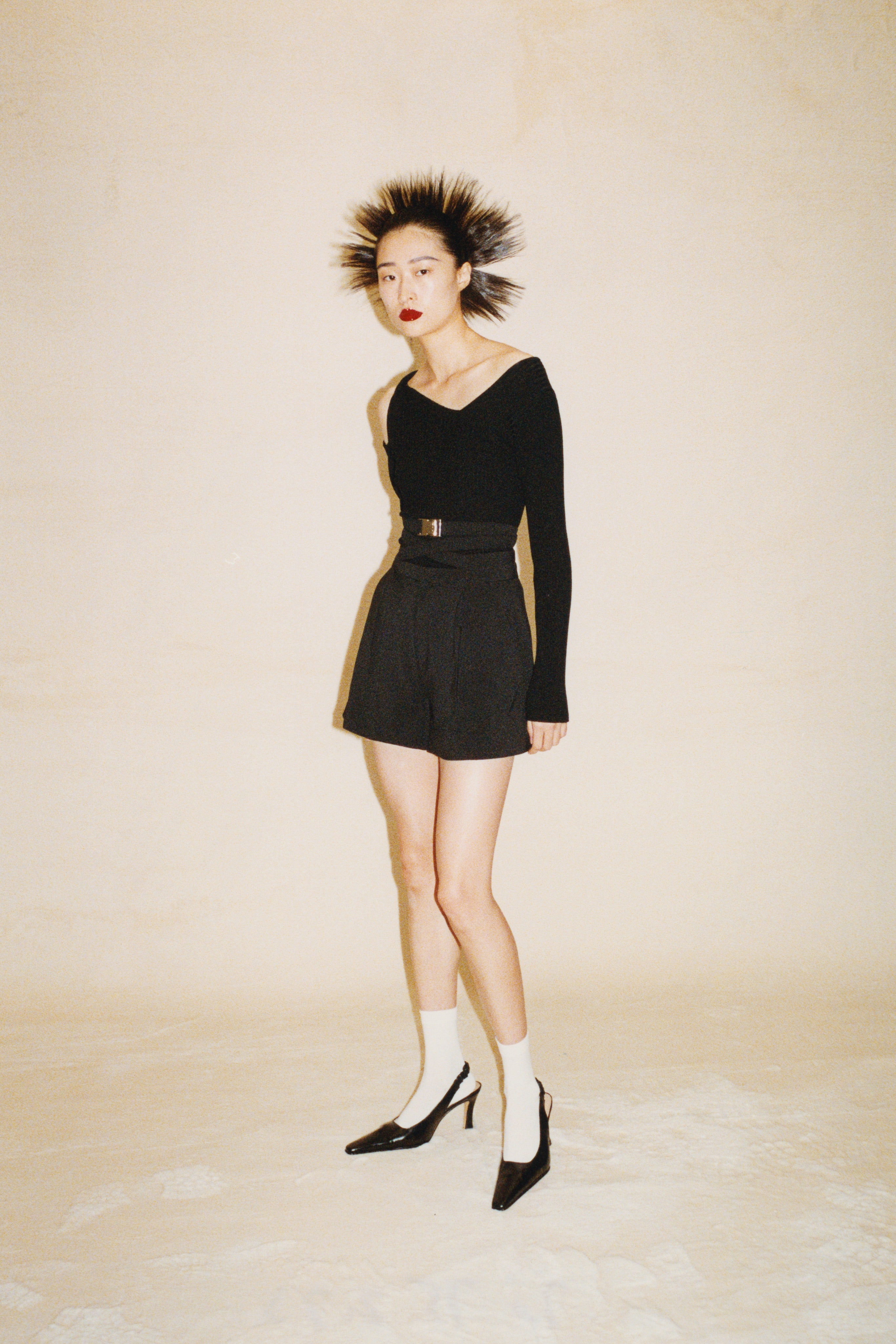 I'll admit it was the little black slingbacks worn with white ankle socks that first made me fall in love with Calvin Luo's spring collection. As far as first looks go, few this season made such an impact on me like the assured simplicity and confidence embedded in an asymmetric black top worn with little shorts. There were other things I loved in this collection: an oversized denim jacket with slits at the shoulders, a floral jumper worn over a princess-sleeved dickie, the powerful lip worn throughout; but this was the one I coming back to again and again. –Laia Garcia-Furtado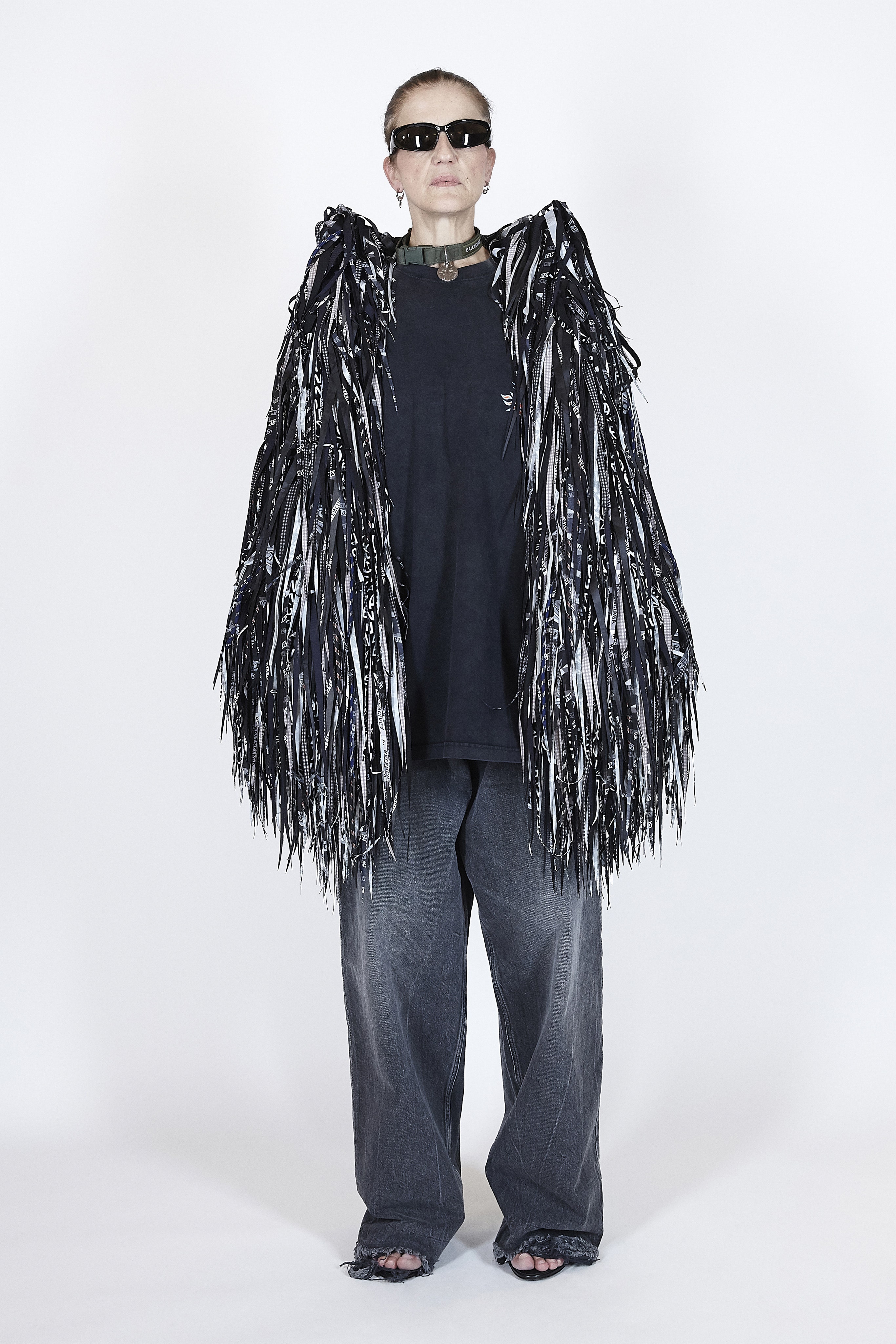 I feel like there is no better environment for Demna Gvasalia to design than under than a complete apocalypse. His latest for Balenciaga was deeply messed-up and disquieting on all fronts, and this look is the kind of Slavic-gutterpunk-ripping-cigs-in-front-of-a-hardcore-show-with-a-bruised-lip-vibe that I crave so badly. The jacket made up of hundreds (thousands?) of shoelaces are kind of a 2020 version of shoving a safety pin up your nose—just with more glamour. –Sophie Kemp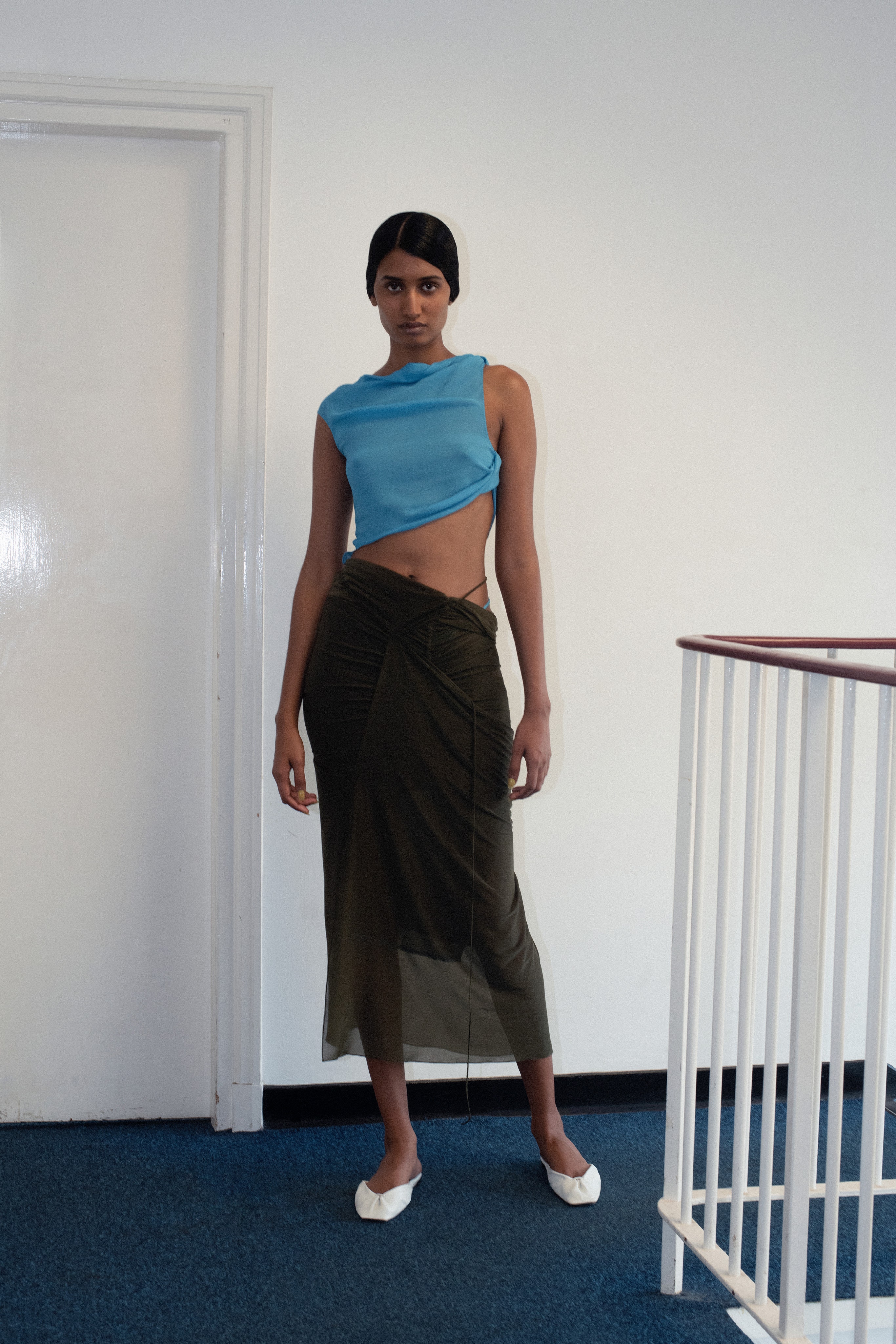 Continuing my current gardening passion, the designer Supriya Lele delivers another perfect look for my favorite outdoor activity, though this one is a bit more sensual. It's very midnight garden. Secret garden. Garden of pleasure. I am my own garden. –Ashley Tyner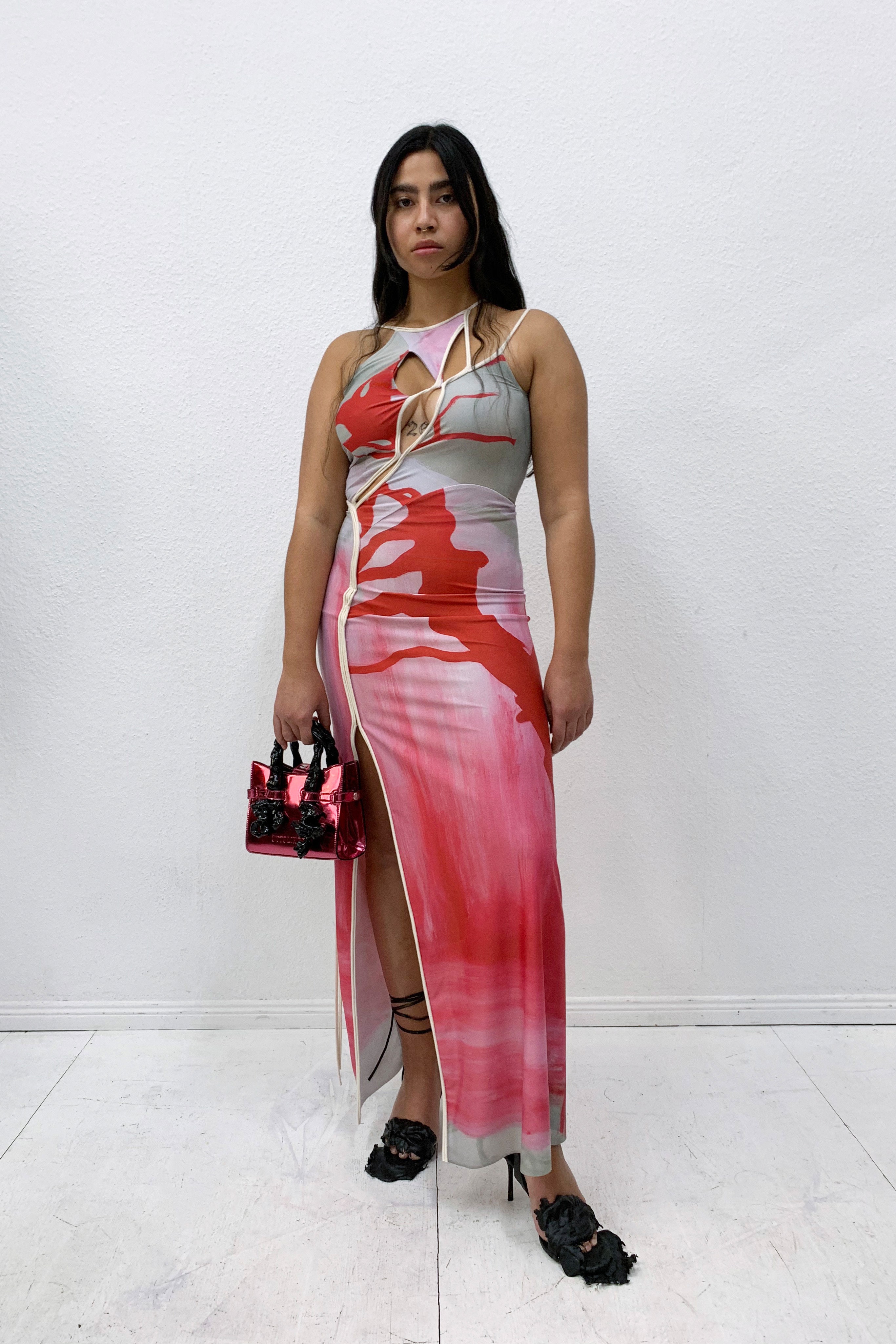 I can't imagine it's an easy feat to make clothes that somehow feel both sexy and comforting, but Ottolinger's clothes feel that way to me. There's this strapped-in quality, like being swaddled with techno fabrics fastened with string, but also a looseness—this easy, cool sex appeal that can only accompany a pair of floppy fabric heels. This look makes me want to dress like a downtown raver-hacker-superhero. –Eileen Cartter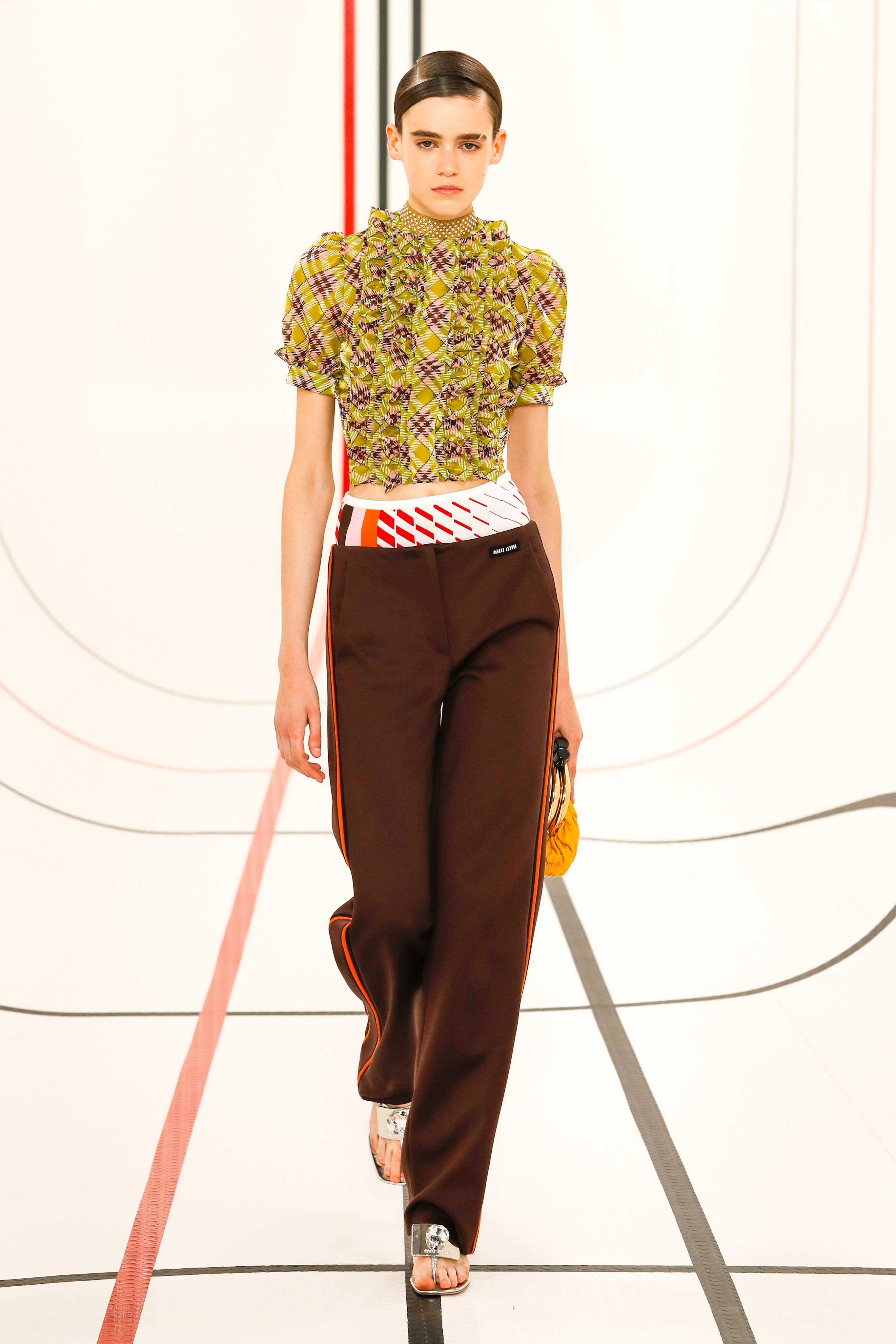 Look, I will always be here for sagging trousers; one of the many stylistic innovations that Black kids brought the world. This entire collection was a knockout—and looked and felt just like the Miu Miu I fell in love with as a teenager. –Gabriella-Karefa Johnson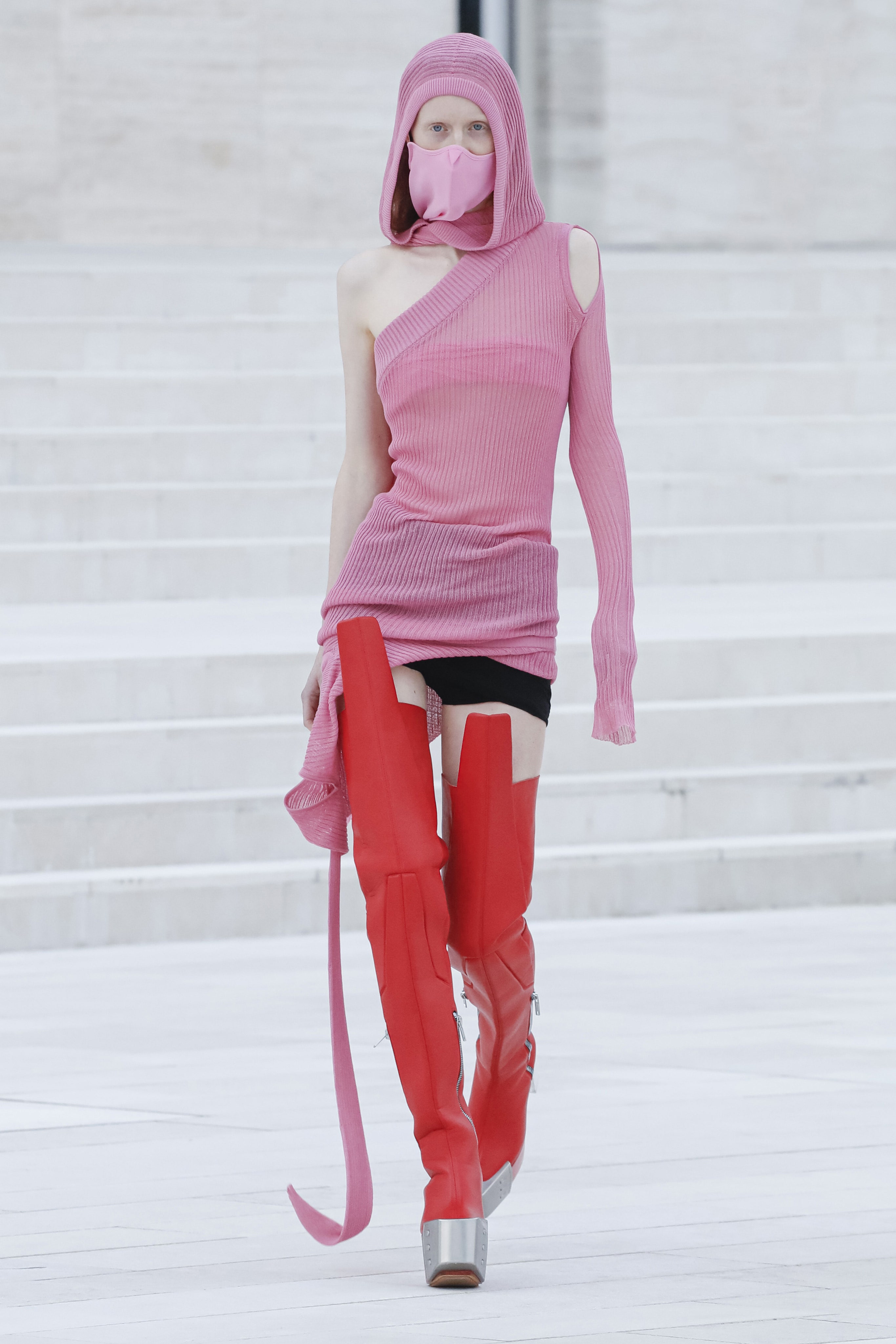 Sometimes a look so perfectly captures your inner self that there's really not much to say, which is how I feel about the second look in Rick Owens's spring collection. I would very much like to be this princess warrior wearing a pair of red, geometric-details thigh-high boots with an asymmetric sheer pink knit. It's me in a look. She is her and I am she. I love. –Jared Ellner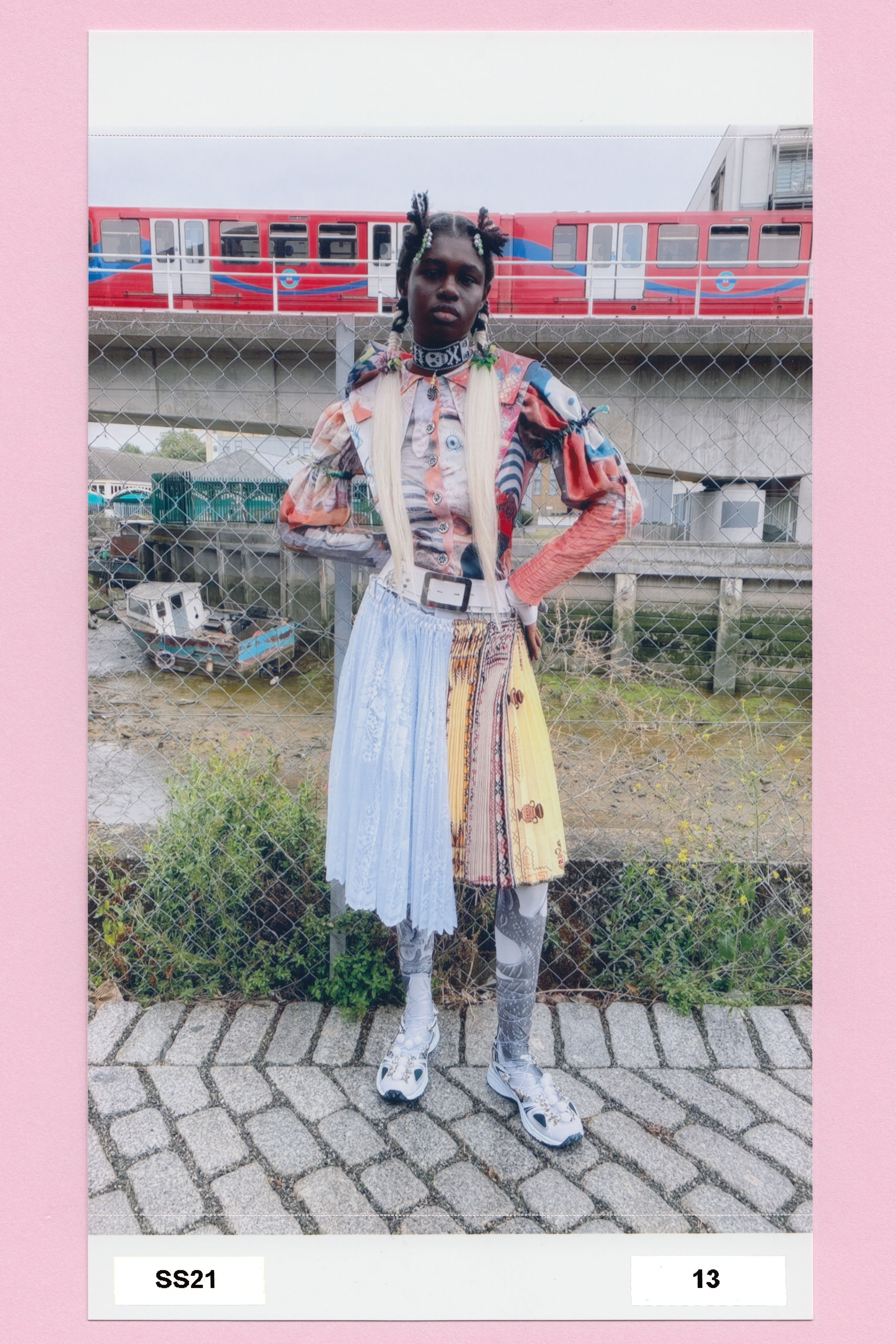 At Chopova Lowena, Emma Chopova and Laura Lowena take traditional Bulgarian dress, put it through a metaphorical paper shredder, and arrange the pieces back together as clothes that are ultra-maximalist, and sustainable to boot! I love the aggressive pattern-clashes in this look: the skirt pieced together from different fabrics attached with ski-clips to their trademark leather waistbands, the grey patterned tights, and a red-and-blue illustrated harlequin shirt. The whole thing feels very kindergarten to me—always a huge plus in my book. –Sophie Kemp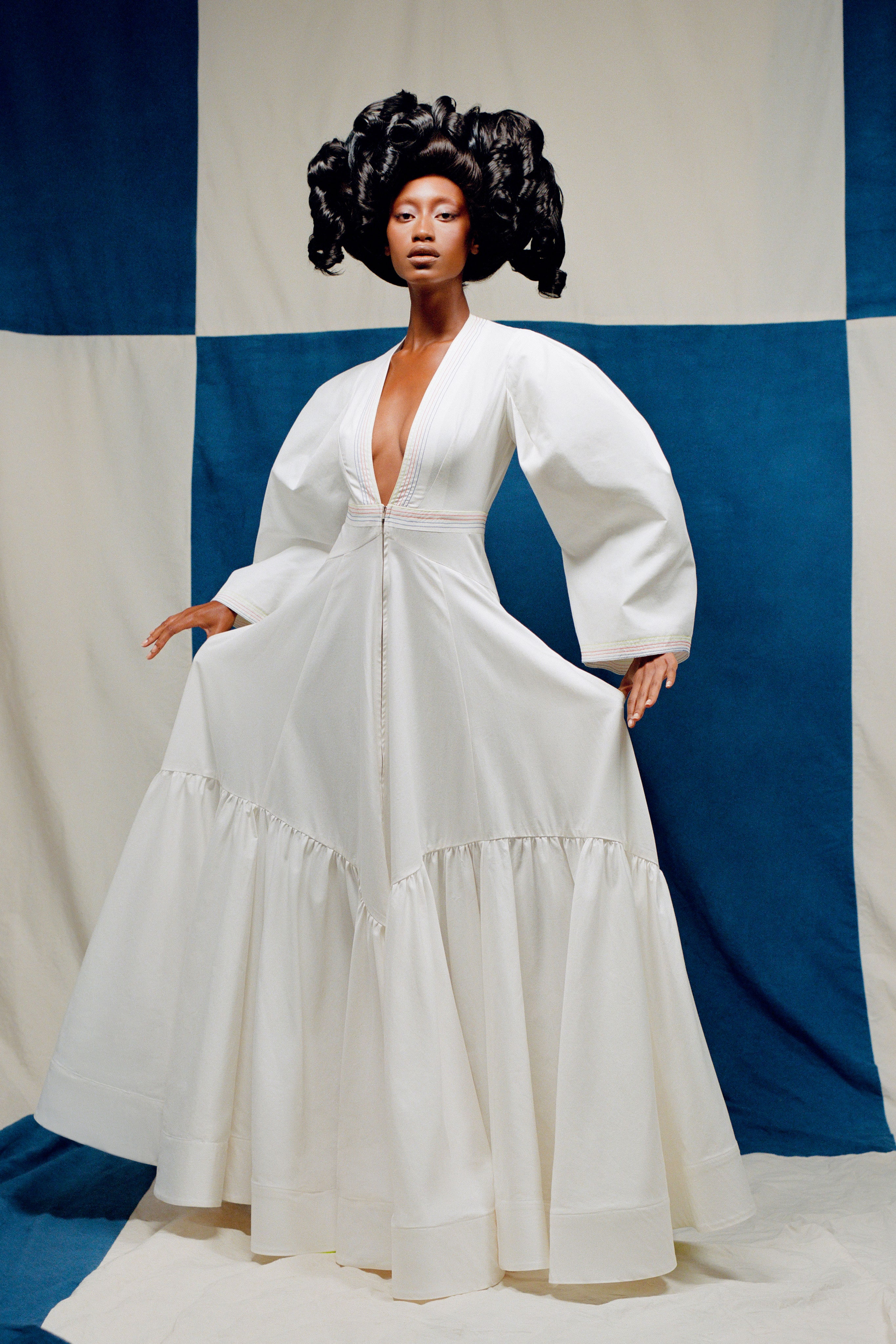 The latest Christopher John Rogers collection is joyous—all color and big shapes and gemstones—but this white gown is my grail. The swooped sleeves, deep-V neckline, prairie detailing, a gentle rainbow stitch. After my own personal turn towards pseudo-utilitarian streetwear dressing during quarantine, the mere thought of a dress like this, of a garment so grand and airy, is a strange delight. Why does this make me want to get married in a meadow? Maybe another time. –Eileen Cartter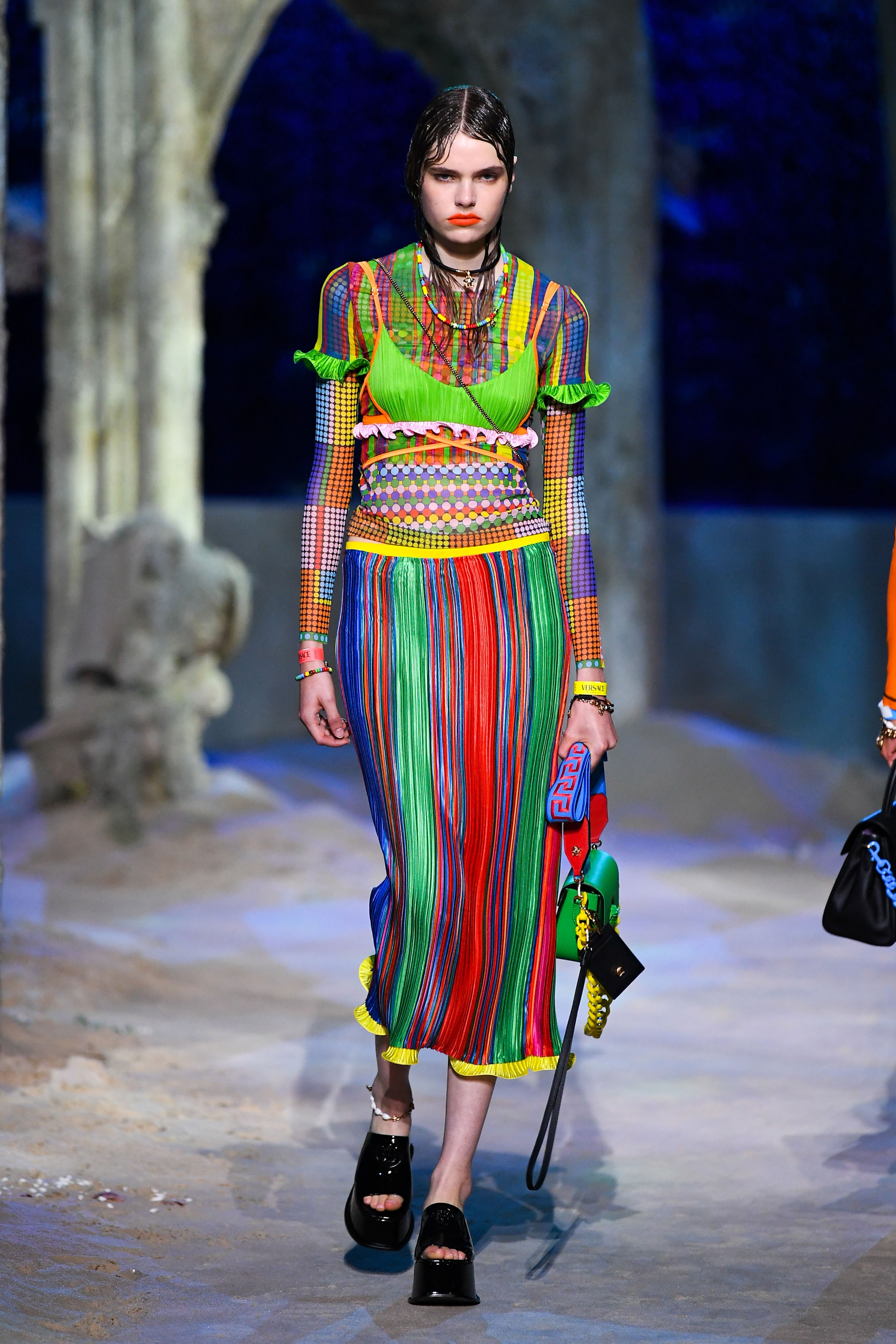 It was very hard to pick a favorite look from Versace's spring collection, it was such an over-the-top explosion of color and texture that captures the innermost fashion desires I didn't even know I had. Minimal silhouettes in candy-raver hues are exactly what my soul requires. I could even be persuaded to wear a bikini top over a long sleeved top; that's how much I love this! The black patent platform sandals straight out of my middle school dreams are just the cherry on top. Bravo Donatella, Bravo. –Laia Garcia-Furtado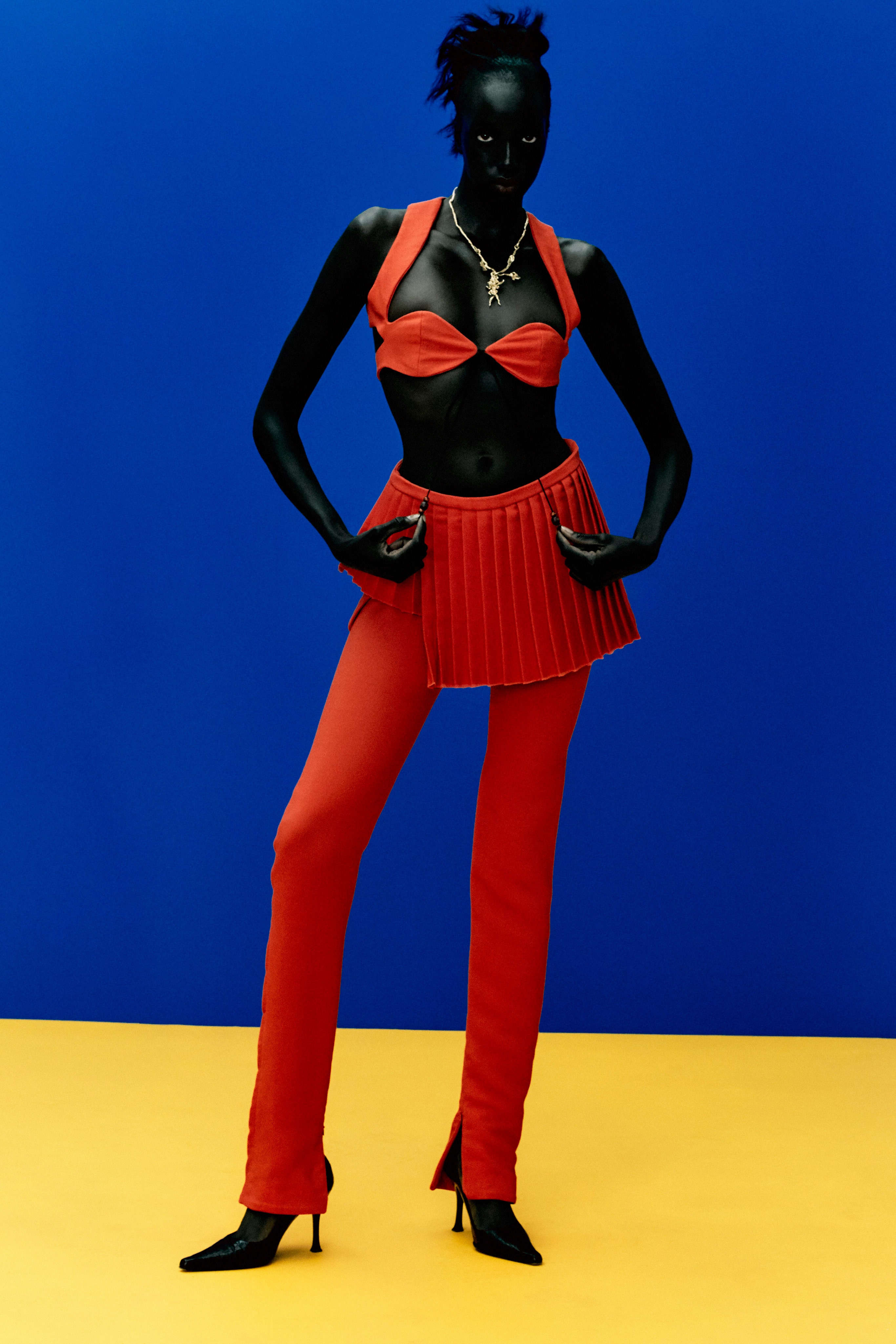 Maximilian Davis's Fashion East debut with his label Maximilian was a highlight this season—his use of color is absolutely phenomenal. This look is the ultimate combination of boldness, sensuality, and streamlined tailoring from a collection that cements the young London-based designer's place as a breakout talent. And as if that wasn't enough, the portraits that make up his lookbook—photographed by Rafael Pavarotti—are indeed, works of art. –Jared Ellner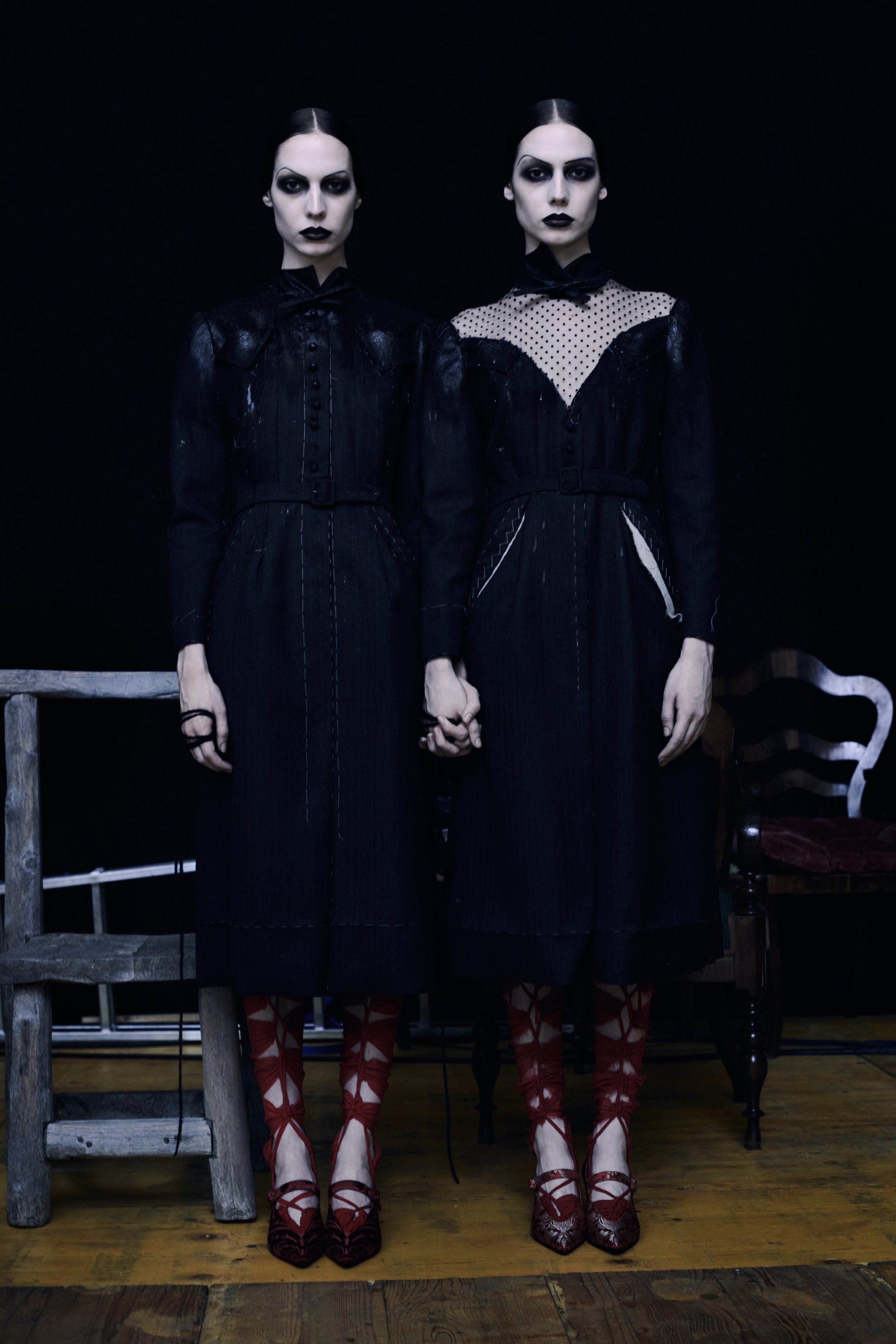 I am a John Galliano at Maison Margiela stan. It is what it is. These aren't even my favorite looks in the collection, but the makeup and styling of these goth goddesses immediately conjured the reanimated, ballet-dancing corpse bride from My Chemical Romance's "Helena" music video, and that really is just the best kind of nostalgia. –Gabriella Karefa-Johnson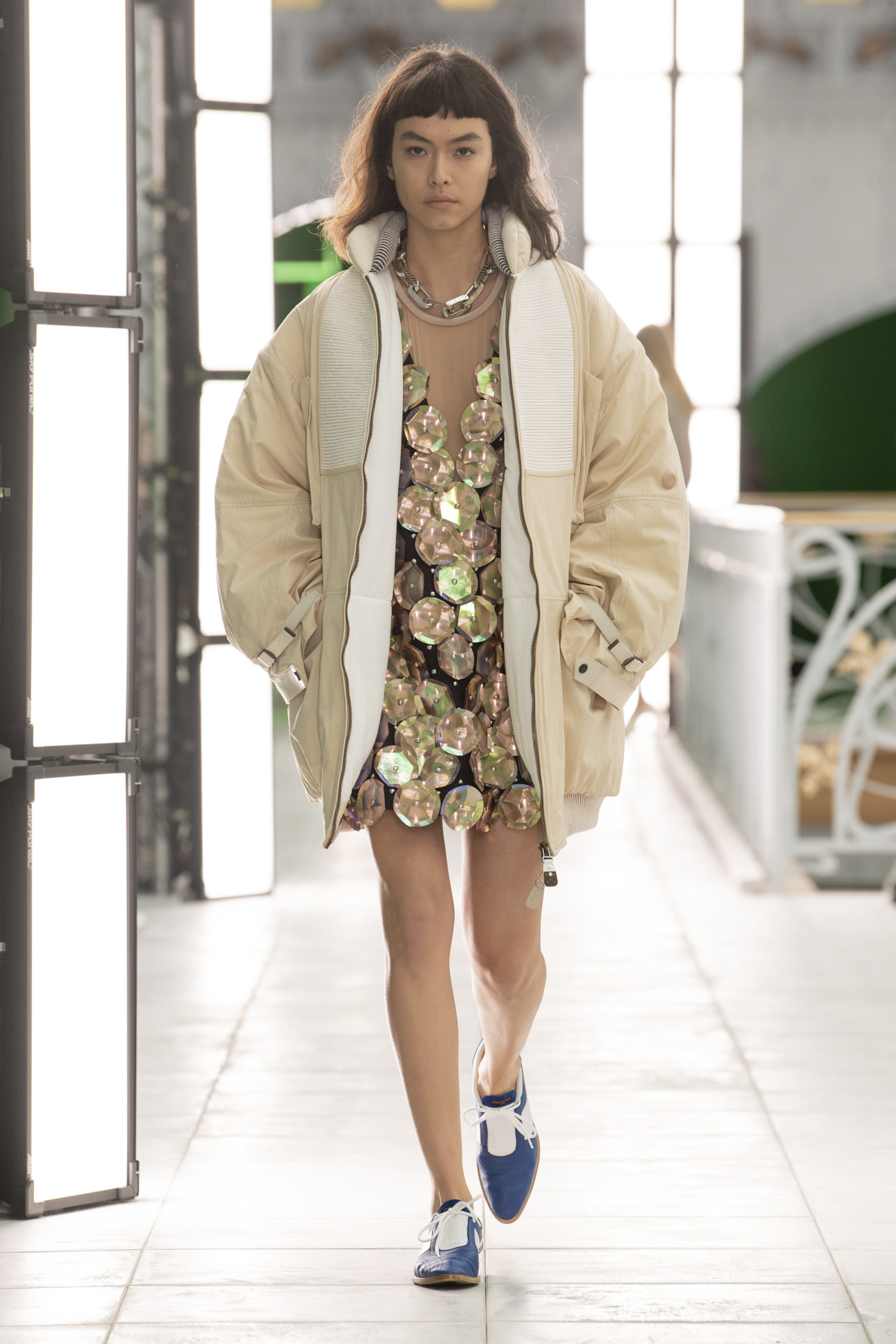 At Louis Vuitton, Nicolas Ghesquiére sent out this sparkly disco pearl mini worn with a gigantic puff coat and sneaker-meets-flat derby shoes. It's so low-key extra, just the way I like everything to be. –Laia Garcia-Furtado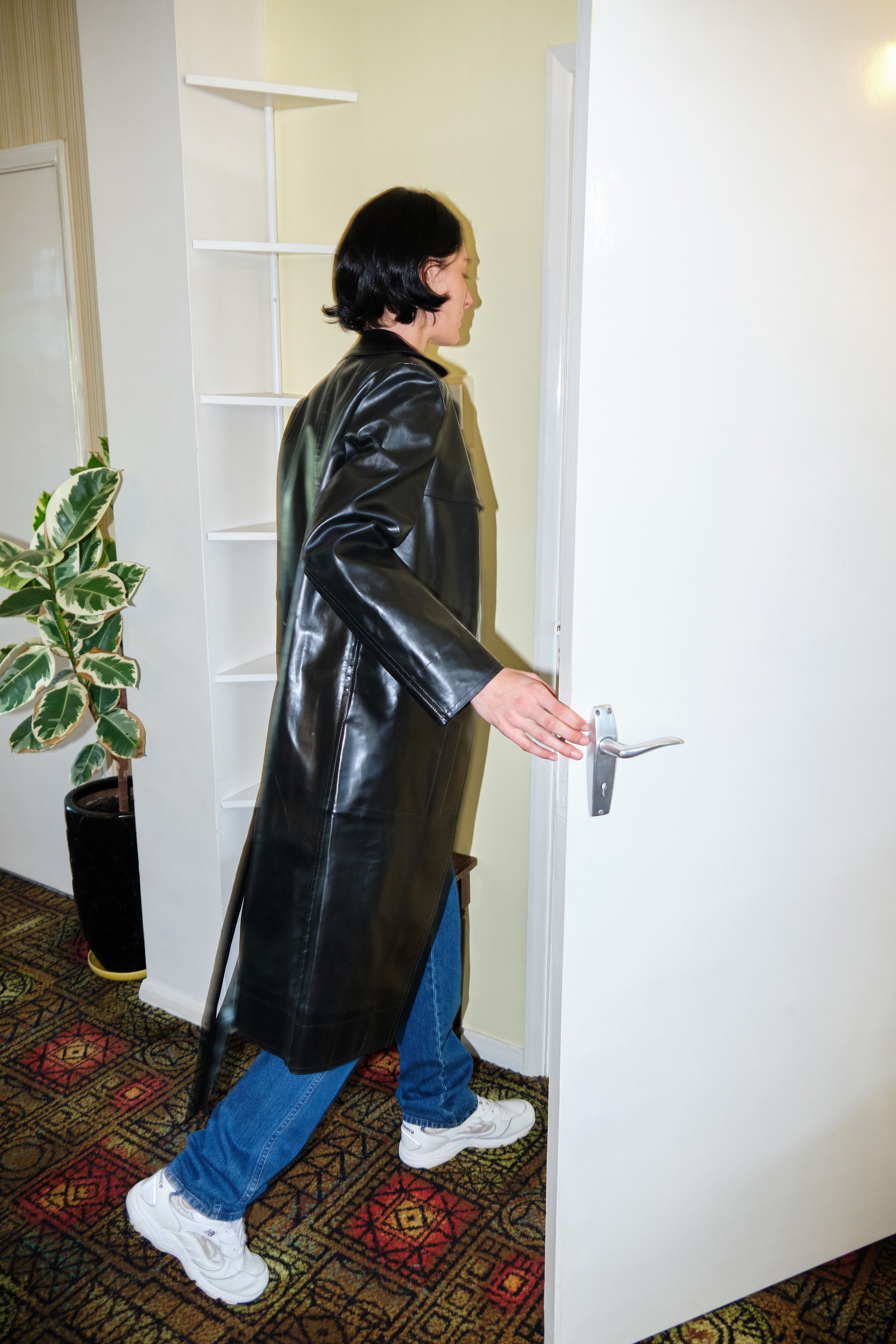 As much as fashion can be about imaginative escape, sometimes when you see a look that is just the better version of what you already wear to walk through the park to the 24-hour grocery store, it can stop you in your tracks. I want to wear a slick, boxy black leather trench from the latest Kwaidan Editions collection to the deli (maybe even on top of their black latex turtleneck tucked into blue jeans, à la Maggie Cheung), but I also somehow want to return home to my empty, '70s-linoleum-tiled-floors Hudson Valley woodland vacation home and put on a floral hostess set to serve dinner to no one. –Eileen Cartter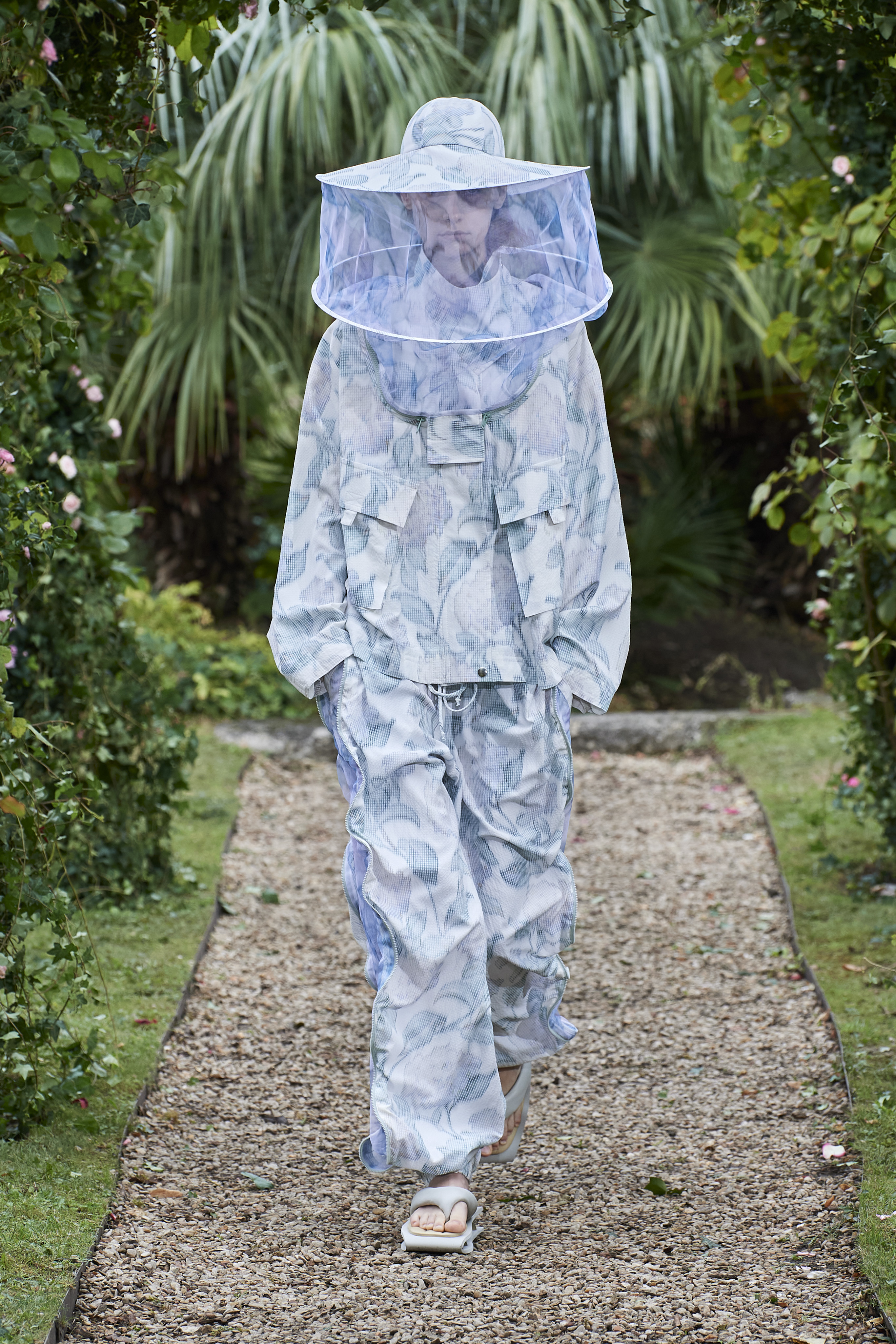 In honor of the visionary and pioneer designer Kenzo Takada—may he rest in peace—who passed away earlier this week, a selection from Felipe Oliveira Baptista's new vision for Kenzo. This look reminds us that sometimes you need protection from the elements in order to feel safe and do your work, but boundaries can be beautiful! –Ashley Tyner
Miu Miu's spring collection was one of those rare moments where a luxury fashion brand perfectly speaks to what both consumers and fashion editors truly want right now. It's extravagant, yet simple; a clear throwback while being forward-thinking. And you know? It's just a fucking cute wardrobe for the modern fashion girl. Look 52 is really it for me—'90s minimalism meets Cher Horowitz meets streetwear Barbie. I'm obsessed! –Jared Ellner