Guadalupe Maravilla, Walk on Water Performance, Queens Museum, Queens, New York, 2019. Courtesy of Guadalupe Maravilla and P·P·O·W, New York
Guadalupe Maravilla Washes Off Trauma Through Sound Baths
After a series of sessions at P.P.O.W. gallery, the artist is organizing sound baths at a Brooklyn church for those who have experienced ICE detention.
Guadalupe Maravilla, Walk on Water Performance, Queens Museum, Queens, New York, 2019. Courtesy of Guadalupe Maravilla and P·P·O·W, New York
The rule for El Salvadoran children's game tripa chuca (translated as "dirty intestines") is simple: each of two players draws a line across a piece of paper paper based on a numerical order to reach their destination. True to its name, the game encourages a collaboration between two separate hands to draw a serpentine labyrinth, both committed to following numbers' given sequence and applying personality to what lines can visually yield. Maneuvering between gradually muddling lines may get challenging; however, touching the other's line is off-limits.
The other player in the murals covering New York-based artist Guadalupe Maravilla's installation, Disease Thrower #4, at P.P.O.W Gallery is an undocumented 20-year-old restaurant worker. "A part of the work is that I never know what the wall drawings will look like," says Maravilla, who collaborates with individuals experiencing the trauma of being undocumented for his shrine-like installations adorned with replicas of body parts and woven sculptures. Trauma is not a foreign territory for the artist, who left El Salvador alone at age of eight and reached the United States through Honduras and Mexico. Recently, he has been gathering survivors of trauma around his art for a healing method that the 43-year-old discovered at another traumatic period. Sound bath therapy found Maravilla during his chemotherapy treatment for intestinal cancer several years ago. "I was extremely dehydrated and burnt inside from all the radiation I was receiving," he remembers about going to his first sound bath right after hospital. "When they made me sit next to a gong player, I wasn't even able to move properly." But when he got up, the pain had lessened, if not fully gone. He had previously worked with healers from China and Tibet, but it was the remedial potential of melodies that helped the artist wash off physical and emotional burdens of illness.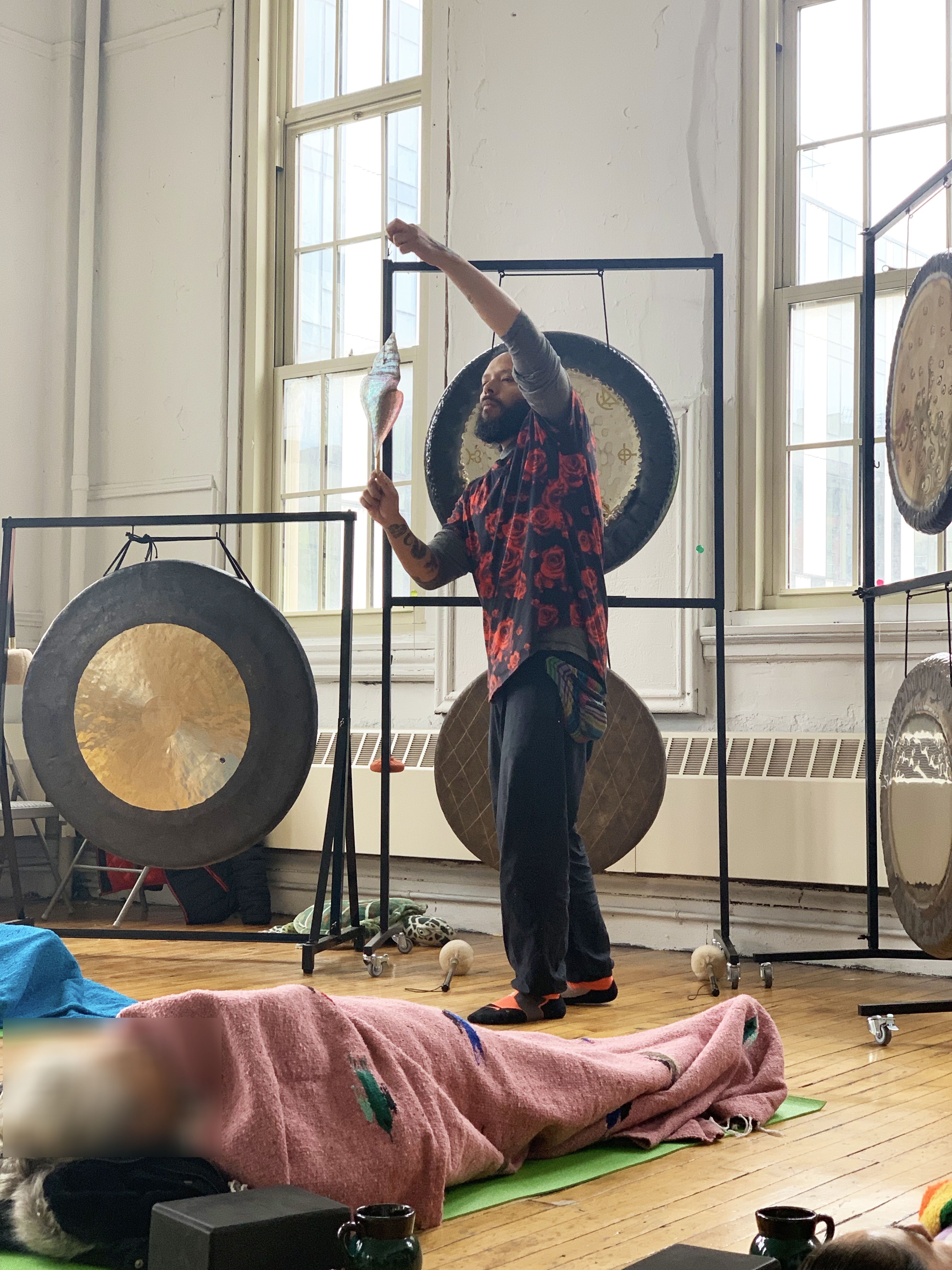 "If untreated, trauma manifests itself in serious ways, not necessarily cancer but depression or addiction," believes Maravilla who in recent years learned to play the gong and bell to orchestrate his own sessions. Audiences at ICA Miami and the Queens Museum have so far unwound under the artist's soothing sound bath performances, which incorporate disarming echoes into his mixed media performances. As operatic as meditative, Maravilla's hybrid performances function as theatrical retellings of his journey into United States. From a Mexican gothic electro-drama band to a masked immigrant vampire with operatic chords, phantasmagorical elements dot Maravilla's personal border crossing tale. He coats reality with otherworldly mythologies, challenging the immigrant's trauma with comfort of story-telling. "Fiction and truth are intertwined," explains the artists in his staging of a migration journey that is his as much as anyone else's. A coyote, which escorts the eight-year-old Maravilla between two countries, appears both as a wild canine and a smuggler of people over the border—or what the artist calls "a futuristic border crosser." At the Queens Museum, a hand-held Dyson vacuum device cleansed the room in lieu of the typical sage, with the cleaner's suction force yielding a calming noise across the museum's miniature rendering of New York City. The most physically enduring of his sound bath performances was an eight-hour session at ICU at Virginia Commonwealth University last November when 120 participants lied across the museum for a sound bath in the company of eight musicians until 6 a.m.
Recently, a more intimate session took place at P.P.O.W, where Maravilla's Disease Thrower #4 installation is part of the group exhibition, Noplace. On a scorching Monday evening at 7 p.m., five of us met, masked and distanced yet keen to collectively unfurl, under fellow artist Devin N. Morris's installation of an arch composed of salvaged glass doors, crowned by an ornate chair. We each picked an elaborate tapestry which would become our bed for the next hour and tear us from the monotony of our currently exclusively homebound lives with charm of potentially falling asleep, shoes off, at an art gallery. The rose above each pillow was to take away and place under our own pillows later that night. The velvety flower paid an homage to Mayans, which the artist and "everyone at ICE detention" hail from, and was also to act as a catalyst for lucid dreams when slept with, similar to mugwort and jimsonweed. Along the way, the artist and gong player Takashi roamed around Morris's homey sculptures in the first room and Joel Dean's ghostly paintings and Raque Ford's eerily suspended polypropylene painting in the second, occasionally playing a glass triangle bell and hitting the gong positioned at the gallery entry. My eyes closed, I could only feel the subtle wind of a body floating above me until the bell's crystal vibration curled inside my ears. Later whistling was a harmonica, which, Maravilla notes, releases stress from stomach and root chakra through its tinkling tone. When I opened my eyes, on one side, I caught the golden hour sun wash the gallery window into orange and Ficus Interfaith's terrazzo tile American flag sculpture, American Emoji, stretching across the wall as far as 15 feet on the other. It seemed foreign with the burgundy earthiness of its stripes and cracked white tiles that substituted for the stars—it begged for me to get up and closely look at its fissured surface and explore its impossible width.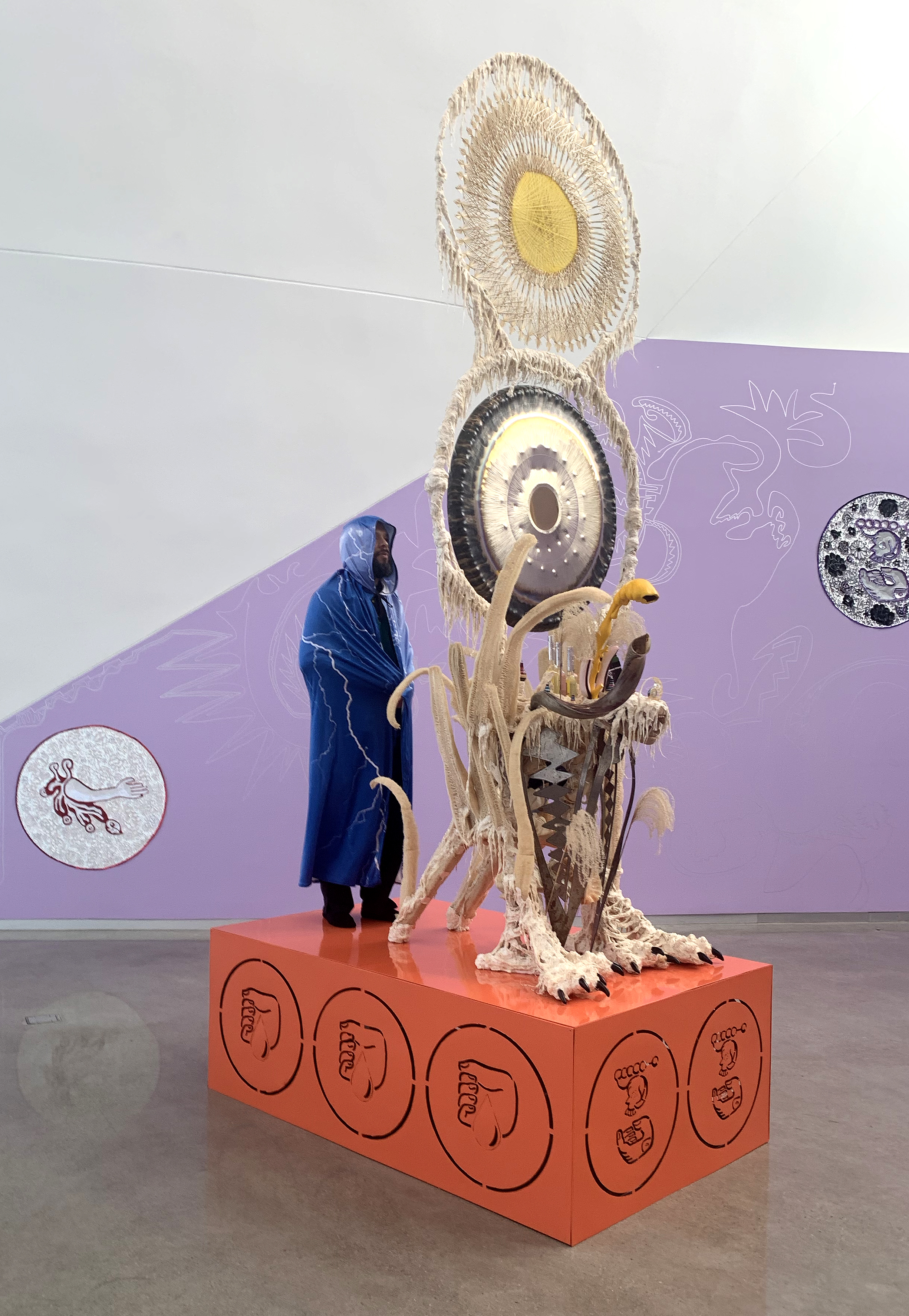 On my way back, I was concerned with keeping the rose alive in a brutally hot New York summer, at least until the morning. Maravilla would later tell me he sensed a strong feeling of unexpressed love in our group, one or few of us delaying to tell someone far they love them.