Puppets and Puppets, the fashion project from Carly Mark and Ayla Argentina, is bringing absurdity back to the New York fashion scene. Photographed by Andrew Jacobs. Fashion Editor: Jared Ellner
It's a chilly evening in September in the Flatiron neighborhood of Manhattan, and outside a nondescript building, certifiably cool youth have gathered around the entrance, smoking cigarettes and vapes. Inside the Prince George Ballroom, the artist Dorit Chrysler plays the theremin. Someone emerges from backstage, a puppet in hand, and takes a seat in the front row. The show commences. Models with diverse bodies, skin tones, and gender expressions walk slowly, somberly, in slip dresses, power suits, delicate lace ensembles, white tights, powdered wigs, panniers, that I later learn were inspired by the Romanovs. And everywhere, there are eggs, eggs, eggs: whole eggs on the toes of shoes, "sunny side up" eggs on a bra (evoking the artist Sarah Lucas), eggshells for earrings, foam egg packaging as shoe platforms, and even eggs in their shells, the tops cut off, the little yolks dancing inside as the models walk. Welcome to the world of Puppets and Puppets.

Puppets and Puppets is the fashion brainchild of the artist Carly Mark and the designer Ayla Argentina. But as Mark tells it, she ventured into fashion somewhat by accident, after a period of professional angst. The 32-year-old grew up in Michigan, moved to New York City at 18 to study art, and worked at Gavin Brown's Enterprise before finding success in the art world in her late twenties with her Haribo-themed paintings, sculptures of fantastical creatures, and video work. "I had gotten into art as, like, an emotional teenager—it was this visceral emotional outlet for me," Mark tells me, sitting at her dining room table, her dog Puppet lying nearby on the couch, in the small one-bedroom apartment in Chelsea that doubles as the duo's studio. "[But] art school's not the art world. It's not real. Because once you jump into the art world, it's very business-oriented, very corporate in ways that you wouldn't expect. And I wasn't liking it from the moment I was actually participating in it."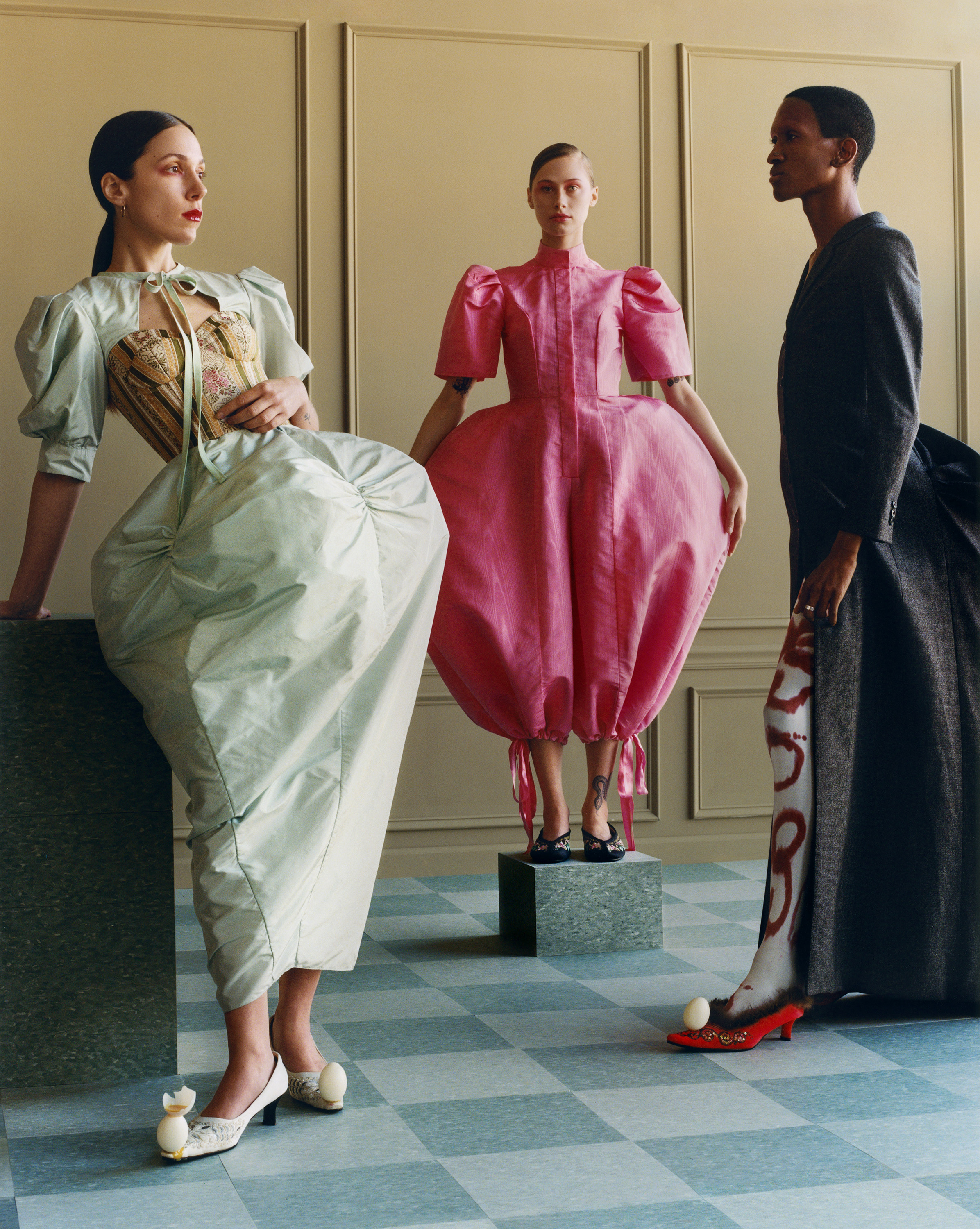 She stuck with it until she was almost 30, she says, at which point she felt the need to re-evaluate. "My sisters were having babies," she explains, "and I looked at my life and it was like, If I'm not having fun, why am I doing this?"
Luckily, back in 2016, Mark had met the Long Island–native Argentina through one of her studio assistants and hired them to work in her studio, helping her craft the costumes for the "anthropomorphic-sized creature people" that were populating her work at the time. Argentina, now 27, had previously worked as an assistant designer at mall-favorite store Caché and at Victoria's Secret, where they'd been laid off when the company restructured. "Ayla was always pushing for a full collection," Mark says. "That's when [I said], Okay, Ayla, I'm down, let's do a clothing line together. That's when the shift really happened. It was like a Saturn return."

The two were in the middle of a project that ended up falling through, leaving them with a handful of pieces. "That was the point where we were like, All right, next Fashion Week is six months from now in February, might as well keep going," Argentina explains. Although the pivot to fashion came easily, Mark was not without her reservations.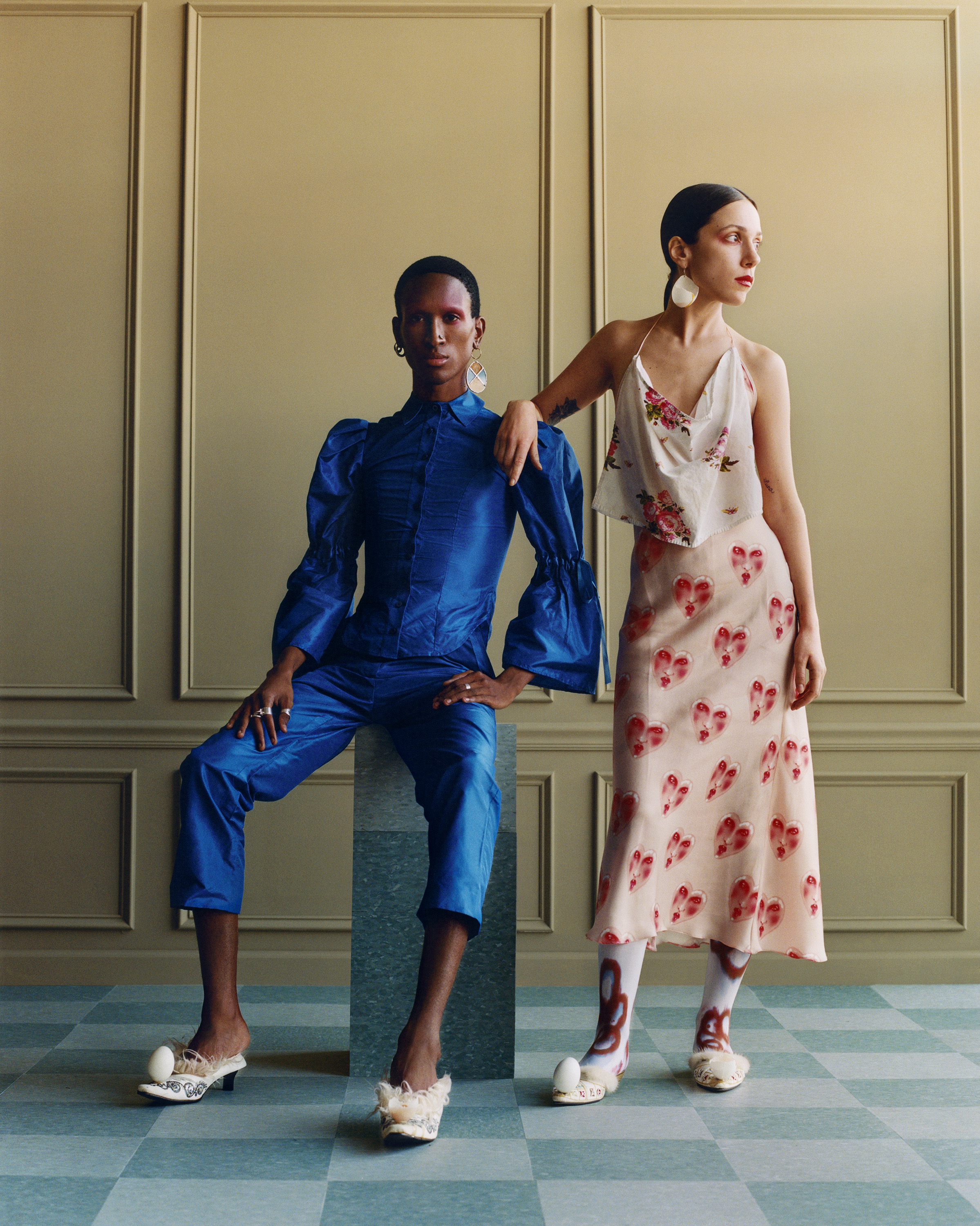 "I felt as though if I crossed that line, I could never really go back," she says. "I wanted to be taken seriously, and I think when you're a young female in a city, and you dress up and go to parties, people want to put you in certain boxes because of that. But that's just how it is. And I would stomp my feet and be like, No, I'm a fine artist!"
Their Fall 2019 debut was shown in a brownstone in the West Village, where the cellist Patrick Belaga performed, while the models slowly walking through the house in quilted robes, velvet trousers, feather details, and shots of lime green. The collection's magpie harlequin aesthetic was refined in its chaos, a perfect reflection of the way we live, the way we interact with culture and the world. Even before finishing it, Mark could sense this was the right path for her; she had already started planning the second collection.
"We have so much fun. We're not here with dollar signs in our eyes—it's more about the storytelling," Argentina explains. "I think it was harder for people to grasp the fine-art stuff because people innately approach fine art with a philosophical mindset. Whereas with clothing, everybody wears clothes; it becomes more tangible."
"Once I let go and let the fashion wave take me, it was a relief to be embraced that quickly," Mark explains. "I've always said making art felt like we were swimming against a current, and fashion just feels like we're flowing, like everything flows."
HAIR Gonn Kinoshita at Streeters, MAKEUP Linda Gradin at L'Atelier NYC, MODELS Laine Bolte and Malik Brand, SET DESIGNER Alicia Sciberras at East, PHOTOGRAPHER'S ASSISTANT Austin Sandhaus, SET ASSISTANT Talitha Stanford, SET CARPENTER Brendan Morello, RETOUCHING Picturehouse, PRODUCTION artProduction, STUDIO Elwood's Studio