The Freedom of Men's Fashion
As the fall menswear shows get underway, we take a closer look at the collections showing us our collective future.
Courtesy JW Anderson
Every January, the fall menswear collections kick off the yearly fashion calendar. Sure these are clothes designed in fall of the previous year, and they won't be on sale for another six months, but looking at the shows these past few weeks, there was something absolutely electrifying within. They felt like the beginning of a new era, like looking at the actual future of clothes (as opposed to the way we are going to dress in the future). There is a level of freedom and of invention, that's not always felt when looking at some womenswear collections, and it got me thinking if it's because womenswear it's so obviously laden with signifiers, and the history of fashion as consumed via magazines and media, the endless stream of fashion nostalgia Instagram accounts that never fail to tell us that one sleeve has already been done a million times before. (Like how it's almost impossible for a designer to work on an exploration of androgyny, without at least making one pit-stop in Helmut Newton/Le Smoking territory.) This feels less obvious in menswear.
Then there was this tweet:
While this is not exclusive of menswear OR womenswear (and breaking down the reasoning behind why this feels not not wrong can probably be someone's grad school thesis), BUT the point still stands you know? If you're with me so far, then here are five looks from the fall collections so far that feel like the future—the end of dress codes/ pink/blue/ pants/shirts/ right here.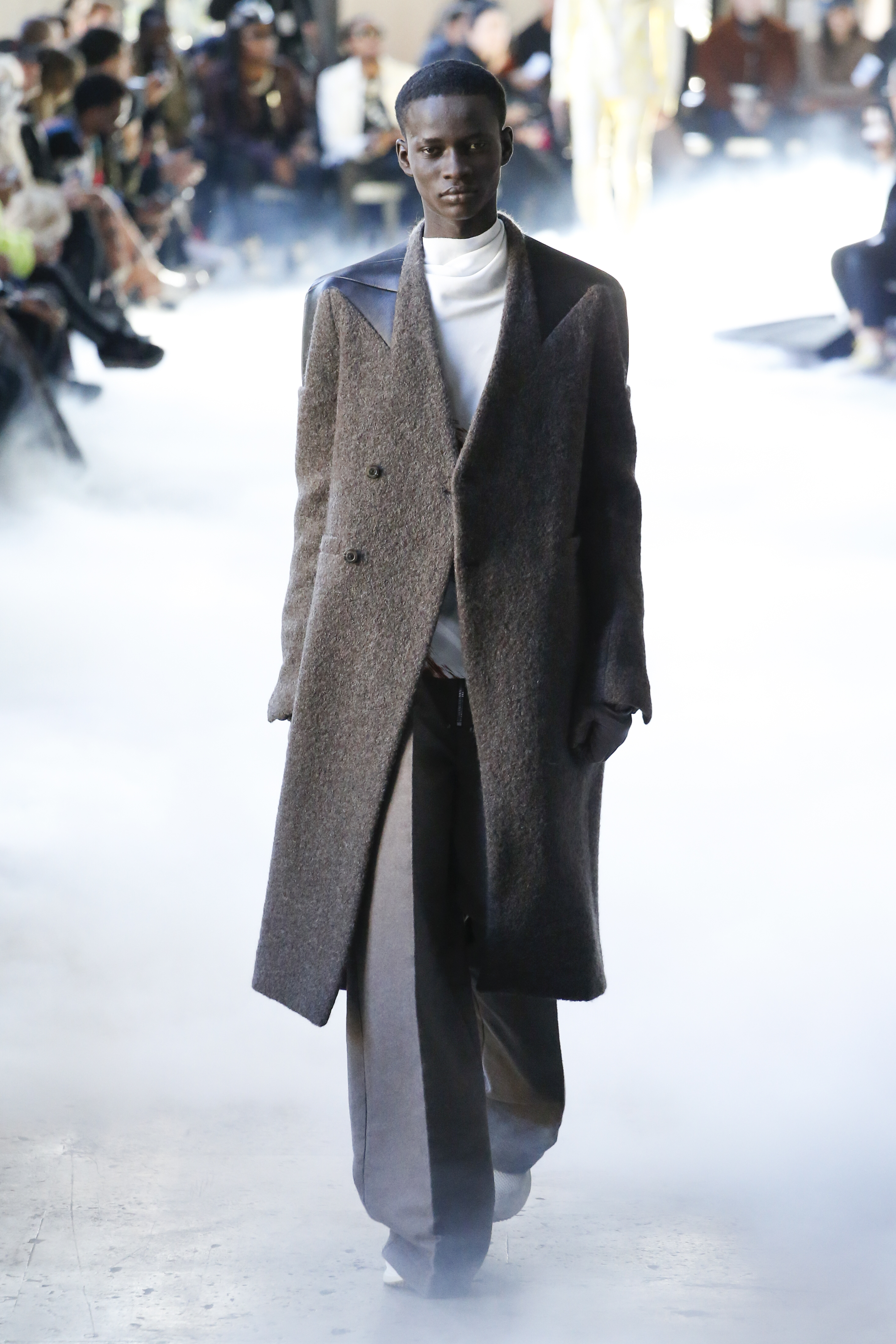 Having said all that, Rick Owens is one of the few designers whose looks exist in a universe all their own. And yes, David Bowie's Ziggy Stardust years were the kicking off point of this collection, but from the Kansai Yamamoto one-legged knit jumpsuit, we end up with on a look where things are not what they seem. A lapel-less long coat with with leather insets that create a tromp l'oeil effect for said lapels. The low-rise wide-legged creased pants vaguely echo a JNCO raver youth, except now they've pivoted to sleek. The blouse underneath, somewhere between a turtleneck and a mock neck, soft with a delicate drape is not so much an afterthought, as a scent that lingers.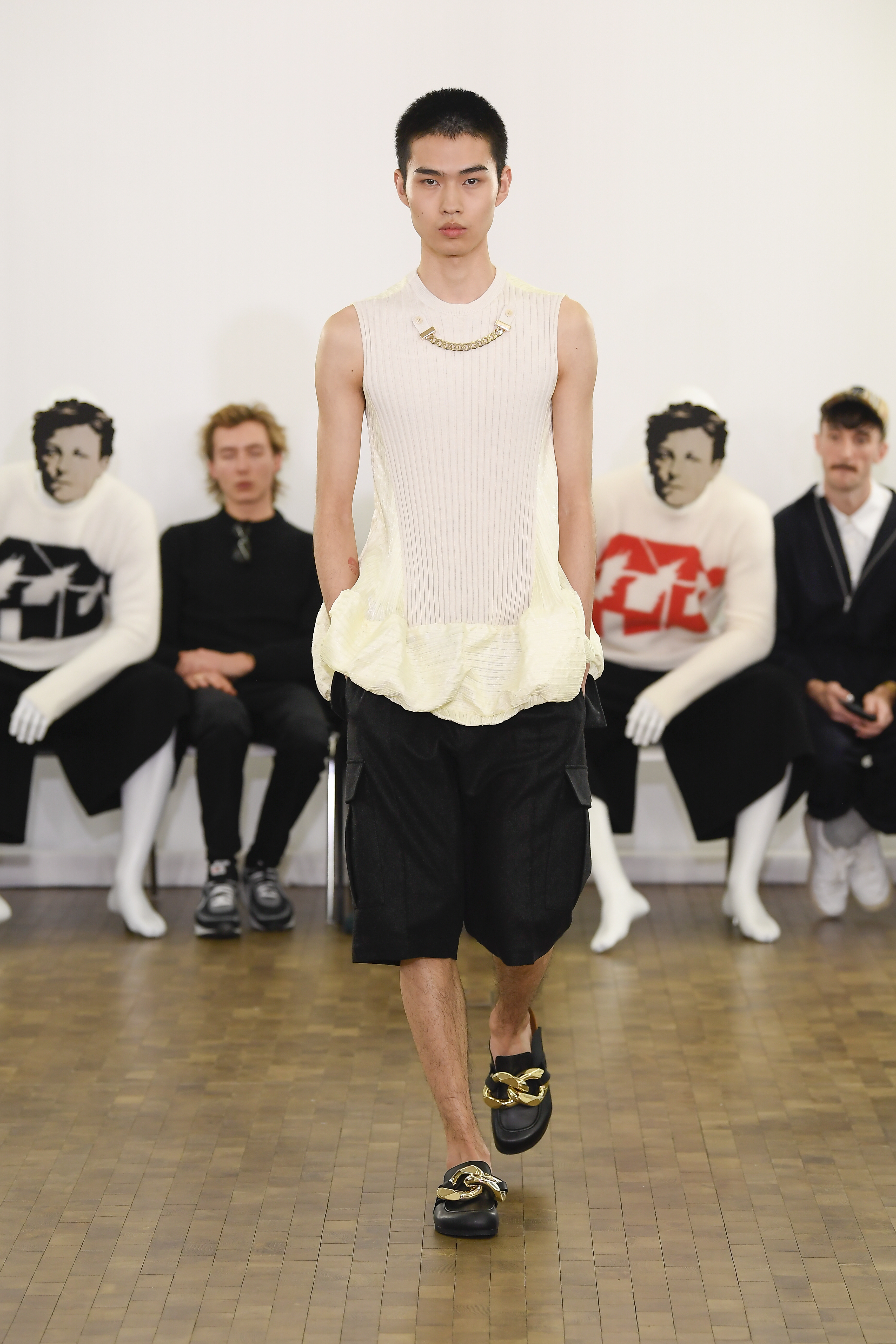 Jonathan Anderson has long been expanding his definition of what menswear can be, but pairing a sleeveless knit peplum top with cargo pants feels especially enlightened. What's most strange is how each piece emphasizes the meaning of each piece—the softness of the peplum, the inherent bro-y masculinity (sorry!) of the cargo pants—and yet it also changes them, to not so much contrast with each other but to act as an extension of each other. Was there ever an "Everybody in Cargos" GAP commercial? I'm not sure, but that's certainly the mood now.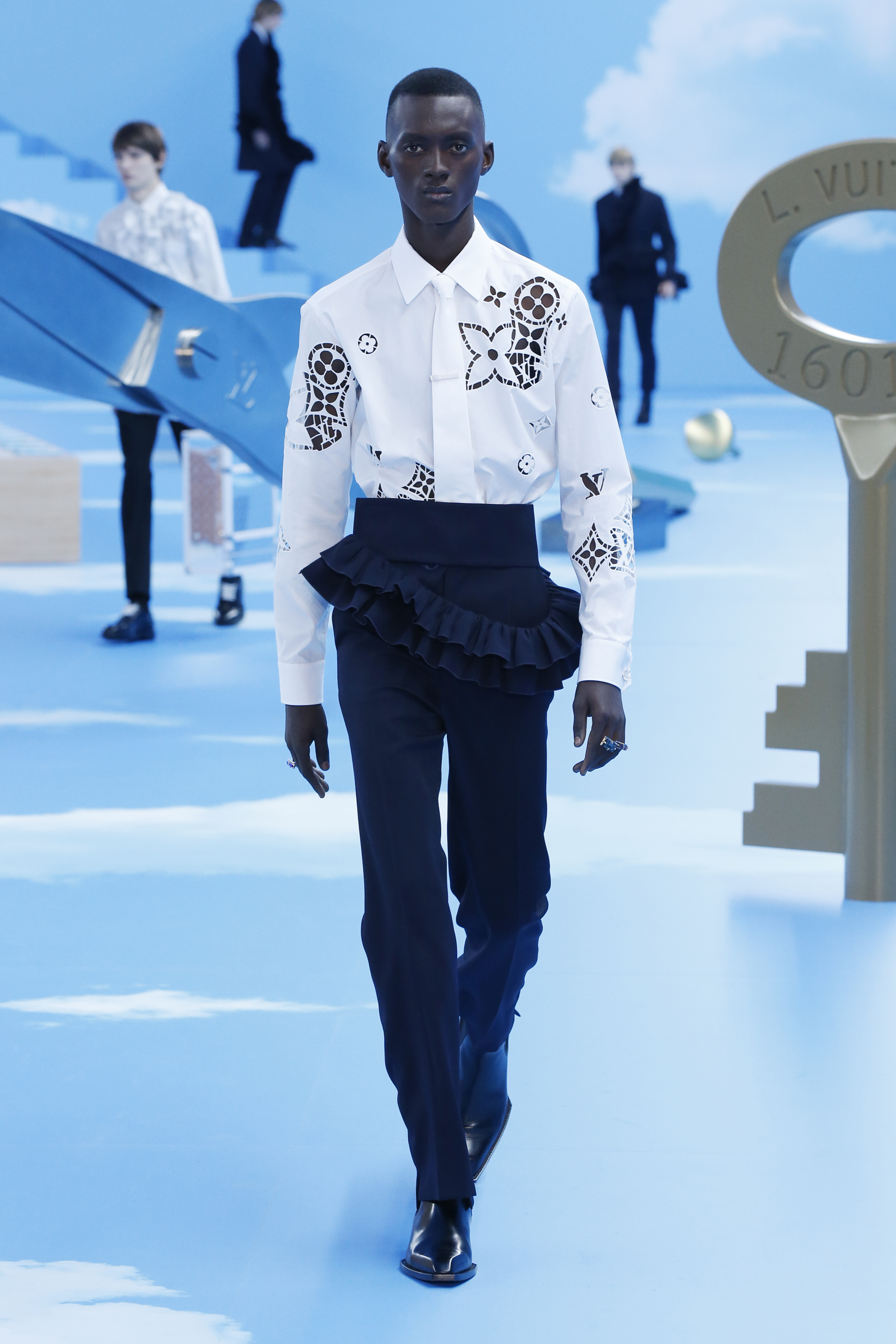 A look soon to be seen on a red carpet near you, probably on one Timothee Chalamet. At Louis Vuitton, Virgil Abloh also explored the idea of peplums! for men! (pep-hims?) This version? An oversized ruffle that lays asymmetrically across the hips, worn with the same swagger that Axl Rose wore leather studded belts in his youth. The delicate eyelet shirt—in the signature Vuitton monogram, bien sûr, worn with a matching tie so subtle you may miss it. It's.. heavenly? (Again, I'm sorry.)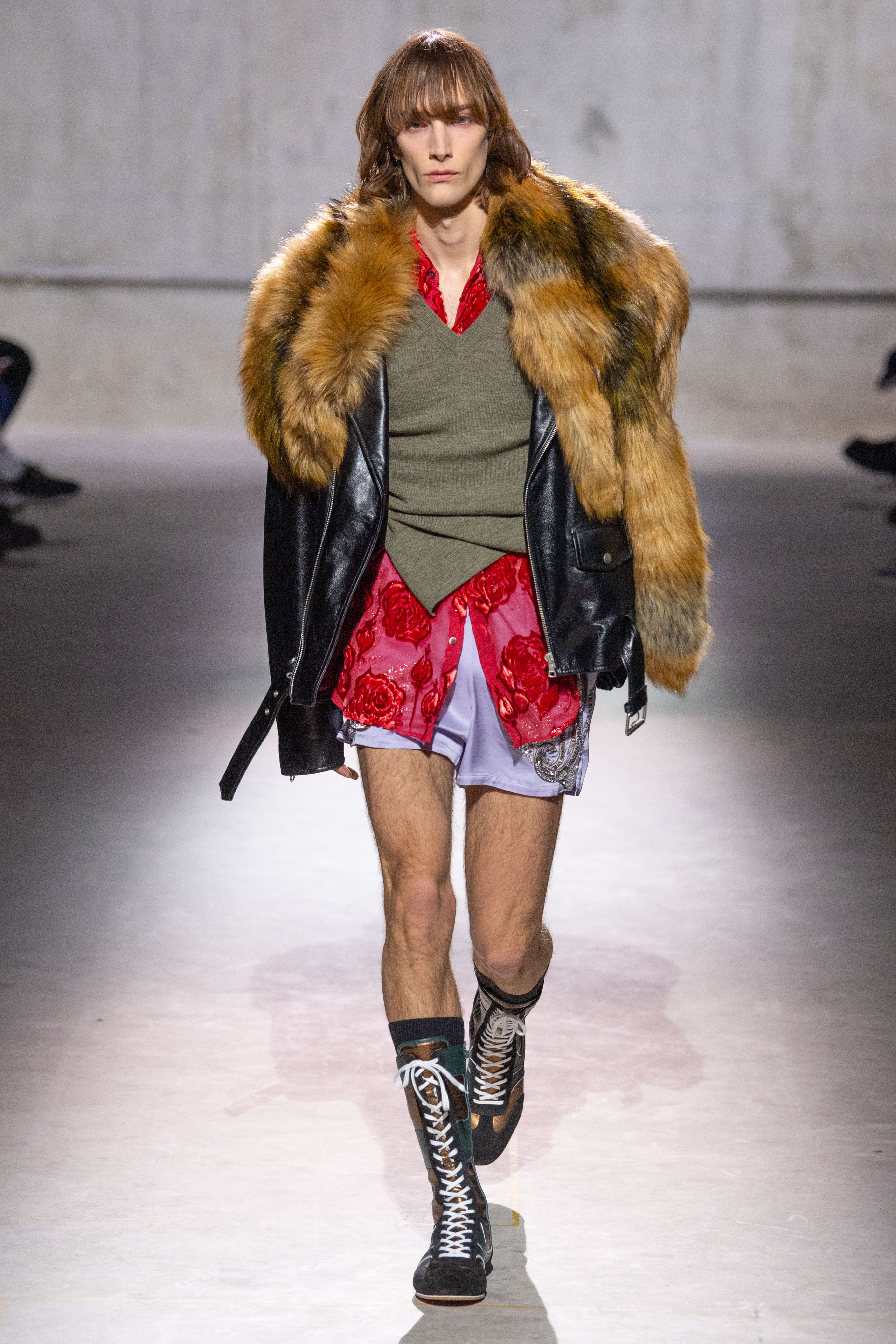 Dries Van Noten has never shied away from a jewel tone or a lush print, and for fall, he let his lust for life overtake the runway. He closed the show with a look featuring a Patti Smith hairdo, fake fur, a leather jacket, a sheer shirt with shimmering rose appliqués, worn underneath a purposefully disheveled v-neck sweater, wrestling boots. But the real piece de resistance are the itty-bitty shorts with paisley appliqués. This is 100% a you just rolled out of bed and threw your leather jacket on to go to the bodega and get a can of Chef Boyardee and a bag of marshmallows because ever since you quit smoking your vices have shifted. But also oh the insouciant glamour!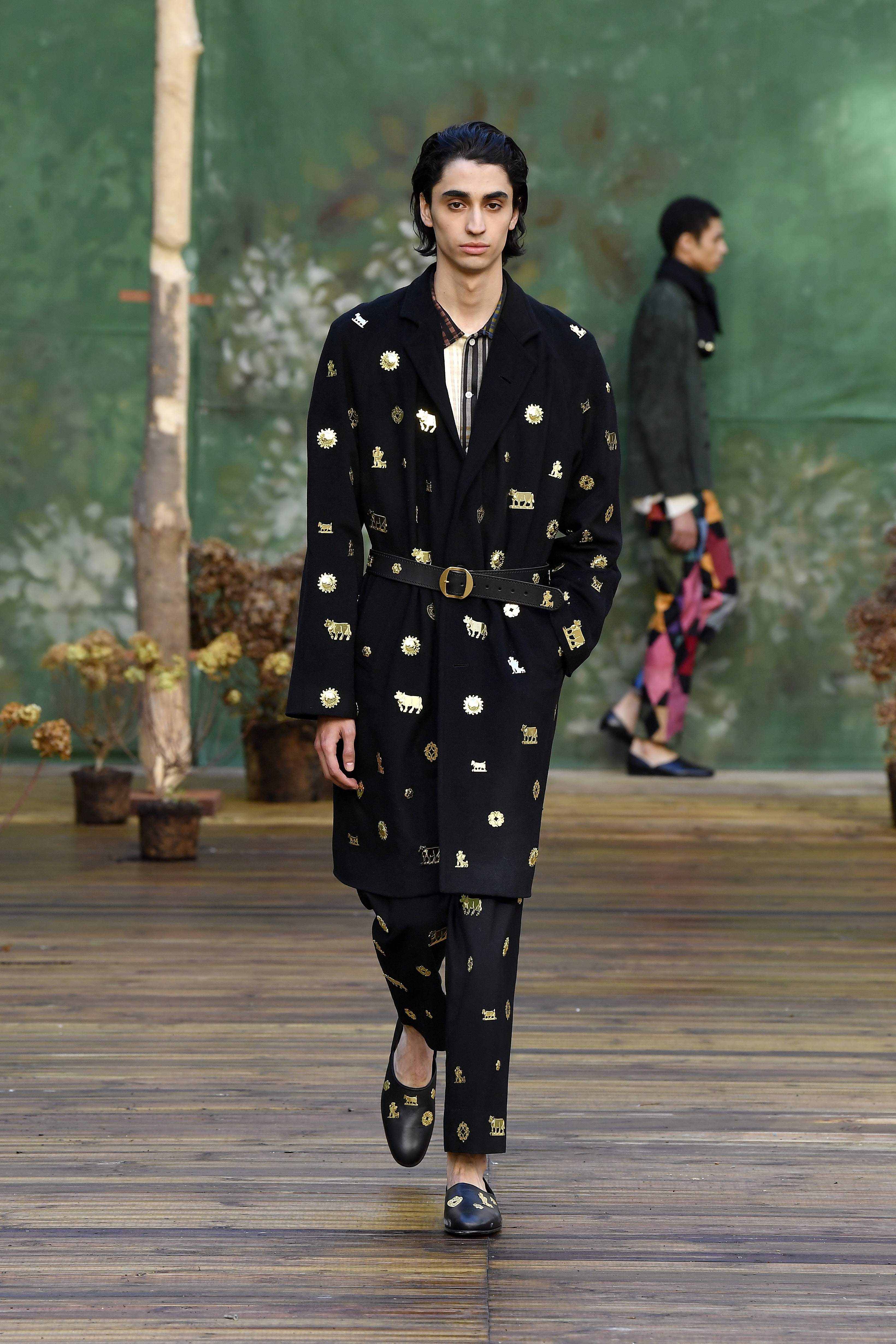 More people should give into matchy-matchy aesthetics. At Bode, there was a long, soft, unstructured jacket belted at the waist, trousers that end just above the ankle, leather slippers, all with matching gold embellishments. The pieces would obviously make a statement on their own, but all together they become a more subversive proposition. It's the opposite to the classic mis-matched punk proposition but it somehow packs the same punch. And yes, it's more expensive to buy matching pieces, but if you wear it every day cartoon-style (another sort of opposite punk proposition) then you've really got a fashion moment.
As a bonus, here's an image from the presentation Thom Browne staged in Paris, featuring animal masks by Stephen Jones that perfectly captures our #mood: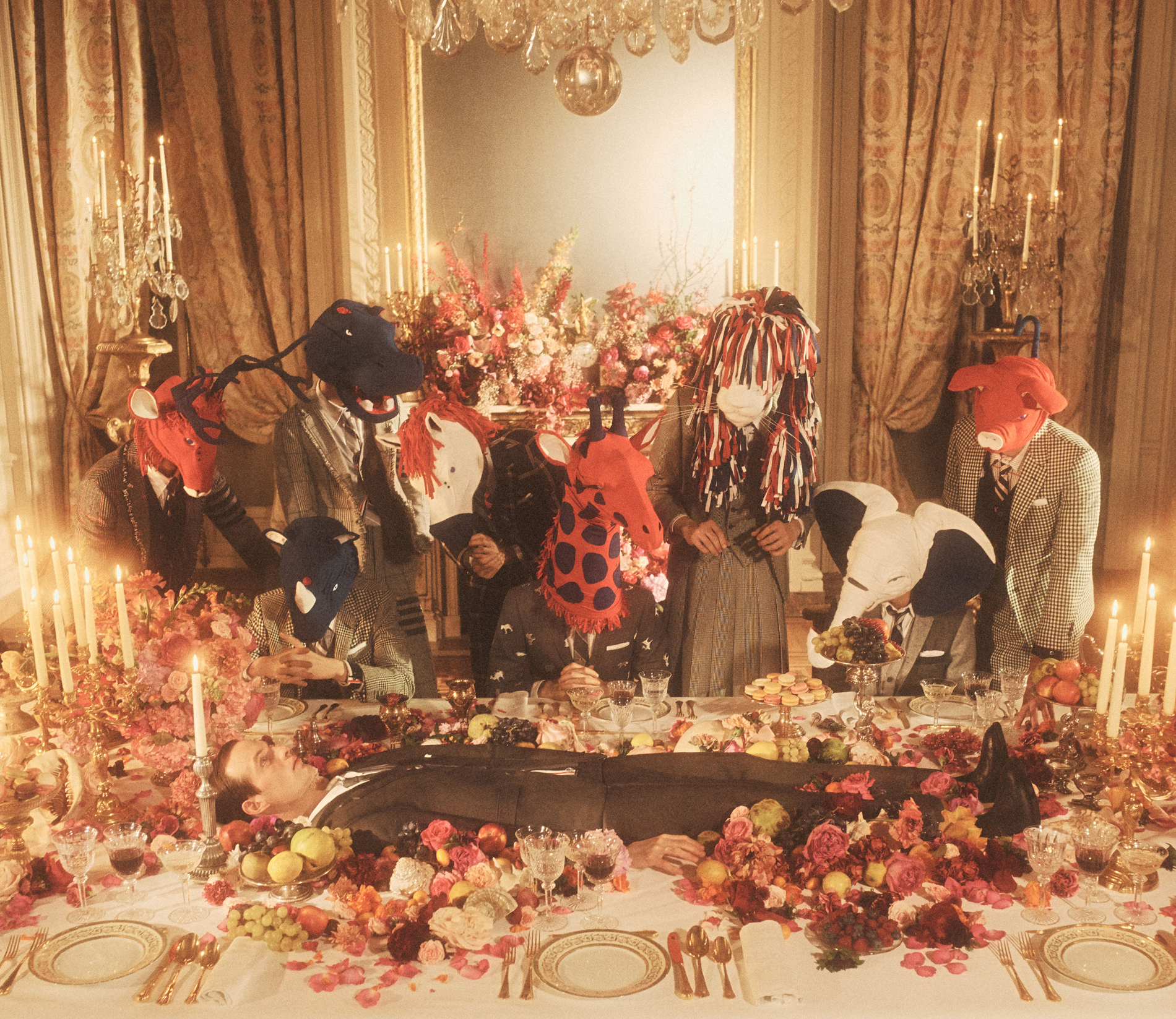 DO YOU FEEL SO ALIVE NOW?