Detail of Akeem Smith, Dovecote,
2020. Wrought steel, paint, video with sound (10 min 22 sec) Courtesy of Akeem Smith and Red Bull Arts
Akeem Smith's Piece at the Independent Art Fair Illustrates How Dancehall is Jamaica's Social Media
The artist combed through hundreds of hours of Jamaican dancehall footage to create the 10-minute film.
Detail of Akeem Smith, Dovecote, 2020. Wrought steel, paint, video with sound (10 min 22 sec) Courtesy of Akeem Smith and Red Bull Arts
Artist Akeem Smith has lived in tandem to the Jamaican dancehall scene for his whole life.

"It's weird, dancehall just isn't so physical to me, I'd compare it to Jamaica's first form of social media," the artist said about the scene he grew up watching his family take part in. Smith also works in fashion, having styled Yeezy Season 2 and is currently working to help relaunch Hood by Air. "I remember admiring it as the first and only safe space that I knew of where people dressed up and did/do whatever it is that they wanted to do."
This week at Independent Art Fair, I stepped into Red Bull Arts' booth, tucked away alone in an elevated corner of 50 Varick Street, where Akeem Smith's mixed-media video piece Dovecote plays in a dark, quiet room. Despite the energized locale, it stopped many viewers right in their tracks.
Upon entering the space, a dissonant drone floods the room punctuated occasionally by sirens and unintelligible, abstracted voices. The sound is entropic. In the room's center is a screen partially obscured by a tall, ornate, and rusted gate. On the screen behind it, a collage of granular footage shows frozen glances from women at dancehall clubs in New York and Jamaica throughout the 1990's, pieced together by Smith. While combing through VHS tapes acquired from family and friends, Smith captured portraits when the beat would drop in the club, or when the energy in the room seemed to falter. Played back-to-back, the emotions in the women's faces range from disappointed to disorientated to stubbornly unbothered. Their effect is haunting.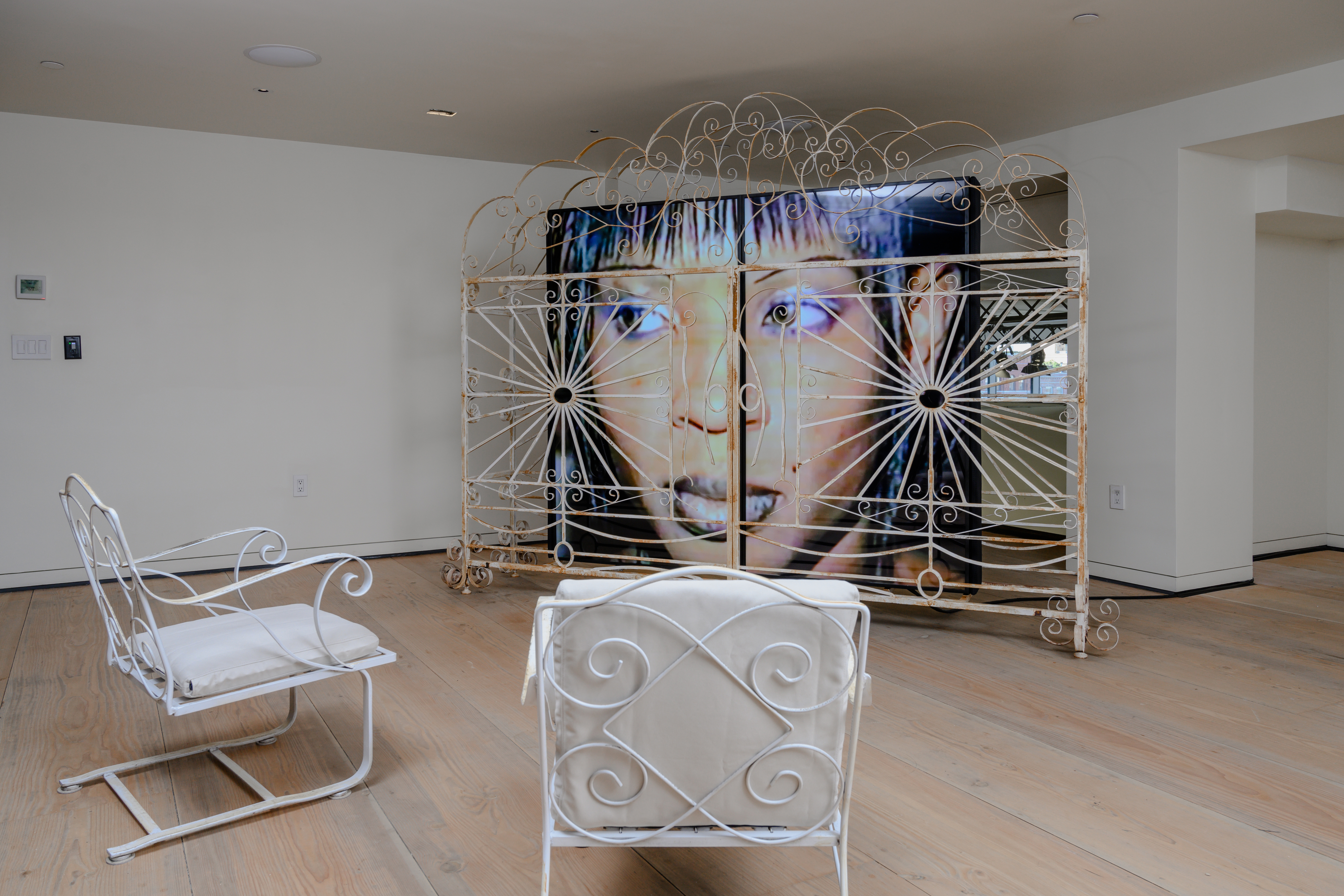 Smith himself grew up between New York and Jamaica during the 90's, very much immersed in the dancehall scene. The name of the piece comes from Dovecote Memorial Park in Spanish Town, Jamaica, and the aforementioned ghostly soundtrack culls together audio from funerals that were also in the archives of his friends and family. The gate itself is a recreation of one he retrieved from the area in Jamaica. "The act of keeping things sacred will always appear in my work," he added.
As I sat there on wiry chairs that match the gate, I considered how viewers might perceive these facial expressions very differently with or without the gate. Without, I think it would remind me a lot of Mark Leckey's Fiorucci Made Me Hardcore, the cult film essay about British nightlife that made clubbing feel less frivolous, and more like an expression of something deeply human. In Dovecote, the steely, frozen expressions on the women's faces call to mind the sound of the tolling church bells Leckey employs to add a sense of mortality to his piece.
With the addition of the gate, however, the subject matter expands even further into sinister places. It shifts the piece's narrative completely. Symbolically divorced from the clubgoers, the viewer wonders what these women are being held back from, or from what they're being protected.
As I sat there on the other side of the gate, I could at once feel a relationship and a familiarity with the emotion in these women's faces, but was also aware of how far away I was from their experiences. The fence effectively creates an us-versus-them dialogue by leaving either us, the viewer, or them, the women in the film, behind an impassable barrier. According to a description of the piece, these sorts of decorative fences "function on the island [of Jamaica] as both a deterrent to domestic crime and as signifiers of wealth." Still though, it's difficult to not feel a kinship with the women in the film as you follow their gaze, sometimes at you the viewer directly. Looking on from behind a gate gave me an intense desire to pry it open.
While keeping the meaning open to interpretation, Smith himself feels a heavenly connection to it, and to what lies behind it. "While [it's an] obvious representation of where someone stood in social economic structure in Jamaica," he explained. "Uncovering all the images and videos from that scene around that time is Heaven for me."