A model with a horse from the Christian Dior Spring 20Couture collection.
At Couture, Horses
An equine obsession made itself known at Chanel and Christian Dior's couture collections this week.
A model with a horse from the Christian Dior Spring 20Couture collection.
Here's the thing about horses: people love them. Ever heard of a horse girl before? That's right. There's literally a whole genre of person dedicated to horses. I, personally, am not that much of a horse person. I'm honestly scared of most animals, like horses, and to be completely honest, dogs. I've ridden a horse a few times and have had a normal amount of fun doing so. But for some people… horses are life. There are countless movies about horses, like The Black Stallion (movie about a black stallion), and Spirit (an animated movie about a horse that I saw as a wee lass at an upstate New York dinner theater in the halcyon days of the early aughts). There are other movies about horses I'm forgetting. Lately, horses are not only on the big screen or in the margins of a girl wearing braces' notebook, they are also in fashion. Not just fashion, but couture, aka that twice a year occasion where it is especially about looking like a beautiful princess (or archduchess, or queen, or villainess).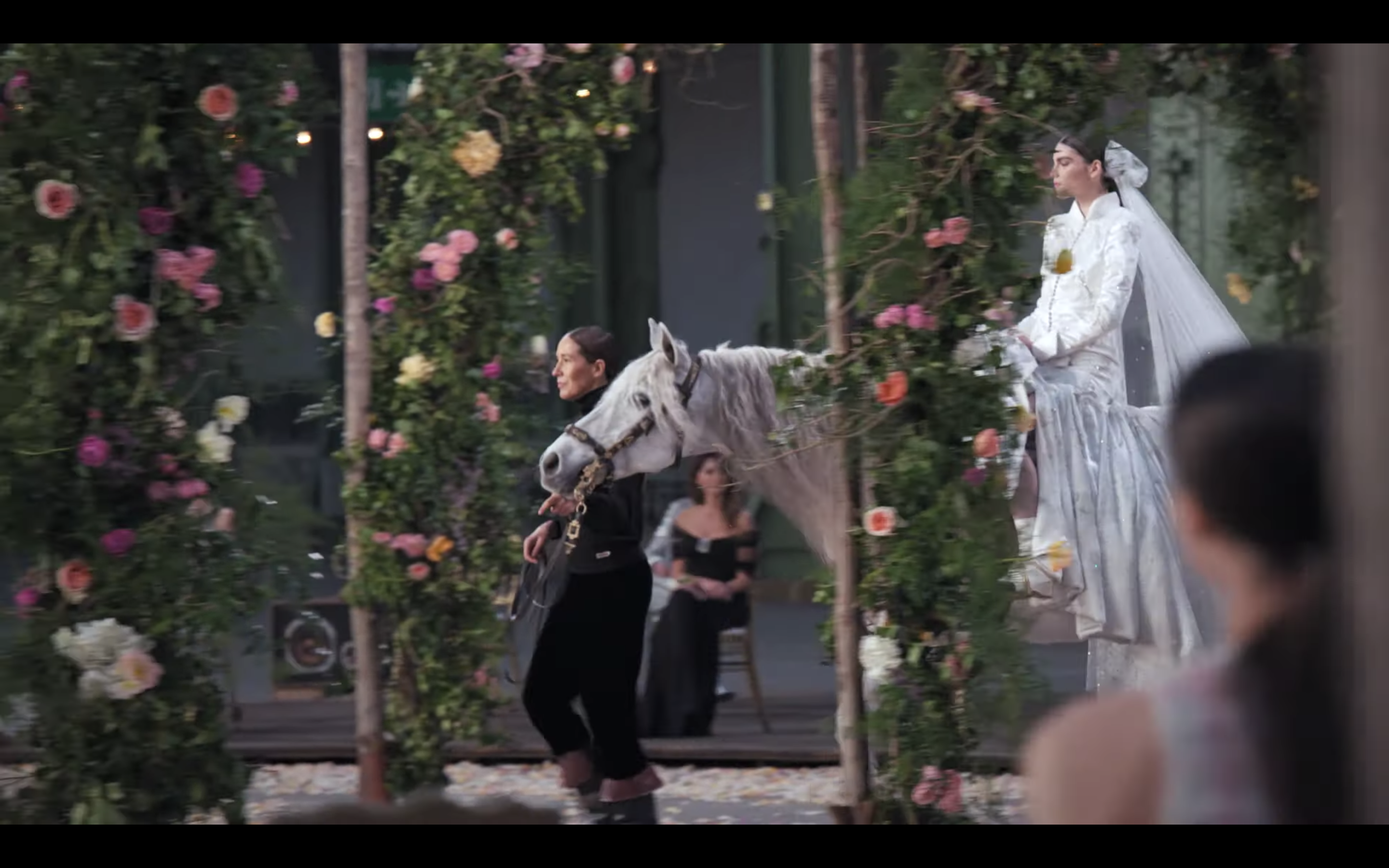 At both Chanel and Dior, it was all about the horse, of course. Virginie Viard, who has been at the reins (sorry) at Chanel for the past year and a half, released a collection of frothy ball gowns that are perfect for a fantasy wedding, one that involves 500 of your closest friends, preferably on a yacht in the middle of the Riviera or perhaps in Tuscany in a very beautiful, extremely old villa. The collection featured plenty of classic Chanel tweeds and plenty of little suits, and also crucially a few very beautiful, delightfully confectionary gowns that are perfect for a bride. The last look, especially, in which a model wearing a floor-length, pearl white gown that buttons from the neckline all the way to the thigh and a floor-length, sparkly, sheer veil, rode in atop a white horse. I wonder what the horse was thinking about. I wonder what the model was thinking about. Could you imagine if you were getting married and there was just this huge horse behind you the whole time? That would really be something. Couture is often all about fantasy, and having a large white horse behind you is really the definition of living out your wildest dreams (that is, if you love horses).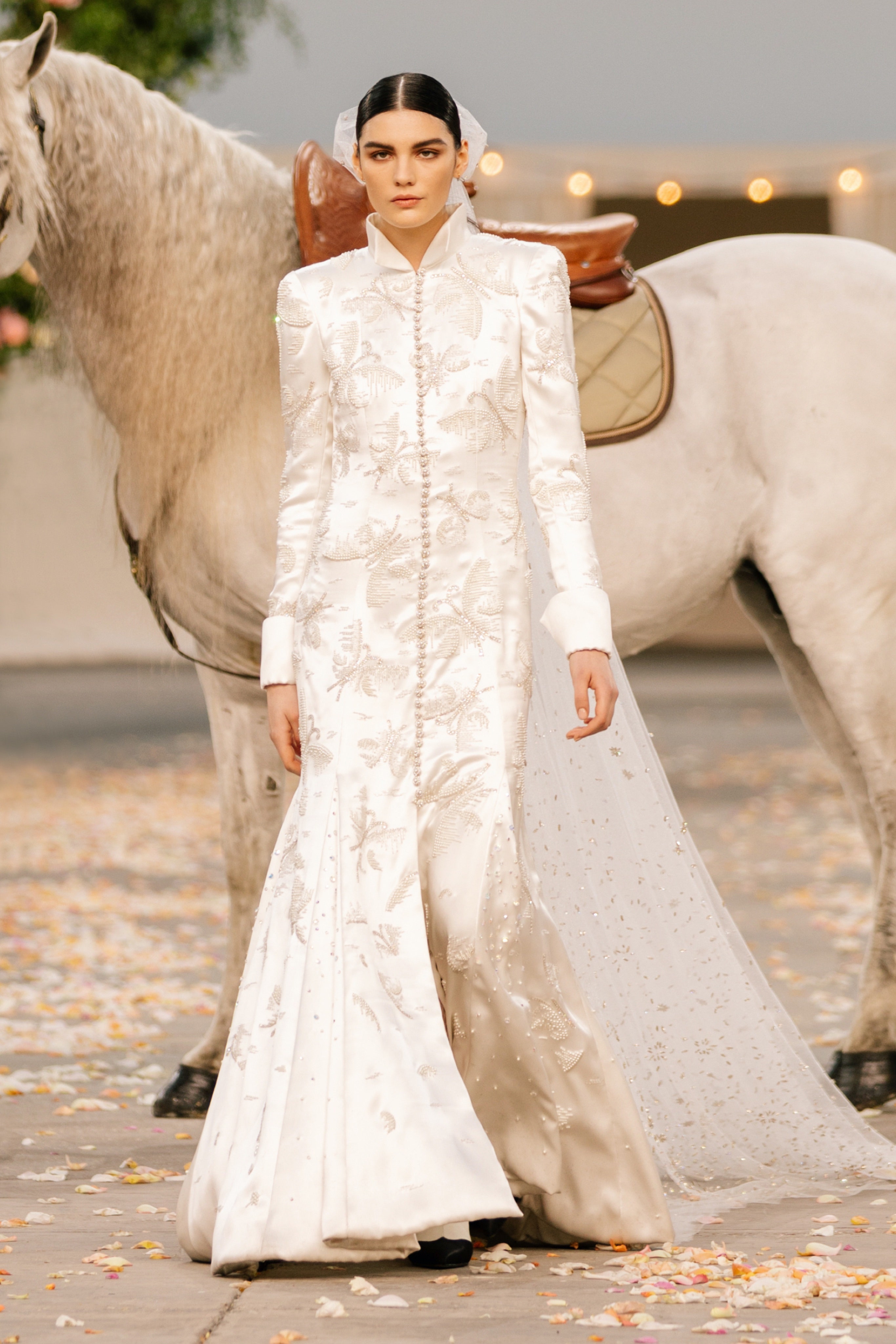 Meanwhile over at Dior, Maria Grazia Chiuri incorporated the horse in more of a "Hello, it's the 17th century!" kind of vibe. Chiuri's latest is an interpretation of a tarot deck. There's a High Priestess look, a Temperance look, and a Death look, to name a few. Chiuri, who chose to focus on tarot as a nod to the brand's heritage (Christian Dior was a tarot fiend and got into it during World War II), incorporates the sacred deck of cards into her looks by way of princess dresses, rococo riding outfits, and androgynous suiting for knights and kings of the court. The white horse played an important role in the collection—it made an appearance in ten out of the 45 looks. If I was really into horses and was wearing one of Chiuri's dresses I would simply ride one off into the sunset.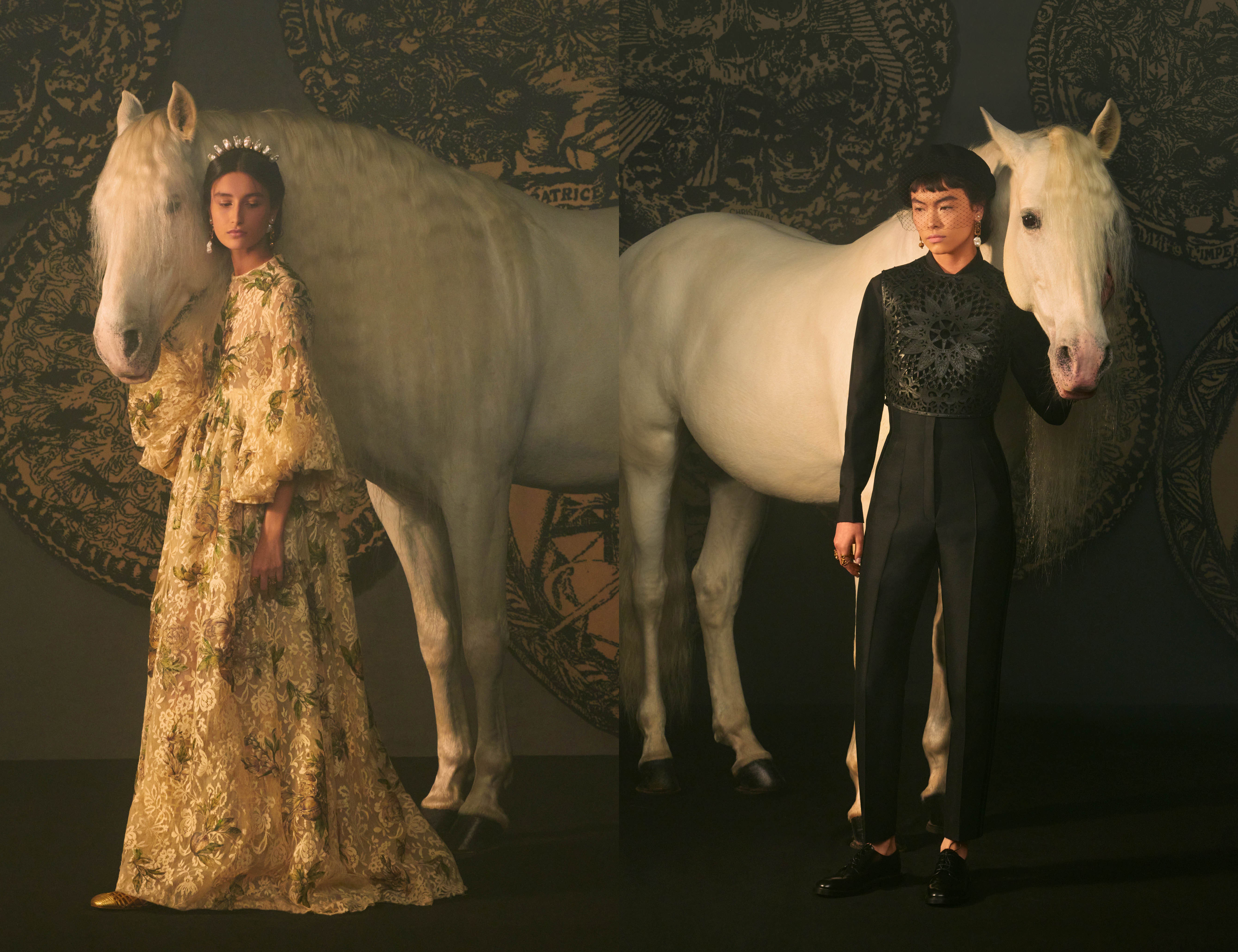 It is still a large unknown whether or not there will be more horses this season or in the following seasons. I personally think there should be more horses, even though I'm horse agnostic in my personal life. Chanel and Dior this season are raising the bar HIGH for the equine inclined, and frankly, I cannot wait to see what happens next! To quote the Black Stallion, "Neighhhhhhhhhhhhhhhh." To quote the chanteuse Katy Perry, "Baby do you dare to do this/ 'cause I'm coming atcha like a dark horse."