The Ephemeral Banality of the Clandestino Cheese Plate
My cheese plate, my self.
Welcome to "Actually, This is Art," featuring impassioned breakdowns of cultural artifacts that are, most definitely, art.
Back in September, a documentarian (we assume) from the Lower East Side watering hole Clandestino started an Instagram ode to one of their latest menu offerings, served in compliance with New York state's COVID-era requirement that establishments serving alcoholic beverages must also serve food. Behold: the humble cheese plate.
The @clandestinocheeseplate has little variation among its components, but liberties abound with its plating and presentation. It always contains a handful of red or green table grapes, cloudy with a patina of condensation; rectangles of chopped orange and white cheddar cheese, though sometimes just one or the other; and what appear to be Carr's cracked pepper water crackers (or perhaps a generic version, maybe from the nearby Trader Joe's on Grand?). When viewed holistically, a timely theme emerges: banality, in spades. Photographed repeatedly in this way, the cheese plates become irreverent still lifes teetering on the edge of vanitas, a testament to the insistence and persistence of Dimes Square. It's not hard to imagine a timelapse video of their lifespans, were they to go uneaten: the cheese sweats, the grapes crust and sugar over, the crackers turn to dust, flies descend. Their Instagram bio, "Cheese Plate Updates from Canal Street," becomes a mantra. What are your Updates? Do you have any? Us, neither.
In the abstract expressionist spirit of "Hey, my kid could paint that," we have decided to recreate our own Clandestino cheese plates, all while reflecting via Google Doc on the (hopefully) ephemeral nature of this moment in time.
Eileen Cartter: Okay, it's early January, and I do feel like I've been eating essentially only cheese, crackers, and alcohol for months now. But let's get to it. The Clandestino cheese plates are the anti-charcuterie craze. They are abstract and sort of minimal. One friend who lives a block away from Clandestino refers to them as "the Chinatown Lunchable." What could we call it? The Dimes Square Snack Pack?
Sophie Kemp: I honestly didn't really understand what Dimes Square was until the end of last year. I remember one of my friends calling it that and I thought she made it up and I was like, "You're so creative!" and she was like, "People actually call it that." So anyways. I've been to Clandestino two times. Both times were during the pandemic (I sat outside, it was warmer out) and both times I had the cheese plate because they ask you to buy one. It's either that or one of those German hotdogs (kielbasa? bratwurst?) and most of the people I know are vegetarians so that eliminated the second option.
EC: I actually thought of Clandestino recently because I just rewatched Tiny Furniture for the first time since 2012 (my friend made me an Excel spreadsheet of movies to watch on Criterion but I veered off course). I noticed this time around that Lena Dunham's character briefly works there as a hostess, because Jemima Kirke's character tells her to just walk in and ask for a job.
SK: I've been a charcuterie girl for years. I dated a European guy once and he told me all I needed to know about different times of prosciutto, which I pronounce the Italian-American way and people are always saying, "There's no 'Z' in the word prosciutto," but to me, there is a Z. San Daniele PROJZUUTTO! Cured meats are a way of life for me. If I could only have one meal for the rest of my life, it would be a cured meat platter, some really good bread, olive oil, a few hard cheeses, and two Negronis spaced out over two hours.
EC: Absolutely, snacks are my favorite way of eating. Picnic arrays, mezze plates, Chili's appetizer samplers.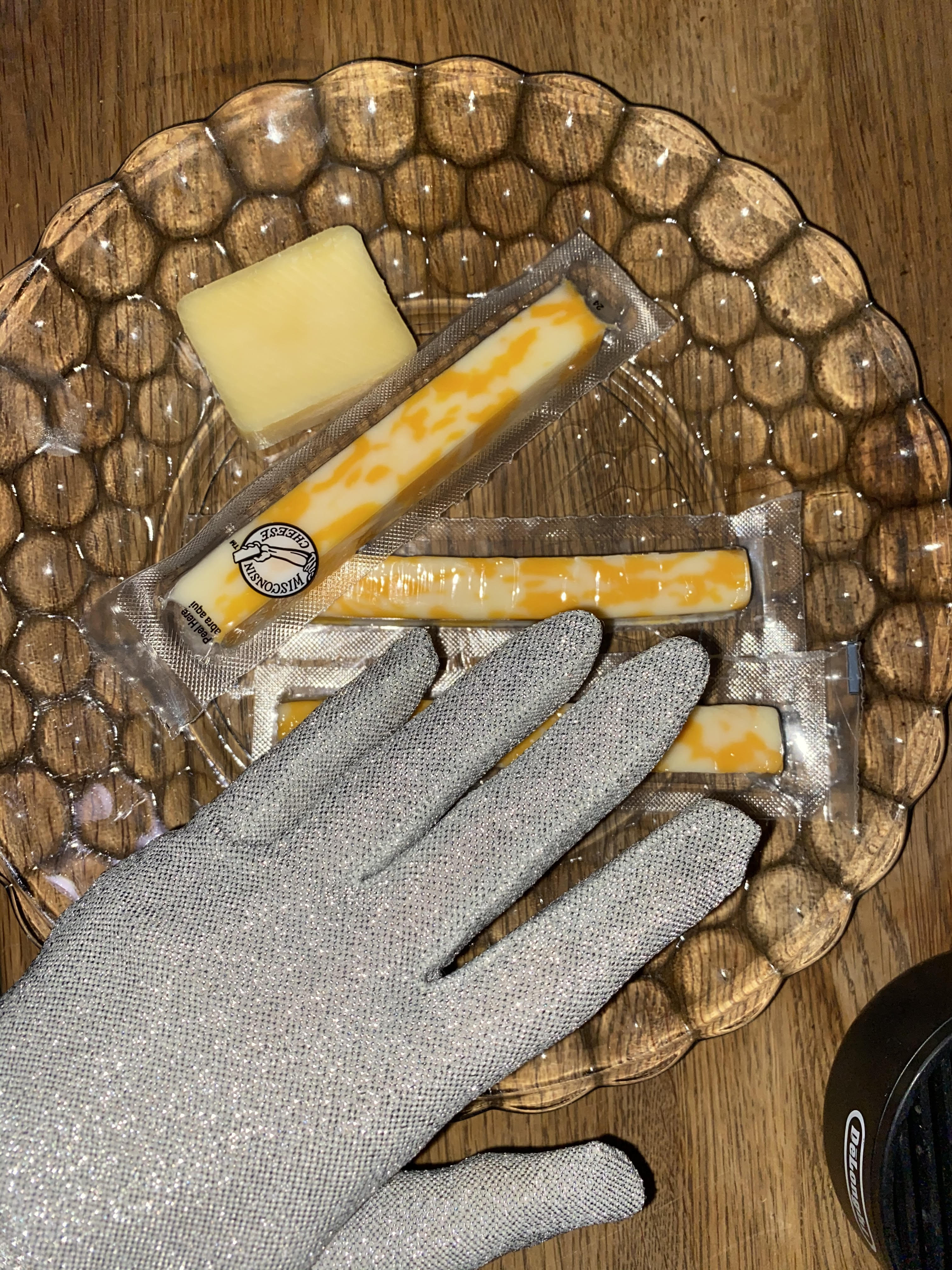 SK: The Clandestino cheese plate isn't so luxurious. It's pretty "ragtag." Like everything at Clandestino, it's supposed to be kind of bad because the whole point of being at that bar is to look at other people's outfits. One time I was there and I saw quite a few fashion guys and I wanted to ask them to tell me what exactly they were wearing, but then I didn't because I got stage fright and was worried they'd eat me.
EC: I feel like that vibe comes across in the plates, especially given that they exist because of a Cuomo mandate. I've seen bars serve Saran-wrapped PB&Js, "gazpacho" that is actually just some V8 in a little cup. This has a cheeky energy of, "Fine, here's a cheese plate." Speaking of, on my plate is Cabot orange cheddar and some Ritz. I wanted to stay relatively true to the source material but I actually decided to go to the deli on my corner to buy a single sleeve of Ritz crackers for this, because there is no better pairing with an orange cheddar to me. And since Clandestino really isn't about earnest mixology or complicated cocktails, if one were to recreate this ritual at home, there would ideally also be a martini or a Manhattan or something.
SK: Exactly. It's supposed to be, I don't know, explicitly half-assed. If I'm making a cheese plate, I usually can't stand for warm cheese, a slightly rotten grape, and a handful of paper-flavored crackers. Ideally I'd like to do it right, maybe get some figs or some fig jam depending on whether it's fig season. Maybe a strawberry or two. The crackers should have sea salt on them, or have a little rosemary going on. In reality, I live in a cave and even though I am spiritually someone who believes spending $30 on cheese is normal and good, in practice I'm the kind of broad who has a bunch of Monterey Jack cheese sticks in her fridge, as well as some Romano (for pasta purposes) and a little sharp cheddar. I currently have no crackers so if I want to make a cheese plate right now I'd have to settle for a plate of cheese sticks or using a pita chip. If it were night time right now, I would probably make myself a Negroni or a dirty martini with Spanish olive brine. When I think about it, even though I am strongly opposed to the slacker Clandestino cheese plate, I have essentially just made one for myself. If a wealthy benefactor would like to change this for me, please be in touch.
EC: I embellished mine with green cotton candy grapes that I found over the holiday break at a suburban Aldi. They were suspiciously well-priced, so I stocked up. I remember the first time I ever encountered the cotton candy grape was at a Dean & Deluca (R.I.P.), where I think one container cost like, $11. Can one even call cotton candy grapes a "varietal," since I assume they were engineered by food scientists to be sold to children and nostalgic adults? They feel more like a designer mutation.
SK: The Clandestino cheese plate Instagram is lo-fi, and also that bar is pretty lo-fi. If I were to photograph my cheese stick pile, I'd use flash. I'd also probably take a selfie of me EATING my cheese stick pile, wearing something fabulous.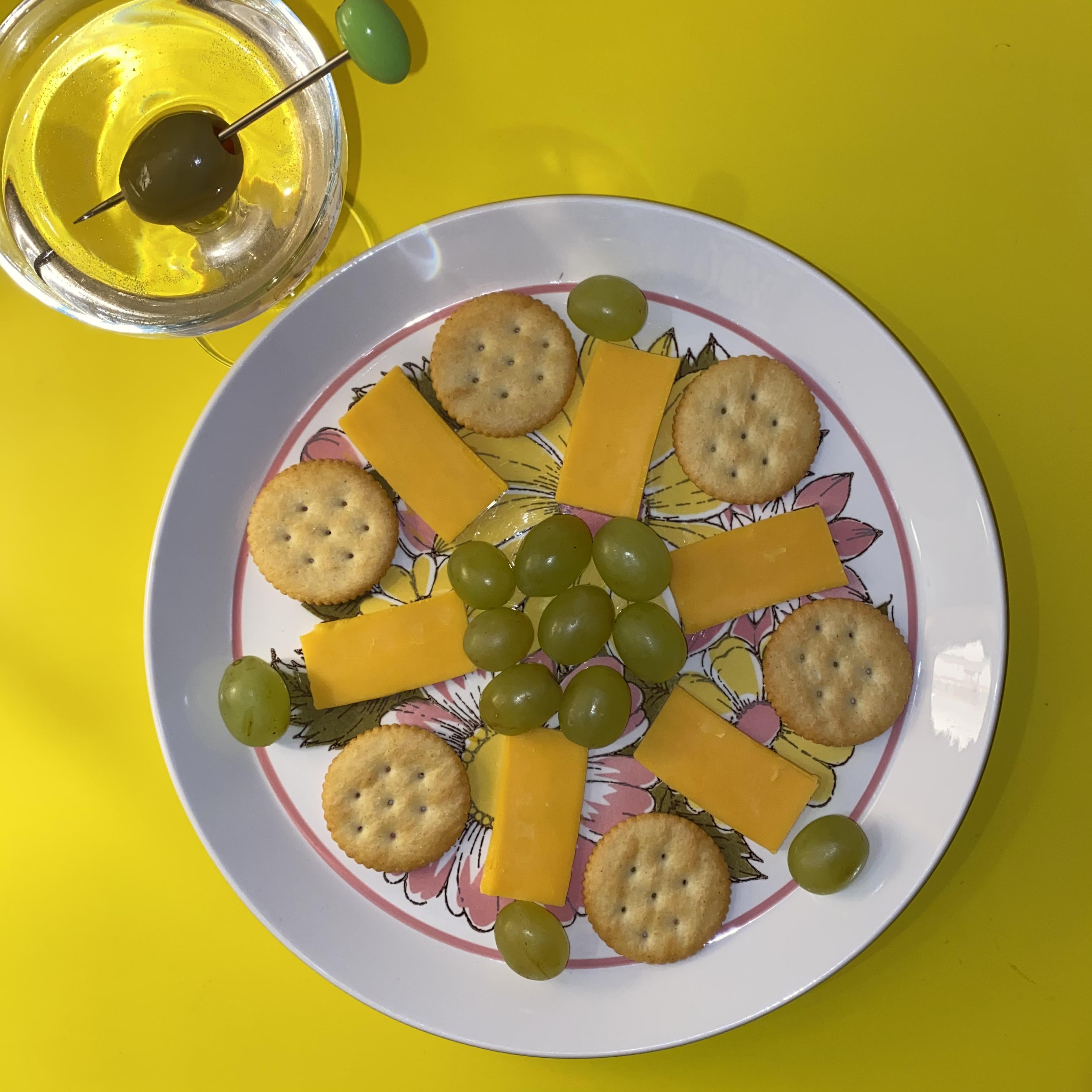 EC: Under the iPhone flash, the cheese plate almost pulsates—the grapes slick like skin after a night out, the crackers begging to be washed down with a drink that's sitting just out of frame. In the photos without flash, they feel kind of melancholy, more reflective of the reality that is outdoor dining (at a bar or otherwise) during a pandemic—there's never quite enough light to see what you're eating or your friends' faces, or to admire whatever good outfit they're wearing that at this point in the year is likely covered up by a big overcoat. It makes me wish I were inside the bar, under lighting that is dim and sultry on purpose, not on a New York City sidewalk under a dubious cosmic arrangement attempting to enjoy the spoils of "regular life" while also putting myself and others at risk to do so.
SK: I have no idea when the pandemic is going to be over, although for some reason everyone in my friend group has decided that I'm the one who knows when the pandemic will be over even though my information is the same as theirs. Friends are always asking, "When will the pandemic be over?" and I'll usually just say a random month in the summer and my friends will say, "You're always right." Anyways, until then, I can't really go to a bar. Not even outside. It's too cold. I have bad circulation so I don't like sitting outside for too long, my little fingers get so freezing. All I can do right now is look at the Clandestino cheese plate Instagram (on Safari, logged out), and imagine myself making goo goo gah gah eyes at a Bode jacket.