Photograph courtesy of Yeezy.
Go West, Young Man: Kanye's Vision of a Calabasas Americana
In his new zine, pegged to the second drop of his Calabasas line with Adidas, West shares his vision of the place where the luxury revolution was televised.
Photograph courtesy of Yeezy.
With the second drop of his Adidas Yeezy Calabasas line in October, Kanye West released a new Yeezy Calabasas zine, set at an anonymous gas station in L.A. The collection—a streetwear capsule under the umbrella of his fashion line Yeezy's partnership with Adidas, first launched last March—is dedicated to the area of L.A. he calls home, with the increasingly sought-after garments available directly through yeezysupply.com.
In the zine, the gas station is bathed in flat bright sunlight, the sidewalk pale grey beneath a pale grey sky, set against dry ochre hills. There are telephone poles, green freeways signs, and a payphone: this is a portrait of a quintessential Californian non-place, a little pocket of civilization that barely registers while you slide along the sprawling network of L.A. roads. The nondescript oversized sweatshirts and sweatpants in grey, black, and occasional neon green are a perfect fit for the surroundings—a uniform for the new generation of desert drifters. But they're not cynical: the garments unmistakably are a sort of fan merch for the area, adorned with "Calabasas" and "Agoura," a neighboring community, in racecar-like text, reading like road signs or a local sports team insignia. This mundane beauty is at the center of West's vision of Calabasas, and the zine depicts the overlooked true face of the Californian suburb. Or does it?

Those far away from the West Coast (including plenty of the lucky buyers of the Yeezy Wave Runner 700 sneakers who got the zine as a complimentary gift), might be asking: what is Calabasas? The city, which is a part of Los Angeles County, is located in the hills west of the San Fernando Valley, inland from Malibu. It has just over 20,0000 inhabitants, and formally became part of L.A. in 1991. The Warner Bros. Movie Ranch was located here between 1933 and 1960, and was used for numerous productions, including a few Spaghetti Westerns.
But Calabasas is far from being an ordinary desolate small town stuck in the past. In fact, it's been crowned a new pop cultural capital of the U.S., as the home of reality T.V.'s royal family and the cradle of the 21st century celebrity civilization. A large part of Calabasas is comprised of one of the wealthiest gated communities in the country: Hidden Hills, with Justin Bieber, Drake, Selena Gomez, and the Kardashians among its residents. The walls around Hidden Hills are high, but paradoxically, you might have been inside a few of its luxurious mansions: first, in 2002, through The Osbournes, a peek into hectic family life of a heavy metal legend Ozzy Osborne; followed by 2003's Newlyweds: Nick and Jessica, which shadowed the early days of marriage of now divorced pop stars Jessica Simpson and Nick Lachey; and finally, of course, Keeping Up With The Kardashians in 2007. With their grottos and marble bathrooms, dozens of bedrooms and vast green lawns, these excessive homes embody the ultimate American idea of celebrity lifestyle, both unattainable in its wealth and down-to-earth casual. But this is not West's Calabasas, or in fact with real Calabasas—it's a fictional place created to deliver Yeezy's cultural stance.
West's vision of Calabasas is seems linked to his need to reckon with his relationship to reality T.V. stardom. As Carrie Battan wrote in The New Yorker, West at first kept his distance from the show's gaudy, oversaturated aesthetic and contrived plot lines, but gradually he's gone from a disembodied figure to a visible presence and, finally, an actual character on the show, even if his appearances amount to occasional cameos. But even as West's appearances on Keeping Up With The Kardashians have become more frequent, it still feels—whether he's organizing Kim's closet or bringing artist Julian Klincewicz along to film a documentary on the family with a lo-fi VHS camera —like his presence is meant to subvert the show's surface-level appeal. With the Yeezy collection, the glossy aesthetic we see on reality T.V. is supplanted with West's own, created with West's own team: photographer Jackie Nickerson who, apart from work for various magazines, is the author of Farm, a book of portraits of African farm workers; and Tremaine Emory, one of the brains behind No Vacancy Inn, and Melissa Collett, creative director of the silk resort wear label WORME, as models. (They are also a couple in "real life.")
In art and fashion, places are always related more to culture rather than geography. Just like Gosha Rubchinskiy's Russia, West's Calabasas is a myth resting on the pillars of a certain visual language of California's dark side. It owes a lot to desert dystopias like that of Mad Max, and it's easy to imagine the off-black Calabasas cap worn by a character in Terminator 2. It makes you think of the madness that hot Santa Ana winds bring to the city, described by Joan Didion in her essay "Los Angeles Notebook"; the desert hiding places of the Manson family; the mysticism of David Lynch's Mulholland Drive; and the highway scenes in the lyrics for "The Sprawl" by Sonic Youth (itself a mélange of lines from Denis Johnson's hellscape novel The Stars at Noon).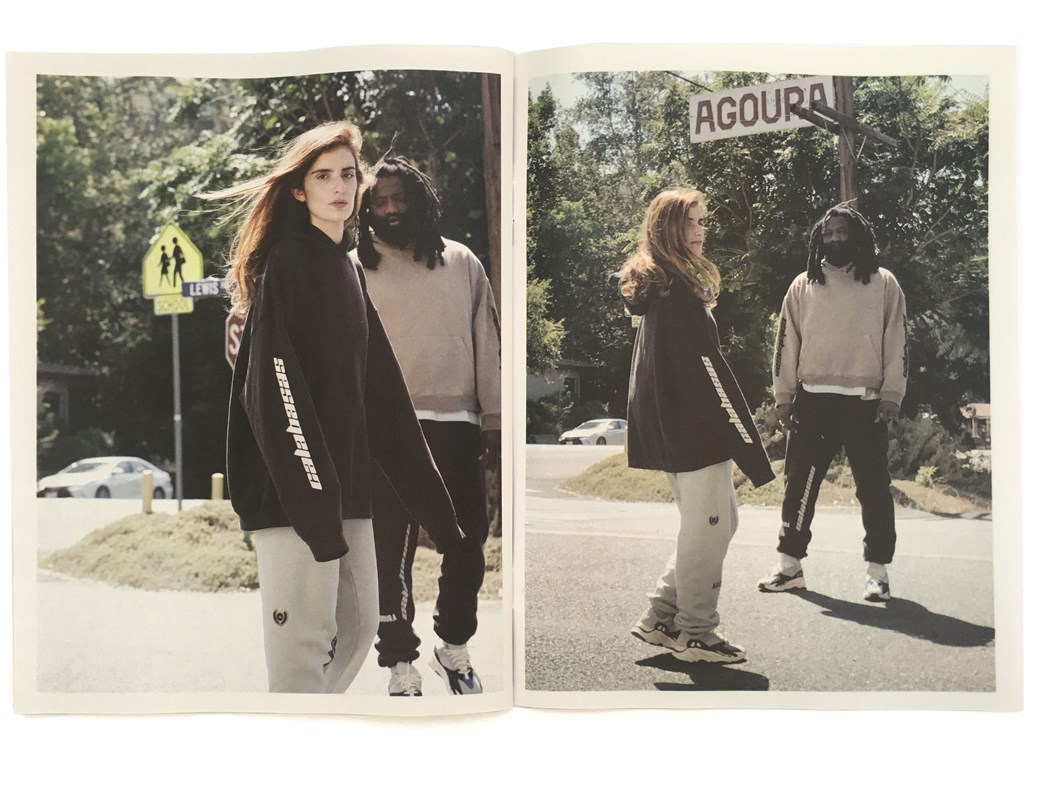 But the story here goes deeper than just cultural references and into the social and geopolitical conditions of this Californian suburbia. Life here has always existed in close proximity to deadly wilderness. It stands on top of the desert, amidst the landscape changed completely by the needs of irrigation. Wilderness is always at your doorstep, in the forms of devastating fires and mountain lions (one of which, in fact, broke into Will Smith's Calabasas house in 2016). Socially, it's even more complex: in the racially diverse California, Hidden Hills is overwhelmingly white, and the Kardashian-Wests are aware of their position as one of America's most famous multiracial families. Although Yeezy Calabasas merch hardly addresses all these issues head on, they linger around the project.
Somehow, the Yeezy Calabasas is simultaneously the future and a ruin—not Apple but Intel. In 2016, West produced another project about Calabasas in collaboration with 032c, which also trafficked in this lost-in-time feeling. In the shoot, Travis Scott, Kim Kardashian, Khloé Kardashian, Amina Blue, and Young Lord wander around discolored sands and building sites, and Kim and West's unfinished home. "The place somewhere outside of some city," the accompanying text read. "This is the dirt of that limit. The pulverized stone crushed into microprocessors. This is the face of that limit. The scaffolding that holds up a network of desire. This is the machine of that limit. A nondescript office designing apparel for the 21st century."
The idea of limits and boundaries seems to be the key. West has spent the last few years trying to break into the insular fashion world, and now he wants to dismantle the very idea of luxury. More than that, he's on the quixotic quest of fast luxury, available to everyone. If Calabasas is where contemporary luxury came into existence—where the revolution was televised—this is where it should die. Maybe Kanye will be the one who destroys it from the inside. Considering where the world is heading, the walls around Hidden Hills will not stand for long anyway.