Photograph via Getty Images.
Russia's Next Big Streetwear Brand on Designing Under Putin
"We are fine with everything."
Photograph via Getty Images.
One of the most hyped shows of Russian fashion week was that of streetwear label Black Star Wear. The clothing included sweats marked up with instructions—"PLEASE MAKE OVERSIZE"; "CIGARETTE PACK SIZE POCKET"; and on a split jacket, "FLIGHT JACKET FIT" on the top and "ORIGINAL TRUCKER JACKET FIT" on the bottom. If Virgil Abloh plugs the Duchampian ready-made, Black Star Wear is about the if-we-were-to-make. On one hoodie was a dashed-line box with a message underneath: "PLACE FOR CHEST-BAG," a cheeky nod to the sudden obsession with chest-rig bags in menswear.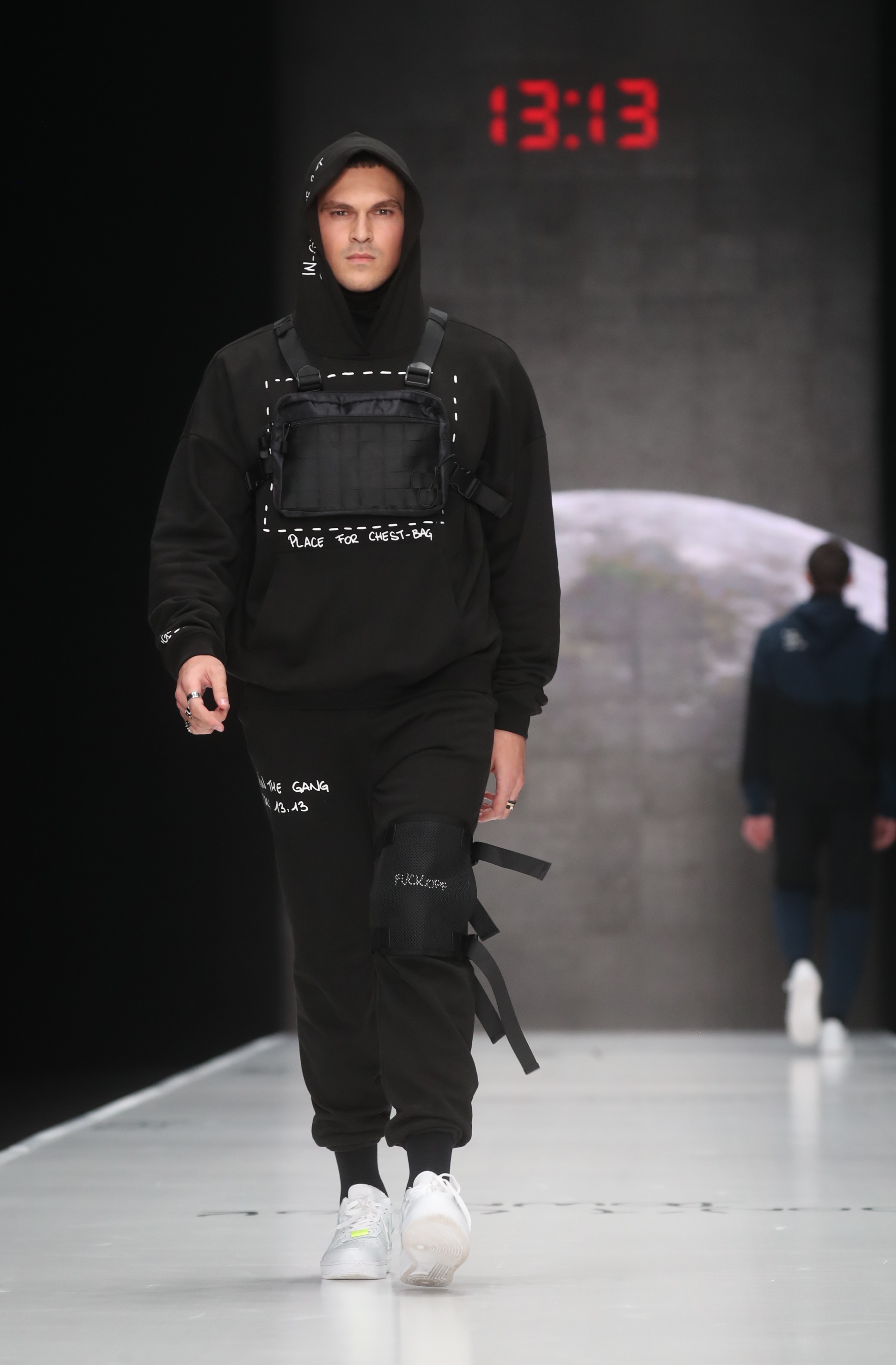 Black Star Wear was founded in 2010 by the Russian rapper Timati as a kind of merch outgrowth of his record label Black Star. The brand ascended to a new level of buzz two years ago when it hired as creative directors Sofiane Kihoul and Jeremy Douay, two French designers who had created the now defunct label Defend Paris. "There is a positive energy in Russia," says Kihoul. "We were getting older and older—I'm 29, and he's 34 now, and we needed to have this young spirit."
The duo has a vampiric obsession with youth. "I like the youth," says Douay, who has a tattoo in cursive that reads "PARIS" above his right eyebrow, and another that says "FAMILY" across the front of his neck. "I would like to have a really young audience."
Those marked-up sweats were a reflection of "our daily life, because we need to write everything to explain to the patternmaker," says Kihoul. He adds that he loves Tom Sachs—"how he writes on stuff with Sharpie." But also, "We were a little bit lazy, too."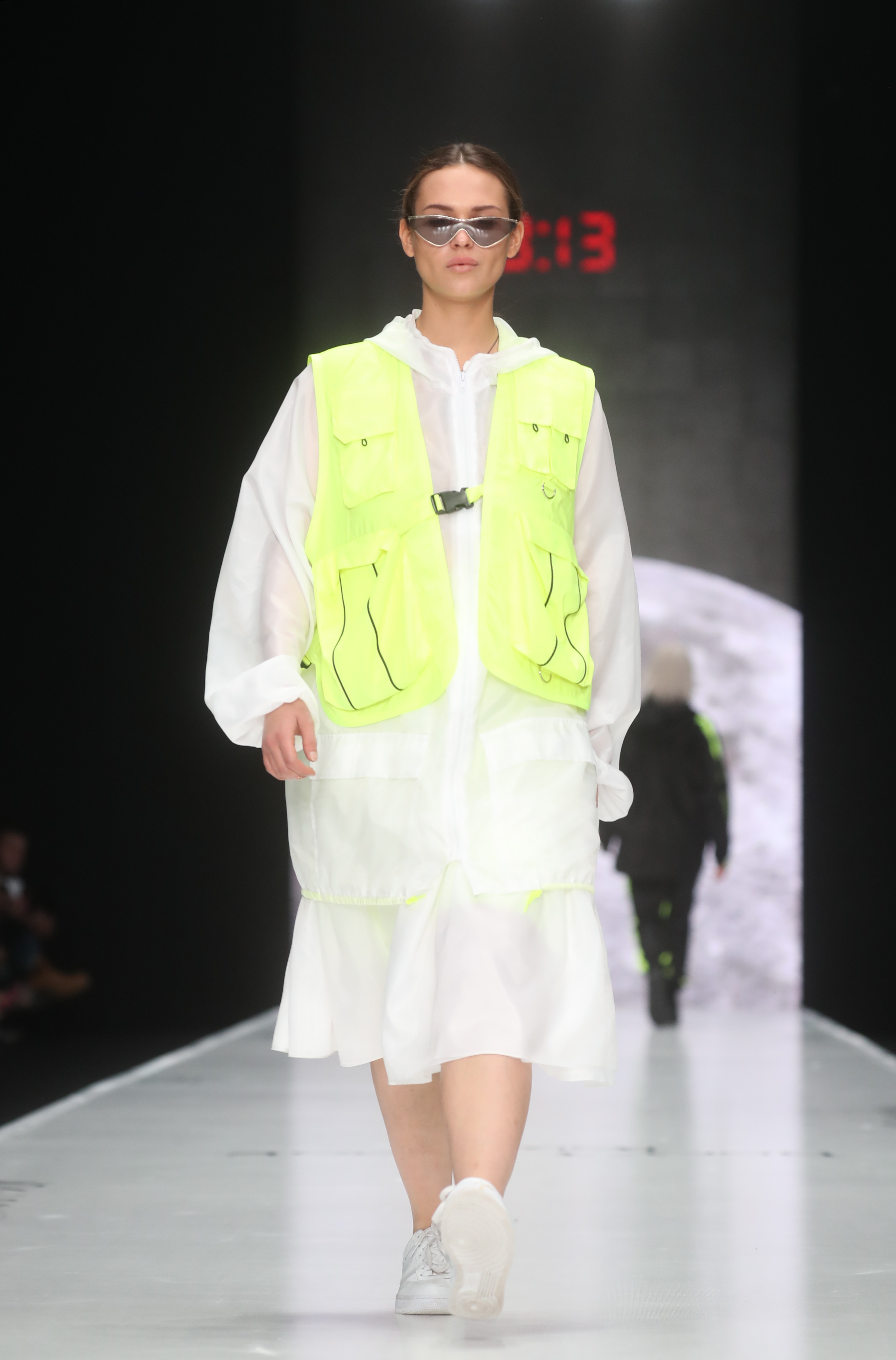 You can't help but appreciate a streetwear designer with a sense of humor about this increasingly self-serious subculture. "We are not like hypebeasts anymore," says Kihoul, comparing Black Star to their previous fashion work, "so [we put] a twist or sense of humor on what we do. We step back [from] the streetwear market [because] sometimes [it] can be a little bit ridiculous."
"We don't like to make expensive clothes," says Kihoul, "because here there [are] a lot of rich people—too fancy—and we are not interested in this audience. The young are broke, but they want to be stylish, and they go to Sadovod [Moscow's largest street market, on the edge of the city], which has cheap clothes from Asia, and they mix that with our brand. That's what we like."
In the United States, making a fashion T-shirt is basically a mandate to print a political manifesto, and you can't go ten minutes without anyone—especially people in the fashion industry and other creative fields—discussing Trump, which is why I was surprised to learn that Black Star Wear sells a T-shirt with a geodesic portrait of Vladimir Putin. Douay clarified that the design predates their tenure at the brand. Kihoul adds, "But we decided to keep it."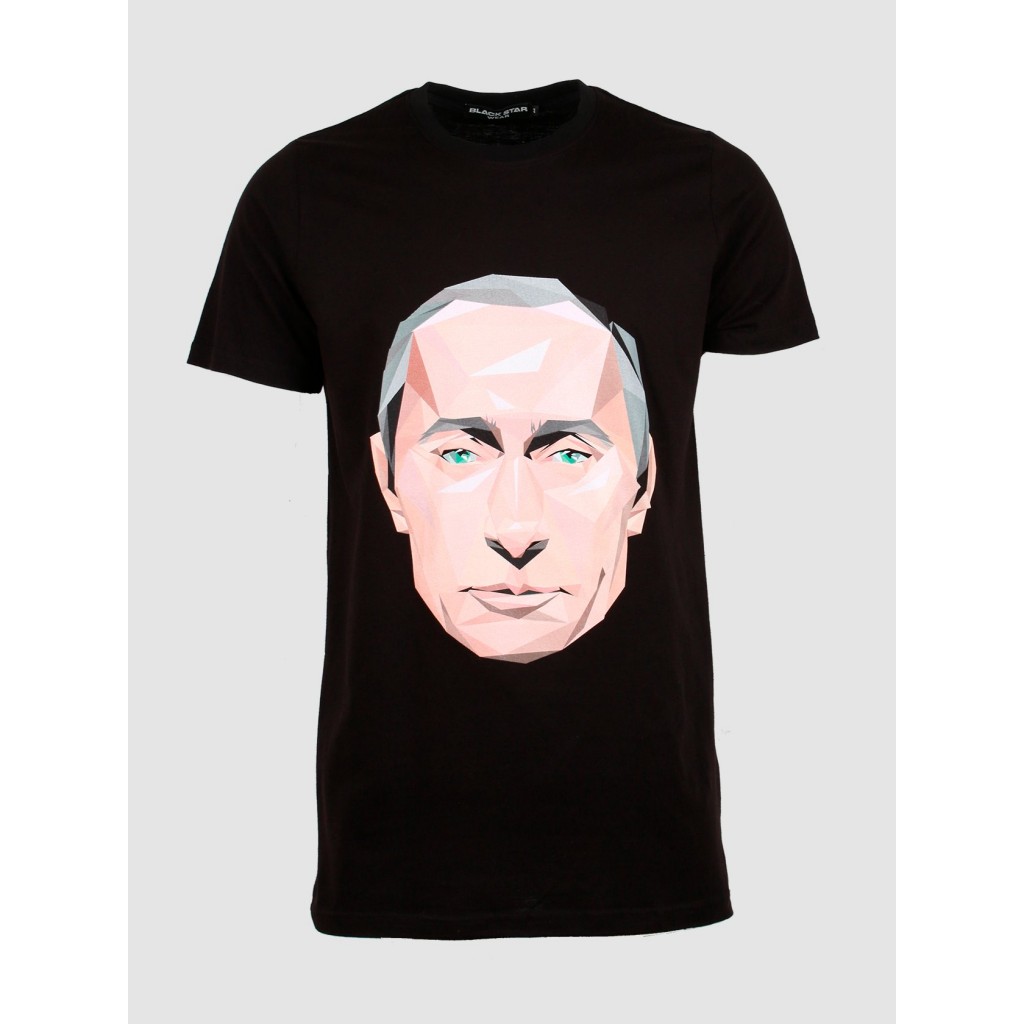 "Because it's part of the DNA of the brand," Douay says. It's "one of Black Star Wear's basics."
"And to be honest," Kihoul says, "we came from France. And everyone tries to have this opinion about Putin, but in fact now, we're living here for two years, and around the artistic environment with designers, painters, photographers—they don't talk about him."
Adds Douay, "We don't really know, because we don't have a lot of friends here who talk about it." I found this surprising, but wondered if Americans are simply in political shock—Putin has been in power for much longer than Trump. Still, I've met with several designers and visual artists on my trip, and though politics don't come up nearly as much as they do in the United States, most have mentioned at least in passing the difficulty of making art with a political message; a member of Pussy Riot was poisoned only last month, for example.
So where did that Putin T-shirt come from? Timati is close friends with Chechen leader Ramzan Kadyrov, a politician so devoted to Putin that he refuses to refer to himself as "president" of Chechnya because he believes there should be only one leader of Russian territory. Before he was banished from Instagram in December of 2017 for myriad accusations of torture and killings, including the imprisonment and torture of gay men, Kadyrov would frequently share what the Wall Street Journal called "charming, callous and menacing" posts on the platform. Timati has shared a more candid view of his friend on social media, such as a now-deleted image of Kadyrov on his private jet and a video in which he describes Kadyrov as "a hero of Russia." The friendship triumvirate was more formally sealed in 2015 with Timati's single "Лучший друг," which translates to, "Best Friend." "Мой лучший друг - это президент Путин," goes the chorus, over and over: "My best friend is President Putin." See the video below, in which Timati and the rapper Sasha Chest don rubber Putin masks to deejay at a club; in some scenes, they stand in front of the portrait that now appears on the Black Star shirts:
Douay and Kihoul, for their part, seem to be more securely ensconced in a community of musicians and designers, but one wonders how any sect of the creative class could remain so blithely oblivious to political censorship and unrest. In fact, they seem to be unaware of their adopted country's political struggles. "I don't know about [people] outside of Moscow," Douay continues, "but for how we're living inside of Moscow, we don't really see the struggle that we can see in America, for example. In America, you walk down the street [and] you can see that people suffer every minute. In Russia, you can see a couple kissing on the street; you see more happiness. We don't see the bad view of Putin. We are aware that there is something, but from our vision, we don't see it."
Kihoul says that the Putin T-shirt, and the larger question of Putin's government, was a concern before they moved here, but he says that he believes that opinion is formed by what things were like "a few years ago, with [Mikhail] Gorbachev, which gave bad exposure to Russia. And now Putin is actually like a strong man, and they are proud of him." He adds, "We cannot come to a country and judge it. So we are fine with everything."
They acknowledge that friends have asked why two guys living in Los Angeles and Paris would want to relocate to Moscow. "We say they don't realize it, but we are lucky," says Kihoul. "There's a lot of freedom here" creatively. Indeed, the city is known for its underground art scene.
"They give opportunity to people," says Douay. They designed streetwear in Paris for nearly 15 years and found it nearly impossible to break through. "The art movement is new in Russia," he says. "If you do something, people say, 'Can I see your brand? Can I hear your music?' They're still interested by new stuff. In America, everybody for 200 years [has made] art." This is the danger in streetwear's logo-mad aesthetic: Russian streetwear darling Gosha Rubchinskiy put a hammer and sickle on T-shirts, and Ukrainian customers snapped it up, "thinking it was a fashion thing," he told The Guardian. "It's almost lost its meaning."
Still, underlying Black Star Wear is a feeling that the label is going against the grain. Rather than use professional models, they explained, they mixed in many of their friends, too, which is standard on U.S. runways but isn't really done on Moscow's maniacally polished catwalks. "You can see the difference—one of our friends almost fell at the end," Kihoul says "He has this nonchalance—we say in Italian sprezzatura. And he's so sprezzatura, but he doesn't know about it. This is what we like." More radical would have been the use of black models; I hardly saw one all week.
That's also what led to a chain-wielding model clomping down the runway. "The guy came with his chain, and so we said, 'Of course,'" Kihoul says. "One of our questions always is: Do you feel good in the clothes? Because we do not want them to do the shows with clothes they don't like." Very accommodating for designers, who can be notorious for imposing a specific vision. But as they said, they are fine with everything.