Kylie Jenner as Christina Aguilera (photo via Instagram).
Halloween Inception: Your Guide to Celebrities Dressed as Other Celebrities (UPDATED)
Imitation is the sincerest form of flattery, right?
Kylie Jenner as Christina Aguilera (photo via Instagram).
Halloween is a magical and intoxicating night, a night when we get to shed the skins of our humdrum daily lives and inhabit a totally new persona. For celebrities, of course, the stakes are even higher; they already get to inhabit new personae every time they take on a new role, so they have to really ball out when it comes to the ~spookiest~ night of the year.
In breathless anticipation of Halloween, the absolute best holiday (do not @ me with your impassioned defense of Christmas!), we've put together a compendium of the ultimate Inception costume move—celebrities dressed as other celebrities.
Beyoncé as Lil' Kim. If you're Beyoncé, the megastar who launched a thousand aspirational Halloween costumes, who do you look to for costume inspiration? Why, iconic rapper Lil' Kim, of course. Lil' Kim was so touched by Bey's five-look tribute that she gushed about it on Twitter, calling herself "speechless and honored."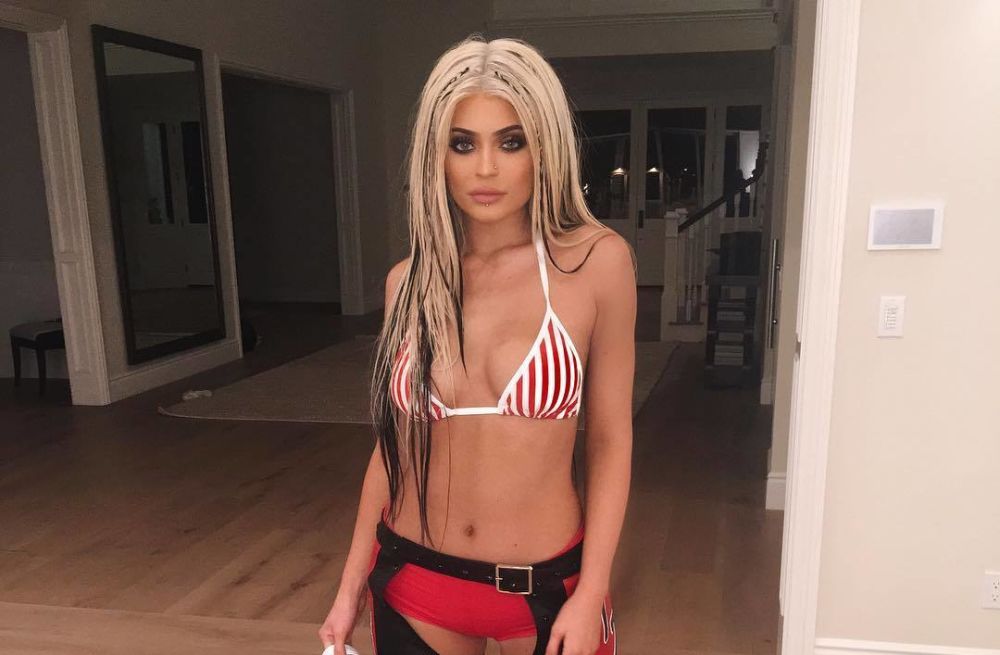 Kylie Jenner as Christina Aguilera. The youngest member of the Jenner clan's tribute to "Dirrty"-era Christina Aguilera was, it has to be said, a scientifically perfect Halloween lewk. Early 2000s throwback? Check. Plenty of skin on display, in accordance with Mean Girls costume regulations? Check. Jenner's outfit got a resounding "YAASSSSS" from Xtina herself, which is the highest sign of praise one celebrity can offer another.
Demi Lovato as Selena. One Texan music icon dressing up as another is a thing of beauty. Why does just looking at this image make me want to listen to "Como La Flor"?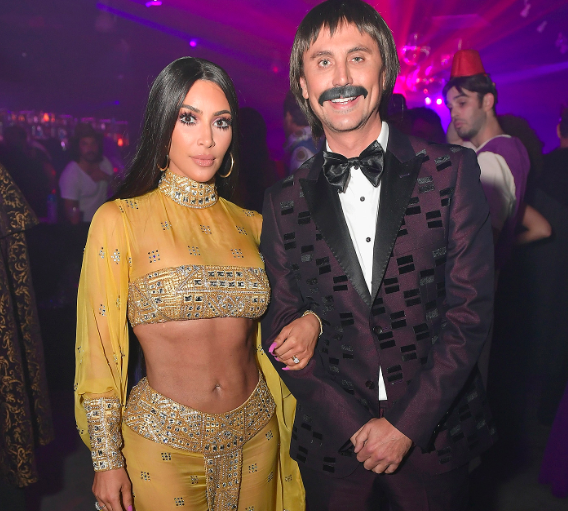 Kim Kardashian as Cher. Kim Kardashian has a habit of dressing up like Cher, but perhaps her greatest impersonation of all involved a custom-made Alexandrine replica of the singer's 1973 Oscars look, plus a handy accessory in the form of the always-game Jonathan Cheban as Sonny.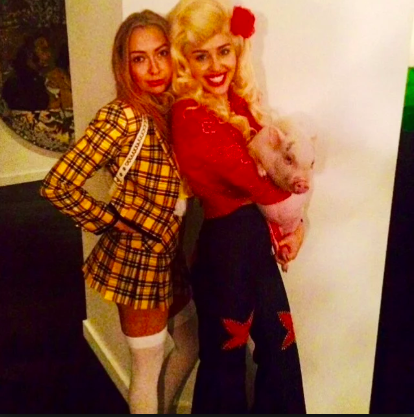 Miley Cyrus as Dolly Parton. Real heads will remember Dolly Parton's epic Hannah Montana guest arc as Miley's "Aunt Dolly," so it's only fitting that the young Cyrus took Halloween inspiration from the legendary country singer (complete with status pig!).
Winona Ryder as herself (?). Okay, this one is a bit of a thinker. Winona Ryder showed up at an event wearing the same Tom Waits T-shirt and leather jacket she famously sported in 1991, prompting the internet to think she was pulling the insanely powerful stunt move of dressing up as her past self for Halloween. Sadly, some investigative reporting by Buzzfeed disproved the fan theory, pointing out that the adult Winona's look dated from December 2016, and thus couldn't be a Halloween costume. Still, we think it deserves a place in the annals of celebrity costume history.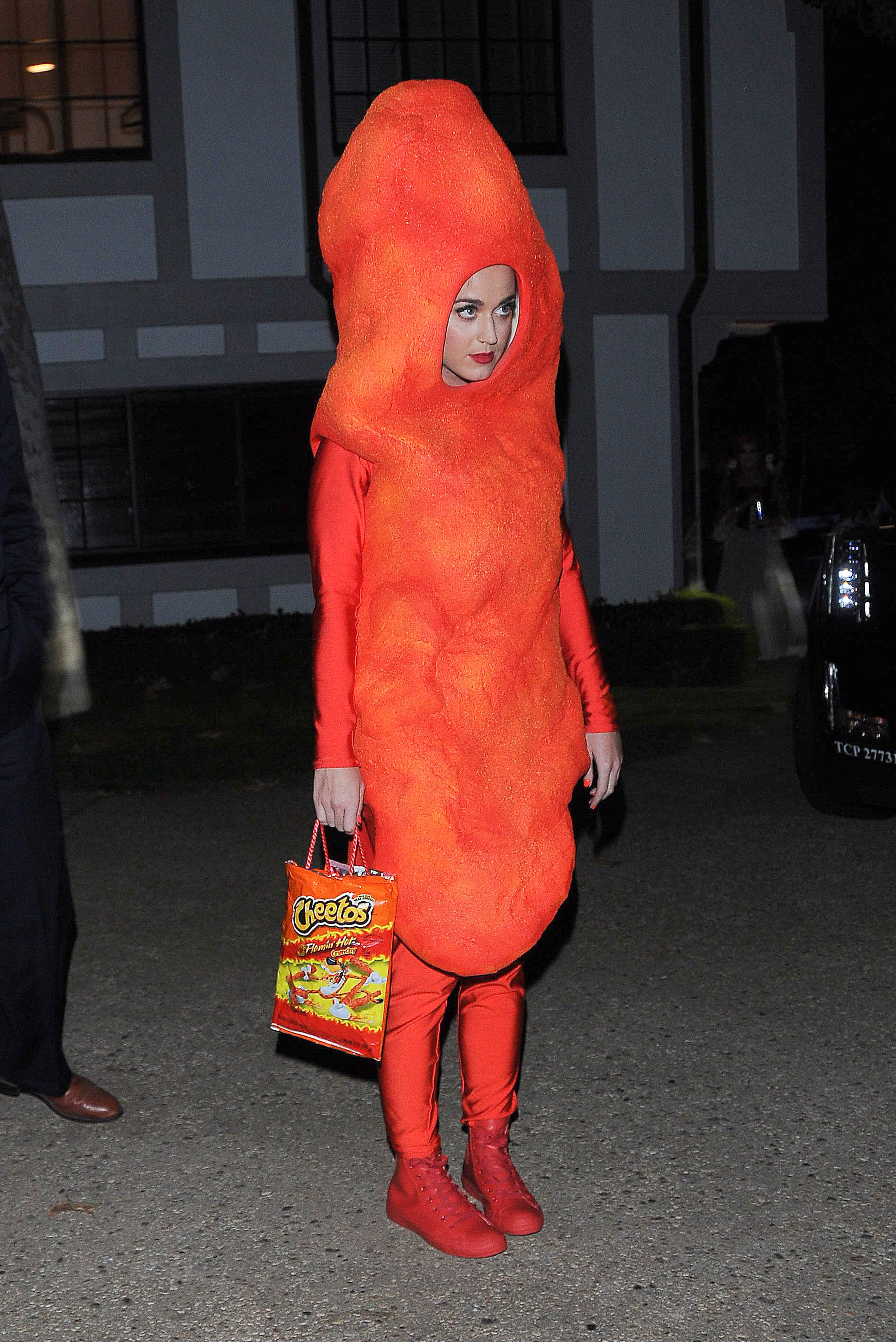 Katy Perry as a Cheeto. From Rihanna's rider to last year's Chromat show, the Cheeto is the unequivocal celebrity of the snack food world. It's all too fitting, then, that mega-pop star Katy Perry decided to dress as one for Kate Hudson's annual Halloween party in 2014, posing for photographs in an ungainly orange costume that fills my heart with joy every time I look at it. Happy Halloween, one and all!

Beyoncé as "Phoni Braxton." Queen Bey outdid herself this year, posting photos to Instagram of her tribute to Toni Braxton's self-titled album cover.
Saint West and Reign Disick as Kanye and Lil Pump. Possibly taking a cue from Takashi Murakami's ode to "I Love It" (who says toddlers can't be influenced by Japanese contemporary artists?), the two youngest male members of the West/Kardashian/Disick clan dressed up in Kanye and Lil Pump's signature oversized couch shirts.
Gabrielle Union as Gwen Stefani. "No.Doubt." wrote the actress and activist on Instagram, showing off her interpretation of Gwen's signature crop top, wristbands, low-slung plaid pants and bleach-blonde locks.
Editor's note: This post has been updated as of Nov. 1, 2018.