Photograph via Getty Images.
Hedi Slimane's Casting for the New Celine Was Its Biggest Problem
Slimane gave maximum Slimane, but the customers he'll need to bring his vision to life weren'​t on the runway.
Photograph via Getty Images.
Well, what did we expect? Hedi Slimane gave us Hedi Slimane. Céline—with an accent—left with Phoebe Philo. Philo's ethos was so personal, so embedded with her own vision of feminine identity, that to ask any designer to continue on with her codes would be to ask Lindsay Graham to "look at it from a woman's perspective."

Slimane did what Slimane does: short. Big shoulders. So fucking cool. Lots of looks that feel like old photographs you know you've seen but can't quite picture. A vague but unplaceable back then. There were a ton of guys who conjured Roy Orbison, and lot of women who seemed like debutantes crashing a Laurel Canyon bash. I love a capital-F Fashion capital-s Show, with wild techno and moody models and big energy, and this was exactly that. It felt like whatever is happening in the background while Andie beats off that weird Shitty Media Man in The Devil Wears Prada.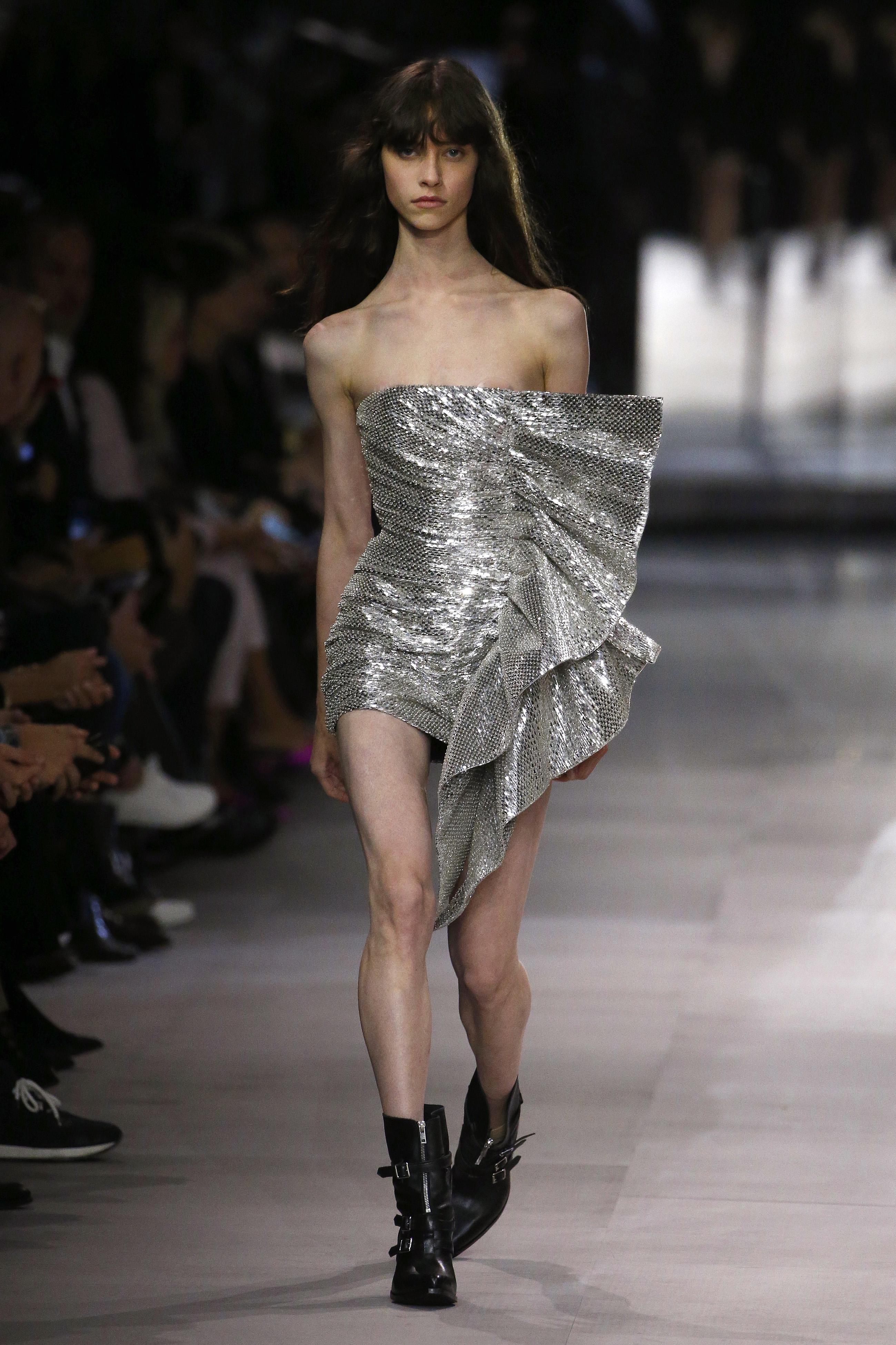 Yes, Slimane has done this look before. "Saint Laurent," a few people around me sighed and rolled their eyes as the first look came out—and then they took a swig from their Celine-label champagne. But this is the best possible version of that thing—remember, Slimane invented it. The tailoring was precise. The leather jackets were crisp. The prints were animal and metallic. The dresses were all embellished with the same razzle-dazzle. And perhaps most importantly, there was a kookiness Slimane that imitators miss: the boleros with outrageous shoulders, the oozing coolness, the mop-top hairdos. And it's that energy that places like Fashion Nova and Zara are knocking off now, just the way they knocked off Phoebe Philo's Céline in the mid-aughts. (What, you thought people just knocked off Philo's work because it was cool? Minimalism is easy to replicate cheaply, kids.) After countless celebrity endorsements, the Fashion Nova silhouette has finally completed its full high-fashion circle.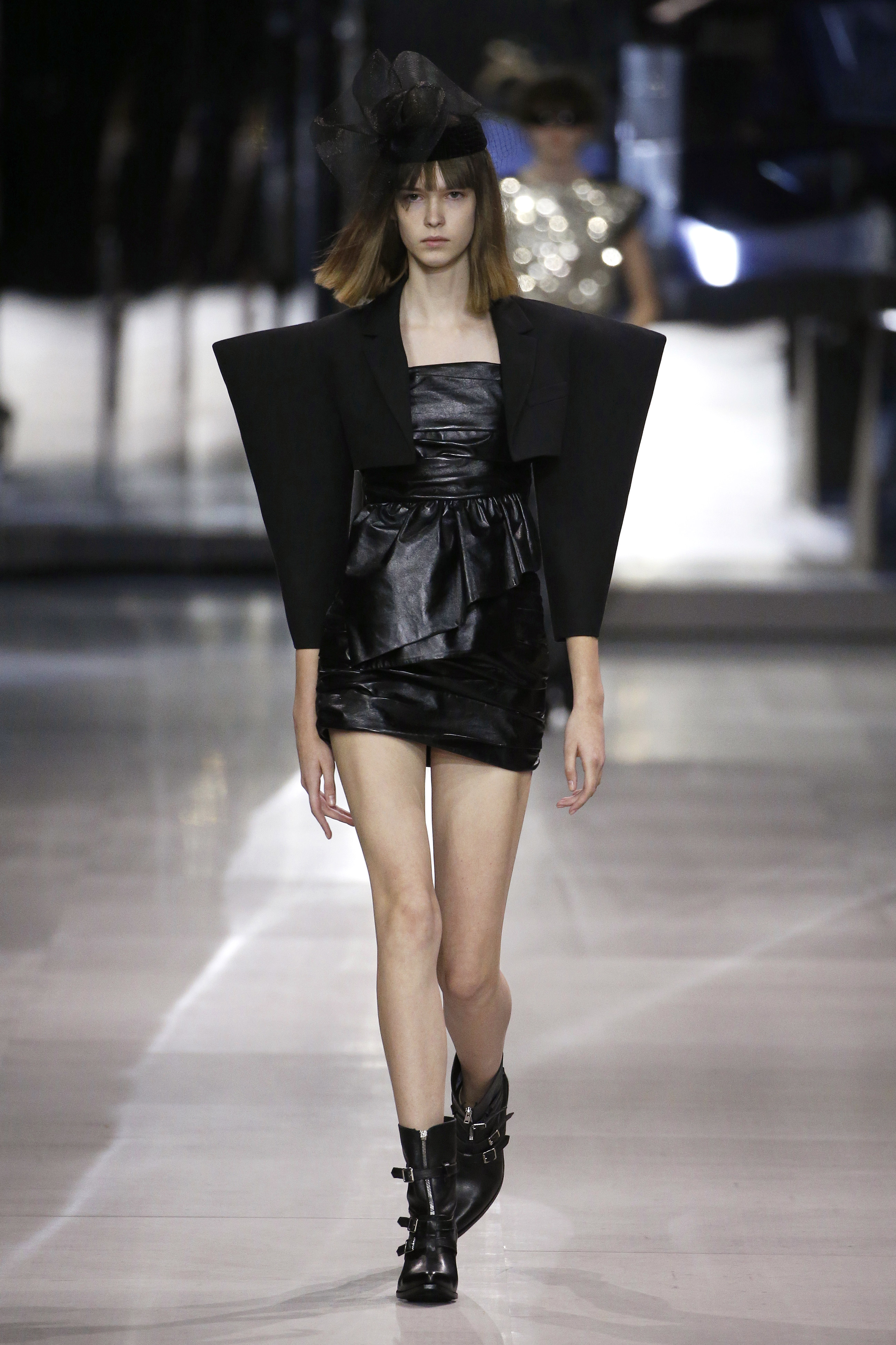 That brings us to the true major issue with the show: the casting. There were only a handful of non-white models, and no models above waif-size. It was a third of the way through the nearly 100-look show when we saw our first model of color, and there weren't many more after that.
This reflects a disconnect with what fashion wants to stand for right now. But it also reflects a misunderstanding of whom this new Celine customer will be. I really do think people will buy this clothing, but more importantly, I think rappers will wear it. Rappers are the real influencers when it comes to fashion, and I can easily see Quavo in one of those sequin bombers, or Cardi B in a mini-dress with giant shoulder ruffles. But that customer wasn't represented on the runway, and that is the biggest problem. This is fun clothing that will look slammin' on a slammin' bod—and I don't mean a withering white one. But the people who actually matter in fashion now—the real influencers—weren't represented on the runway. Slimane will need them to bring the clothing to life—here's hoping they show him what that look is capable of.