Photograph courtesy of Lou Dallas.
I Wanna Be a Fairy Princess Girl in Lou Dallas World!
Lou Dallas showed one of New York's funnest and most cohesive collections.
Photograph courtesy of Lou Dallas.
Are you ready to have fun and believe in love? Because that's how I felt after yesterday's Lou Dallas show!

Lou Dallas—the imaginary creature and woman devised and mythologized by 29-year-old designer Raffaella Hanley—goes on some mystical and quirky journey each collection. This season, the show notes stated, "A storm is gathering and washing a strange tide ashore. Bows and sequins bob in the surf. In the ribbons of foam and the fury, Lou loses sight of shore. The depths are dark but there is something like hope glimmering in the distance. Lou holds her breath and dives deeper."
It's a lot of lemon drops and gumdrops to take in, but Lou Dallas is no precious brand. Its dense spangles and treasure-strewn garments teeter on being costume—especially last season, with its ribbon-strewn knee socks and ballet slippers and ginormous bows that felt very parsley, sage, rosemary, and thyme.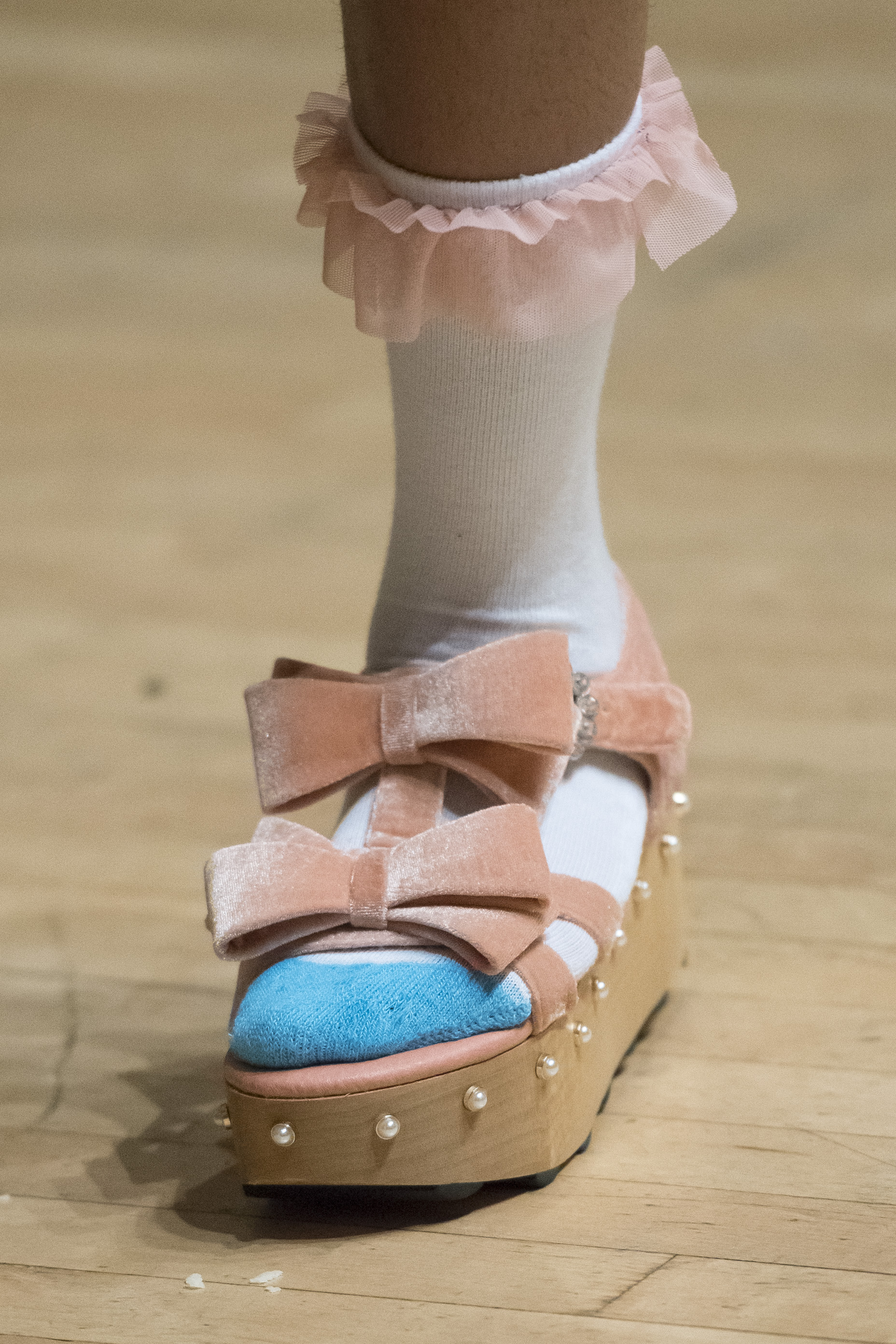 This season was cheerily cohesive, retaining all the layers and fuss that make it fun, the sort of thing a really cool art gallery girl might wear, but with a stronger sense of direction. This was helped by the shoes—a wise chic woman once said something about how you can wear whatever you want if you've got on expensive shoes—brogues and loafers and wooden sandals with pretty bows that complemented the art house feeling of Hanley's designs, rather than her childlike 'tude. The seafoam green and purple layers of knits and ruffles and droopy bows felt like one of the most visually cohesive shows of the season. It showed that this style, which at first blush may seem like girlish velveteen fantasy, could look sexy and cool on women with a variety of tastes and bods. I asked the designer after the show what she wanted to do this season that she hadn't done yet. She shrugged and said, "I just want it to get better every season." Her wish was granted! Keep it up, Raffaella!