Photograph courtesy of Marine Serre.
Marine Serre Is the Most Essential Designer Working Today
Serre knows clothing can't just promise to improve the world—it has to improve your spirit, too.
Photograph courtesy of Marine Serre.
Fashion right now is about excess, whether that's the maximalism of Gucci (rah rah!) to the sheer glut of shows and clothes (blah blah). The crowd outside at yesterday's Jacquemus show was the flabby underbelly of that excess: there was a teeming throb of people, creating a situation that felt dangerous, and not in the fun "my skirt is so short you might see my butt" kind of way we usually associate with Jacquemus. How could this many people need to see a fashion show so badly? As the spike heel of someone's satin Vetements x Manolo boots dug into my toes, I began to wonder if this is how I might die. I made mental notes about who would get my stuff (my record collection to Max Abelson; my Rocawear jacket to my brother; will my best friend ensure that Rachel Tashjian: The Collected Emails is properly edited and published in time for Christmas gift guides?). At the end of the show, as I struggled once again to get out, I thought, "I can't believe my dad made it out of the rice paddies of the Vietnam War so that I could...watch Emily Ratajowski pose for photographers in a blazer that's actually a dress." And what were the questions at stake for this new collection? Could the bags get smaller? Could the hats get any bigger? I guess…yes to both?

There were much larger questions being asked at Marine Serre's Tuesday morning show, underscoring even more that Serre is the most essential young designer in fashion. Last season, her first proper runway show, she began experimenting with upcyling fabrics, spooling deadstock scarves she sources from warehouses throughout France into elegant handkerchief dresses. This season, she pushed that idea further, using fabrics from old T-shirts to wacky upholstery to fleece bedspreads with a kind of gnarly brown and pink print. The T-shirts were twisted into fitted dresses that actually answer the otherwise meaningless "desk-to-dinner" quandary; a big baby-doll dress of surf-print fabric had a fitted, sleeved lycra bodice, so you can wear the kind of big comfy dress women are always pining for without looking like you're wearing a sack. Her fitted jackets, outfitted with pockets for all your belongings so you're not stuck carrying around five different tote bags, which she also debuted last season, had an elegant hole in the collar through which you could string your headphone wire so that it plugs seamlessly into the phone in your pocket.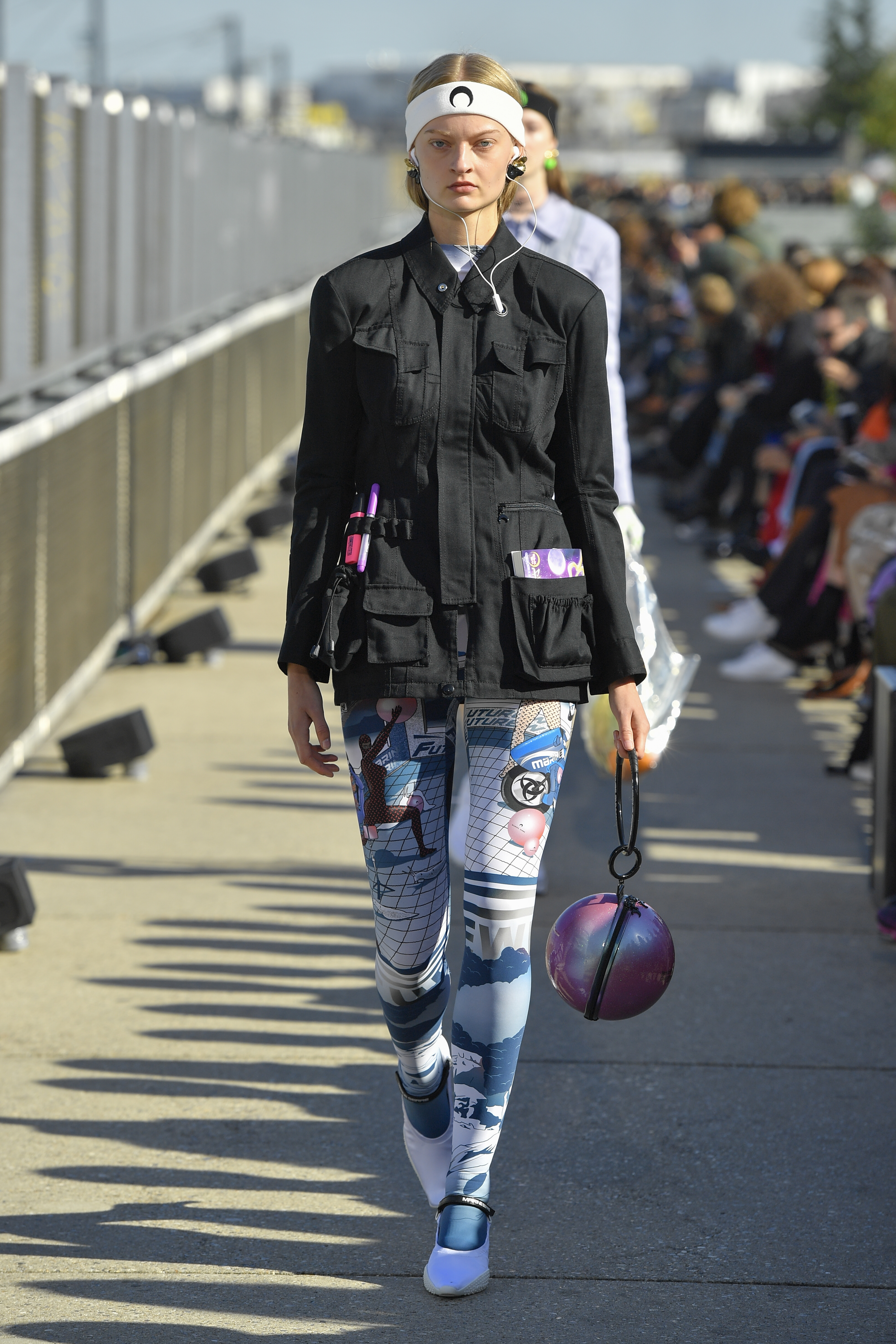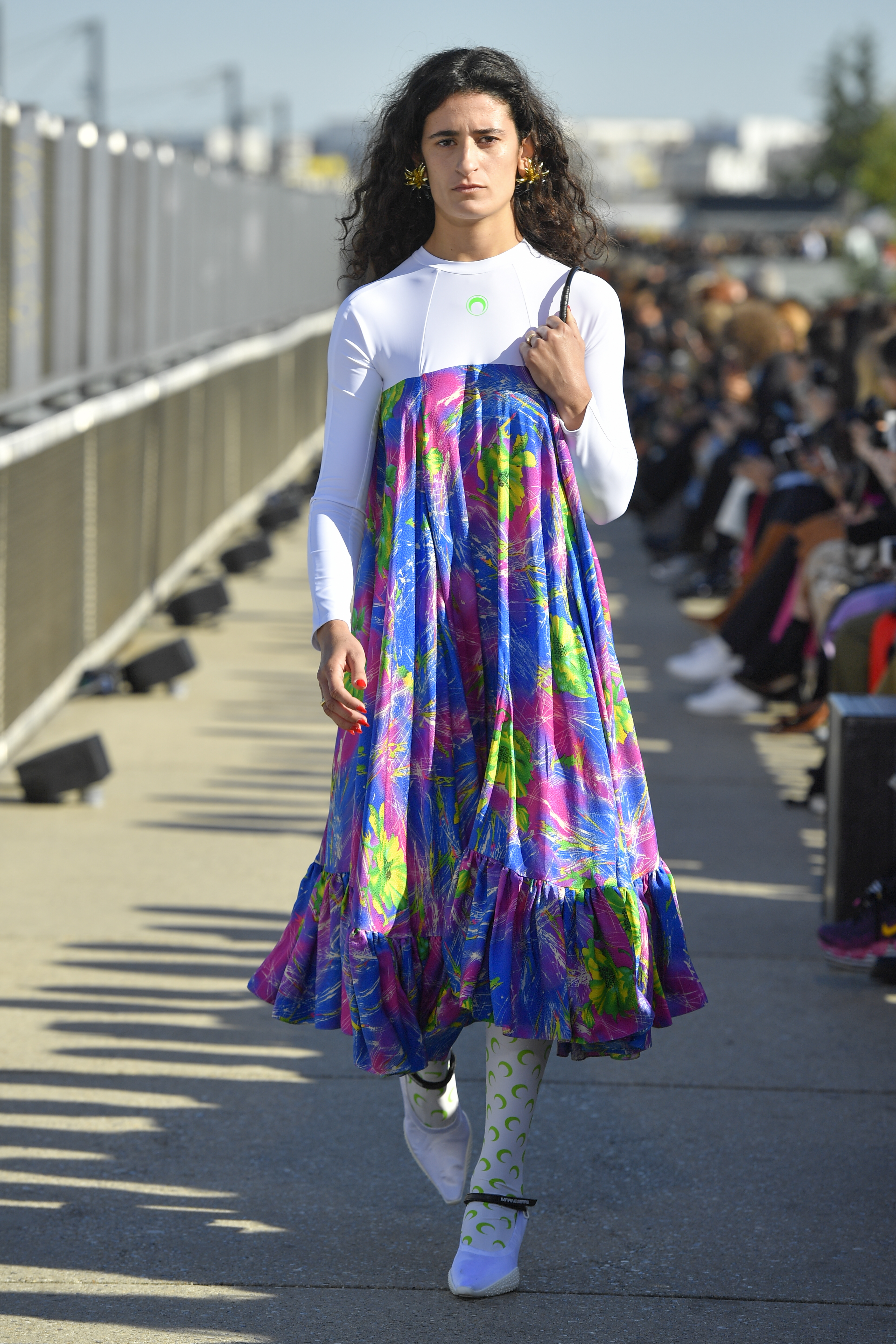 These are the kinds of questions women are actually thinking about when they go shopping or get dressed, and Serre is answering them in such a cool and elegant way. But she doesn't stop there. This fixation on upcycling might put her in that "green designer" category, but as she said after the show, she's adamant that the environmental considerations are just a bonus when it comes to the aspirational sell of the clothing. To sell, fashion can't just promise to "improve the world": it has to improve the inner spirit of the person wearing it, too. I relished seeing T-shirts like this, in particular—quilted into skirts and twisted into an asymmetrical neckline on a white dress. I didn't have to bend my mind in half trying to figure out what weird band she was referencing or what political cause she was propping up. These T-shirts have a lot more meaning than a luxe Hanes printed with a vague slogan.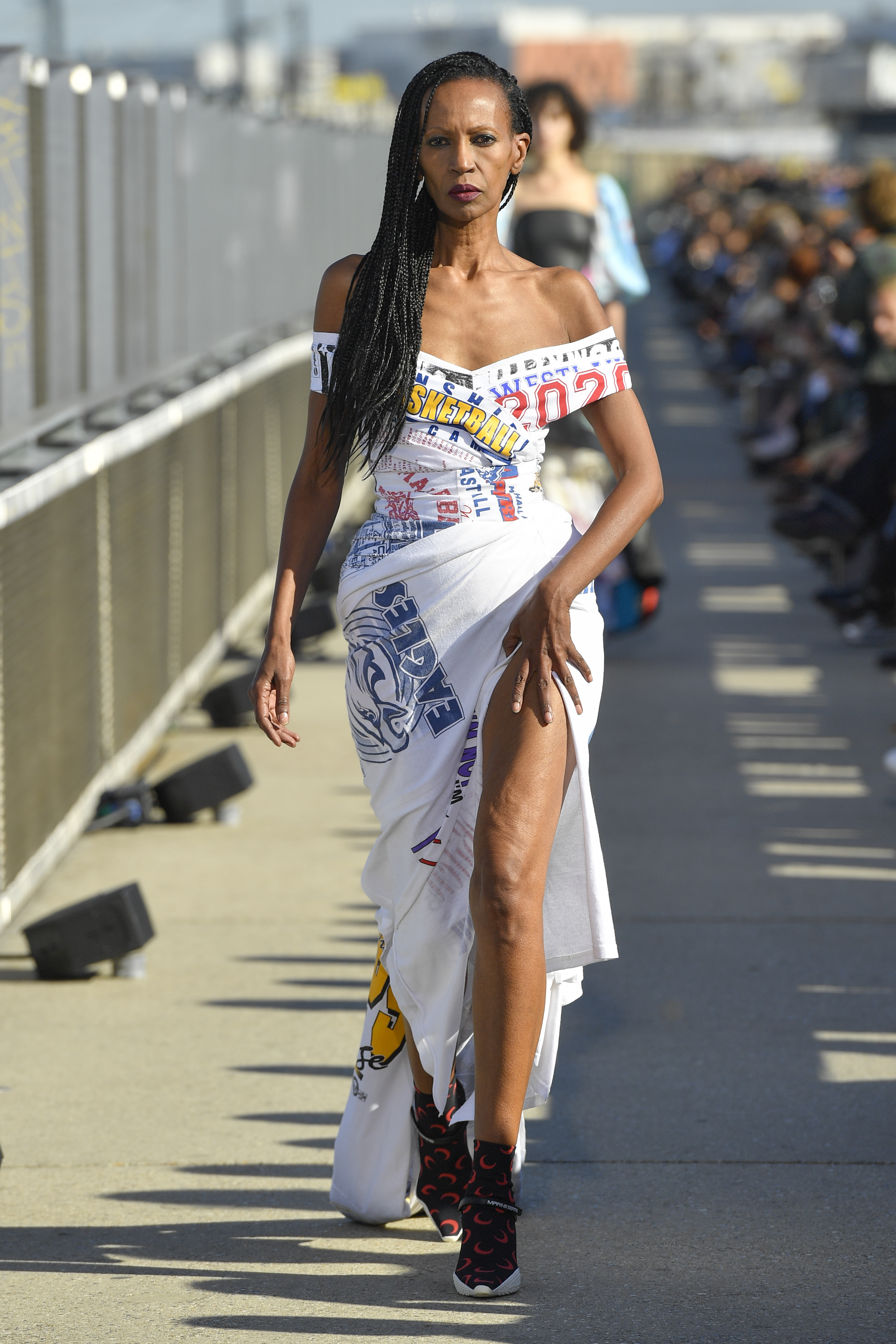 This use of stuff that "doesn't belong on the runway" didn't start with Serre, of course: there is an obvious deference to Martin Margiela here, like in a car coat studded and jangling with key chains. Serre also worked at Margiela under Matthieu Blazy, and when we spoke this past July, she said that one of the most liberating things about her tenure there was learning that you could, say, ask a street graffiti artist to paint the back of a coat for a couture collection. This notion of what and who belongs on the runway comes down, really, to care and craft—another reality she emphasized in her backstage interview at Tuesday's show. But her work is less theoretical than Margiela's, and it's the pragmatism in her design and production—why not make a funky jacket out of deadstock fleece fabric designed to keep you warm while you sleep?—that makes her so special.
And of course, a lot of designers right now are thinking about re-contextualization and the meritocracy of the runway, particularly Demna Gvasalia at Balenciaga, where Serre worked before launching her own line. But part of Balenciaga's appeal (and its strength) is a nihilistic, rich-kid gag: it makes a DHL T-shirt, say, in the finest cotton with the best screenprinting techniques; it makes parkas that will remind you of the time Joey wore all of Chandler's clothing on Friends, but it's done with the kind of precise tailoring and expert hand for fabric manipulation that recalls Cristobal Balenciaga himself.
To sell, fashion can't just promise to "improve the world": it has to improve the inner spirit of the person wearing it, too.
What sets Serre's work apart from these predecessors is its spirit and, again, her thoughtfulness. She cares. How do you create more stuff without adding to the glut, while being mindful of how and why a luxury consumer spends money? How do we get the fashion industry engaged in the questions the rest of the world is asking, about what and who belongs in culture's "exalted" realms? (And how do I just get myself to work while listening to music without my freaking headphone wire getting caught on everything?) These are large (and some small) questions for the fashion industry to be asking. But they are the kinds of questions that fashion, which is now as much a part of popular culture as music or Hollywood and has a global audience glued to its output, should be asking. Bravo to Serre for taking them on.