KERNEL (Pegy Zali, Petros Moris, and Theodoros Giannakis), As you said, things resist and things are resistant, 2018. Photo by Paddy Johnson
10 Artists to Watch in the New Museum Triennial: KERNEL
Our second pick from the prescient New York show's 2018 installment is a Greek collective that enlists mechanical help to explore economic fluctuation.
KERNEL (Pegy Zali, Petros Moris, and Theodoros Giannakis), As you said, things resist and things are resistant, 2018. Photo by Paddy Johnson
Since Younger than Jesus, its 2009 first installment, the New Museum Triennial has been a key date on the New York art-world calendar. As the city's only recurring show devoted to international emerging artists, it provides an indispensable first look at the people and practices who will help define the field in years to come. 2018's event, subtitled Songs for Sabotage, gathers thirty artists and collectives linked by their interest in disrupting the hierarchies of propaganda, power, control that shape our lives and cultures.
Continuing daily over the next two weeks, GARAGE identifies and introduces ten triennial artists to watch.
***
What does alienated labor look like? There are many possible answers, but the artists' collective KERNEL (based in Athens, Greece, and founded in 2009 in Athens, Greece, by Pegy Zali, Petros Moris, and Theodoros Giannakis) has chosen shipping at the port of Piraeus as its focus. According to the group's research, in the context of Greece's longstanding status as a hinge in East-West trade, Athenian economic precariousness represents a resurgent attempt by capitalism to "free itself entirely from labor." Piraeus, the busiest harbor in the Med, inspired KERNEL's two-part sculpture, As you said, things resist and things are resistant, which incorporates a set of metallic shipyard-style pallets and a curious mechanical arm made of parts salvaged from the port.

"The arm is the main character in a narrative about global logistical operations," KERNEL explained to GARAGE. "It is a disassembled entity animated by protocols and algorithms that are not yet fully shaped, the monster that at some point appears in every tale. The message of the work is literally in its title. It's something that we were once told and are now retelling by bringing together materials and forms encountered in places where the story unfolds. We like to think that one could consider the work as a stage for a play."

2018 Triennial: Songs for Sabotage is on view at the New Museum, New York, from February 13 through May 27.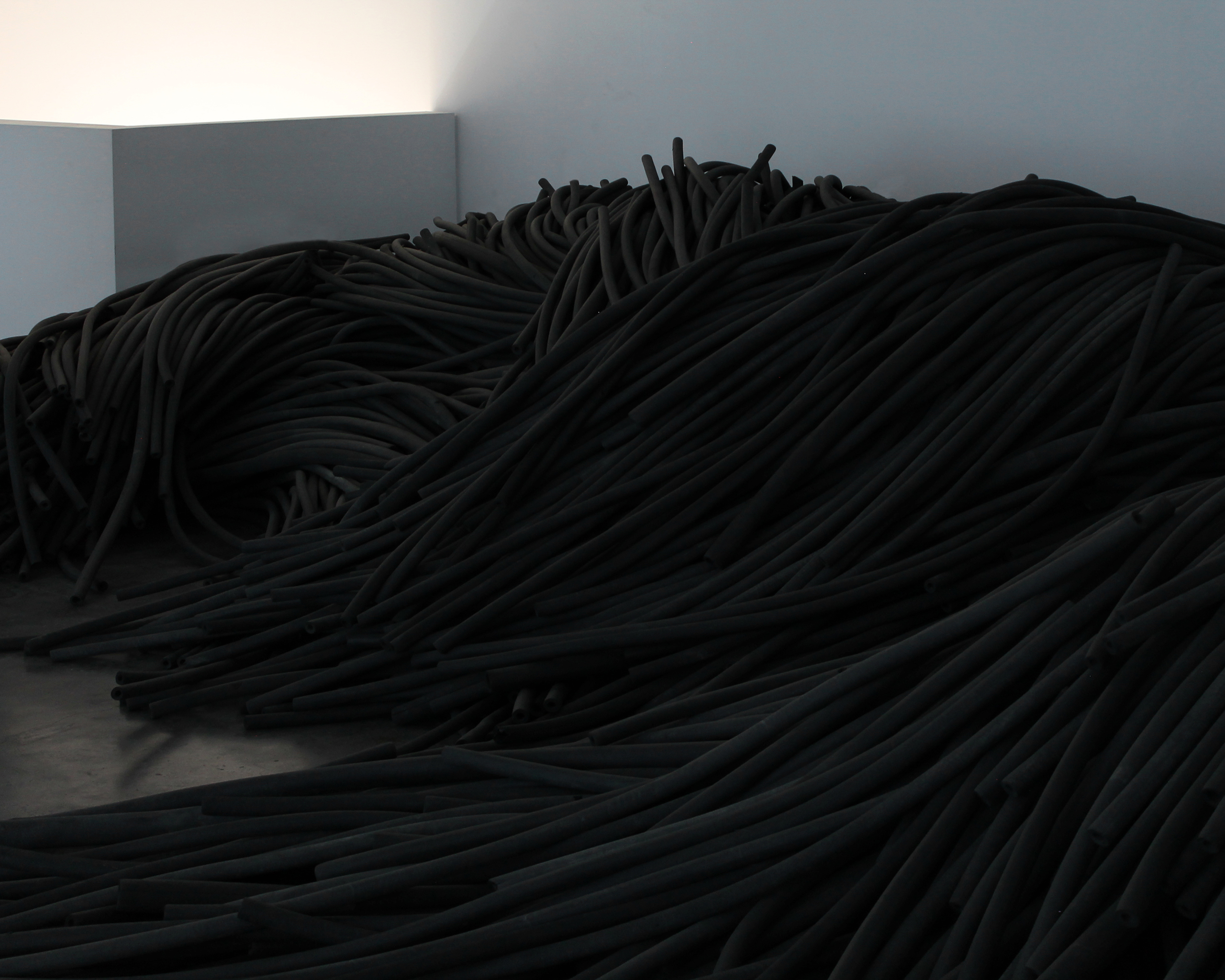 Tagged: