Photograph by Inez & Vinoodh.
In Art, Fashion, and Even Politics, We Are Living in a Warholian Moment
With contributions from Hedi Slimane, Virgil Abloh, and Inez & Vinoodh, the fourteenth issue of GARAGE celebrates New York City while exploring alternative ideas of Americana.
Photograph by Inez & Vinoodh.
If the marriage of fashion and art had been celebrated with a wedding, it would have been attended with a fair amount of skepticism. "Can you believe we're here?" "Is this about the money?" "How long do you give it?" But nearly a century after Salvador Dalí and Elsa Schiaparelli invented the modern collab, the union is going strong—though the stakes have changed. In an era that prizes authenticity over luxury, and sincerity above all else, artists and fashion designers looking to hook up have to consider whether or not their relationship really means anything.
We chose Andy Warhol as the inspiration for the cover of GARAGE's fourteenth issue, starring five-time Oscar nominee Amy Adams as one-name-only stars Liza, Dolly, Debbie, and Andy himself in drag. Only someone as versatile as Amy—her talents of utter mutability are a superpower worthy of the Justice League—could have pulled off this idea with such alacrity.
And to capture her many guises, photographers Inez & Vinoodh shot on an old Polaroid camera not dissimilar from the one that the artist used throughout the 1970s and 1980s. Some of Warhol's pictures have been reiterated and reinterpreted ad nauseam, but his Polaroids—especially the self-portraits, with a white wig and beat face to match—are lesser seen. Just imagine what the man would have done with Instagram.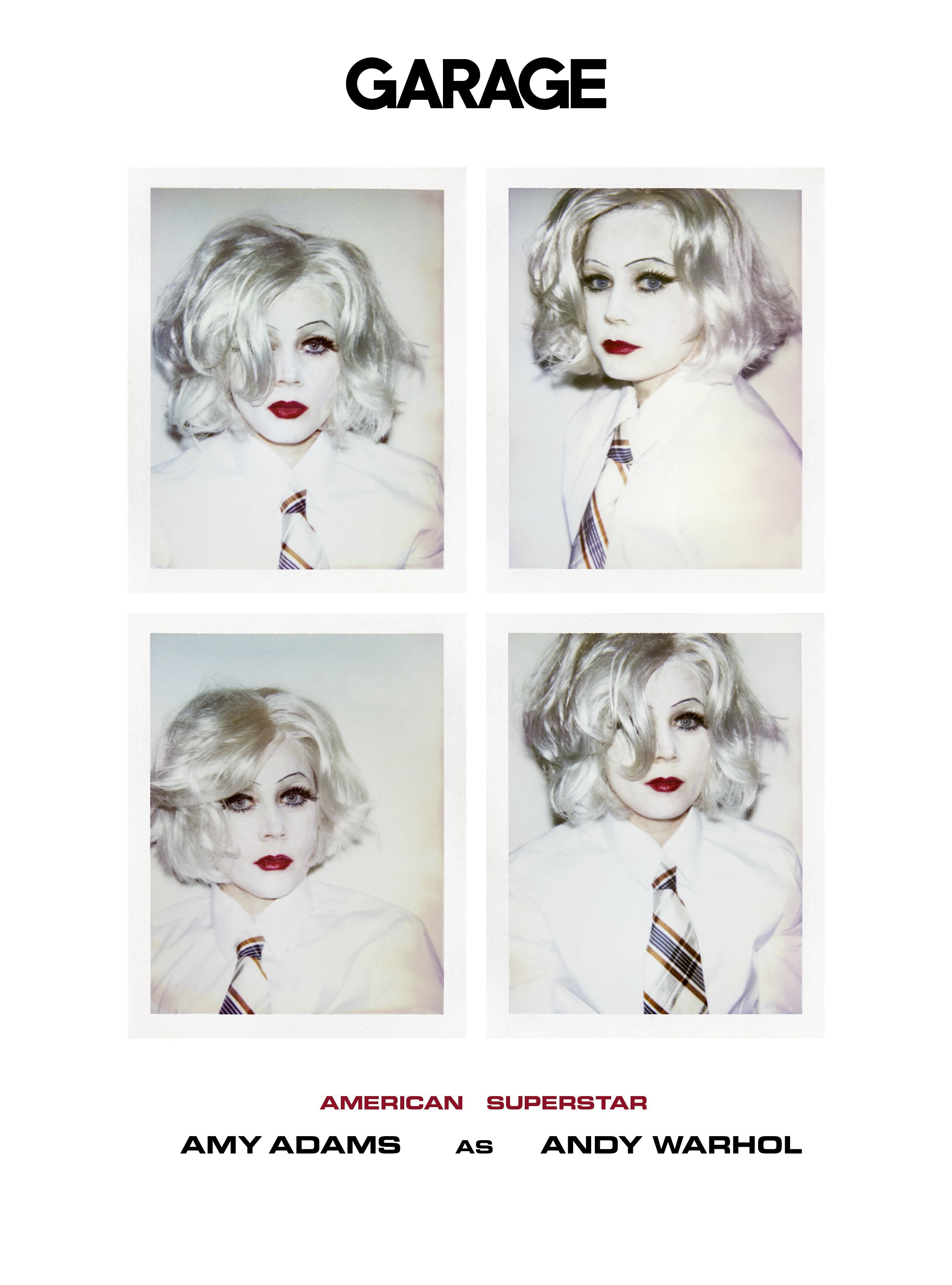 Paying homage to the self-anointed king of superficiality might seem anything but sincere, but Warhol has never been so stubbornly relevant. Raf Simons is dipping into Warhol's oeuvre to inform his work at Calvin Klein, where his twisted vision of Americana mirrors the American horror story we are all living. Warhol's work continues to reign at auction, with Christie's giving pride of place to Sixty Last Suppers, the last silk screen, alongside the record-setting Salvator Mundi last fall. And this November, the Whitney Museum of American Art will stage a major Warhol exhibition, which will be both the museum's largest monographic show since its move downtown and the first US institutional retrospective of Warhol's work in nearly three decades. (And then, too, there is Poppy.)
He remains relevant in yet other ways, too: the president, in all his bombastic vainglory, is a Warholian figure of the first order. (For his part, Warhol wrote in his Diaries that he found Donald Trump to be "sort of cheap.")
For GARAGE, the choice of Warhol coincides with the relocation of our editorial team to New York, and you'll find that this issue takes the city as a starting point. Photographer Ethan James Green curates a selection of portraits by Peter Hujar, whose documentation of the AIDS epidemic is powerful inspiration for a generation of young LGBTQIA+ citizens living in what writer Adam Eli describes as a new "cauldron of crisis." Our Fashion Features Editor Rachel Tashjian gets acquainted with five designers who are increasingly becoming the pulse of the homegrown American fashion community, as more prominent names drop out of the New York Fashion Week schedule. (As Raul Lopez of LUAR asks, "Why are we the subculture? They're the subculture.") We also bring you a portfolio of Los Angeles artists we love by Hedi Slimane—who shot the debut cover of GARAGE in 2011—because at this point, many of us consider LA to be the sixth borough of New York City and think of Brooklyn as just slightly east of Silver Lake.
This issue marks several other firsts, as well: my first as editor, Brian Phillips's first as creative director, and our first since our digital relaunch with VICE. It includes the first editorial portraits of the fantastically intriguing pop performer and producer Sophie, shot by Norwegian artist Torbjørn Rødland, as well as the first fashion story by MoMA-collected photographer Laurel Nakadate, for which she collaborated with both models and local teenagers in Wilton, Connecticut.
But of course, this issue is not the first—far from it. This is the fourteenth in GARAGE's tradition of experimentation, transgression, and discovering beauty in the bizarre. We're not much for traditions, but that is one worth upholding.

More from GARAGE No. 14:
Andy Warhol's Polaroids Are His Most Influential Work
Hedi Slimane Photographs a New Class of Los Angeles Artists
These Designers Are the Next Generation of American Luxury
Anti-Prep Fashion is Disrupting the Americana Aesthetic


A version of this story first appeared in GARAGE No. 14, available to buy here.