A Funky 1970's Office Chair From a Simpler Time
The Hannah-Morrison "2038" chair makes us want to leave the co-working spaces for shag carpeting and a doobie.
Today, many offices are open and sprawling, filled with pressed-wood furniture, and burnt-out Millennials wearing AirPods sitting in silence next to each other. The end result looks like the halfway point between warm-ish industrialism and Ikea's mid-century-adjacent catalog, a decor that's been optimized and penny-pinched under the guise of facilitating collaboration or something. It lacks a certain eccentric flair of office furniture from an earlier era—and in particular, a groovy-looking office chair designed by Andrew Morrison and Bruce Hannah back in the 1970s.

That decade, Morrison and Hannah introduced an innovative and award-winning aluminum-frame lounge collection for Knoll. Around that same time, Morrison had also created an eponymous open plan system that would help shape American office decor. However, one of the duo's designs stood out from the pack: the Morrison-Hannah Chair also known as the "2308" office chair. The two designers wanted to create a chair that was "easy to live with," so they opted for a silhouette that was uncomplicated to re-upholster, and sturdy-but-funky metal legs that swiveled but was built for longevity. That functionality did not get in the way of its quirk though, as the chair was offered in a high gloss finish with color options ranging from eggplant to bright green.

You don't see the "2308" chair in many offices these days; the puffy seat and curvy arms look retro and dated when compared to most modern office chairs. These days, the Aeron chair is probably the gold standard when it comes to contemporary office hairs. It's morphed into a symbol of the always-be-optimizing culture we live and work in. (The headline on the Herman Miller website, the manufacturers of the chair, reads: "Retooled to perform today.") The Aeron chair looks like it has more in common with a spaceship than something you'd sit comfortably in. It has an advanced tilt mechanism, an adjustable suspension, and a mix of space-age foam and performance fabric. All of the upgrades the chair has received over the years seems to plays into a trend of corporate culture looking to squeezing the most juice out of the lemon.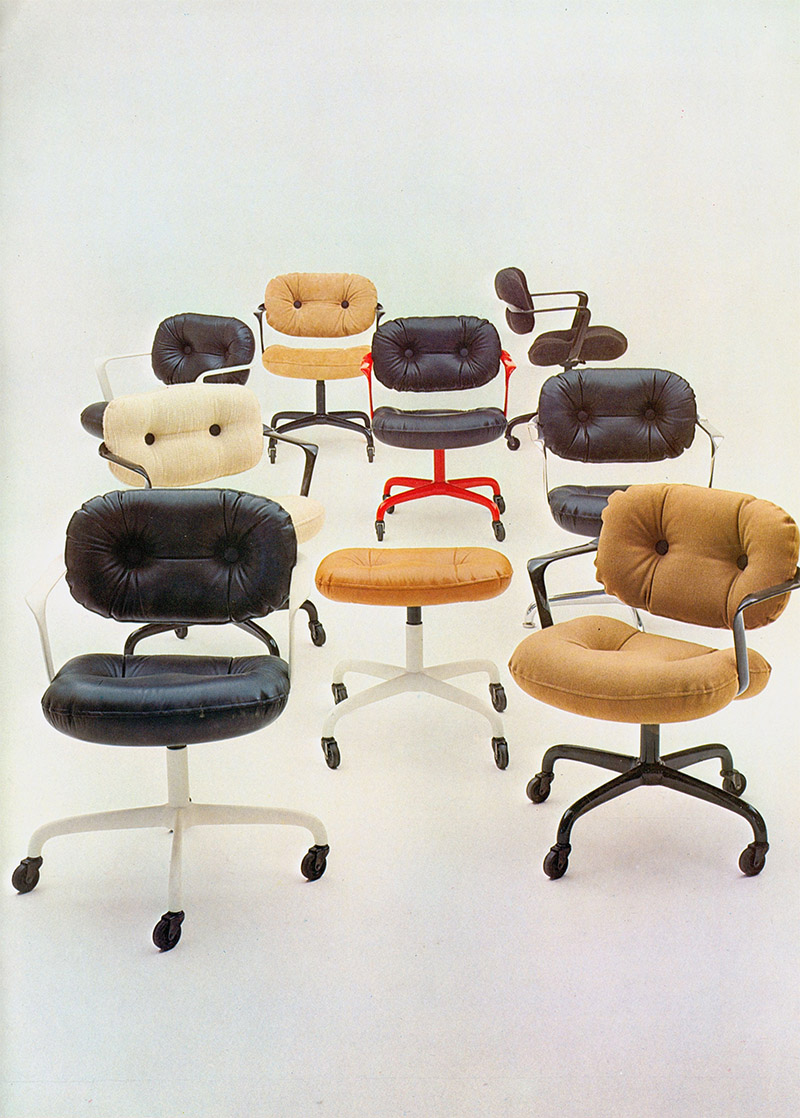 The Morrison-Hannah Chair was never "retooled" to meet the increasing needs of today's workforce. It sits as a relic of an earlier time when offices were covered in shag carpet and filled with the sound of typewriter keys clicking. The chair is weird and charming, and it looks like something that might make sitting down at your desk for a day of busywork a little bit less disheartening. It's unlikely the chair will ever be put into production again as it sadly no longer fits in with today's office culture. But, it's nice to think about a time when you could sit in your puffy work chair, surrounded by frizzy indoor ferns, and not have to worry accidentally making eye contact with someone in your open-office co-working space.

Tagged: