The Balenciaga Sofa by Harry Nuriev in Collaboration with Balenciaga. Photo courtesy Balenciaga
Siting Pretty: Fashion Or Furniture?
At Art Basel, Miu Miu and Balenciaga both revealed collaborations for you to take a seat.
The Balenciaga Sofa by Harry Nuriev in Collaboration with Balenciaga. Photo courtesy Balenciaga
It's easy to get mixed up in the art world today. Everything is art! Even stools and sofas, at least the ones shows at Art Basel this week. If a regular art gallery is a church, then Art Basel is a megachurch, a prominent and sprawling place where the worship is turned up to eleven, and honest souls, devotees, and grifters all mingle as one. This week, two high-end fashion labels decided to reveal special collaborative furniture projects at the Miami edition. The first came from Balenciaga and Harry Nuriev in the form of a glossy, oblong sofa stuffed with discarded clothes. The second was an opulent multi-material stool, courtesy of Miu Miu and M/M Paris.

Nuriev has built a career in the space where maximalism meets minimalism, which makes him a perfect collaborator with Demna Gvasalia's Balenciaga. The Russian-born, New York-based artist (and architect and furniture designer) has a unique this-meets-that sensibility for design: bold colors and eye-catching angles meet negative space and simple logic. "I've always connected with the idea of maximalism as minimalism," says Nuriev. "Those are two pillars of my practice and is something I'm always trying to navigate between. How do I make a space or object that is loud, vibrant, and feels like it's lived in the world, but is also quiet, contemplative, subtle, and sometimes even clinically clean?"

The Balenciaga Sofa does just that. The collaboration reimagines a classic sofa and stuffs it full of discarded Balenciaga garments and scrap materials. "The sofa was informed by my foggy memories of Soviet-era Russia. Like with much of my other work, I found inspiration in an object from my childhood: the stocky, reclining, sectional sofa," explains Nuriev. The end result looks as close to Instagram eye-candy as it gets. Even the supermodel Bella Hadid couldn't resist posing for a picture.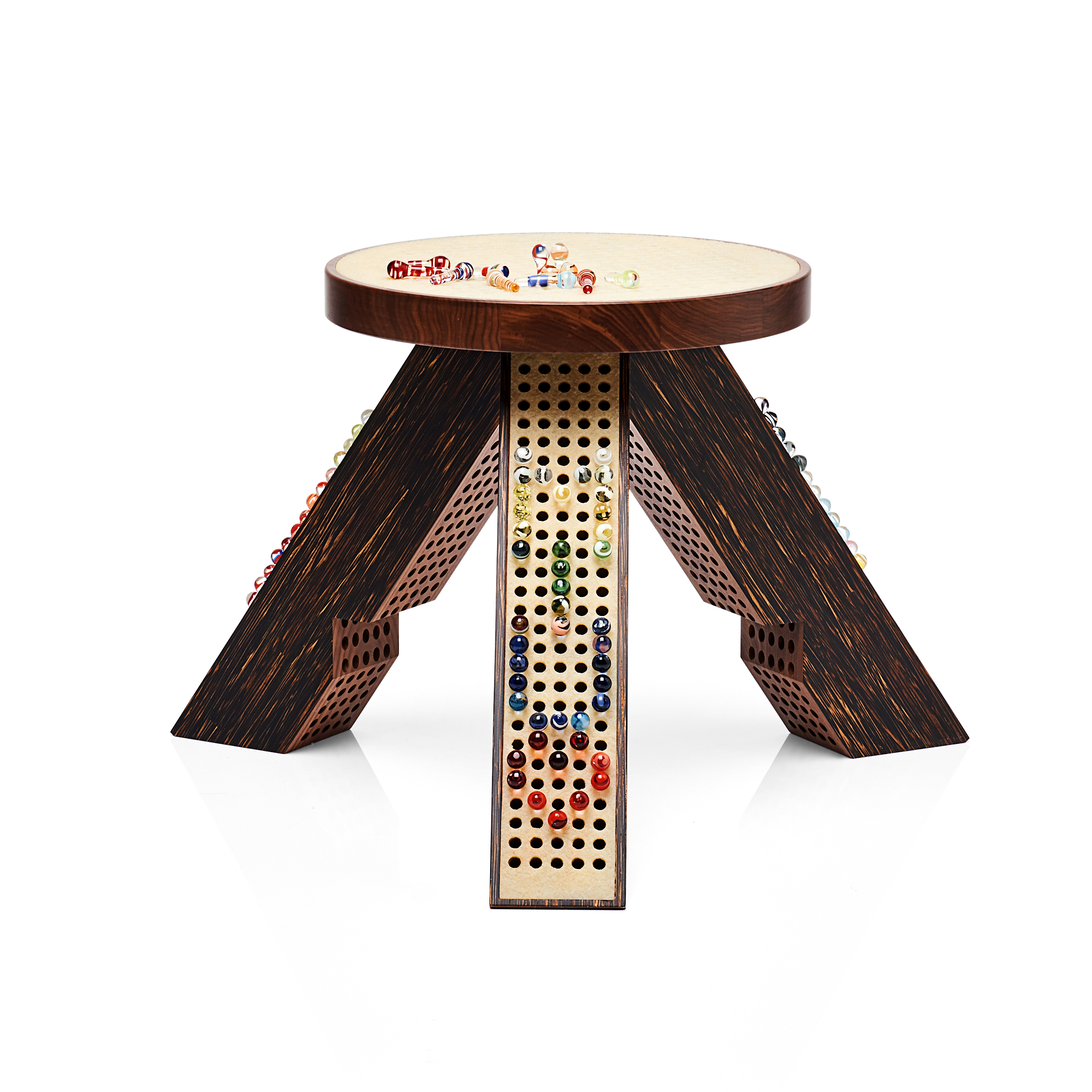 Miuccia Prada—who is no stranger to the art world—had a different idea in mind, when she sought out the renowned creative agency M/M Paris to collaborate with Miu Miu. Named the "Miu Miu M/Marbles Stool," and crafted out of a vibrant mix of materials, the object looks like it has more in common with something in the MoMA than what you might pluck off the shelves at Ikea. There is a walnut frame overlaid with palm wood, glass matchsticks that look like marbles, and rubber details, which add an unexpected touch concerning furniture. The vibrantly colored matchsticks can also be moved around to create original patterns.
The sofa and the stool are mostly an objet d'art, although at the same time, they hold their functionality as furniture, and assert themselves as art. Each object is rife with a more profound meaning and message, both in the intent of its creation, and the additional symbolism inherent in a luxury collaboration. Two for the price of one.