Untitled 38, 2015, Courtesy of the Estate of

Ren

Hang

and Blindspot Gallery
Love, Ren Hang
A new retrospective of the acclaimed Chinese photographer opens in Berlin this month.
Untitled 38, 2015, Courtesy of the Estate of Ren Hang and Blindspot Gallery
Ren Hang was more than just a photographer, he was a visual poet, a magician of words, and a pioneer of LGBT art in China—a country where pornography is illegal. Though he was globally recognized, Hang was censored in his home country for his stark, NSFW images of his friends shot in the intimacy of their homes, which were taken on a Minolta 35mm camera. And yet, he never intended to push political boundaries ("I just do what I do," he once said).
Hang had a longtime struggle with mental health, and kept a depression diary on his website and Weibo, which he wrote from 2007 to 2016. His diaries were thoughtful reflections on life, sometimes deadpan. In one entry, he writes, "Every person is suddenly like an enormous wound," while another reads: "I am sitting on the sofa. The white milky sofa seems like a desert. Am I a camel or a cactus?" Translations of his writing have only recently made from Mandarin to English. In one poem from 2007, he writes "I am a bird, a bird without a head, without wings, without legs, without an ass, without a tail. Anyone is welcome to treat me as they would a soccer ball, to be kicked this way and that."
The queer Beijing-based artist, who took his own life at 29 in 2017, had a cult following. In his short career, he shot for Frank Ocean's Boys Don't Cry Zine, worked for Alesandro Michele at Gucci, did campaigns for Rick Owens and Loewe, and was paid a tribute in a Young Thug music video.
Now, 180 photographs are on view in a retrospective of Hang's work that opened at the C/O Berlin Foundation this week and runs until February 29th, 2020, entitled Love, Ren Hang. One of the biggest exhibitions since his passing, it will include some of the artist's rare poetry and never-before seen photos, which go beyond his simple, flash and white backdrop shots.
Felix Hoffmann, the chief curator at C/O Berlin, spoke to GARAGE about the exhibition, Ren's poetry, performance, and how being censored in China gave the artist's work a special meaning.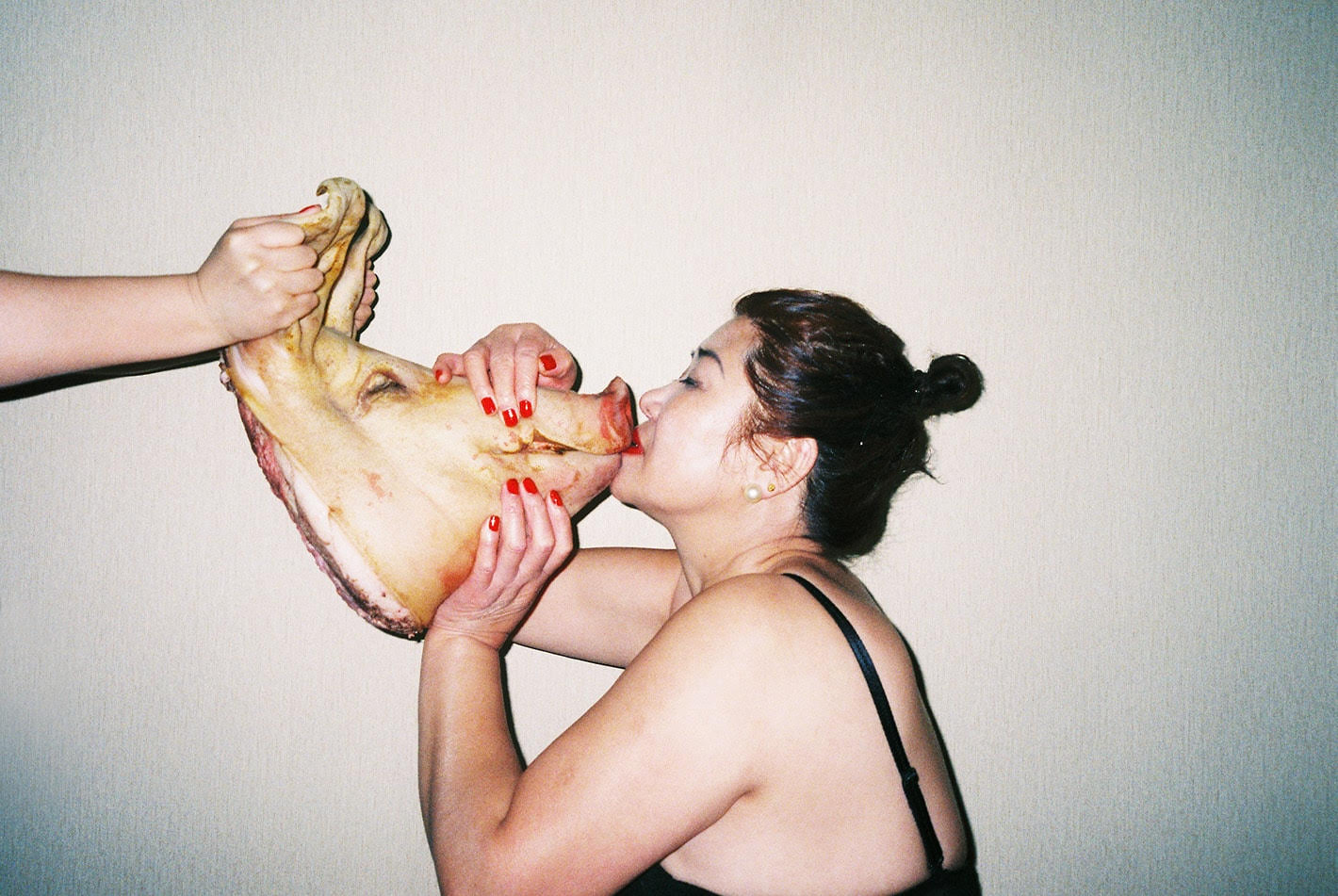 What will make this retrospective different?
The Maison Européenne de la Photographie in Paris had an exhibition of the same title earlier this year, but it isn't a traveling show, we're organizing it ourselves. The problem with Ren Hang's work, is that worldwide, there are only a few prints that exist. Here, we gathered roughly 180 prints that were collected from Vienna, Antwerp, and Hong Kong. It's changed from the Paris show.
What was the vision for this retrospective?
We tried to make the view of his work wider through a slideshow that's in the exhibition. But even with this selection of 180 photographs, there's complications with the estate, which his mother runs in China. We got copyright access to these images through one gallery in Hong Kong, but it was complicated to organize.
The work includes themes of nature, animals and nudes?
That's what we tried to work with, the direction of his performative work with models in front of the camera, to his works in nature and his nudes. We thought this was the best overview of his work to show in Berlin. He passed away too early.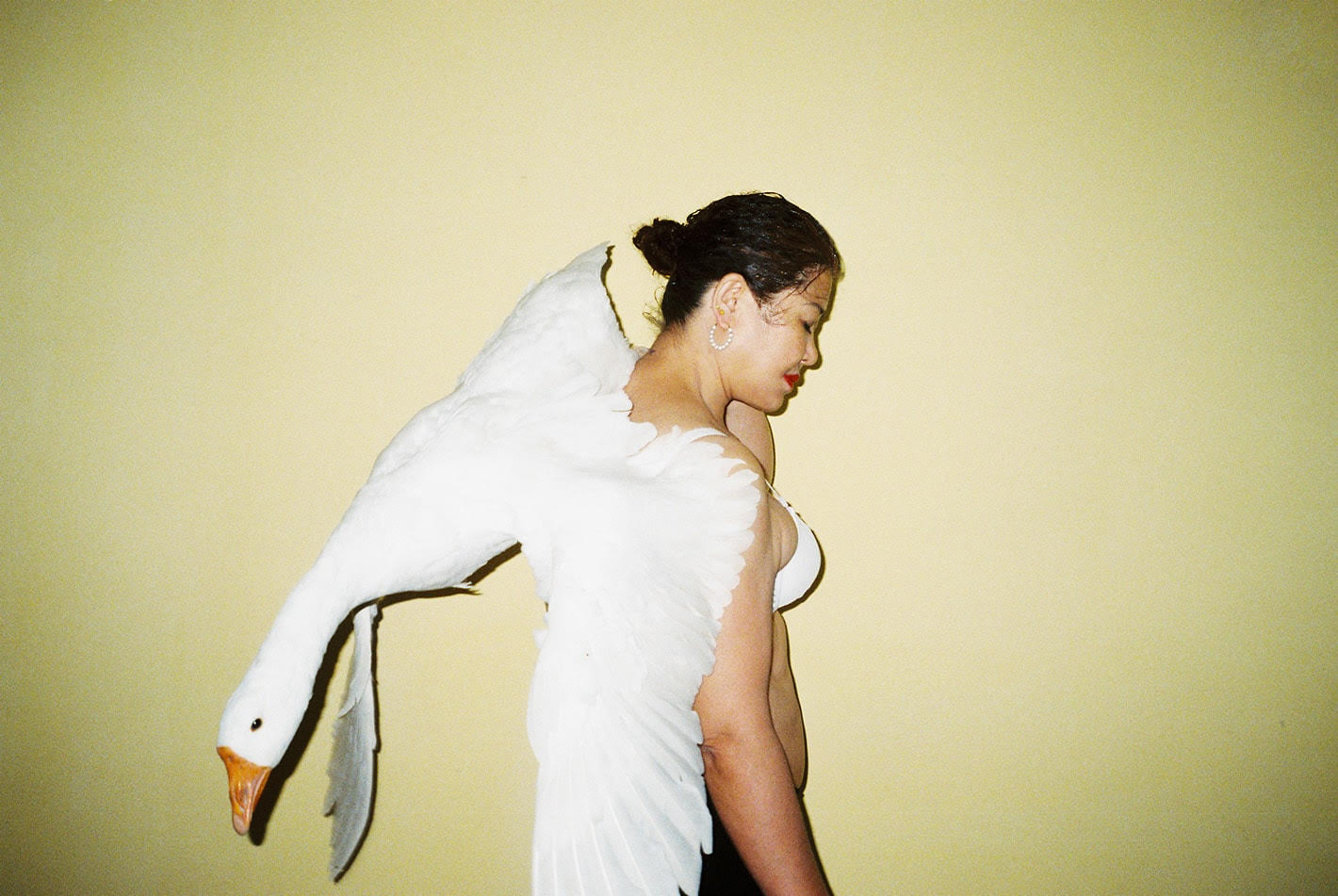 His photos seem to look like visual poetry, no?
True, some of his pictures are even related to his written words, so we have a selection of interesting photos that are accompanied next to poems written in Mandarin and translated into English. When showing the photos alongside his poetry, Ren's photos have a different meaning. In fact, the fragility of his works become clearer through the ones accompanied by poetry. It's actually quite hard to get his poetry, which is unique, they're in one private collection and we're borrowing it for this exhibition.
Being based in Beijing, was he inspired by Chinese artists like Ai Weiwei and Shuji Terayama?
It has a political background, Ren Hang always tried to break through in his photos or offer a different kind of view to Chinese society through his work. A more liberal, political, younger generation. I think there is a strong connection between Ai Weiwei and Ren Hang. I've never seen anything written about their works or a collaborative interview. Its hard to get a proper text on Ren's work. Ren was influenced by other photogs, reflecting the international history of photography or art history and bringing it into the Chinese thinking about art.
What do his photos mean in the context of contemporary photography?
There was this idea: that Ren tried to reinvent pre-existing image ideas from the history of photography in a new way. There is a connection to photographers like Ryan McGinley and Guy Bourdin. He was one of the more open-minded photographers who went to the intersection between photography, performance art, and installation. He was influential in how he took animals in nature with models to perform together, while keeping the technical aspect lo-fi, with a small-format camera, and he never had a lot of assistants, no complicated equipment. I love that. It's so fluent and fluid. It's simple. It isn't heavily staged. Its play, it's very playful.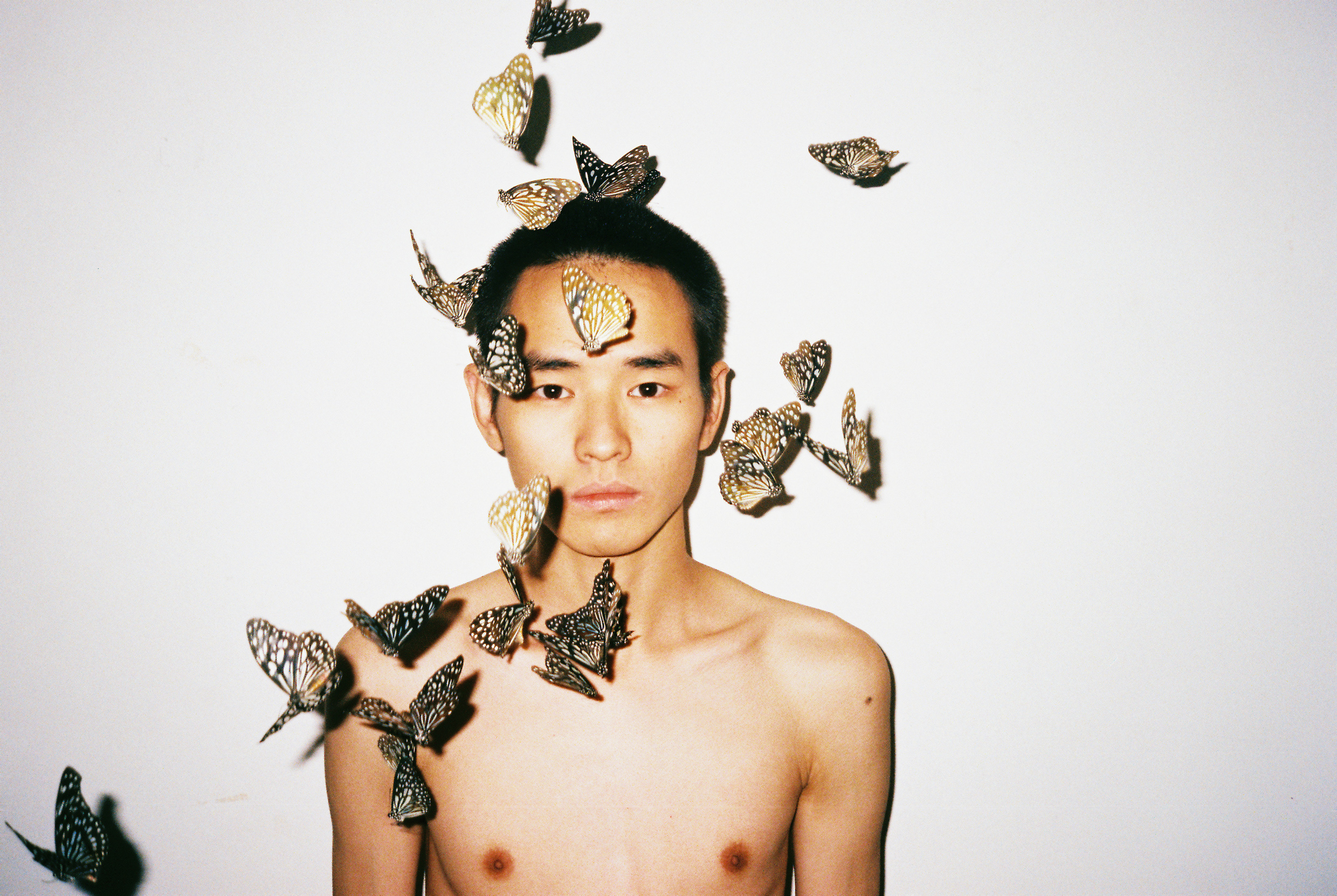 What initially drew you to Ren Hang's photography work?
I really appreciated his work. When a photographer dies so early on, you have to keep him alive. In a way, he is still alive through social networks, but how long can such a field can be alive without the source? Ren Hang was a big source for a lot of people, especially a younger audience. This is why we thought it was a good time to show his work, now, not in 5 or 10 years when he could be forgotten. We wanted to show his work now. We have included a slideshow of a variety of his work in the exhibition. It shows that there was a much wider work he was working on.
Censorship in China affects the country's artists the most—Ren was arrested on several occasions for the erotic undertones in his nude photos. How did this affect how he shot?
He was always afraid to lose his archive to the Chinese police. I don't know what happened to all the digital files in storage. There's a large negative archive, but we don't know if his mother is taking care of that. There's always the question of, what is an artist doing within a system while being critical and breaking new ground, of what can come out of China? It's a special moment and I hope his mother keeps working on the estate because she has nothing to do with art. It brings a lot of problems, when you have confrontational work with naked bodies that isn't well-received in China, its obviously bringing up problems. Maybe this exhibition will help focus not only the problems, but the solutions. We have a lively Chinese community here in Berlin, and maybe this exhibition is helping, in a way, not to forget Ren Hang or destroy the work of a young influential photographer. You cannot always forget him.
Tagged: