In "Varda by Agnès," Agnès Varda Reveals the Joys of Creating Art
GARAGE talks to the filmmaker's daughter about the new biopic which hits cinemas on November 22nd.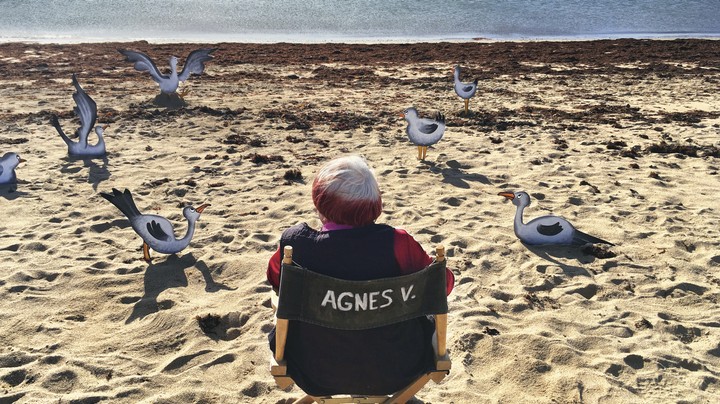 Agnès Varda on the beach with birds in VARDA BY AGNÈS. Courtesy Janus Films
The French filmmaker Agnès Varda once said, "If we opened people up, we'd find landscapes." Over the course of her 60-year career, she did that exactly. But for her last film, Varda by Agnès, which screened recently at the 2019 New York Film Festival, she's the one that opens up.
Varda by Agnés was the last film by the acclaimed French New Wave cinema pioneer; the short, pippy Parisian woman with two-toned hair. She was always garrulous when she talks about cinema and life, and most notably the blurred lines between the two, but here, it's a full picture of her career.
This masterpiece itself is a retrospective of sorts. Featuring clips from her previous films, like Happiness from 1965 (hiring hippies is never easy), to One Hundred and One Nights from 1995 (she admitted her film starring Catherine Deneuve and Robert De Niro was a box office bomb), Varda looks back on her oeuvre, narrating her vision, ideas and how she sees them differently, now that the years have passed. The film covers her "analog period," starting in 1954, the year the self-taught filmmaker released her debut feature La Pointe Courte, through her early photo work and films like 1985's Vagabond, and culminating in the 2000's, when she shifted to digital filmmaking, visual art, and collaborated with the French street artist JR.
Ahead of the theatrical release of the film on November 22, as well as a retrospective of Varda's films at the Lincoln Center in December, her daughter Rosalie Varda spoke to GARAGE about how this final film came about and her plans to organize her mother's archive.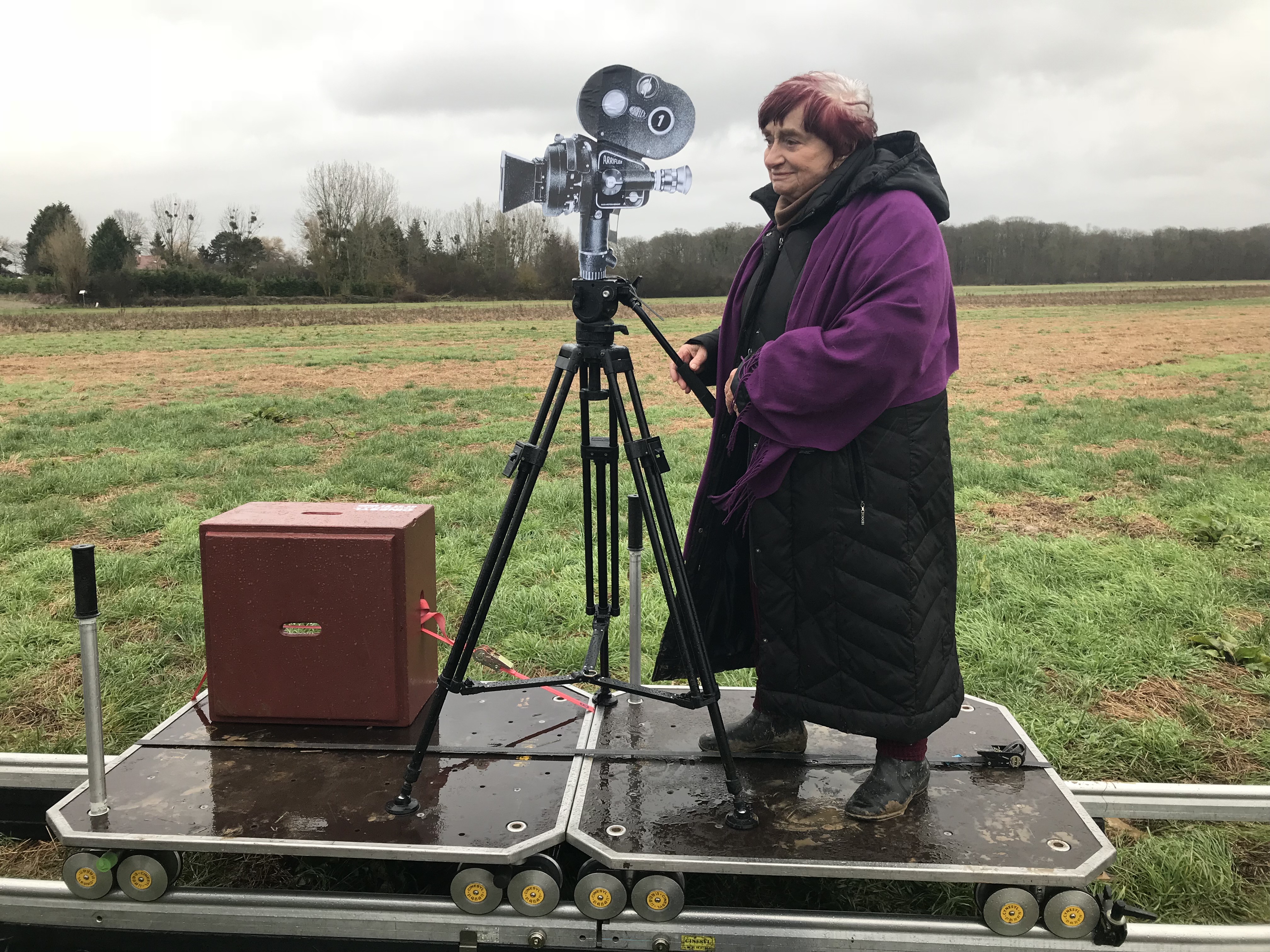 This film was your idea, correct?
Yes, it was my idea!
How did you come up with the idea?
I was traveling a lot with her around when she was doing masterclasses and I saw, year after year, a lot of young people coming to attend the masterclasses. It was not people of her generation, she was around 90, it was people who were 17 to 40. I thought well, this is changing, people are interested in how she works and directs her films. I came up with the idea of the film in 2015 and we started the project, but even still, she asked me: Are you sure we should do that, go over my old films? Again? Me speaking about me?
What did you tell her?
I told her, You know, you've said you do your films for the audience, for your friends and family, but your films are for everyone. On this new project, you're going to leave a conversation behind, it's for people who are to be interested in your work. It's much better that you do it yourself, because anyway after you are dead, there will be a lot of documentaries about you. No worry about that. We need you on your own work, looking back. You look at your work maybe differently today than when you did it. We're interested in that. So, the project took long. We started it in 2015, then restarted it in 2018 to finish it.
Did it take a lot of convincing to get Agnès on board?
Yes, it did. She said, "We don't need it." I told her, You've been through a lot of technology, you've been through a lot of different kinds of films—short films, documentary, fiction—and now you do art, and nobody knows of your art installations. Maybe people will be searching for what you're doing right now.
Was there anything difficult in making this film?
Even though we've done a lot, I feel like I didn't even have the time to record things, like her years of being a photographer. Now, it's missing. You understand [why] doing archiving, which is taking testimony of people, is so important. We forget it's so important. Even me, the daughter, I didn't do enough. I know a lot, but not so much about her early work of photography from 1949 to 1959. I should have taken the mic and asked her, please tell me this, please tell me this, and I don't have it.
When you told Agnès you wanted to do the film in 2015, did she start to write what she would say on-camera?
When she was doing public conversations, she would prepare that. She would speak about her work, screen a piece of art or abstract of one of her films. It was part of the film, but she was not writing the film.
What about when she's reading from her notes in the scene where she's riding on a film dolly in a field?
She wanted to recreate a cinema fiction, explaining how she was traveling in Vagabond. It was more interesting and fun to show people how she's traveling, rather than sitting in front of a desk, saying I shot traveling in my film, from right to left. It's abstract. When you show yourself in the role, and you explain something at the same time, it is cinema.
Agnès was doing films to be seen, but being seen doesn't mean you're a success. It has to do with something different.
Why was her visual art important to include? Not a lot of people know of her art installations and video art.
No, but she's been making art for 15 years. She got into being an artist late, in 2003. When Hans Ulrich Obrist asked her to participate in the Venice Biennale, it opened the doors for her.
What stage are you at in putting together your mother's archive? Where will it go?
It will not go anywhere; it will stay in the house now. I have several years of work ahead of me.
Your mom said in the film she needs three things to make art: inspiration, creation and sharing, how strongly did she feel about sharing?
I don't think an artist does the work of art—literature, painting, cinema, dance—to stay in a box in a room in a box with nobody looking at it or reading it or seeing it or feeling it. Artists are doing things to be seen. Agnès was doing films to be seen, but being seen doesn't mean you're a success. It has to do with something different. It just means making a movie so people can watch it, otherwise you keep it in your mind and do it. The other must feel something because they're watching it. Sharing is giving the possibility to the other, questioning, thinking, emotions, feeling angry, not liking it—this is sharing. Agnès wanted to give people the desire to see.
She did her last interview at the 2019 Berlinale International Film Festival , what did she say? On her Instagram, she posted a photo of herself on the red carpet and it was shortly before she passed away.
She did the last press conference with me in Berlin and she didn't do any interviews with any journalists. She said, That's it, I don't want to do it anymore. She spoke for 60 years, she was tired. She was right.
This film is a kind of retrospective in a way, why is it important to you?
It's a way of sharing with people a bit of her cinema and giving the desire for them to see another one of her films. It's an education, it's for everybody. It's not for teachers or industry people in cinema. It is done for ordinary people who don't know her films and look at it and maybe, at the end, it's a victory if they say, I'd like to see one of her films.
Tagged: