Louis Vuitton's Artycapucines Bags Are A Blue-Chip Investment
TIRED: Having your art in a temperature-controlled storage WIRED: Carrying your art on your arm, and stuffing it with your cash, Metrocard, and lipstick
Fashion Editor: Kyle Luu
I imagine I'm not the only one-time provincial preteen-fashion-magazine addict for whom Stephen Sprouse's graffitied Louis Vuitton luggage remains burned into the brain. The hatboxes, keep-alls, and trunks—emblazoned with Sprouse's approximation of an aerosol scrawl—debuted in Marc Jacobs' spring/summer 2001 ready-to-wear collection for Vuitton, stuffing the arms of uniformed young men. For the grade-schooler looking on from the rural sidelines, it was legible: old-school luxury gone full pop. For the pre-recession adult luxury consumer, it was a runaway hit, filling waitlists. As such, Vuitton kept the artist collaborations coming, pulling in big names like Takashi Murakami, Richard Prince, Jeff Koons, Yayoi Kusama, and Cindy Sherman, plus a 2008 Sprouse collection redux (a memoriam of sorts; Sprouse died in 2004). Most of what resulted took the form of twists on the brand's iconic allover logo print: Murakami's candy colors and tiny cherries; Koons' appropriated da Vinci and van Gogh masterpieces stamped with smatterings of icons from the house's signature print in metal; Prince's dreamy watercolor rendition of the monogram.
These, and numerous other commissions and reworks from throughout the house's 160-year legacy, are on view in the exhibition Louis Vuitton X at the label's Beverly Hills flagship until September 15. Light years from the white cube, the immersive (read: highly photogenic) two-story showing sets the objects in a series of ornately lit graphic environments. And it celebrates the new as well as the old, debuting the ArtyCapucines, Louis Vuitton's newest artist collaboration. In a slight narrative shift, the bag—this time the Capucine, a sturdy, stern-handle-topped trapezoid that debuted in 2013—is treated as a blank canvas, albeit a canvas made from full-grain calfskin. The group of six artists invited to leave their mark on it, in editions of 300, are less uniformly pop than the crew we've come to associate with the Vuitton accessory collab—perhaps not Koons-level household names, but memorable all the same.
Time for a formal analysis, then: Surveying the six ArtyCapucines available, there's a move away from images and toward craft and process. I first developed a fondness for Tschabalala Self's work in the New Museum's major Trigger: Gender as a Tool and a Weapon, and her offering draws from the methodology behind her figurative assemblages, which themselves often incorporate fabric alongside oil, crayon, and pencil. Homemade-looking leather appliqués festoon her turquoise bag in a textured arc. South African sculptor Nicholas Hloboalso turns to visible stitching, his three-dimensional blue petals anchored to the bag by thick black thread; tails of leather flutter off the surface. Sam Falls, whose wall works intertwine the legacies of conceptualism and minimalism with the specificity of natural environments, has printed his bag in cyanotype-like floral reliefs, which are then given another once-over with dainty white embroidery.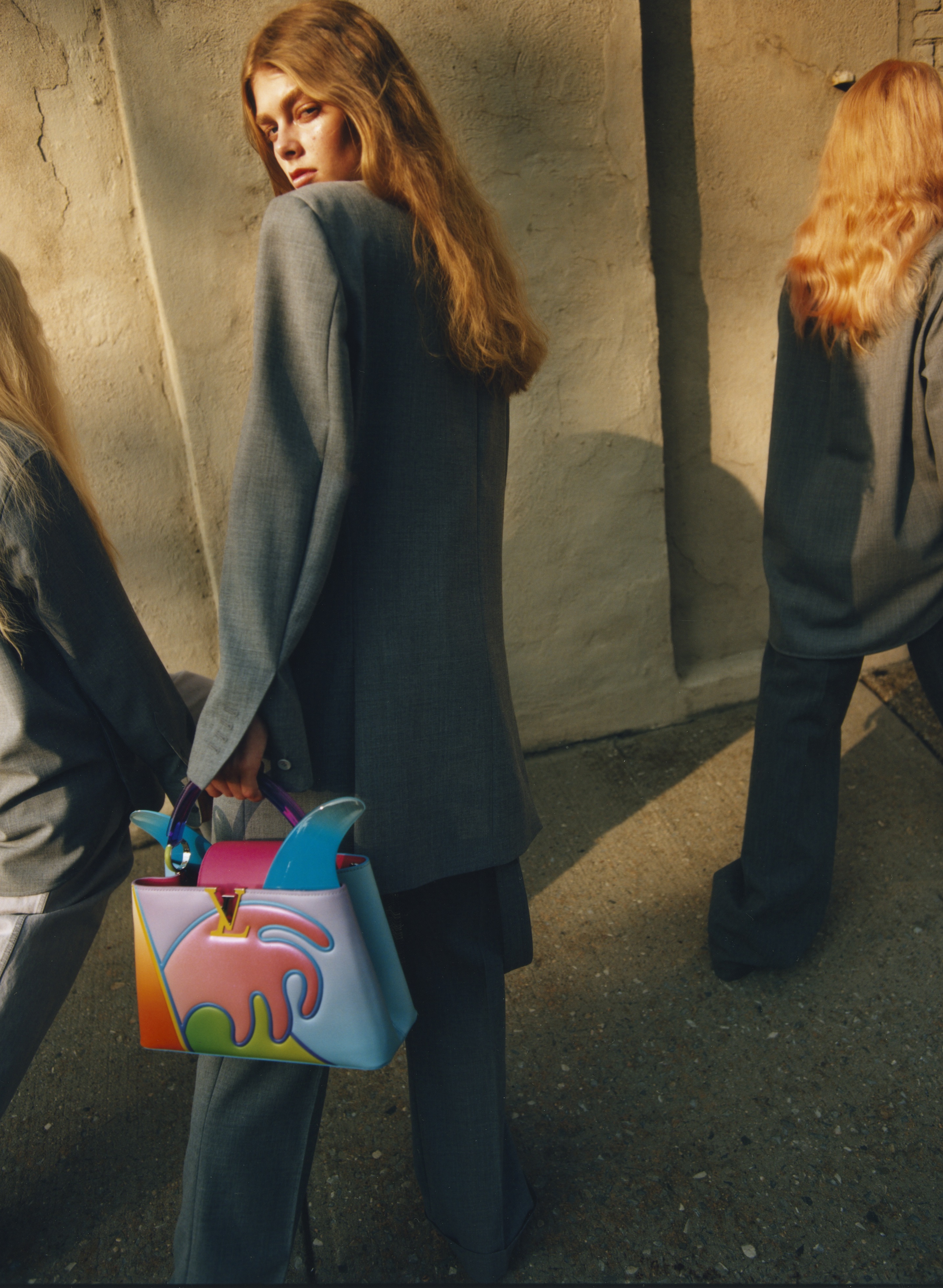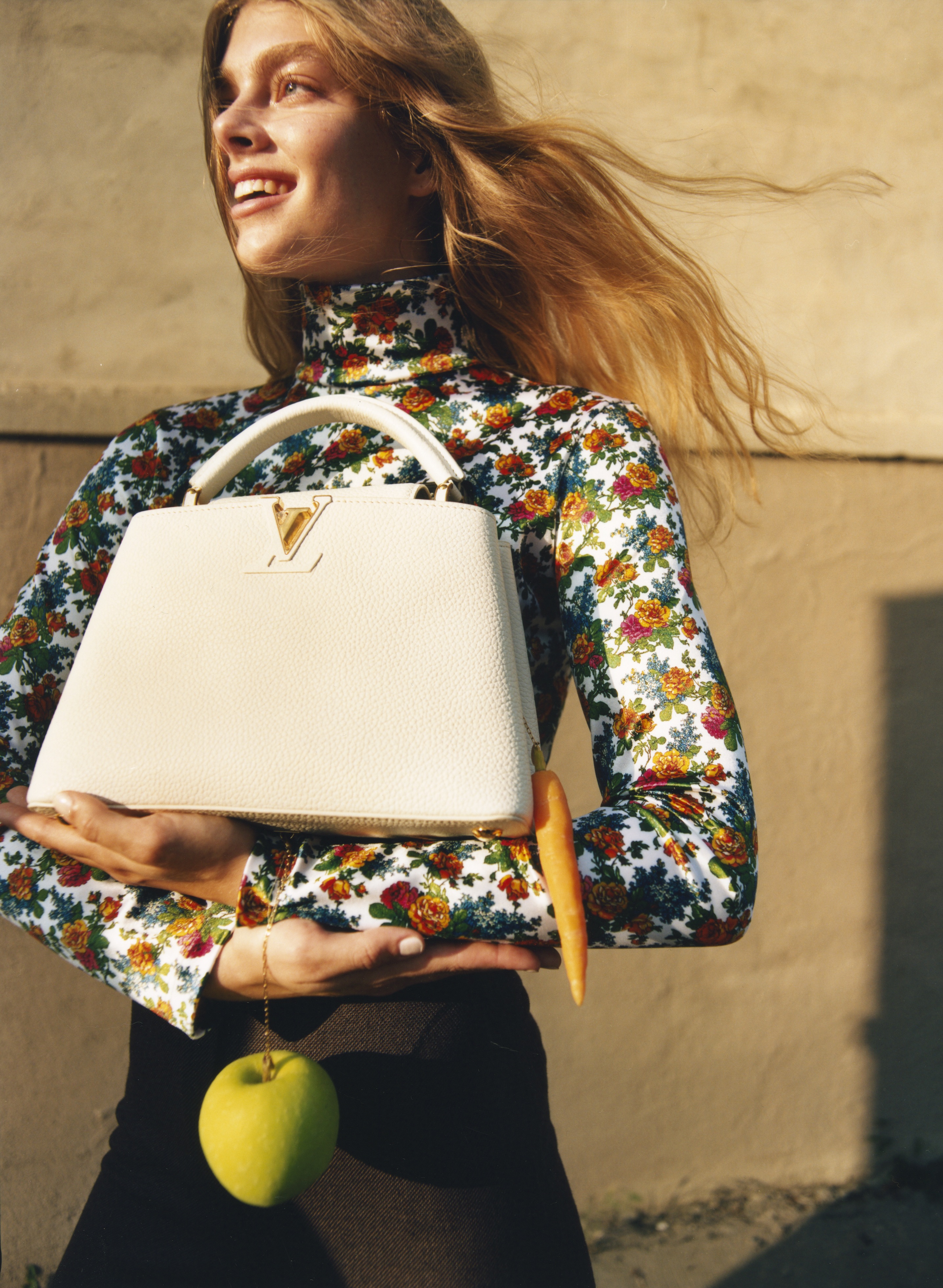 Less delicate, but also indebted to flora and fauna, is Jonas Wood's punchy, graphic black-and-white palm print, with a bubblegum clasp and dangling cartoon giraffe. We've arrived comfortably back on the pop end of the spectrum, and so it's contextually not an insult to say that Alex Israel's work translates well to commerce. His offering is a summery good time: a Wave painting in pretty color-blocked pastels, with removable, transparent plastic shark fins peeking out of the top. If you like the idea of playing with the giraffe or the fins, you might love Urs Fischer's interchangeable fruit-and-veg baubles, my favorite eccentric detail; choose a (faux, but very real-looking!) baby carrot, banana, or even an egg to let swing from a gold chain affixed to the base of an otherwise reserved optic-white Capucine.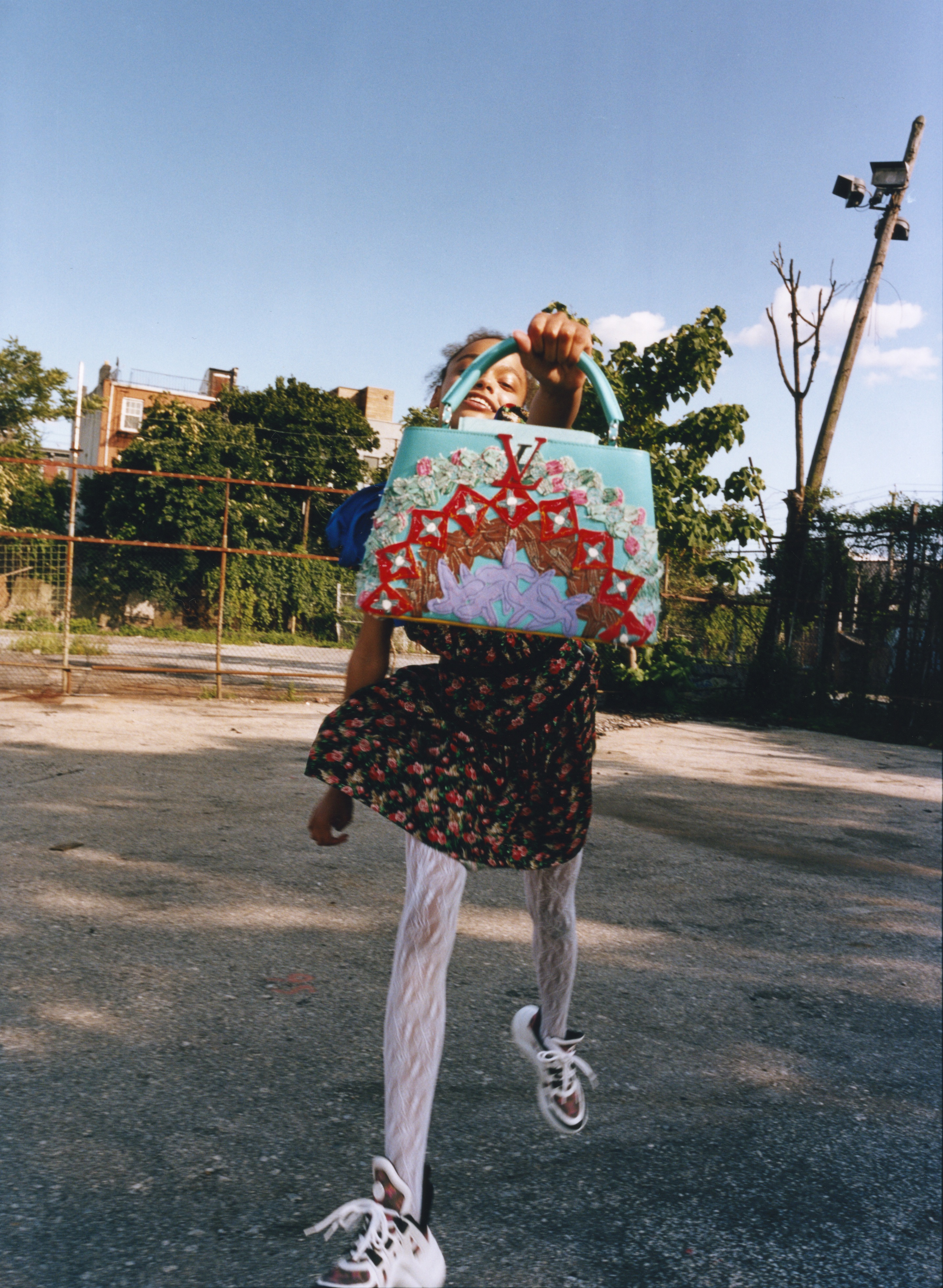 While at $8,600 a pop an Artycapucine handbag may be more affordable than an original by either artist, I'll still carry a canvas tote to the fall openings. But, equally driven by fantasy, my child and adult selves can together concur that it would be very funny to arrive instead with a speckled brown egg dangling inexplicably from my equally inexplicable Louis Vuitton purse.
Citations: Hair Mustafa Yanaz, Makeup Morgane Martini, Manicurist Yuri Osuka, Models Lauren Chapman, Alexis Sundman, Erin Hawks, Alan Lee, and Serenity, Photographer's Assistants Amelia Hammond and Adam Kin, Fashion Assistants Sashon Burton and Julio Cesar Delgado, Hair Assistant Elizabeth Shanefelter, Makeup Assistant Sophie Ono, Production Leo Becerra