Window Sill #1 (Fog), 2019, Oil on linen
Ridley Howard's Voyeur View
Five ways of seeing the artist's chic, uncanny paintings.
Window Sill #1 (Fog), 2019, Oil on linen
Ridley Howard paints people, but it's not as simple as that. In "Light Paintings," his current solo exhibition at Marinaro in New York, we find images of leisure—women sunbathing, lovers panting—but the underlying vibe is simultaneously romantic and alienating. Howard's cheery palette, and his sedate subject matter, clash with a certain detachment and uneasiness. How are we to make sense of these loaded scenes? With a little help from the artist, GARAGE teases out five threads running through his surprisingly complex paintings.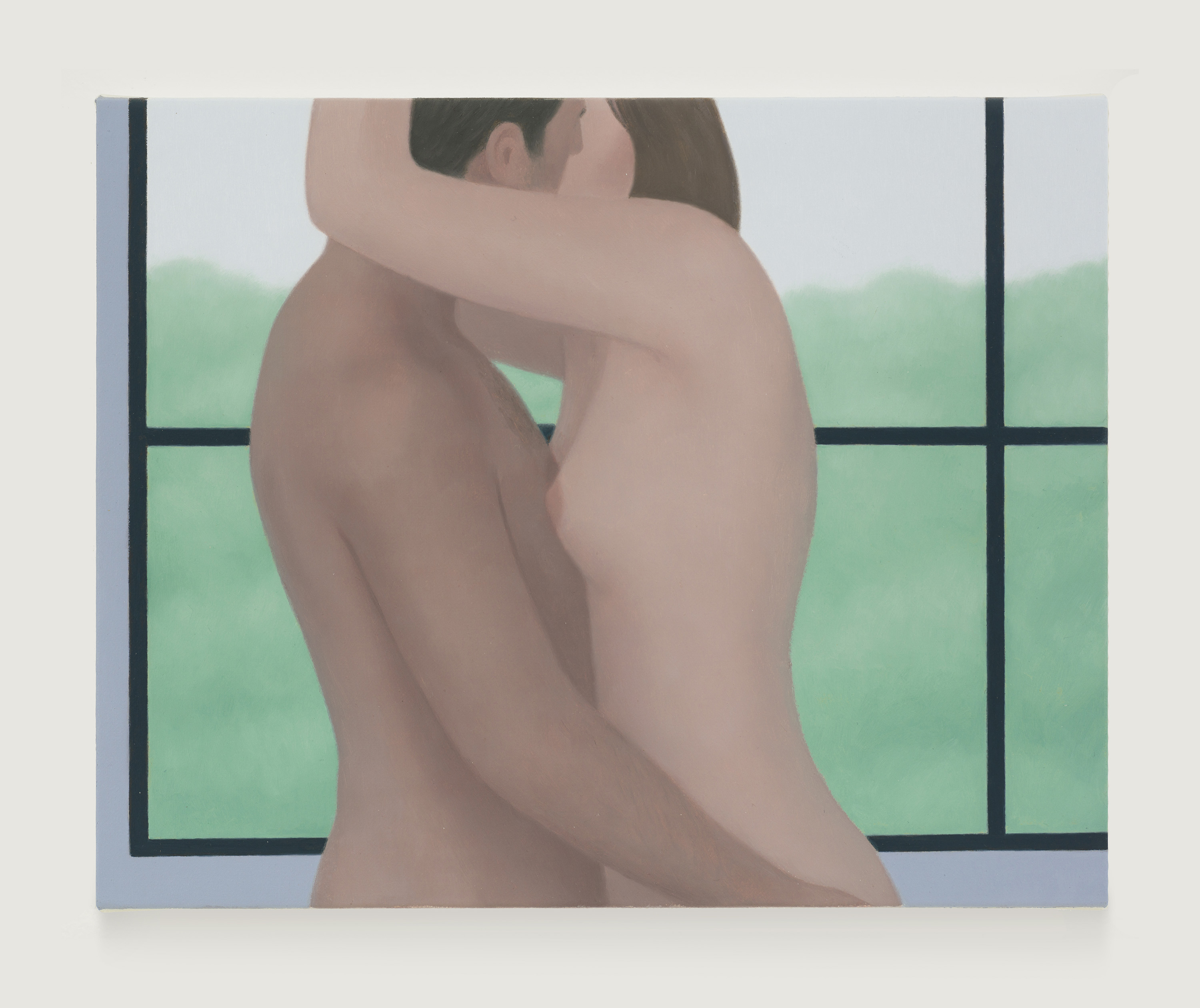 I turn my camera on
In Picture Window, we see a naked man and woman in a lusty embrace. The cropping is quite strange; Howard cuts his composition off just below the figures' waists, and at the top of their heads. The overall effect is of a surveillance photo (perhaps one taken by a crafty private investigator who's actually hiding inside the house). As a painter, Howard says he's also thinking like a photographer. "The distance of the camera has always been a part of my work," he explains. "I never considered myself a 'realist,' or thought about translating some kind of immediate experience. There was always a sense of removal, sometimes through the lens of film or video, and that has only become more pronounced in the age of iPhone cameras and Instagram. In some ways, contemporary experience is totally voyeuristic. I do think about the people in my paintings almost like characters in a film, and we have access to them in that way."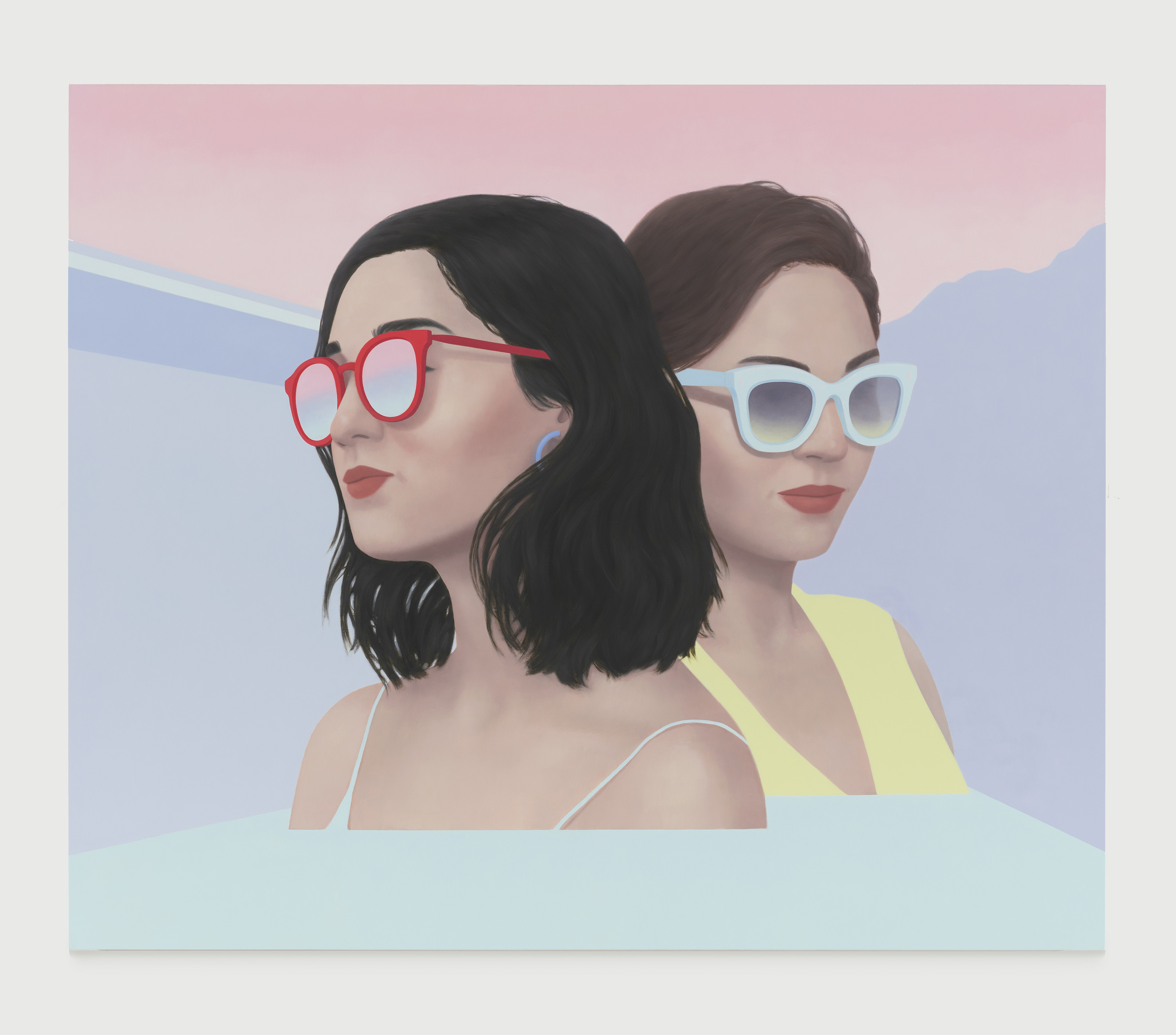 The meaning of fashion
Howard's eye has always lingered on small, fashionable details—the lively geometric print of a dress, a pair of statement earrings. "I think about how there's a longing embedded in the way we dress ourselves," he says, "and even in how we see our relationships, or who we are as individuals. I like that people dress up or want to be stylish in one way or another, and it's funny that historically people would dress-up for their portrait to be painted." Howard is based between Athens, Georgia, and New York, but his newest paintings have an L.A. slickness about them. Hipster shades abound; all that's missing are the CBD vape pens. "When you put on a pair of sunglasses, you are inevitably thinking about images you've seen," he adds. "I'm interested in that fine line between lived experience and image culture, and stylishness is part of that."
How do you capture light?
It's a common sentiment about painters that what they're actually doing is capturing light. Howard's canvases have an inexplicable glow about them, a way of translating the glint of the late afternoon sun or the harsher glare of the beach. "I always think about light when I look at paintings: Morandi, Corot, Alberts, Richter, and on and on," he says. "The life in paintings often comes from light, regardless of subject. It's such a simple idea; it seems basic, but can be everything."
"The light in these paintings imitates what we might experience in a specific location, even if that place isn't clear. There is some knowledge of how light actually falls on a face or a hillside, for example, but the logic of the painting is my main focus. The pink in Pink Sky and Plastic Frames doesn't really look like a pink you would see in nature, and the space of the painting [both] does and doesn't make sense."
Learning from 1960s posters and the French New Wave
Howard is influenced by the aesthetics of classic film posters, and how they "often have a dynamic image that gives a clue about the plot, character, style, or general attitude of the film—but just a glimpse." Shades (Rose and Blue) could be a promotional advertisement for a never-made movie, with blocks of soothing color appearing where one might expect to find the title and production credits. "I'm most drawn to posters from the '60s and '70s, when modernist abstraction was co-opted by graphic design, and the photography from film was really beautiful," Howard says. "I have folders on my computer filled with old hand-drawn travel ads and Italian and French film posters."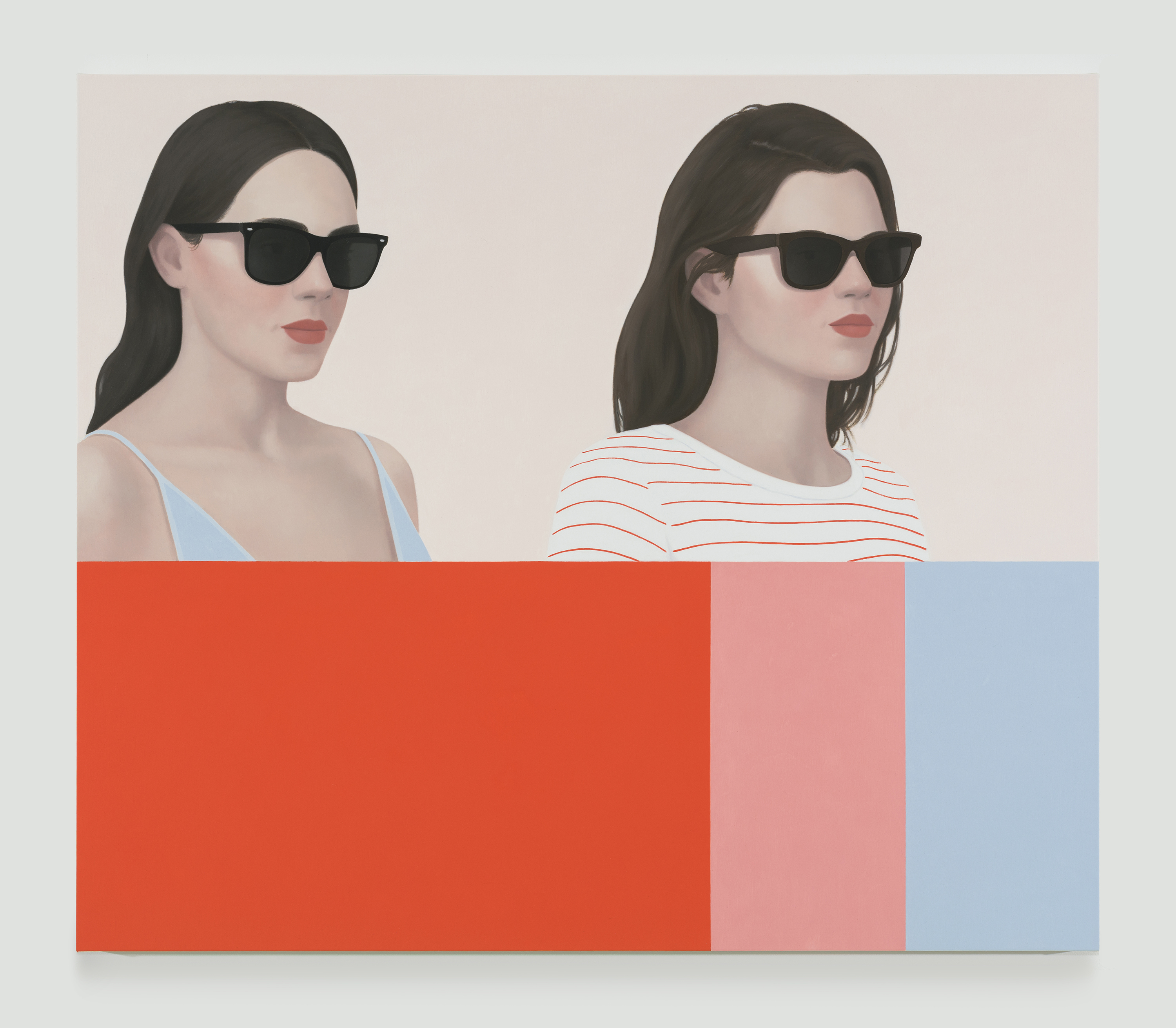 In terms of a prevailing mood, Howard adds that he's often inspired the French New Wave (particularly Eric Rohmer), as well as by Blow-Up director Michelangelo Antonioni. In "Light Paintings," he makes a more direct nod to a very different filmmaker, reproducing an actual still from Ingmar Bergman's Persona in Outdoor Screening (2019), which depicts a Los Angeles drive-in theater.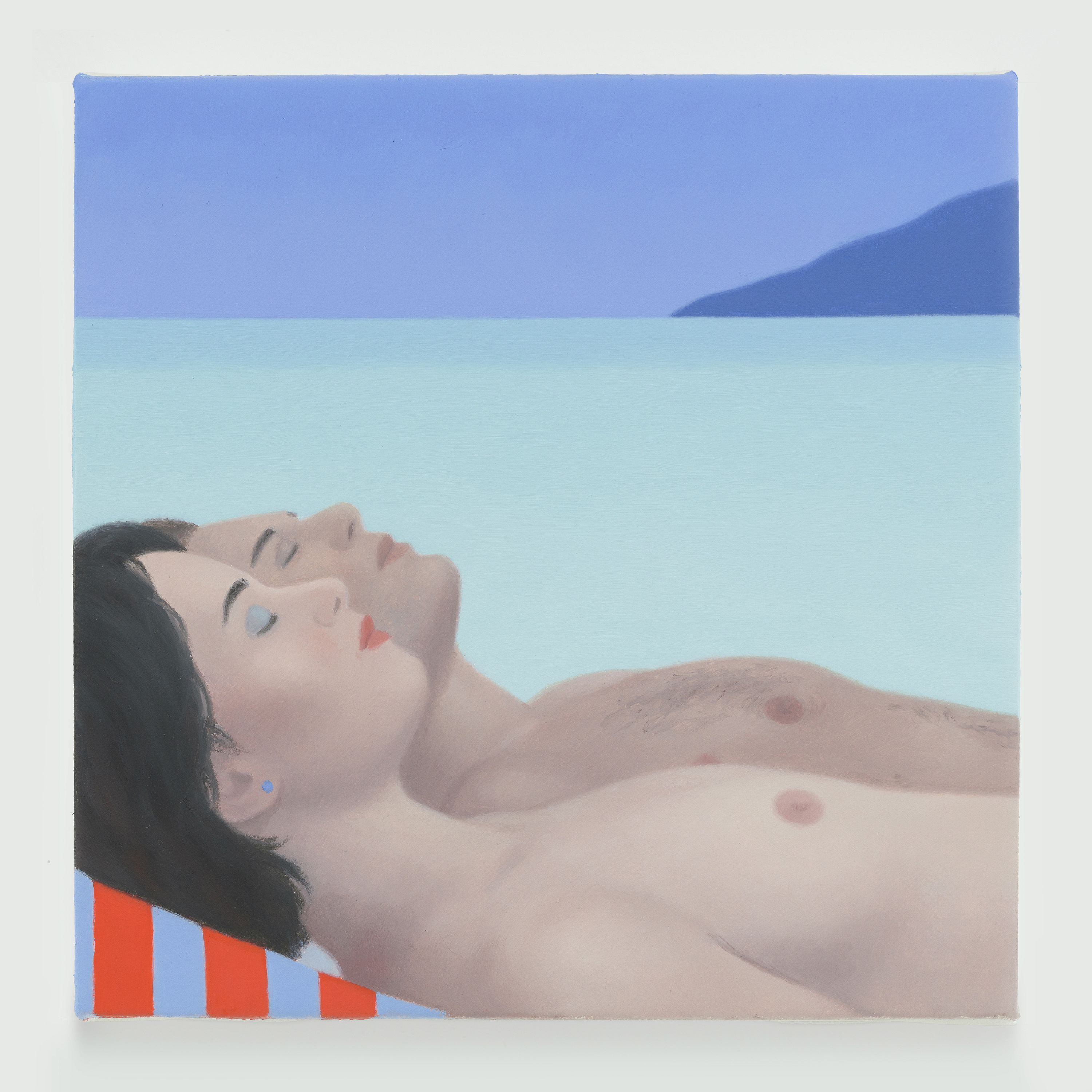 What sort of people are these anyway?
I once noted that the average inhabitant of a Howard painting has an airbrushed quality, a "blank facial smoothness" akin to the waxy mug of Jared Kushner. Indeed, the painter's subjects can seem more humanoid than human; relatable, but just off enough to cause a little friction and discomfort. "I definitely think about the characters in my work as people in paintings, rather than them being paintings of real people," he explains. "There are specific features and traits that keep them from being completely anonymous or symbolic-there's something familiar about them. People always think they recognize someone they know in the paintings. It's kind of like an actor playing your friend in a movie. The pared down flesh tones and rendering makes people think of avatars, but truthfully, that quality in my work probably came from a love for Piero della Francesca, Fra Angelico, and other early Italian painters."
Tagged: