The Uncanny Crime Scene Models of Frances Glessner Lee
Eighteen perfect crime scenes, one remarkable woman obsessed with improving the detection of crime. Enter the world of prolific rule-breaker and forensic model-maker Frances Glessner Lee.
A version of this text appeared in GARAGE Magazine issue 13.
Of all the mysteries surrounding Lee, the greatest may be why this heiress, born into a world of money, manners, beauty, and privilege, devoted herself to such a gritty and gruesome crusade. Tucked away in a workshop, already in her sixties, layering fleshy tones of paint onto a tiny exploded face or knitting a pair of stockings to fit a 4-inch swollen corpse, she created the Nutshell Studies of Unexplained Death: intricate reproductions of real-life crime scenes on a 1 inch-to-1 foot scale.

The Nutshell dioramas evoke the underlying inquisitiveness of girlish dollhouse games, as minuscule testing grounds for social norms and curiosities. Yet, at the same time, they are entirely functional educational tools, still in use 70 years after they were created, training investigators to identify criminals who might otherwise have got away with murder.
Here, fine art photographer and author Corinne May Botz introduces the life and work of Lee, while her photographs lure us into every crevice of the fatal miniatures.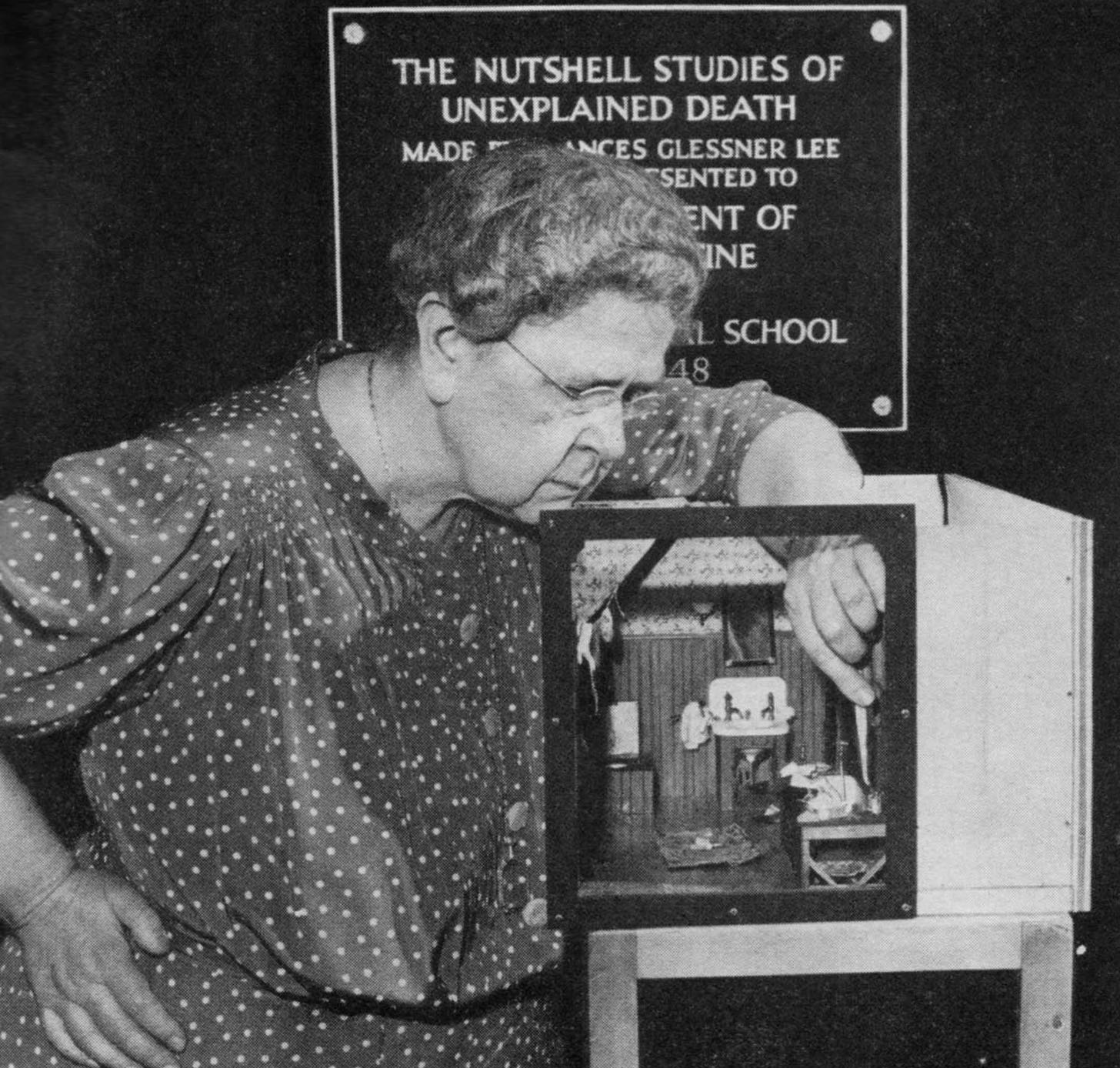 THE CASE OF FRANCES GLESSNER LEE
Text by Corinne May Botz
Frances Glessner Lee was a brilliant, witty, shy, intimidating, and by some accounts, impossible woman. The policemen she worked with adored her and regarded her as their patron saint. Her family was more reticent about applauding her and her domestic help was scared to death of her. Despite her wealth, Lee belongs to the American tradition of self-taught, self-made individuals. The adversity she experienced was the lack of opportunity available to young women of her social class. She was in her sixties when, in the 1940s, she created the Nutshell Studies of Unexplained Death: her lasting legacy, a series of intricately constructed recreations of crime scenes that are still, 70 years later, used for teaching purposes.
Born on March 25, 1878, Lee was a bright and sensitive child, who was both indulged and reared, along with her brother, George, to exacting standards. The Glessner family's house—on Prairie Avenue, Chicago's most elite address, which was known as "the sunny street that holds the sifted few"—shaped her early consciousness, taste, and morals. The creation of her models can in fact be seen as a continuation, or even a perversion, of her parents' obsession with their home. According to Lee, her father believed that "a lady didn't go to school" and throughout her life, she resented the fact that she was not college-educated. She had a rigorous education from tutors at home. In addition, from her mother and aunts, she learnt interior design, metalwork, sewing, knitting, crocheting, embroidery, and painting. She used the set of tools that society equipped her with as a woman for a decidedly unfeminine, scientific purpose—and, in so doing, co-opted the feminine tradition of crafting miniatures and dollhouses into a body of work that has no parallel.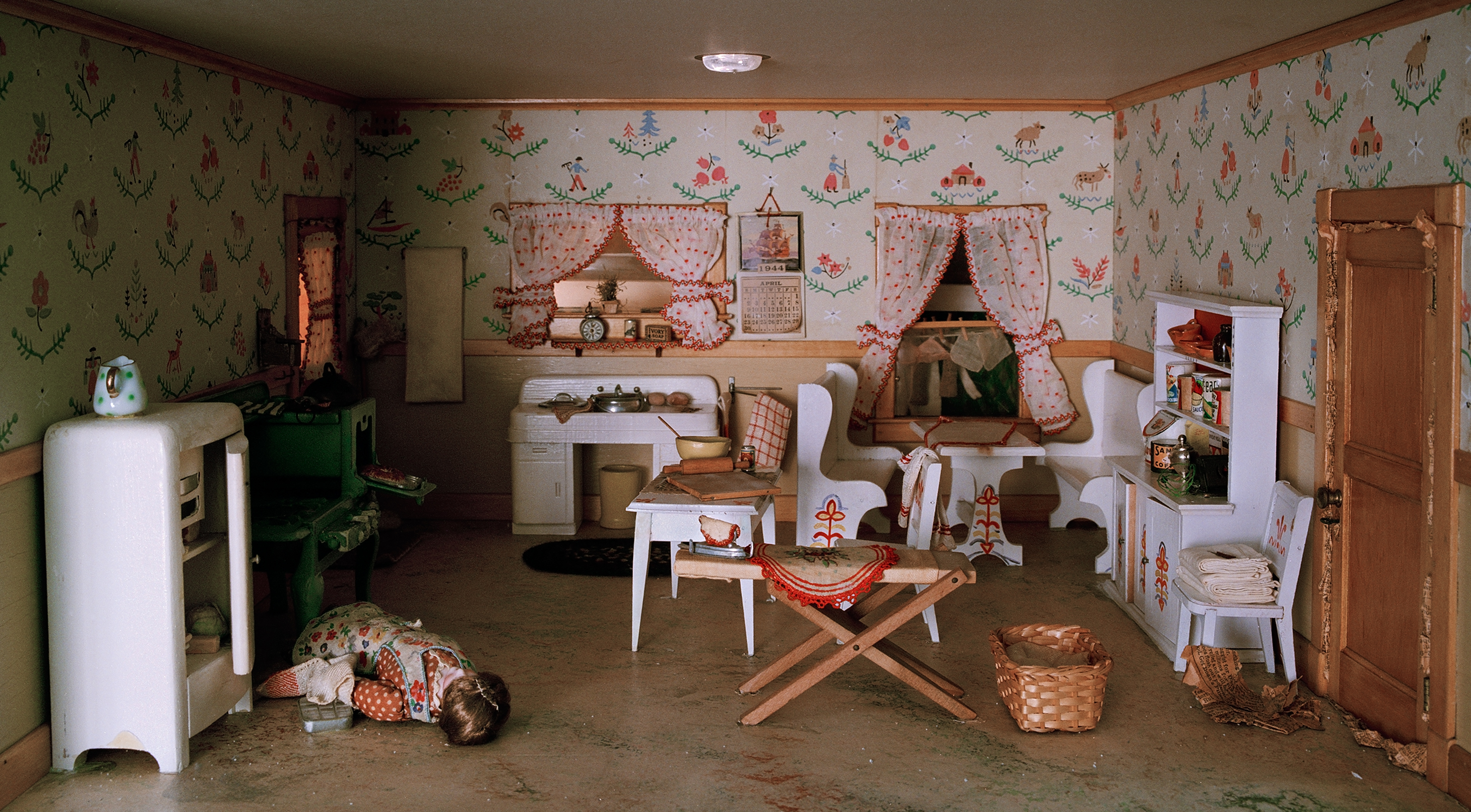 Lee met the man who would become the driving force behind her passion when her brother brought home a medical-student friend from Harvard. George Burgess Magrath was an eccentric, dashing redhead, and Lee was enamored. Thirty years later, Lee—by then a divorced mother of three—recalled in a letter that she and Magrath had had a conversation about the need to improve training for those investigating sudden and violent deaths. The schools that taught police science, such as the one at the FBI, overlooked the medical angle; indeed, only a few states required coroners—whose job is to assign the cause and manner of death—to have a medical degree. (Coroners were often undertakers, or had been elected to the post for political reasons.) Innumerable murders were going undetected, Magrath said, because of mishandled evidence and a failure to perform autopsies. Coroners lacking medical knowledge frequently overlooked subtle indications of violent death. Replacing the office of coroner with a medical examiner, or amending the laws under which a coroner worked, became one of Lee's lifelong aims. In 1931, when at the age of 53 she came into her inheritance on her father's death, Lee underwrote the salary for a professor of legal medicine at Harvard. Dr. Magrath was the first to hold the chair. Two years later, she established the George Burgess Magrath Library of Legal Medicine at Harvard, which included more than 1,000 rare and unique books that she had collected. In 1936, Lee donated $250,000—almost the entire fortune she inherited from her uncle, George Blocksam Glessner—to establish the George Burgess Magrath Endowment of Legal Medicine.
Though students in the department would have benefited greatly from hands-on training, this was impossible because of time constraints, the unlikelihood of a suitable crime occurring during training sessions, and laws that prohibited the disclosure of details of an unsolved crime to members of the public. These impediments spurred Lee to create the teaching tool she called The Nutshell Studies of Unexplained Death, after a well-known police saying: "Convict the guilty, clear the innocent, and find the truth in a nutshell." Lee selected the most enigmatic cases, to teach the detectives-in-training that nothing should be taken at face value: murders can be staged as accidents or suicides, suicides can masquerade as accidents, and accidents can be misconstrued as murder. Each miniature crime scene that she created was a composite of actual cases that Lee, police colleagues, and Magrath had investigated. They are extra- ordinarily rich in detail—partially peeled potatoes in the sink, a mark on the wall that shows the trajectory of a fallen chair—macabre constructions in which grim realism and childish whimsy collide. Yet the models present cases that are impossible to solve with visual evidence alone. In all of them, vital clues must be derived from autopsies and laboratory tests—demonstrating the necessity for communication among the medical examiner, law-enforcement officers, and forensic investigators at the scene of the crime. As Lee wrote in her "Foreword to the Investigator," "The Nutshell Studies are not presented as crimes to be solved—they are, rather, designed as exercises in observing and evaluating indirect evidence, especially that which may have medical importance."
In 1945 Harvard inaugurated the Frances Glessner Lee Seminars on Legal Medicine (later renamed the Seminar in Homicide Investigation) and installed the first models. Lee organized every aspect of the seminars, which were held twice a year and lasted a full week. Lee brought in experts from around the world to speak and personally chose 25-30 police officers to attend the training. Her friend Erle Stanley Gardner, creator of the Perry Mason series, wrote in the foreword to The Case of the Dubious Bridegroom—a book he dedicated to Lee—"Invitations to attend are as sought after in police circles as bids to Hollywood by girls aspiring to be actresses." In part, as a result of the conferences she organized, and of pioneering legislation she proposed and promoted, seven states amended their coroner system. In 1942, Lee was appointed a captain in the New Hampshire State Police with the title of education director, which allowed her to become the first woman to join the International Association of Chiefs of Police. She received numerous other honors and awards over the course of her lifetime.
The Nutshells do more than offer a glimpse into crimes and detection of a past era; they continue to be a valuable teaching tool, and are brought into use twice yearly in seminars for police officers held by Maryland's Office of the Chief Medical Examiner. The ability to properly identify, evaluate, and preserve evidence at a crime scene remains a critical part of an investigation. According to David Fowler, m.d., Maryland's chief medical examiner, "the Nutshells have always epitomized the commitment of many, including Frances Glessner Lee, to educating death investigators to a disciplined and accurate investigation, which is critical in supporting the bereaved, as well as the criminal justice and public health systems. There is still, in today's world, no equal in 'virtual reality' that can compare with the models."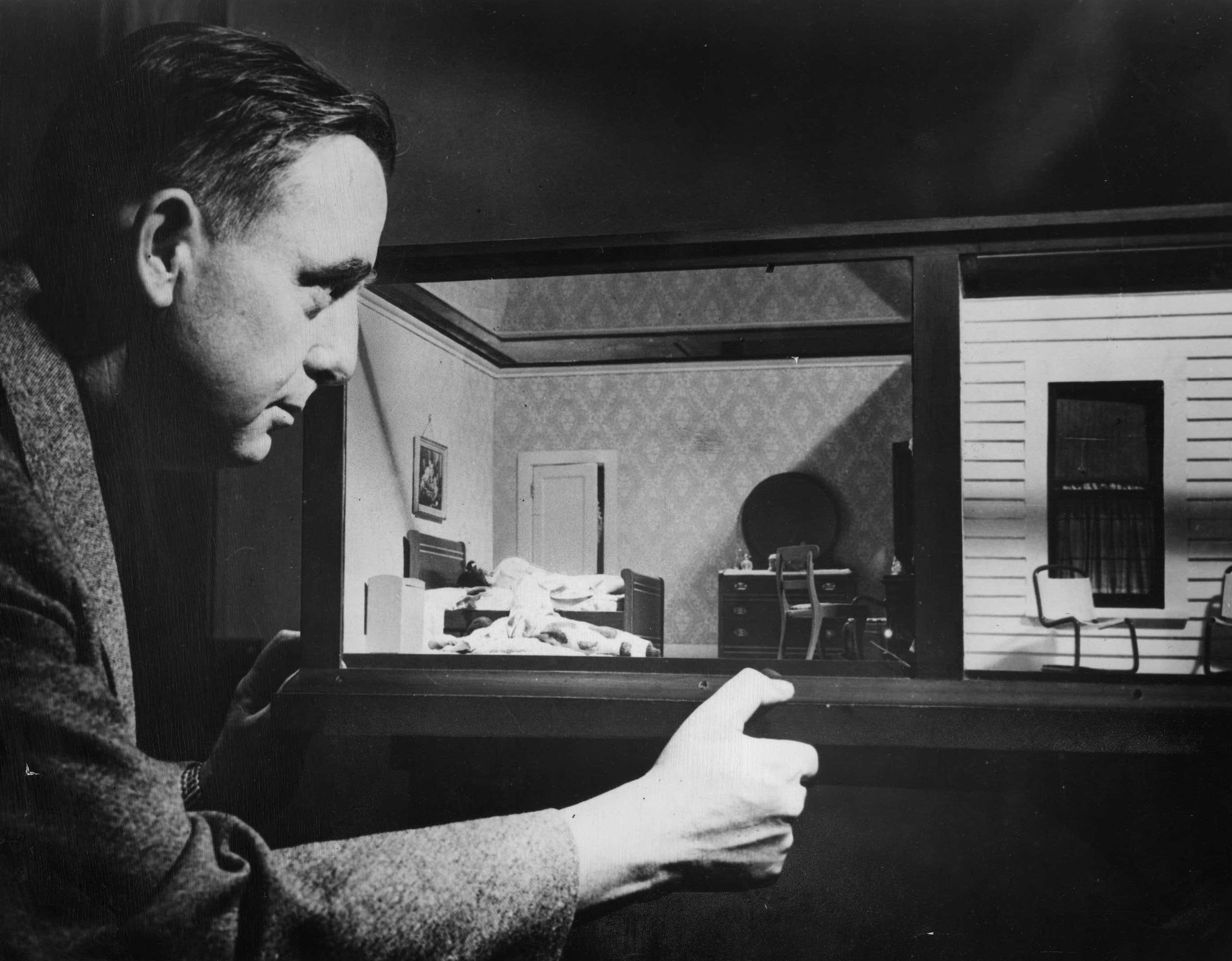 DRESSED, POSED, AND QUITE DEFINITELY DEAD: CONSTRUCTING THE NUTSHELL STUDIES
Text by Corinne May Botz
The Nutshell Studies of Unexplained Death were created at Frances Glessner Lee's family's estate, The Rocks, in New Hampshire, in an enormous four-story farmhouse complete with elevator. The elevator doors opened onto a carpenter's workshop on the second floor; beyond it was a large room filled with dressers containing miniatures that Lee collected during her travels around the world: bedroom furniture, kitchen accessories, mirrors, light fixtures, shrubs, cars, fabrics. Sometimes she acquired multiple examples of the same thing, to cover differences in what laypeople might consider minute, insignificant details—for example, 20 near-identical toy cars in many colors. Only a small portion of the enormous collection found its way into the Nutshell Studies, yet Lee guarded it carefully, sternly instructing visitors not to touch a thing.
Approximately three Nutshell Studies were created a year. Lee would decide on a master plan for a model, and her carpenter then drew a blueprint, using a scale of 1in to 1ft, before beginning construction. Ralph Mosher fulfilled this role from 1943 until his death in 1951, when he was succeeded by his equally talented son, Alton.
Mosher needed, as Lee put it, "infinite patience and precision and also a tinkerer's aptitude." He equated the length of time he spent building a single model with that required to build a house. Much of the furniture was made from scratch, using jeweler's tools, dental instruments, and a large magnifying glass. Cornices, doors, and windows were cut with a jigsaw from picture-frame moldings. Every door in the Nutshell Studies has working hinges and a working key.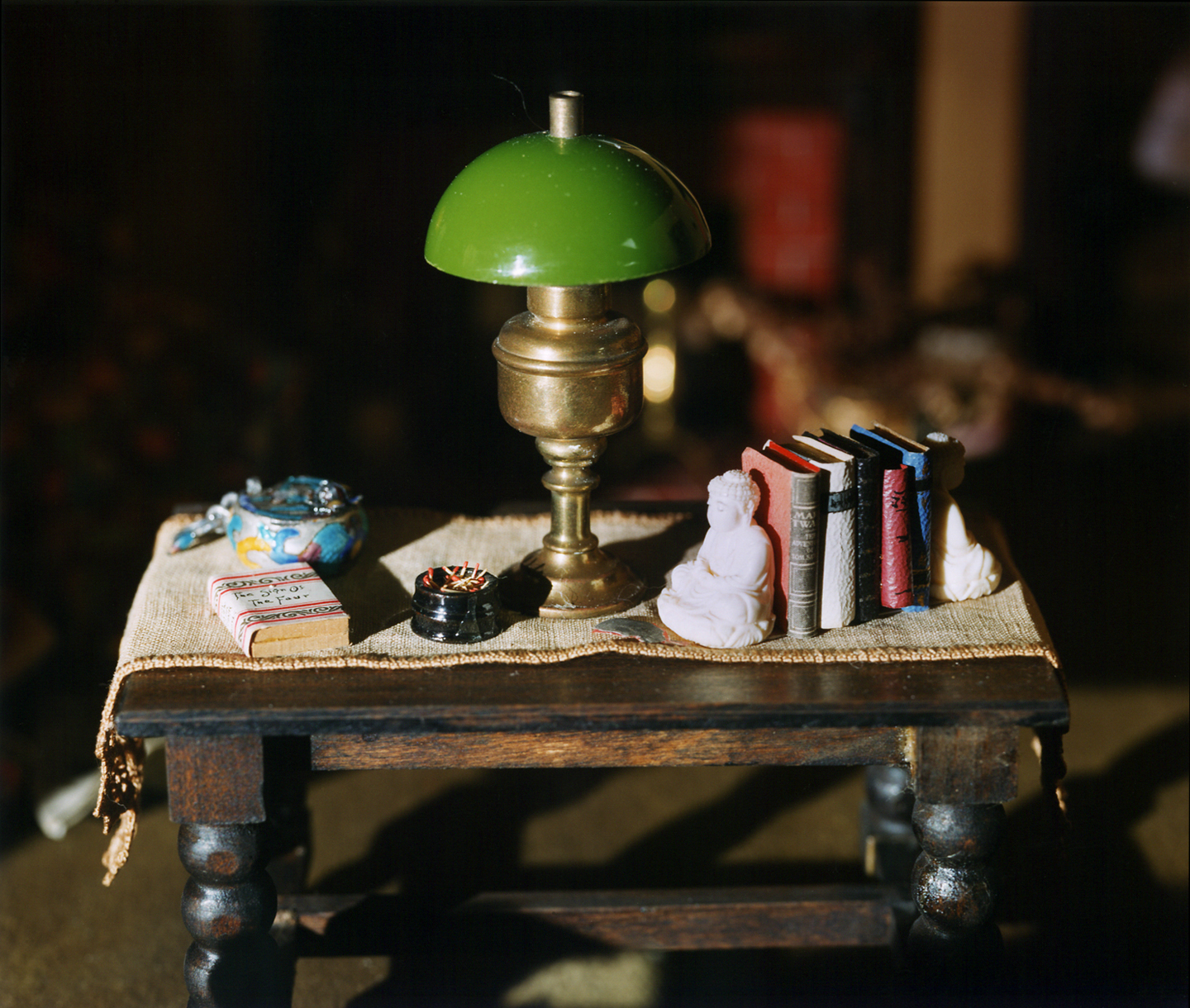 For Lee, time and money were irrelevant: what mattered was that every single detail was realistically and precisely executed. She believed that if the policemen noticed imperfections, they would question the credibility of the crime she was portraying. In her pursuit of perfection, Lee consulted with numerous model makers for help in building specific items, and corresponded with physicians at Harvard Medical School to ensure that her victims were anatomically correct. Wallpapers were chosen by Lee to reflect the victim's lifestyle and to create an appropriate atmosphere. She spent countless hours searching through sample books at wallpaper stores before purchasing a huge roll, from which she would select a small portion of the pattern. Her carpenter would then cut it into 12in strips (scaled down in proportion to life-size wallpaper strips) and hang them in the miniature room. Lee took a lot of artistic license—she had fun—while making the models. In some scenes she included personal details— for instance, a miniature painting above the mantel in Living Room shows the cottage in which she lived, and the newspaper on the floor is that of the town where she lived.

Lee made each miniature corpse and its clothing herself. She began with loose bisque heads, upper torsos, hands meant for German dolls, and carved wooden feet and legs. She attached these loose parts to a cloth body stuffed with cotton and BB gun pellets for weight and flexibility. With a delicate hand, she painted the faces in tones that indicated how long the person had been dead and, where applicable, the cause of death—in one case, the crimson pink of carbon monoxide poisoning. She stuck a knife into a lower abdomen, making sure the angle was correct, or suspended a "corpse" from a noose. She knitted the victim's stockings and appropriate clothes with thread that she unraveled from fabric, using lace-making needles the size of dressmaker's pins—a task so arduous she could complete only a few rows at a time. Every doll wears undergarments.
"I have been working on the bodies and have three of them done—dressed, posed & quite definitely dead. Also, I have made several garments—long coat—plaid skirt & plain green short coat—flowered dressing gown etc.—to hang in the closet of the red bedroom. Right now I am knitting a pair of silk stockings—covering two photograph albums with velvet and making a red and green plaid umbrella."
Lee was dissatisfied by the appearance of the miniature male and female corpses that she created. Why, then, did she insist on making them herself, rather than hiring a professional doll maker? What did she think about when she was knitting the tiny stockings and executing the dolls? The corpses in the Nutshells are stereotypes, their roles externalized by the rooms in which Lee has placed them. In Kitchen we encounter a seemingly perfect housewife. The room of a prostitute—a scarlet woman—is red, and her murder suspect is Mr. Green (the complement/opposite of red). The old woman hanged in an attic is surrounded by antiquated objects. The woman in Dark Bathroom was last seen drinking with "male friends." Yet the appearance always deceives, and often the murderer has laid a trail to a false solution in order to conceal his crime (for instance, the items in the attic imply that the old woman killed herself because she was ageing, but this inference is not to be trusted).
Throughout her life, Lee, too, was stereotyped and forced into roles that she detested. It was not until late in her life, after marriage, divorce, and raising three children, that Lee was free to pursue her long-held interest in legal medicine. The policemen were often patronizing toward her presence in the field and conceptualized her as a mother figure. "Men are dubious of an elderly woman with a cause," wrote Lee. "My problem is to convince them that I am not trying to butt in or to run anything. Also, I have to sell them on the fact that I know something of what I am talking about." Lee's son, John, would later suggest that perhaps she should have "been a man, at liberty to pursue a profession."
While Lee was unhappy with the roles she was forced into as a woman, she maintained assumptions about a woman's place in the home. Her childhood home had been carefully constructed as a cultured and moral environment and, as that house had been for her parents, her own houses were also a venue for self-expression. However, her relationship to domestic space was complicated by the fact that she was financially dependent on her restrictive father, and her husband refused to grant her a divorce for a number of years so she remained his "property." The houses she lived in were places of refuge, personal expression, and pride, but they were also places of confinement and disempowerment.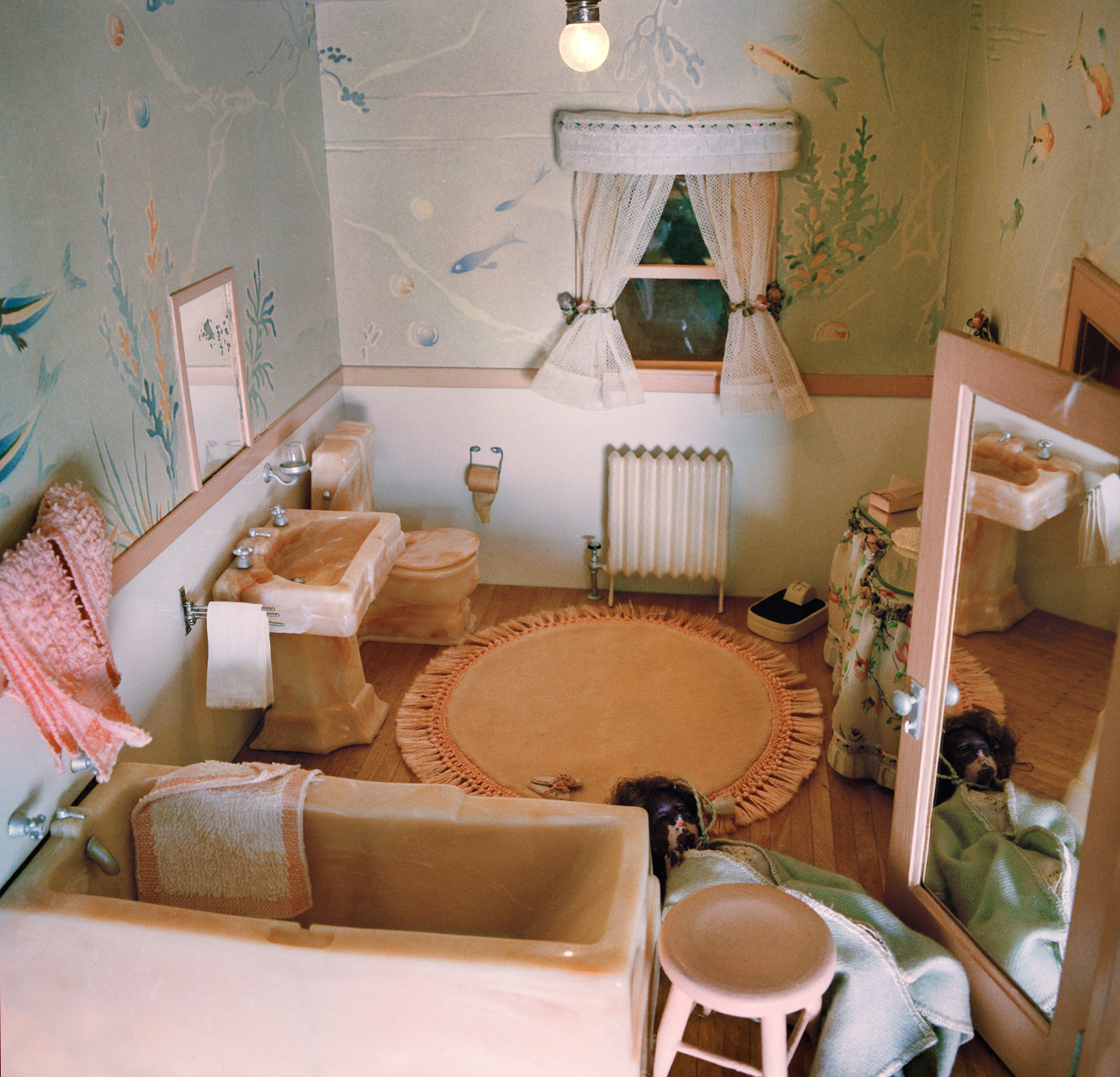 Many of the Nutshell models show a gendered notion of space—and sexual conflict is at the heart of many of the crimes. The majority of victims are women who suffered violent deaths in the home. Edgar Allan Poe once said that the death of a beautiful woman is "the most poetical topic in the world," and gratuitous violence against women continues to drive pop-culture narratives today. Though Lee perpetuated the trope of the female corpse so pervasive in painting, film, and crime fiction, the models also demonstrate that violence often originates in the home. In the Nutshell Studies, shabby and saccharine interiors alike have become the stage for terror, abuse, and violence. The models are cozy yet horrifying, childlike yet adult. Lee lavished loving care onto these scenes of perfectly ordered chaos.
The original version of this abridged text is published in Corinne May Botz's best-selling The Nutshell Studies of Unexplained Death (The Monacelli Press, 2004).
Read Benny Safdie on Frances Glessner Lee here.