Installation view of TOTEM, 2018. The Hepworth Wakefield. Image credit: Lewis Ronald.
The Scintillating, Subconscious, and Surreal World of Viviane Sassen's Photography
A new survey of the photographer's work is on view in the UK, so we talked to Sassen about working between art and fashion, and the importance of staying in touch with the subconscious.
Installation view of TOTEM, 2018. The Hepworth Wakefield. Image credit: Lewis Ronald.
The heart of Dutch photographer Viviane Sassen's exhibition at The Hepworth Wakefield in Yorkshire is a closed, mirror covered chamber. In this new iteration of her 2014 film Totem, a pair of projectors slowly scroll through a series of landscape images that are thrown onto the mirrors. These pictures merge into their own reflection at the corner of each slab of looking glass, like a vast kaleidoscope: noontime desert, bleached out streetscapes, crisp shadows, and planes of fierce color comingle. The beaming projector bulbs become part of the image too, hot and fiery circles that standing in for the sun itself. And you appear too—caught in the cast image, captured on the wall as a shadow form.

With its sunlit images, shadows, and all that bouncing light, the work embodies the exhibition's title: Hot Mirror.
Cinematographer James Laxton has cited Sassen as a major influence for the look of Barry Jenkins's 2016 film Moonlight, and it's easy to see why when you look at the breadth of her work. Born and still based in The Netherlands, she spent several years of her childhood in Kenya: a trip back as an adult made her yearn again for that country's particular light and intense colors. "Africa is a part of my identity, it has shaped me," she says. "Not only during my childhood, but also in the past 20 years, traveling extensively on the continent. I know I will never truly be a part of it, yet it feels like homecoming."
Sassen's gorgeous, pared down, angular fashion images—including recent campaigns for Stella McCartney, Acne Studios, and Paul Smith along with editorial work for Pop and AnOther—is what funds her more abstracted, odd, and dreamlike pictures. "Fashion photography allows me to experiment in a more frivolous way: I love the collaborations, the energy and playfulness. My personal work is exactly that—more personal, introvert," she says. For her, the challenge of a commercial brief is more "like solving a puzzle."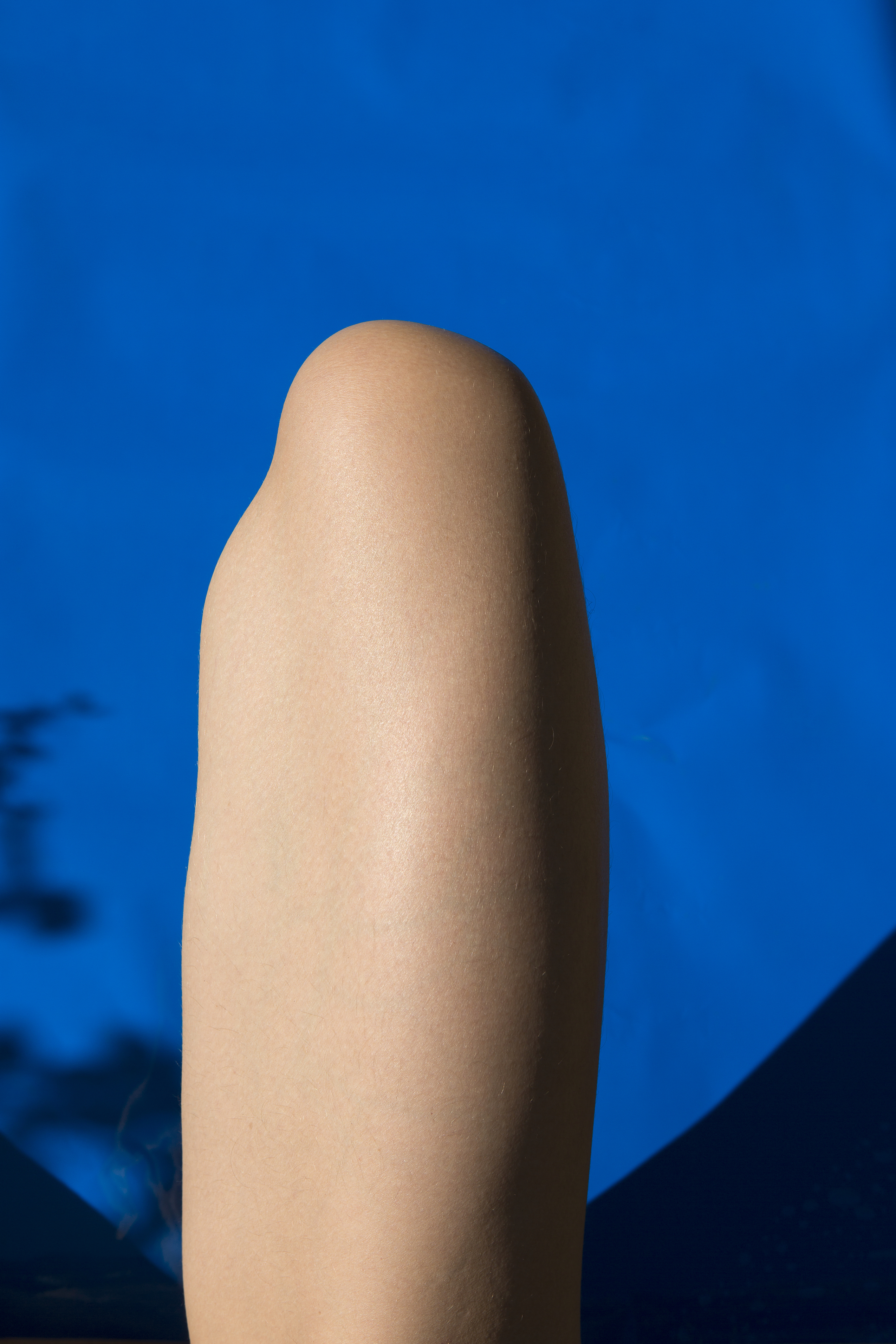 As a survey of her fine art photography, Hot Mirror shines a light on the personal side of Sassen's practice. Here, the world is turned at odd angles and sometimes it takes a beat to figure out what you're seeing. Against a blood red wall the angular jut of an upside-down shoulder emerges from shadow; straight arms and the crown of a head can be seen through a film of milky water; a hand cups creamy blue and white paint against a bright backdrop. These impenetrable scenarios are inspired by the photographer's vivid dreams, about which she makes notes or sketches when she wakes up: "I think it's important to stay in touch with the subconscious."
Her latest work, shot over a period of six months in Morocco and Tanzania and entitled Heliotropis, is a series for DITA Eyewear wherein plants are embellished with her colorful abstractions. And other photographs in this show treat flora like figurative models and people as if they were organic effusions or sculptural forms. "I treat them just the same," she says. "I whisper to them and give them light and water."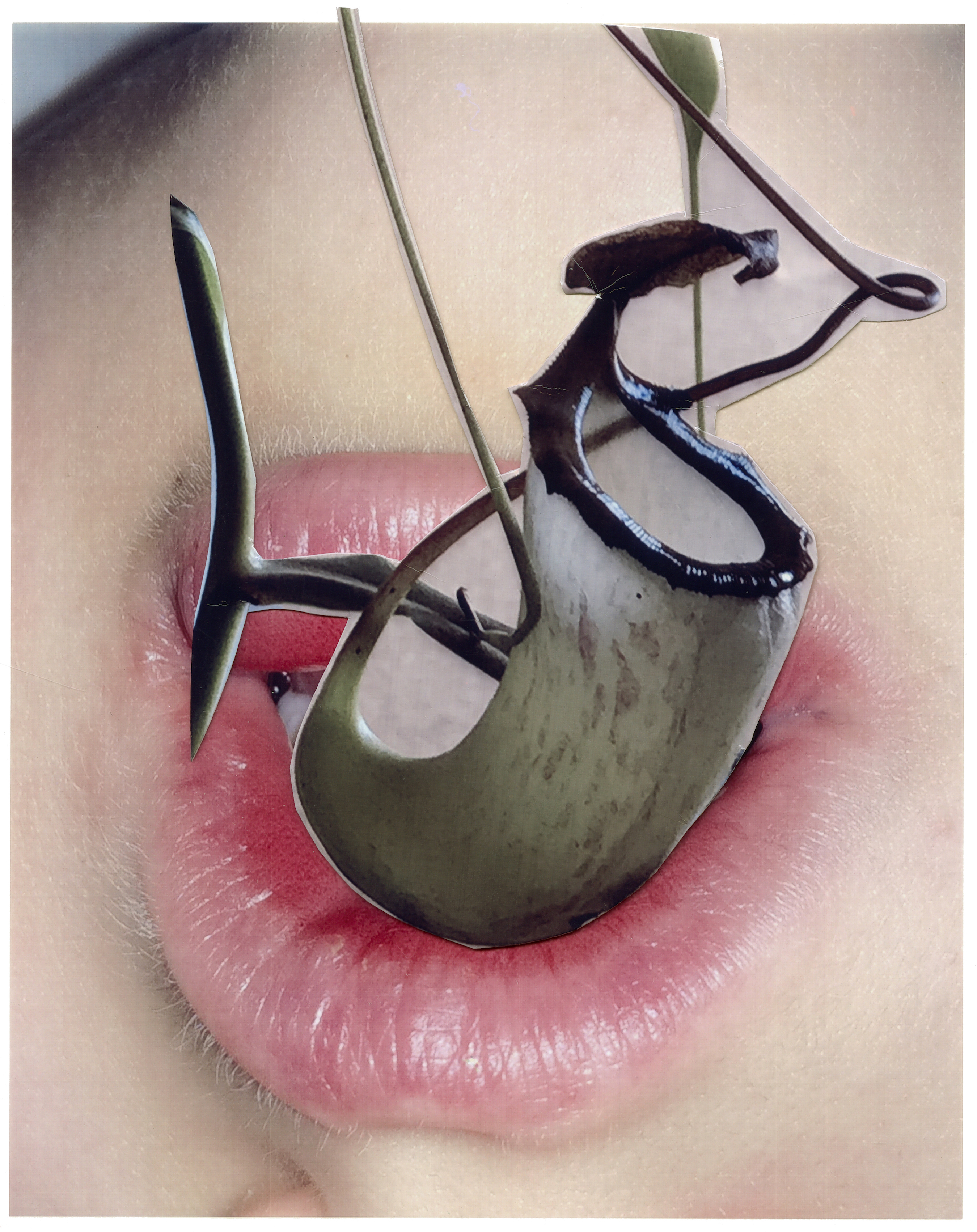 Viviane Sassen: Hot Mirror is on view at the Hepworth Wakefield through October 7, 2018.
Tagged: